Finally got this finished up the other day! Been an in progress build for some time while I waited for some of the parts to come in, and figure out how to work with them LOL Bought the Pipboy body from Skruffy, could not be happier with it, beautiful casting, SUPER sharp details, and barely needed any work done, hard to ask for much more then that! I didn't go with one of his light packages, but should have, ended up spending more to get the pieces I needed for that mod after the fact. Oops. He did help me a bunch with tips on how to work with an EL sheet, and gave me the site where he gets his stuff from, sadly after I'd bought a package on ebay that turned out to not include the right inverter. Live and learn right? Anyways, long story short, his help, and fantastic body really let me bring to life a piece that makes me giggle with excitement to look at LOL HUGE HUGE fan of the games, it's so cool to have my own Pipboy!! Especially considering the accumulative time I've spent staring at one on my TV
On with the pics!
With the minimal clean up done, holes for screws/rivets drilled and a light coat of primer.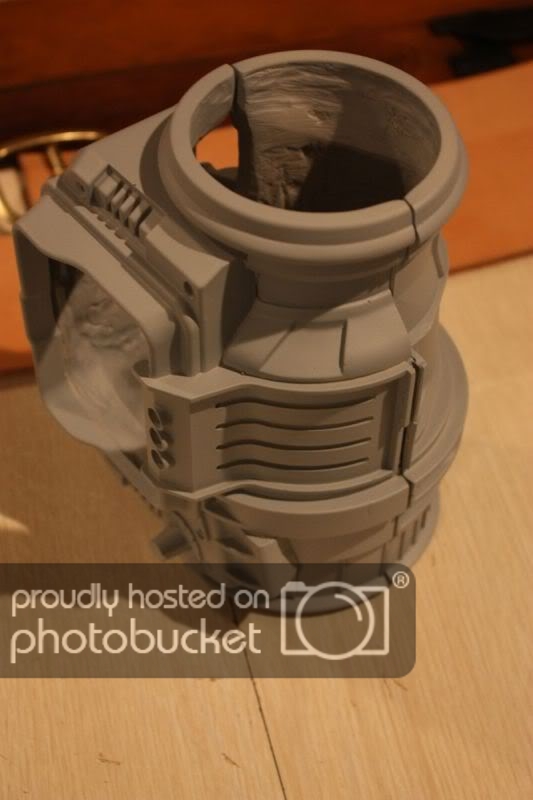 With undercoat of silver metallic paint, top coat of Skruffy recommended metallic texture paint done, and some weathering effects started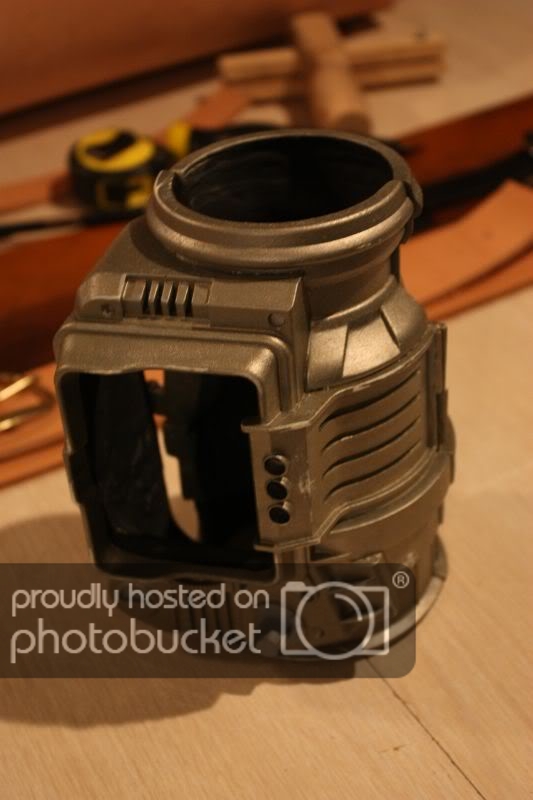 Weathering and detail paint work finished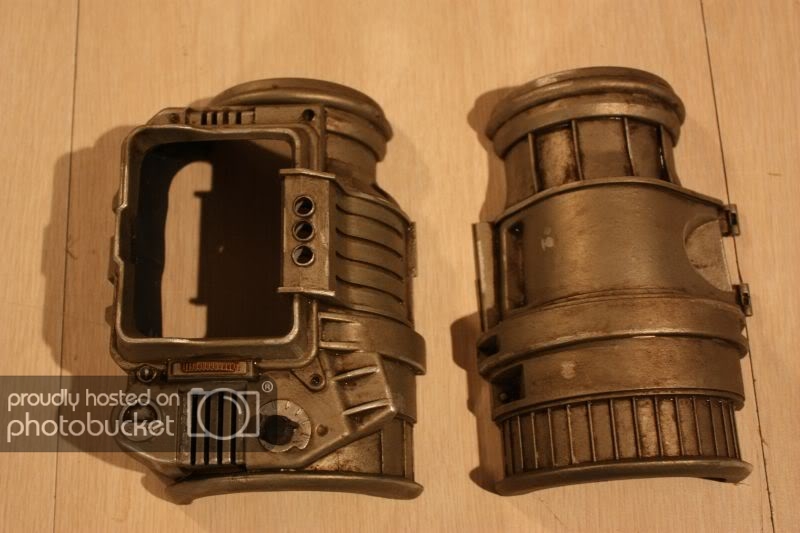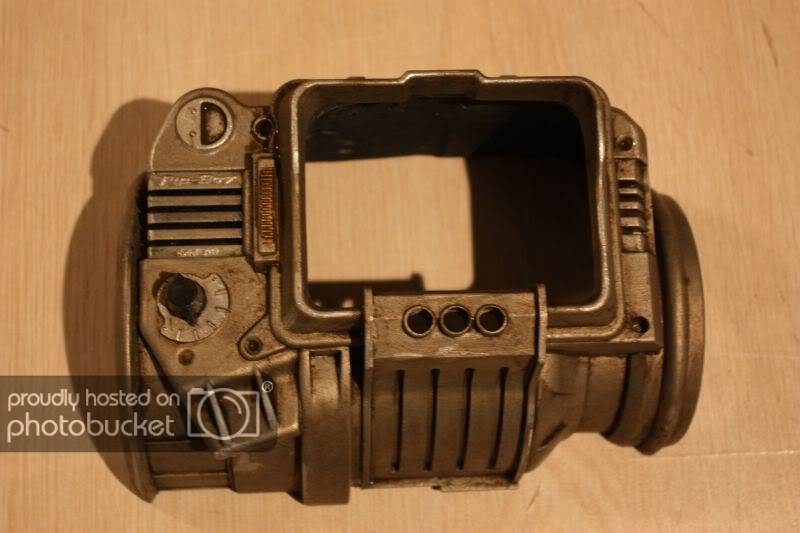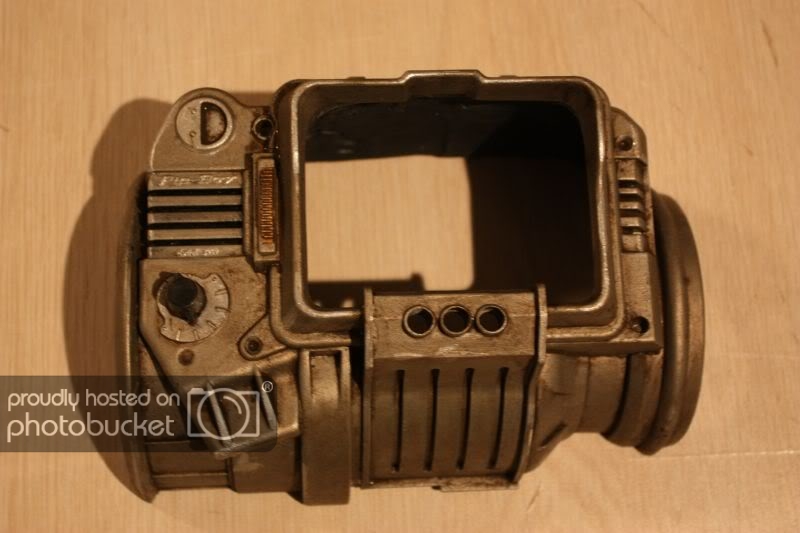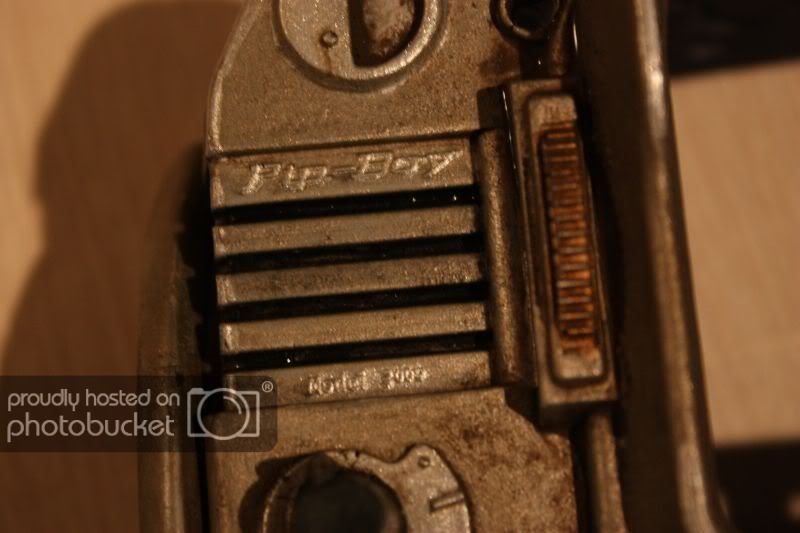 Hinge glued and screwed in place, Status light LED added, rare earth magnets attached for closure.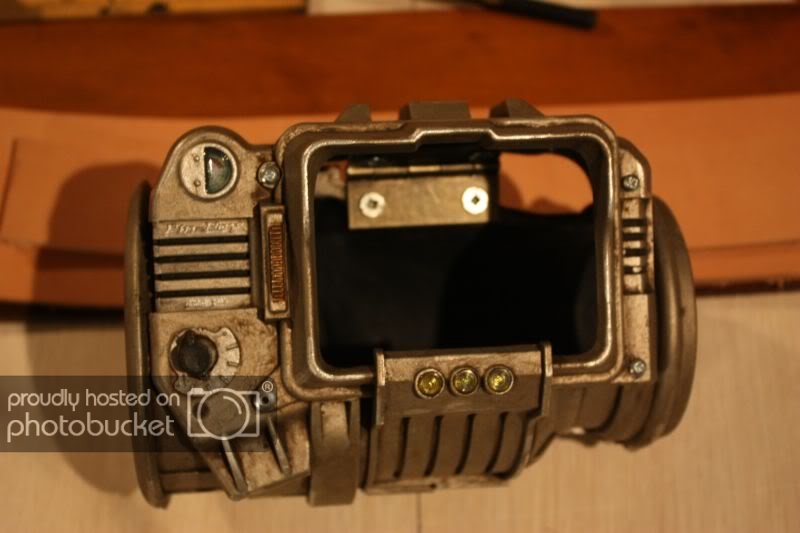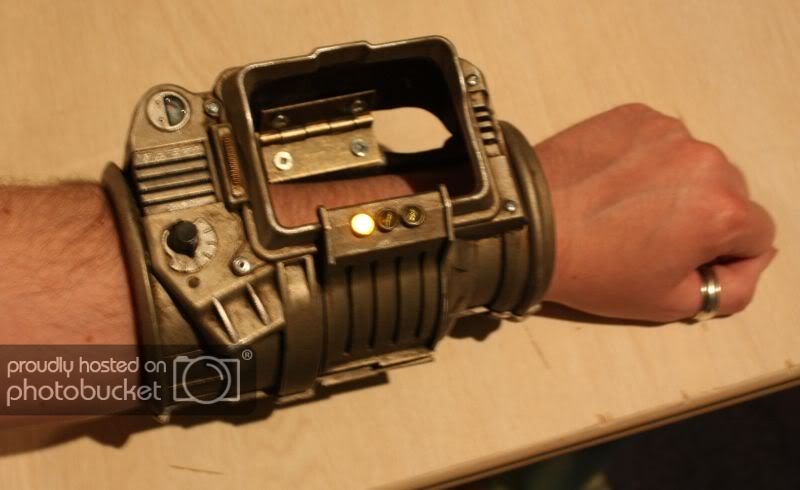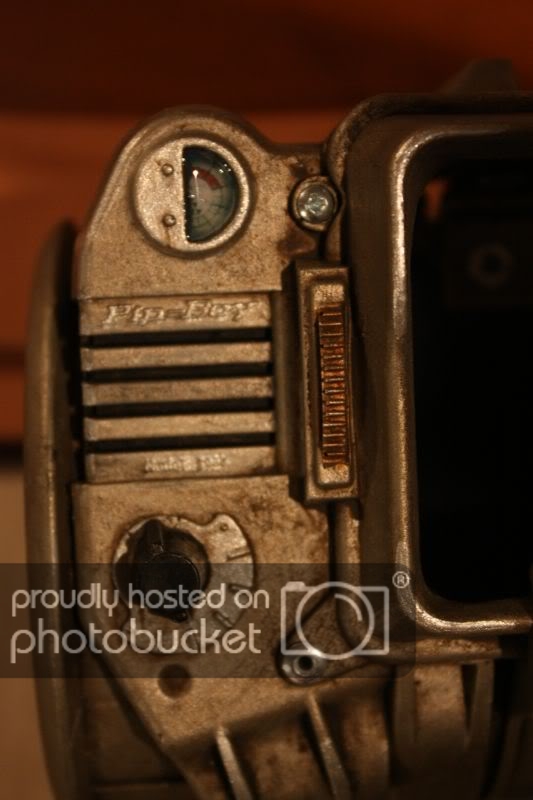 *massive time lapse to get EL sheet, and wrong inverter, figure out what the problem was, and order the right inverter*
EL sheet testing, DAMN these are fun! I gotta find more uses for these, I wanna slap em on everything now LOL Rave version Darth Vader? Hmmm...
IT WORKS!!! [Happy-Dance]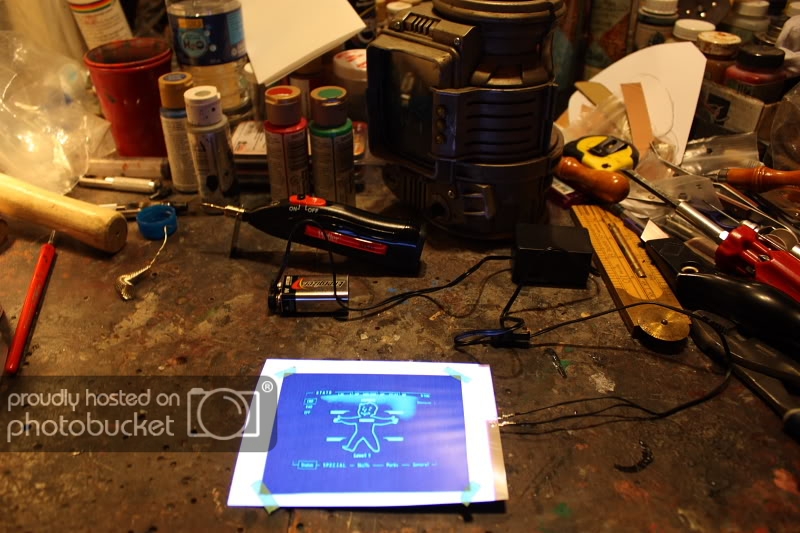 And finally, the fully finished Pipboy 3000
The angle of this shot makes it look like the closure is quite a bit more off then it really is, I also left a little play in it so it will fit better and open wider.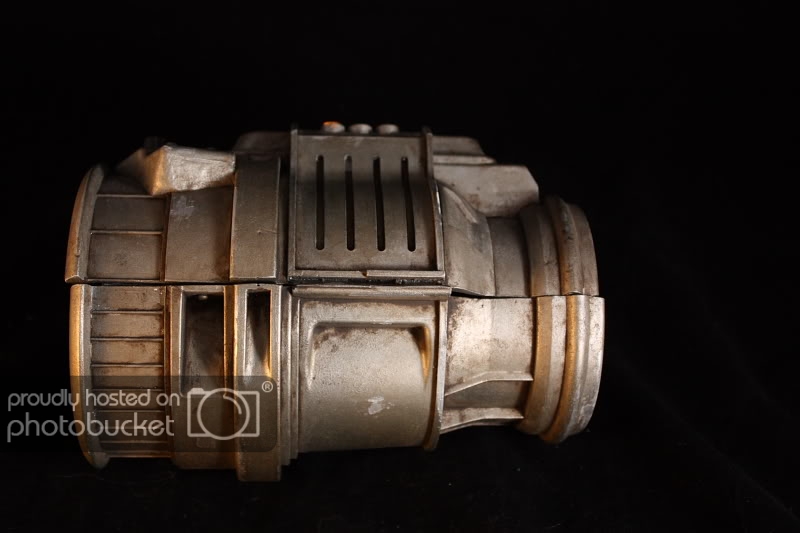 It's guts, EL sheet inverter, 9 volt battery, and wiring, plus independent status light LED control board with button switch.
It's got a sweet backside too
EL on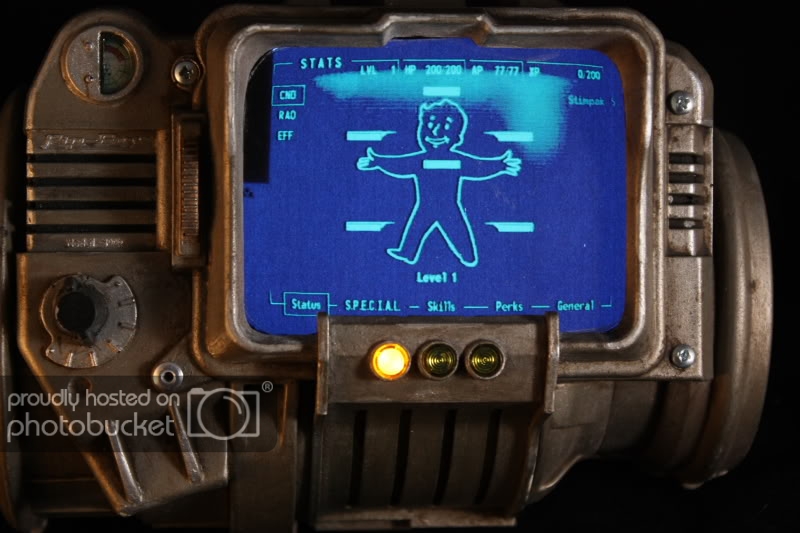 From inside a Deathclaw cave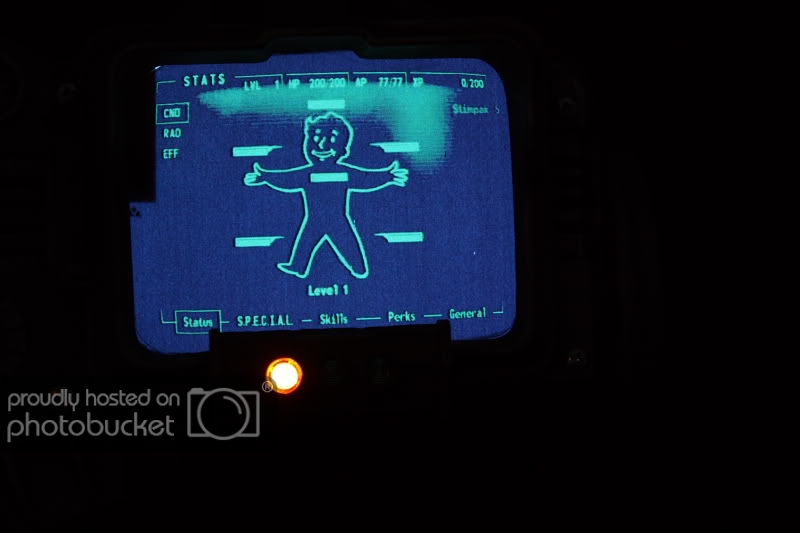 Then for fun, made up a quick display of all my Fallout pieces, and a couple extras. Included are, Pipboy 3000, 2 Nuka Cola bottles, Nuka Cola caps, Quantum caps, Sunset Sasaparilla caps, New Vegas chip, NCR patch, tin of Mentats, the Platinum chip, limited Wasteland collectors edition Vault-Tec bobble head, motorcycle goggles, Gun Runner made reinforced combat helmet, hunting shotgun, .44mag hunting revolver, 2 genuinely aged Capital Wasteland posters and random ammo
close up
Careful, Pipboy light's on
Vault lighting shot
And finally, a rare sighting, the elusive, thought to be extinct, or genetically altered with another animal, Vault cat!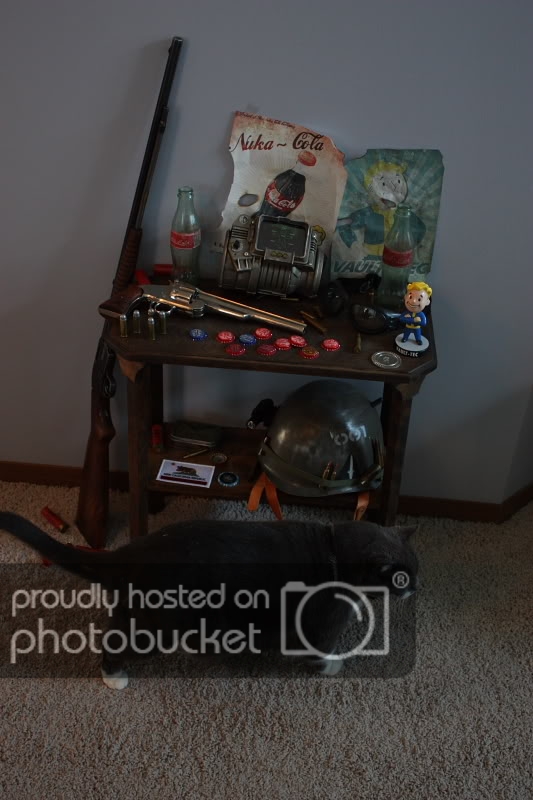 Last edited: