Sr Member
RPF PREMIUM MEMBER
Hi everyone and happy Star Wars day !
This is the interest thread for Padme's blaster in polished aluminum and wood.
The very detailed build log can be found here:
Padme's blaster project - ELG-3A - screenaccurate details and proportions - idealized metal and wood materials
As usual, I talk a lot, I'm sorry in advance for that, I like to have everything explained and detailed clearly, please try to read as much as possible to make sure you are clear with my offering
About the project:
This is a project that I have been contemplating for a long time, I did a lot of research for it over the years, seen exhibits and took photos first hand, tried my hand at doing one completely by hand with very crude tools a few years ago and it was only logical that this was finally my first big project now that this is my actual job and I have access to much better tools
The amazing thing is that right at the end when I was about to start on this project again, I was approached by someone that had access to amazingly clear photos of every angle of the screen-used hero, photos never seen by the public before. This helped a lot figuring out the last detail and go very far in the screen-accuracy of my replica.
About the materials:
The real prop is almost surely made of resin; the body is then chromed, the handle painted to fake wood grain, the trigger painted with aluminum like paint and the long barrel is actually made of aluminum. This gives a lot of different aspects to each part of the blaster. My idea for that project was to do something extremely accurate in shape, proportion and details but to use idealized materials for the construction. As a result, I'm using two types of woods, Pao Ferro and French Walnut to replicate the look the handle has depending on the lighting and photos, the wood is oiled to best replicate the shine of the real handle. The body is made out of hand polished aluminum to replicate the chrome; the trigger is aluminum that is carefully dulled by rubbing it with steel wood until it is uniformly mat in look. And finally, the barrel is brushed aluminum, unpolished as in the real prop.
Here is a couple really good examples seen in an exhibit of how the barrel is dull compared to the chrome of the body: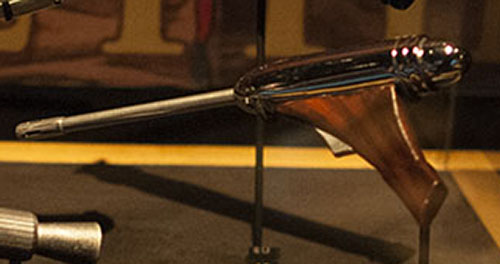 choice of wood:
I'll be offering two woods by defaults, Pao Ferro and French Walnut and posibly a few extra "one offs".
Pao Ferro:
the Pao Ferro handles are cut from a blank that was intended for a guitar neck that I had in my stash for a few years, this will be limited in any case to a maximum of 10 if I don't break any, I'm keeping one blaster of each wood and one is already gone to the US, so that will be a maximum of 8 for sale.
The Pao Ferro is what replicates the best what we see on exhibits photos or in some books of the hero blaster, here is a comparison:

Salvaged century old French Walnut:
Walnut is traditionally used for weapons stock. In France, French Walnut, which is a very high quality of Walnut and a bit darker and more figured than the american one is also traditionally used for all high end furniture. I was given an extremely nice piece of Walnut from a very very old bed piece, I estimate it is approximatively a hundred years old. I need to point that the figuring is nicer and more contrasted than the piece used for the protype shown bellow. That piece also came from the bed but was a smaller piece with less figure. The actual plank can be seen at the begining of the WIP thread.
The Walnut replicates perfectly the look that we see in the film as well as several photos seen in books, here is a comp with the stunt blaster for instance:
What you will get:
Each blaster comes with a long and a short barrel
that simply threads into the main body. You choose the actual wood type when you buy the blaster.
So far, I think I'll take a pic of each side of each blaster and put them all for sale individually on my website with their serial number and wood name and you can all choose the exact blaster that you want to purchase. Different people will like different grain of wood and I like the idea to make you choose instead of just receiving a random one that you would have happily traded with someone else.
Display stands should be available separately if I manage to make that happen properly. I have an idea for a very museum like display that I like, but I haven't had the time yet to actually make it come to life. I hope I can manage that, if not, I'm sorry!
The blasters are hollow and should accomodate very nicelly for electronics. They are approximatively 350g each. Doesn't seem like much but they feel quite nice in the hand and the weight is quite coherent with the volume of the pieces. for information, the long barrel version is 33.5cm long.
Timing:
I made a lot of progress on the actual run in the meantime but am currently working on only 13 blasters for sale. if the interest is bigger, I need to catch up with all the new blasters to do then finish everything up. and the last setp, polishing is extremely time consuming. I expect in any case that this will take at least until the end of the month and probably a bit more. This is just the interest thread, I'm well advanced in the work and sure I can finish it but don't expect the blasters are already ready to ship
As usual though, i'll keep updating everybody the same way I updated the WIP thread
Price:
The blaster will be available for
575€ +-20€
depending on the success of the interest thread.
Shipping costs will be additional.
What I need from you and that interest thread:
If possible, I would like every person that is truly interested by that blaster, ok with the price and serious about buying it when it's released on my website, to say so in that thread and possibly comment on the kind of wood they would most likely take. There is a possibility I will offer a couple of "one off" in ebony, curly Sapele or any other cool wood from my guitar treasure stash, feel free to express if you would like that too.
This thread will serve the sole purpose of having a clearer idea of how many people are interested and adjust the size of my run.
Now, please be aware that I will not be displaying a list of reservation and can't promise that someone that posted here will actually get a blaster if he is not there to buy the blaster when they go for sale. I have thought about a lot of options to put them for sale and make everybody happy. Giving the choice of the actual handle that you will receive is one of those efforts and since the French Law regarding sales for an independent worker like me is quite complex, I need to edit an invoice for every sale, and this all goes through my website, I have no choice, sorry.
To be fair to everyone, I think I could send a group PM to all the people in the list the day before the blasters go for sale to let you know this is happening. Then I'll put the blaster for sale on the website, and the day after, I'll advertise it on the RPF and facebook.
Finally, if this surprisingly gets a really large interest or people come late to the party after they are all gone, I'll try my best to do a second small run, so please don't worry, I'll work with you. In any case, it will be limited, but I'll try my best to satisfy everyone J this blaster is done completely by hand, it's a huge amount of work and I'll never do a 100 though ;-)
Payment:
As explained above, I am obligated by the law to edit an invoice with all my sales, this goes exclusively through my website. It is easy for you, the website is perfectly secured and the payments completely handled by paypal. You just need to register, enter your shipping address, it will calculate shipping automatically and you can pay with paypal. You'll then receive confirmations by mail for every step of the order and an invoice.
My website can be found here:
Supergreen props - Handcrafted collectibles
OK! now let's show some photos!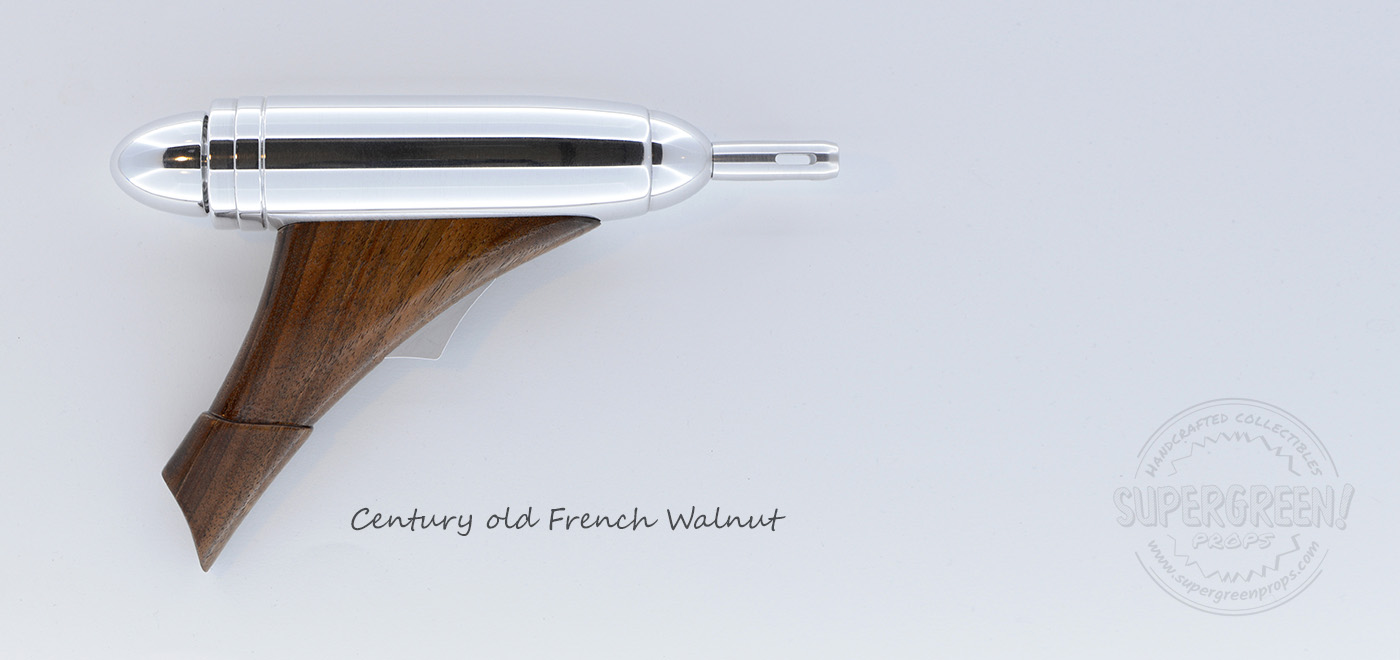 all the photos after that are with the Pao Ferro Handle: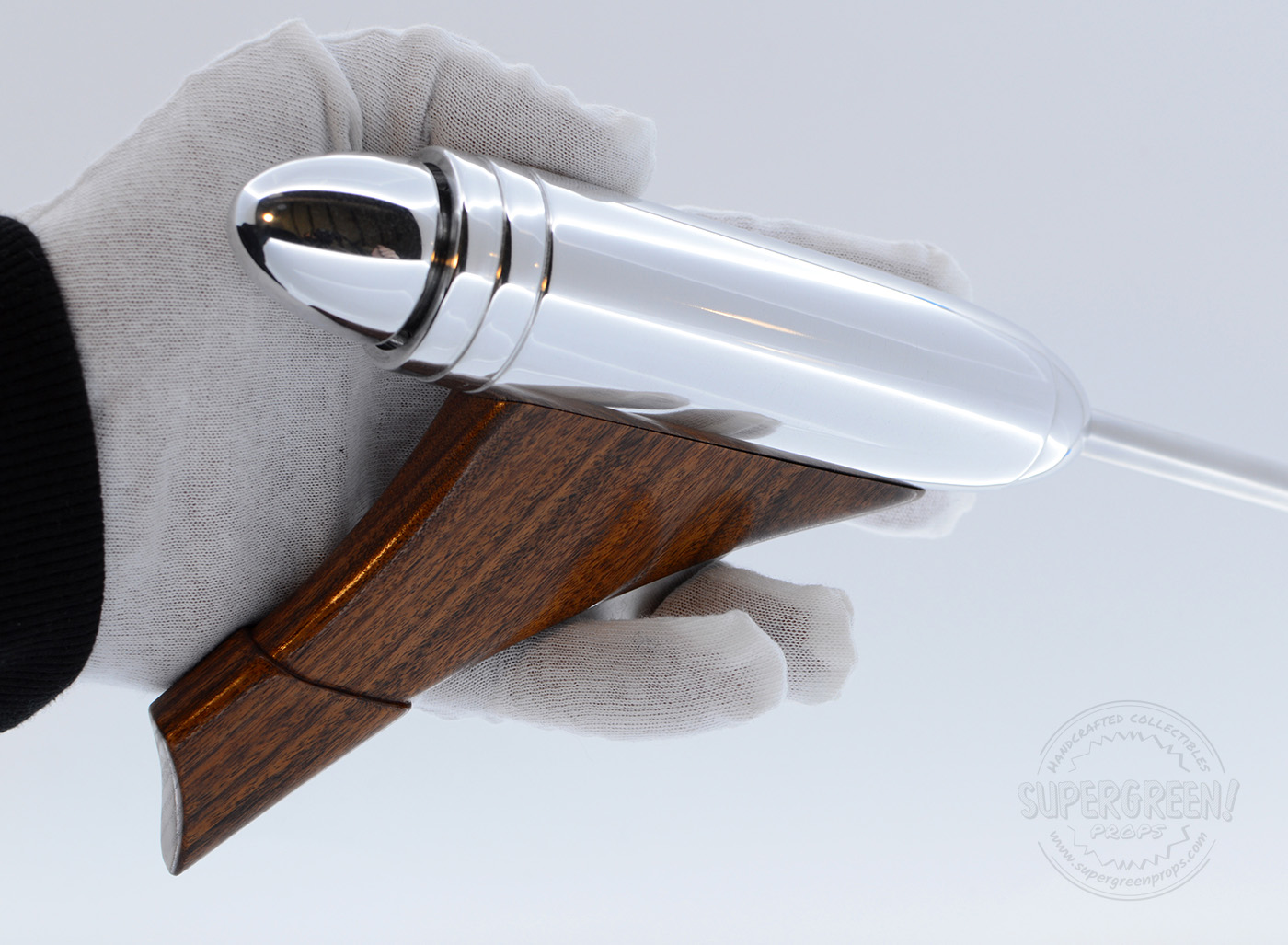 here showing the clear difference in finish from the body and the barrel, just like the real deal:
here are a few more photos outside to show a bit more the difference between both woods available: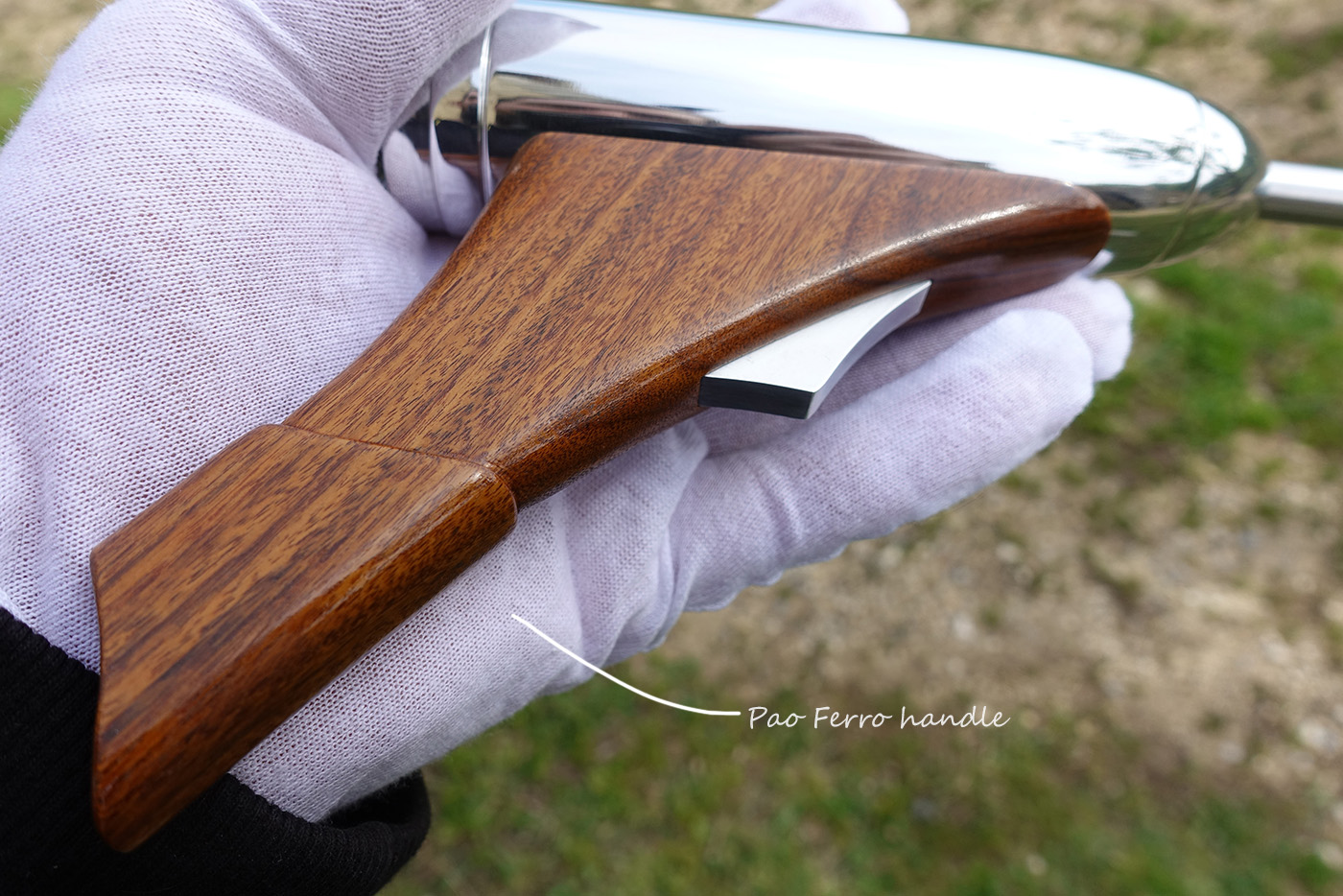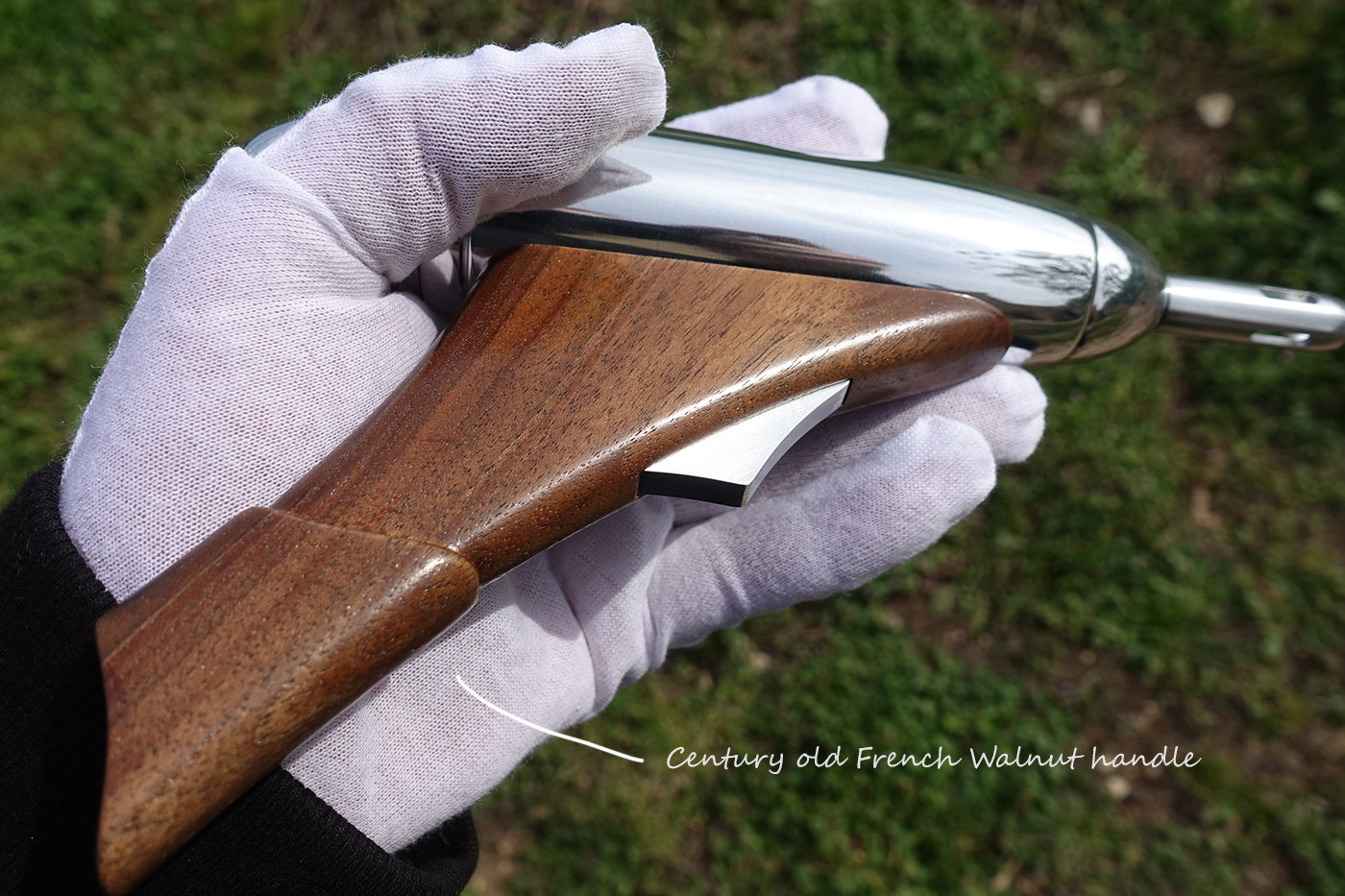 That's it, I hope I didn't forget too much stuff! thank you so much for reading me and for your interest. This blaster was a child dream for me, I poured my heart and soul into this and I hope you'll all love it.