What's up fellow Hunter's and Huntress. Finally got settled enough to buy some paint so I can finally paint this P2 Spear that I ordered on Ebay. I don't have pics of every little step because I took the pics with two different cameras. (as you probably can tell by the picture quality)
This is what the spear tips look like before and after paint up.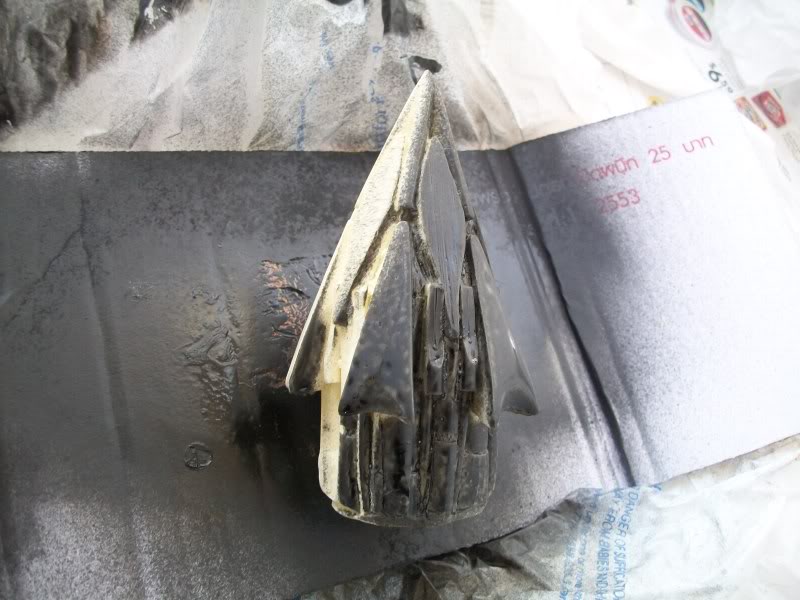 First I started off by painting the whole thing with flat black paint.
Next I sprayed very little "Hammered Copper" spray paint onto the end of a sponge and lightly touch the surface of the spear tip. As you can see, it already gives it a nice texture. I started to go with this texture, but at the time I only had one copper like color so I repeated the same thing about 2 more times. After that, I then mist the copper spray over the spear tip and then brush the small blades down to create a slight worn blade look.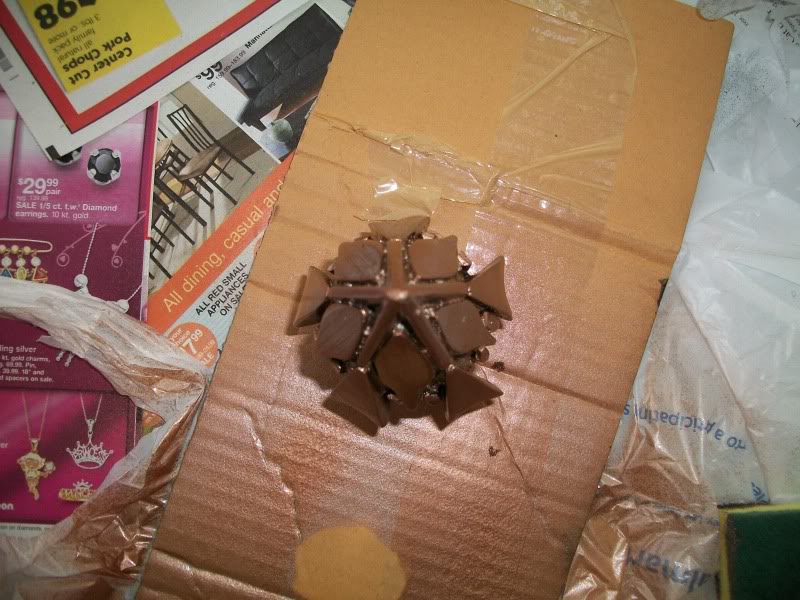 Once that's done, then I mixed "Folk Arts" (Calypso Sky and Soft Apple) to get the corrosive effect. Sky color look similar to turquoise. I put some on the edges of the pipes because usually that's were corrosion may start and it's a neat effect too.
Next is the main body of the spear. Basically I did it the same way with the completely spray flat black and paint or highlight with the copper color on top of that.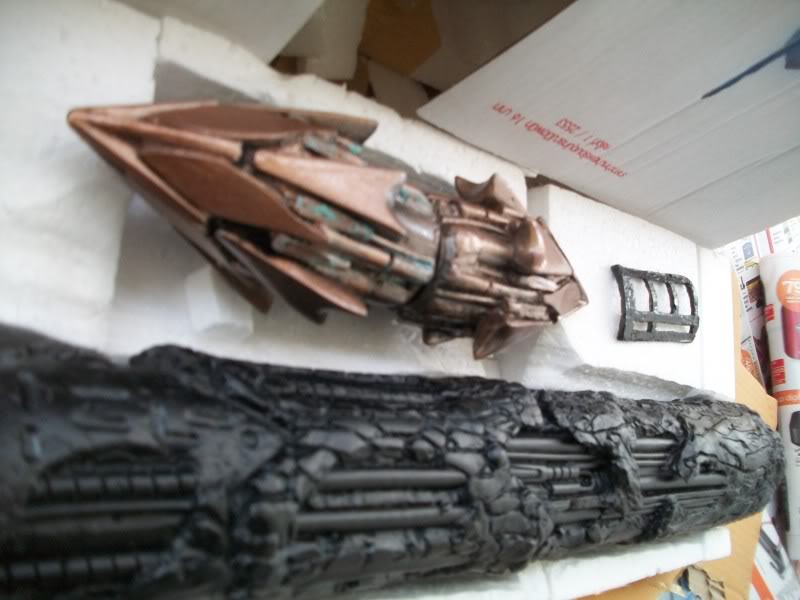 After the main body is spray painted black I sponge and misted copper color in a few spot then blended that into the black. Once I had a good layer of copper color, my wife suggested I add a red and black mix to bring out the copper some. It worked too. After that was done I added another copper metallic color. Sponge and blend only with that. Reason for using more than one copper is to make it look multicolor. I was going for that movie quality look. Don't know exactly what colors they used so that's when you have to guess, trial and error. For the middle part all I used was some Yellow Ochre and Unbleached Titanium mixed. Here are some close up and finalized pics: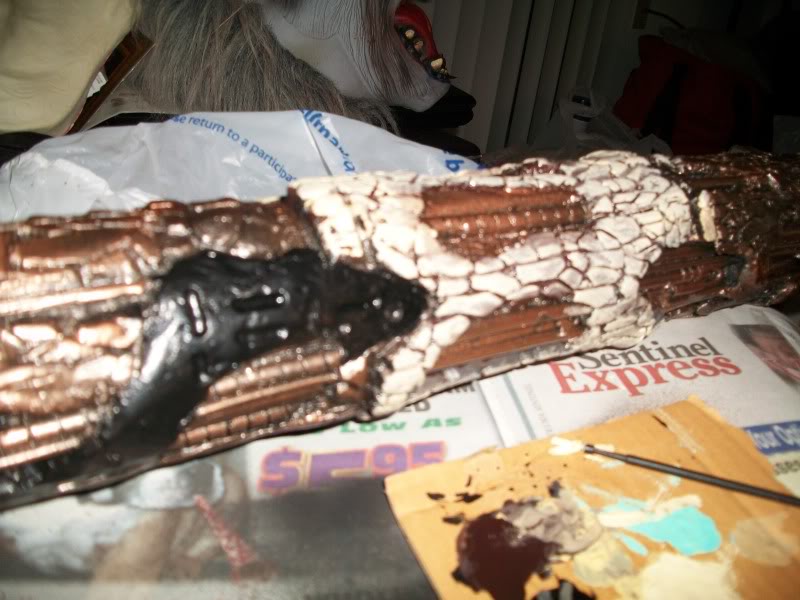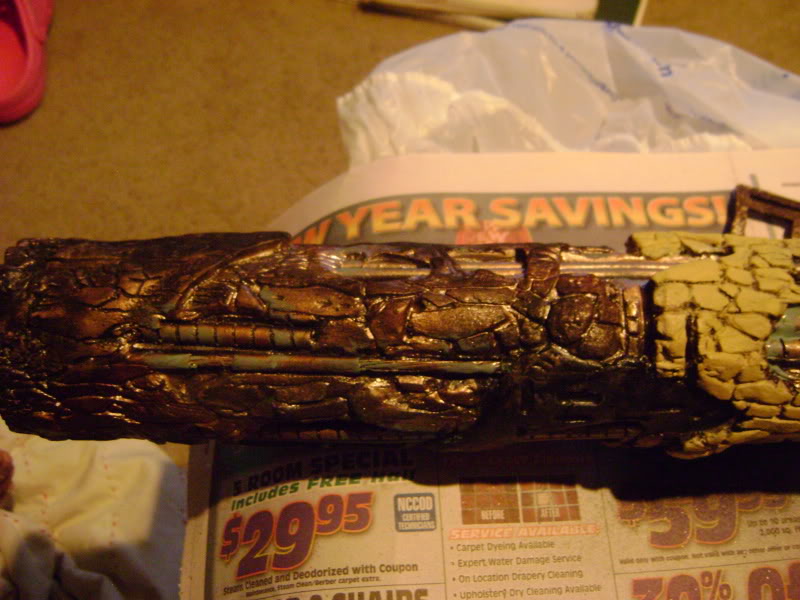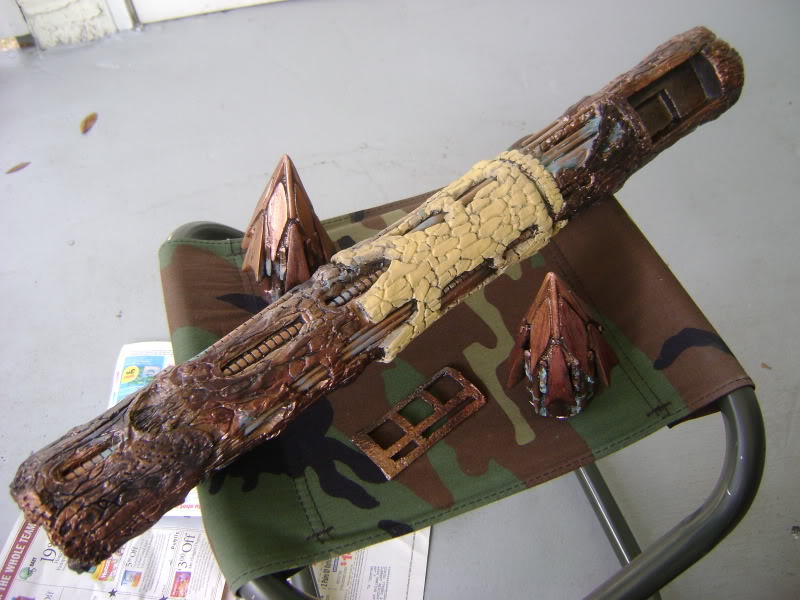 Hope you all have enjoyed looking at the progress pic as I had painting it. Happy Hunting!!!
Last edited by a moderator: