I have a client who wants to have the most screen-accurate Predator 1 countdown timer out there, so I went through the end of P1, frame-by-frame, and recorded the sequences. I've redrawn them here.
Here are the first two frames:
There are roughly four frames of gauntlet animation per second, so that's why I calculated there are 18 frames of animation missing. This is the cutaway where Dutch looks at the Predator and tries to figure out what's happening.
After the cutaway, the camera focuses again on the gauntlet. It's tightly focused on two digits at a time, so I can't tell what's happening with the left two digits until the camera starts panning to the left. That's why I have ? signs on the first two digits.
At this point, the camera cuts away again to show the Predator laughing, which is shown for about six seconds. That's why I need 24 more frames of animation in there.
Here's the next sequence: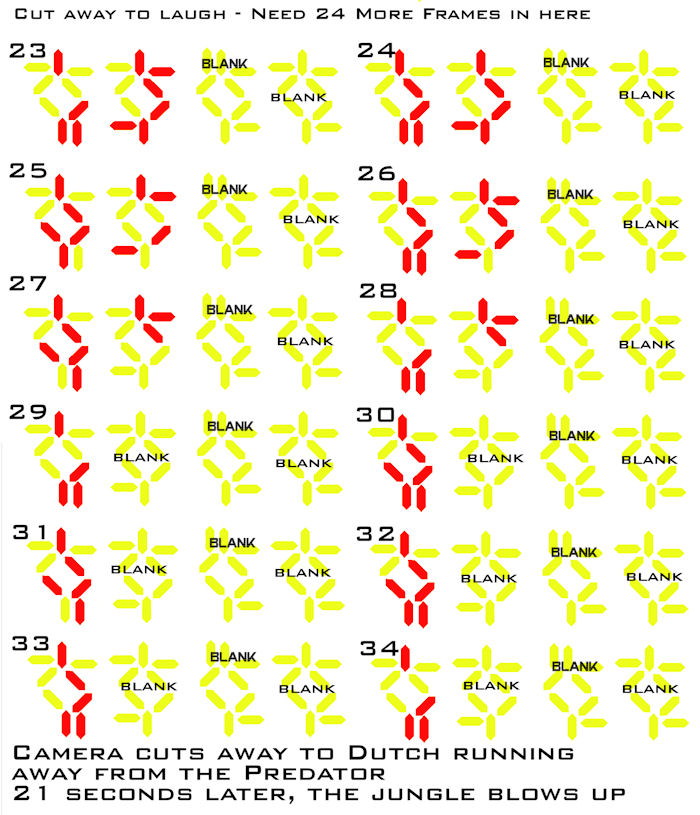 I can't really guess at what's happening with the two leftmost digits while the two rightmost digits are shown. I don't think the Predator language has a place value system for numerals, unlike our numeric system, because once the right digit is blank, it doesn't come back on. The sequences for each digit also seem to differ, as well.
Anyway, I thought I'd post this for the sake of hard-core completists. Later on, I'll talk to my client and try to figure out what the full sequence should look like.