TRIBUTE VIDEO BY SPOCKBOY!
[Added July 14, 2016]​

This is so fantastic, I thought it deserved to be right here at the top of the thread. Of all the "thank yous" I've seen hither and yon, on the boards and social media, this is the best -- short, to the point, and just beautiful. Special thanks to Spockboy for painstakingly rotoscoping the newly restored Enterprise back into the Final Frontier. RIght where she belongs.
And now, back to the regular thread...
The One-Stop 11' TOS Enterprise Reference Thread: NCC-1701, No Bloody A...
Fellow member BrianM suggested over in the Enterprise Restoration Thread that there should be a one-stop Enterprise thread, and I agreed. Since I'm sitting on quite a lot of links, reference, and my own photos of the Enterprise taken over the years in the Smithsonian gift shop, I thought I'd just jump in and take a crack at it. I asked the Mods to consider this thread for sticking, and they stuck it. Thanks, Mods!!
Post your links in this thread, and I'll update this post so we can keep the most interesting and current links right here up front. It goes without saying that any errors or omissions in this post are my own damn fault, and I'll fix them as I become aware of them in my ongoing effort to erase all my unpleasant memories, or at least get rid of the evidence.
(Okay, well, I guess it didn't go without saying...)
Here we go:
Relevant RPF Threads:
The Enterprise Restoration Project Thread
- Discussion of the Smithsonian's 2014 - 2016 in-house restoration of the original model prior to its new home in the upcoming Boeing Milestones of Flight Hall at the National Air and Space Museum.
Steve Neill's 66" Scratch-build Thread
- Epic project by Steve Neill, an industry model maker, MUFX artist, and Trek enthusiast. Full of eye-popping photos, advanced techniques, and incredible tips on large-model mastering, molding, and casting. An absolute must-read!
David Shaw's 33" Scratch-build Thread
- Still underway as of this posting, based on extensive research of the 33" model's unique features, and looking fantastic.
David Shaw's 1/6 Scratch-build Thread
- That's 1/6 scale to the original 11' model, not to real life (where would you put it?). Done as a model of the model, not the starship, with an eye toward learning more about the studio model! And the hits just keep on comin'! [
Added 1/23/15
]
Commander Max's 11' Scratch-build Thread
- Embarrassed to say I missed this first time through! Doesn't get much more epic than this, and it's looking incredibly good! [
Added 1/15/15
]
[Update -- 2/5/16] Unfortunately all the pictures have been taken down and there are some inaccuracies, but some of the text still has good information.
Miniaturizer Ray's Blinking Domes Thread
- Fun debate about whether the lights in the Bussard domes blink. SPOILER ALERT: Yup.
External Links About the Original Studio Models:
Bill George's Photos of the Restoration
on Imgur, giving detailed insights into the process—outstanding reference!
Gary Kerr's Article on CultTVMan
laying out the color matches for the restored Enterprise!
Part 1
and
Part 2!
NASM's "Star Trek Starship Enterprise" page
, with links to all their blog articles and gallery images!
Gary Kerr's report,
"Finding the Nuts and Bolts of the Enterprise,
" a sure-fire nerdgasm for the rivet-counters!
NASM REVEALS THE RESTORATION PAINT CODES!!!
Please, RPFeeps, let's not start a nationwide run on Benjamin Moore "Heather Gray" # 2139-40. You'll scare the paint store people.
Thanks to Opus Penguin for the link!
Gary Kerr's HobbyTalk thread
kicks off with major revelations about the original nacelle domes. Thanks to CessnaDriver for posting the link!!
The Washington Post's
announcement about the model's going on display as of Tuesday, June 28th. Yay!
The Enterprise, NCC-1701 and the Model Maker
on Amazon! Fascinating information about the construction of both the 33" and 11' models from the son and daughter of Richard Datin, the original builder! A wonderful read at a bargain price!
From the Buffalo City News Online,
NASM Chief Conservator Malcolm Collum has enlisted his alma mater's help in using state-of-the-art materials analysis to identify the glues keeping the ol' girl together! (Somebody should give Cher their phone number!)
TrekCore's gallery of shots from the 2016 Open House at Udvar-Hazy!
Among other things, there's a great shot of the area on the saucer top that was test cleaned, and it looks amazing!
Great little piece on Space.com
, plus a nice
downloadable photo gallery!
Popular Mechanics article about the 2016 Udvar-Hazy Open House
. Take the details (and some of the spelling) in the article with a grain of salt, since the writer seems to have confused some of what Ariel O'Connor, Malcolm Collum, and Margaret Weitecamp were actually saying -- but it's still a fascinating read.
The Smithsonian Page on the Current (2014 - 2016) Restoration Project
- Follow developments here!
NASM's
X-Ray Analysis of the Starship Enterprise
- Information and X-Rays from the 1999 analysis of the model by the Smithsonian!
TrekCore Interviews with Dr. Margaret Weitekamp from NASM on the 2014 - 2016 Restoration
- This link is the most recent as of this posting, from Dec. 2014. Links for the prior interviews are also found here.
TrekCore Enterprise Model Archive Page
- TrekCore's page listing all of their blog entries about the 2014 - 2016 restoration. Excellent stuff! [
Added 2/15/15
]
The Enterprise Models Page at Star Trek History
- A great gallery of vintage photos of both the 33" and 11' models and VFX production stills. Also check out the
S
tar Trek History Home Page
for great restored production photos, deleted scenes, and articles about the history of the show.
David Shaw's Page on the 33" Enterprise Model
- David's put quite a lot of work and painstaking research into tracking down the history of this missing model. He discusses it here, and includes links to download his construction plans, his recreation of Matt Jeffries' own plans, his list of the 33" model's major dimensions, and even more TOS links!
Alan Sinclair's Blueprints of the Original 11' Enterprise
- Still free, and still among the best! [
Now linked to the revised version on the LCARS Blueprint Database -- 6/4/16
]
Charles Casimiro's Blueprints of the Original 11' Enterprise
- Top-notch blueprints at Cygnus X-1, and I'd never heard of these! Thanks, FlyingDachshund! - [
Added 1/15/15
]
Archive of the IDIC Page Photos
- A collection of William McCullars' photos on his page from the 90s, along with some photos from the now-defunct Drex Files. [
Update -- 4/23/18
-- Sadly, this page is gone.]
Wayback Machine Web Archive of the IDIC Page
- Some dead links as you'd expect, but the IDIC Page lives on! Thanks, robn1! - [
Added 1/15/15
]
Gallery of the Controversial 1991 Restoration by Ed Miarecki
- Excellent high-resolution photos of the restoration in progress, including stunning photos of the model disassembled and sanded down to her original paint. Even her innards are exposed! On
Modeler Magic.
The Star Trek Blueprints Library at Cygnus X-1
- All kinds of blueprints are archived here, even the old (but beloved) Franz Joseph blueprints. And not just the Enterprise - this page is a genuine wonderland of Trek blueprints and manuals.
Trekplace
- A whole site chock-full of amazing interviews and articles about the Enterprise and lots of other Trek-related topics. Even a shot-by-shot reference of TOS Enterprise FX shots!
HobbyTalk Blueprints Discussion Thread
- Very good discussion comparing the Sinclair and Casimiro blueprints; includes thoughtful commentary by Phil Broad, Gary Kerr, and David Shaw! Thanks, FlyingDachshund! - [
Added 1/15/15
]
American Cinematographer Oct. 1967 Article
- "Out-of-this-World Special Effects for 'Star Trek,'" by Howard Anderson, Linwood Dunn, and Joseph Westheimer. Not a great reference for the model, but very interesting information about how the VFX were achieved, written by the three VFX directors themselves. Includes rare photos from the Space Seed shoot. Take the dimensions given for the models with a grain (or a pound) of salt - three different VFX supervisors all give different dimensions,
and they're all wrong
. Go figure.
- [
Added 2/3/15
]
Other Photos, Videos, and Galleries:
SPACEDOCK
, a video by William George covering the repainting of the original model by the conservation team at Udvar-Hazy!
Tribble Trial Tends Toward Trouble
, at the NASM web site.
Very
funny, with a particularly sublime pun in the second-to-last paragraph.
TrekCore's Structural Integrity Video!
Brace yourself for awesome! (See what I did there?)
Thanks to CessnaDriver for the link!
Trekcore's Teaser Video, "A Photo Finish!"
Margaret Weitecamp talks about the newest pictures NASM received after last year's public appeal! Thanks to Cessna Driver for the link! [
Added 2/6/2016
]
Lou Dalmaso's Video of Margaret Weitecamp's talk on Jan. 30, 2016.
I was sitting behind Lou while he taped it, but I moved to the front row to get away from an ****** who was doing a running commentary, and I didn't get a chance to say Hi. How rude of me!
Thanks, Robn1, for the link!
ASALaw's Gallery of Shots from the 2016 Udvar-Hazy Open House -

Over 150 shots of the ol' gal in pieces, with revelations we've spent decades whining for!
Birdofthegalaxy's Photostream on Flickr
- An immense collection of restored pictures of the Enterprise, including VFX production shots, and tons of restored TOS photos, slate shots, publicity stills, and more!
Enterprise Schematics on TrekCore
- Pretty interesting, including more drawings by Alan Sinclair.
BrianM's Gallery of Shots from the 2015 Viewing
- Fantastic shots of the ol' gal on display at the Smithsonian's Udvar-Hazy Center in Chantilly, Va. on January 24, 2015 -- including shots taken of the port side by Chief Conservator Malcolm Collum!
Here's Page 1
, and
here's Page 2!
Or download the whole high-res shebang in one zip file!
Keep it comin', folks -- bring on your links, photos, videos, comments, stories, and whatever else 1701 you've got!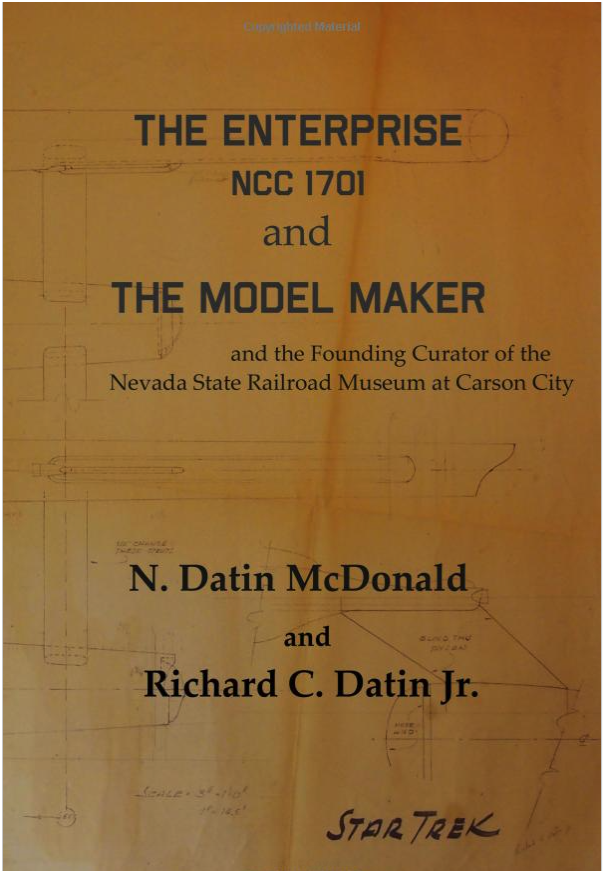 Last edited: