At long last I bring you the first Pottermore Wand Props, first of many props made to ignite the imagination.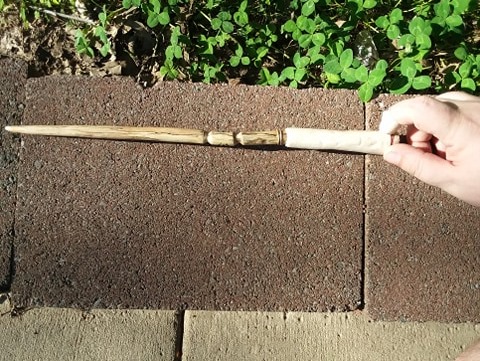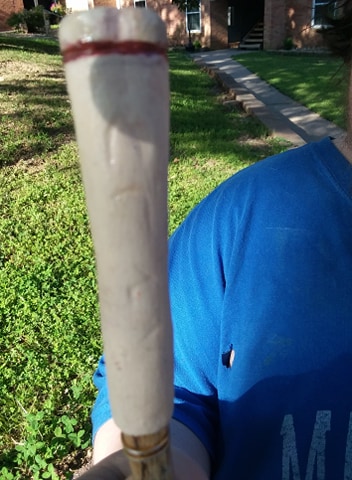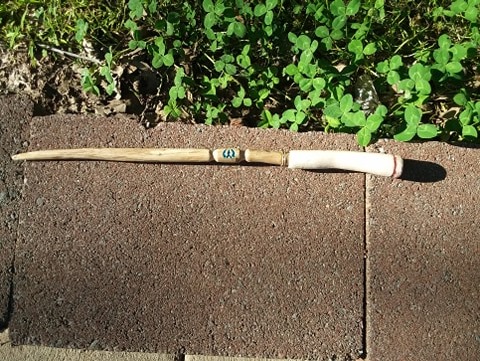 This fine wand is made from Oak, is 9 and 3/4 inch long (handle not included in length for this wand), a Ivory Handle taken from a young dragon (Swedish Short-Snout Naturally taken when Dragon lost the tooth) with a Occamy Egg Shell core, and sturdy.
I had a lot of trouble making the handle, trying to get the right feel of Ivory too some trial and error, wanted to make it look a little more worn but my first attempts at Aging wash did not go well. So It only has the little redis color where the root would of stuck in the Gums. Also, no the Ivory made from the Dragon tooth for the handle does not add any power to the Occamy Egg Shell in output.
I really think this first wand came out great, I had intended to carve in the D&D Dwarvish script the word Opus into the handle but while faintly noticeable under the white the carving was way too haphazard so it served better as worn bits in the Ivory. Now I just need to make a box and she will be up for sale. I'm gonna have to get a premium here incase anyone wants to buy a design I make after seeing it. I will get that next month then now I need to source some more Wand wood before I make my next Wand (Got lots of Oak but not much else, the Two Rowan branches I got are for family) glad a good friend of ours said I could come over and chop what I need, just gotta take a photo of each tree.
My next project is a miniature of one of the creepiest things Nintendo ever created, if anyone says that darned Eel from Mario 64 I will punch them thing is not scary. No this creature it lurks in shadows, deep under a village and has only ever been in one game so far, not even the direct sequel game had it in its region of the undead. Anyway I leave you to the wand above let me know what you all think please, I can only improve with your criticisms and critiques.