Hello,
I was recently doing research on some Original Trilogy lightsabers. I found this wonderful site called partsofsw.com, and it gave me most of the info I needed.
I say most because I am still missing vital information.
I was hoping to recreate a few stunt sabers. In particular,
The Obi-Wan ANH Stunt Saber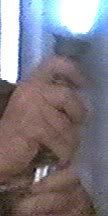 The other is Luke's from ESB.

(Note that the top Luke pic is a modified version of the stunt. Luke's stunt saber from ESB was modified to make the Vader ROTJ. The pic was the closest I could get to a close up picture. The Luke model is seen in the second pic.)
I am certain that the blades were dowels, but I need the measurements of how thick they are. If anyone knows, please reply below.
Thanks in advance.