One of the best things I like about Alien (1979) is the wardrobe. The choices that were made by Tiny Nicholls in the Costume & Wardrobe Dept. (based on the designs of John Mollo and Ron Cobb) fit right in with the well-used interiors of the old commercial towing vehicle.
A project came to mind: instead making an authentic jacket, why not try to make one that evokes the same look… for less than 100 USD?
GIOBERTI MEN'S 100% COTTON SPORTWEAR FULL ZIPPER TWILL BOMBER JACKET, CHARCOAL.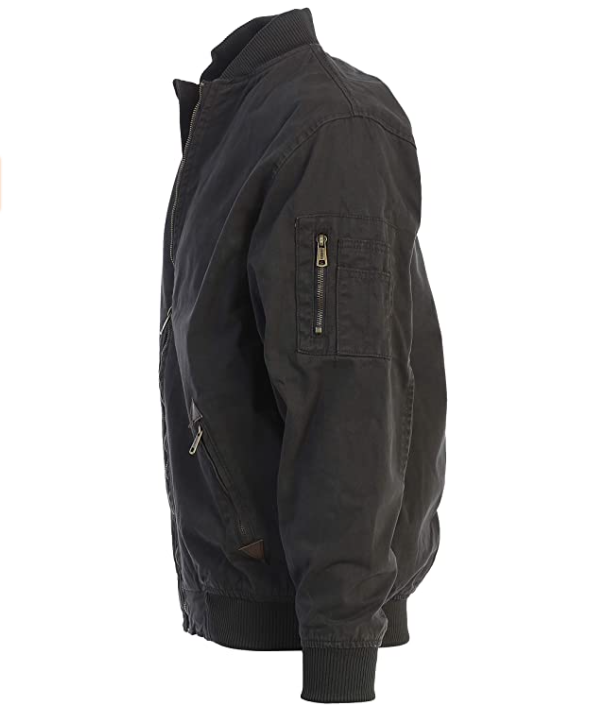 I spent several months searching for a bomber-type jacket with a little business on the sleeve, and with a grayish color. This item is actually a very nice garment and sufficient for winters in the U.S. Gulf South.
NOSTROMO SHOULDER PATCHES, EXEC'S WINGS, AND U.S. TRI-CENTENNIAL COMMEMORATIVE PATCH.​
What serious fan of Alien doesn't have a few of these tucked away somewhere?
NOSTROMO STENCIL​
I bought this from Moosh89 several years back. I checked in as I wrote this to see if the stencil is still available, but currently it is not. I have found that most sign shops in my area can create these if you have the graphic image.
To gently weather the outer shell, I used dampened coffee grounds, powdered graphite, scissors, and a couple of different sanding blocks of different grits.
Next, I placed the stencil on the back of the jacket.
This is basically a "reverse decal," meaning it is sticky on both sides: you peel off the front cover and lay it on your garment. You'll want to "burnish" it into the fabric for a nice seal, then gently peel off the backing so as not to tear the lettering or leave behind the circles that make the "O"s.
I feathered on three coats of the teal spray paint, at about an 8-inch height. After each coat, I took a piece of commercial paper towel, balled it up, and "stippled" the paint to give it a worn appearance.
Next came the shoulder patches, the Exec's wings, and the US Tri-centennial patch (shown above).
To give them a weary appearance, I scuffed them up on a piece of unfinished concrete and then did some tea-dyeing.
I modified
Christian Matzke's popular template for the Balaji cigarettes package
and skinned a box of Marlboro cigarettes. This size fits in my jacket's sleeve pocket.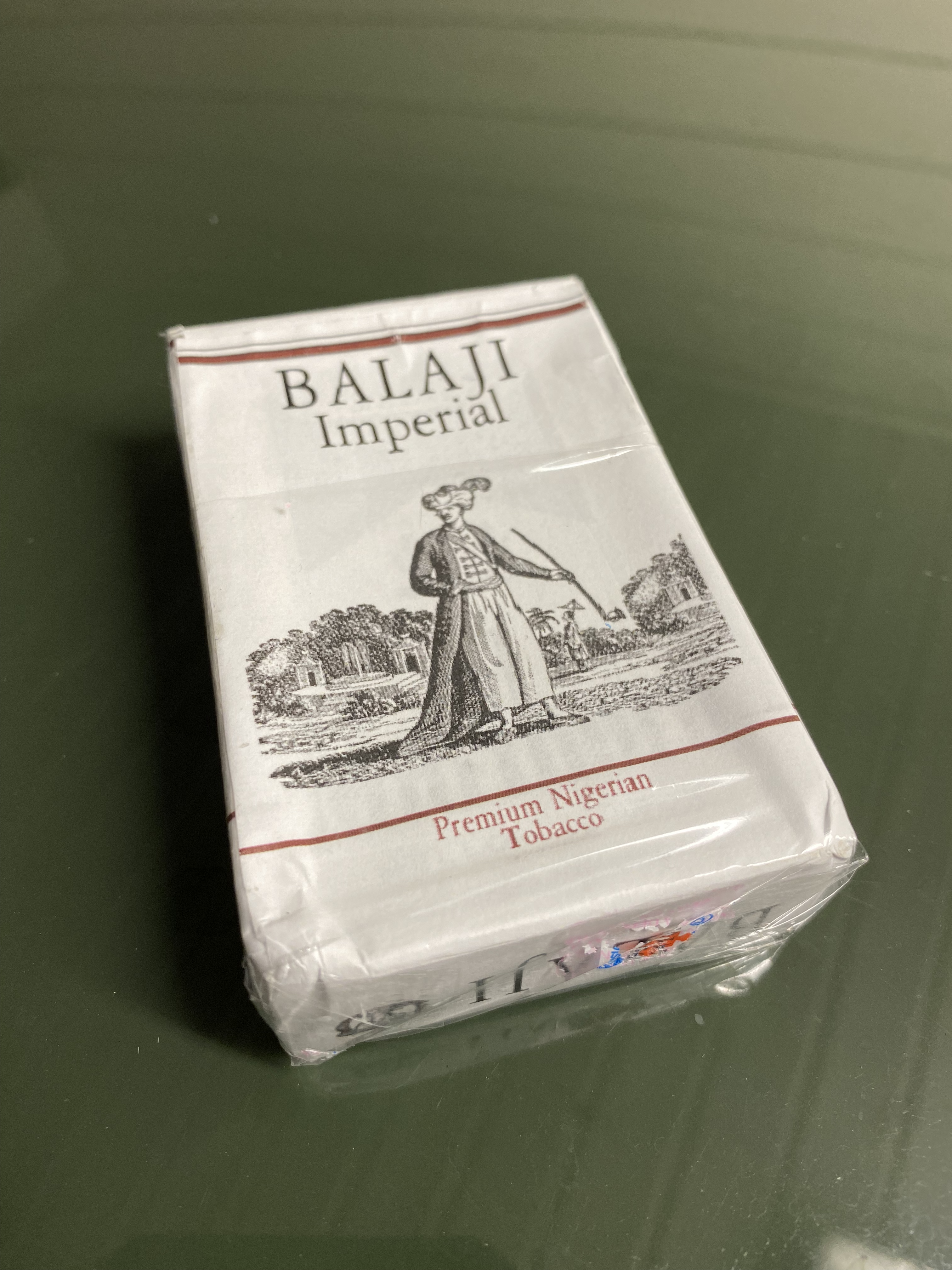 Taking further inspiration from a Adam E.
, I decided to add a clothing label. I found one suitably boring as a model, and used graphics software to add images and a crumpled background. This was printed onto a sheet of Avery Brand 3279 Fabric Transfers paper. To obscure the original label, I added a blank piece behind my printed label and ironed them on.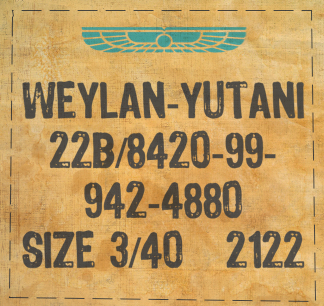 As I was wrapping up the jacket work, I came across the manufacturer's card, attached with a small chain to the inside of the jacket. What to do with this?
So I thought: maybe there is some sort of
TWIC-like keycard
issued by a space station and used by the crew when they're off the ship for access to amenities and entertainments. (Handy for using to chase after the party with Parker!)
I took a (very low budget) stab at it, just for kicks: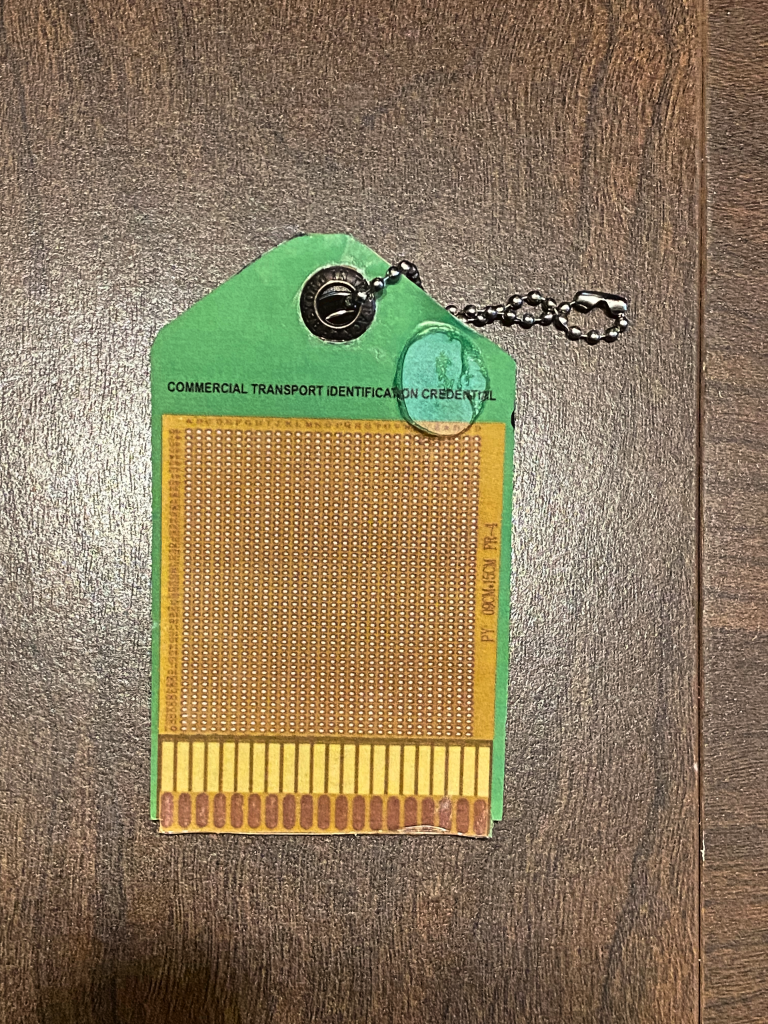 Assorted small rips, tears, and stains were added to the outer shell of the jacket. Then it was rolled up unceremoniously and stuffed into a closet-corner for a couple of days before hanging it out.

Here is the list of items that were used, and the final tally: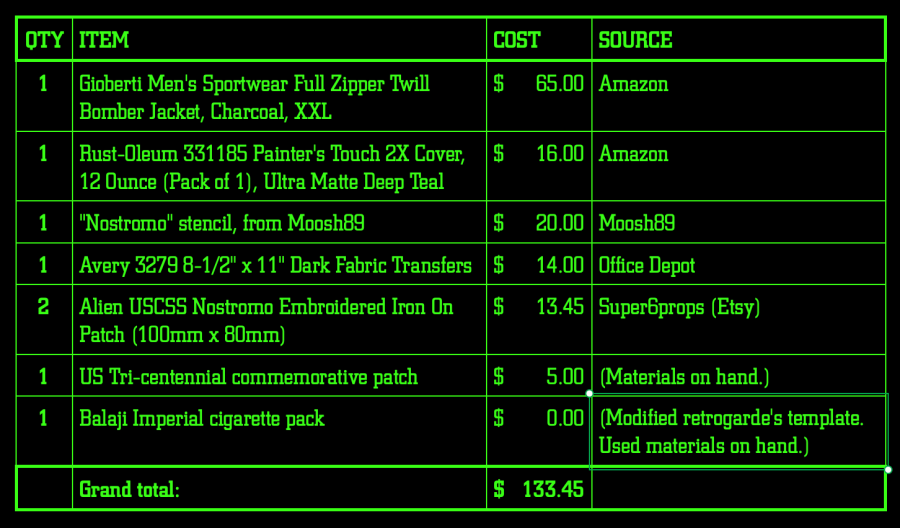 As you can see, I exceeded my cost goal by about 30 percent, but not too bad considering the availability of the things I needed. I am very satisfied with the final result!
____________________________
This article in its entirety originally posted on The Nostromo Fiiles blog 2021-11-28:
Nostromo Flight Jacket, on a Shoestring Budget.
Last edited: