Since Nike released the 2011 Nike Mags back... blah blah blah
cry...
Ok we all know the story and many of us couldn't go out and buy us a pair
Like many here I attempted to upgrade my Markpoon Nike McFlys with lights and what not... then the solder iron incident happened back in Nov of 2011. At that time S02 was upgrading Markpoon's McFlys for a price and I about jumped on the band wagon to save me some time but something told me not to.. so instead I bought a new pair of shoes from Markpoon. That was December of 2011. Then the first of January they arrived and the project started all over again but with a twist.... new clear sole replacements along with ankle bubble and of course new straps.
I want to tip my hat off to Markpoon of course for these wonderful shoes. My biggest inspirations for this project came from Pitbull, MTB and lukebrynycz.
And Kudos to S02 for taking on his own project with those many shoes at one time.
Here are pictures of prototype one of my mags. I apologize for the pics. My camera is not the best.
These are for my use only. I'm sure there are many flaws on detail, craftsmeship and accuracy but that's ok. No big deal. Cause if I wanted accuracy I would sell my sister for a pair of the real deals. ROTFL! JK.
It's all for the love of prop making anwyways.
The nice part is.. they're mine.
My clear soles and ankle bubbles are designed from the 2011 Nike Mags but fitted to Markpoon's McFlys.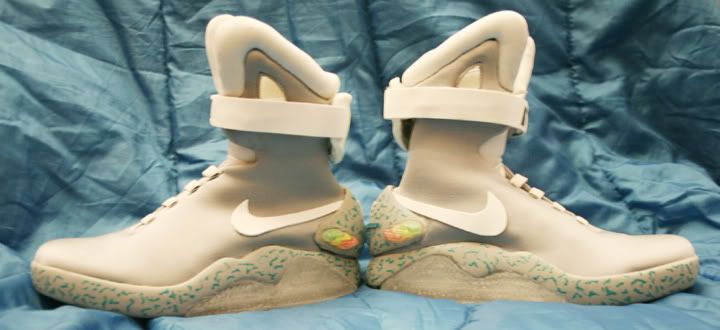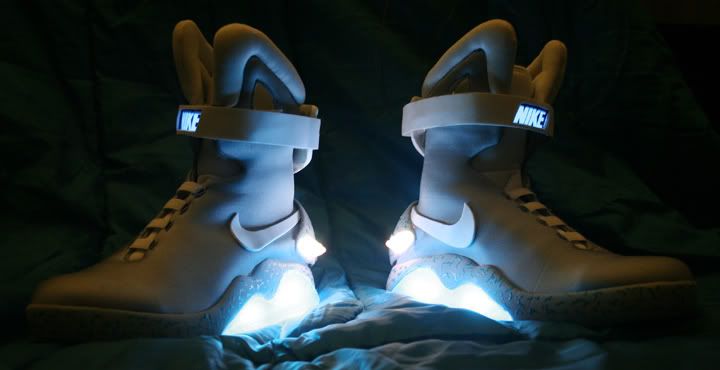 Still doing more tests on the clear soles. Enjoy!