Hello RPF'ers !
So ... Wow.... this account hasn't posted anything in probably 4-5 Years!
After building the Umbrella XJ and getting Married, Life got a little crazy.
But here we are ! Still happily married. To the same wonderful woman. LOL. Two awesome kiddos, still doing RPF hobbies on the side and running two businesses while working a full time 8-5 to pay the Mortgage....so life got a bit hectic everyone! haha!
This year i'm making some gifts for family members for Christmas. Specifically, I'm finding a lot of enjoyment making Signs based on things from Movies and TV Shows. Example, This year I built my wife a 1' x 4' recreation of the Jade Wolf Chinese Food Restaurant sign from ShadowHunters. Came out awesome, I'll post pictures soon.
For my brother, I'm wanting to make him what is likely going to scale into a 10" x 4' sign. The 'banner' from the Flying Boat in Fifth Element.
Most refer online to Mr. Kim Leng Thai Food.
I was hoping someone could help me because I've asked Numerous people, even emailed a guy from this forum, asked some friends in Discord, searched Google, etc., and I'm starting to wonder if the 'thai text' to the right of the banner is actually any words in Thai, or if it is just made up letters/font that have no meaning.
I have attached a picture of the text I'm trying to understand.
Can anyone confirm if this is even real text? ( Real text / font would make the artwork to run thru my vinyl plotter 100x faster to do ) If its determined that it is not real text, well then I'll just have to take this picture and try to recreate all of the text by carefully moving points around in illustrator which is going to take a few hours versus a few minutes haha.
On the sign I made for my wife, I was able to convert from picture to English and determine what the actual Chinese text was and type it back out and scale it, etc.
Any help would be really appreciated.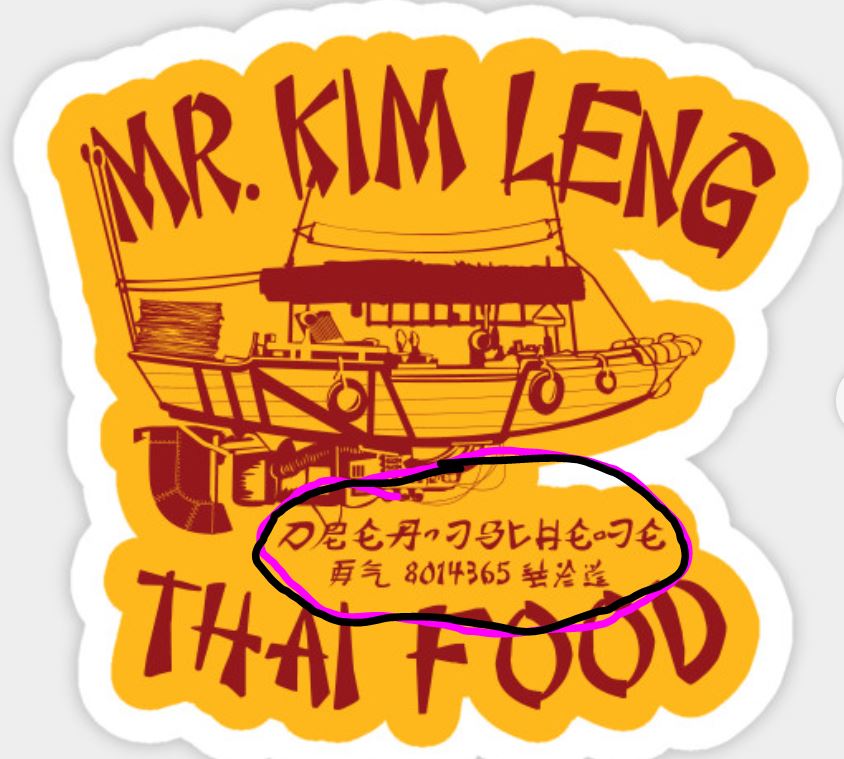 - William