Sorry to post in the completed suit forum, but there isn't an original prop related area.
Some may remember months ago that three trophy skulls from the Predator 2 spaceship cabinet were auctioned on Profiles in History- well I actually bid and won them. I am and always have been a massive fan of the spaceship scene (being the first part of a Predator film I actually saw), I was thrilled to win them and guess that their broken state put some potential bidders off.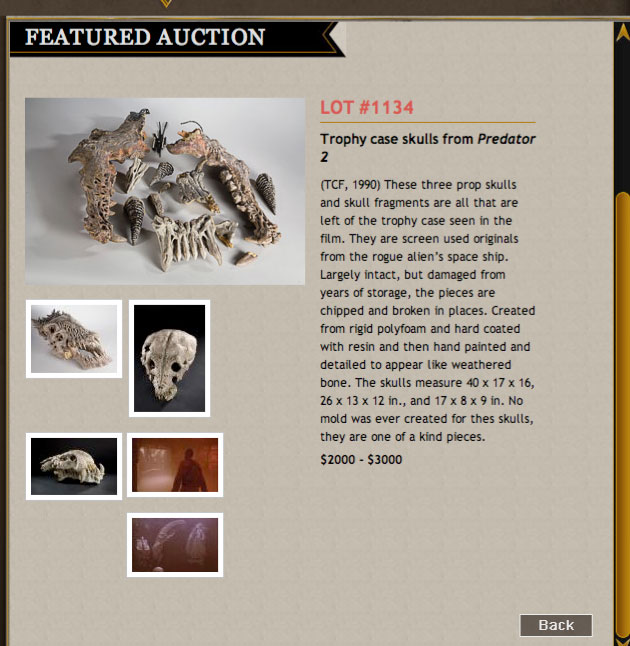 It took a lot of stress arranging to get them packaged and shipped from a distance,I was kept up to date with photos of them being wrapped and boxed.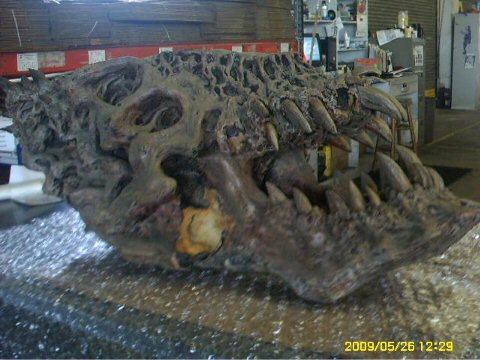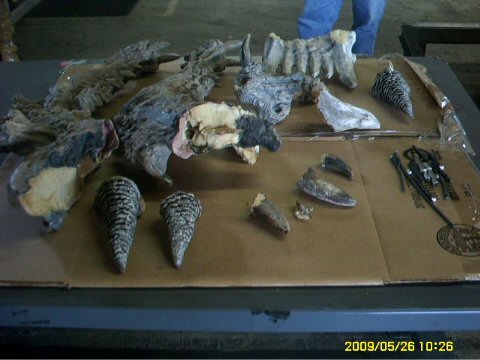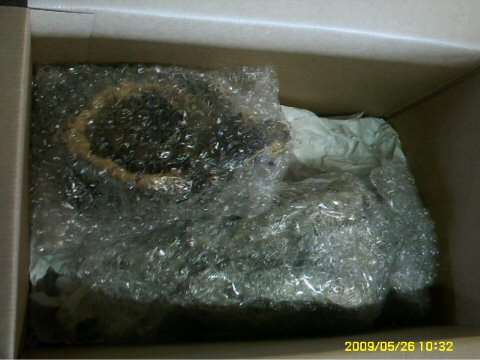 I had to sell some big models well before they arrived and redecorated my room before designing a custom made cabinet to hold them. I only had basic measurements so much of the actual building was delayed until they arrived.
The skull pieces were like a big precious jigsaw puzzle and I had some doubts at how well they could be reassembled and mounted for display. I sealed all of the raw and exposed hard foam to stop it from crumbling away, the largest skull had both large tusks broken off which have thin metal brackets screwed into them where they originally held it to the wall, the black cable pieces used to go through the head underneath but those areas were now torn through.
The horned skull had all of its hrons broken off, one is missing and the original jaw had been previously replaced with a toothed one.Its original fanged one and part cheek were in with the other bits.
The smallest of the three which hung at the top of the cabinet also has its jaw broken off and sadly the cheek areas either side that held it on are lost.
There are pictures in The Winston Effect book showing The Relic suit being tested, on the side wall of the workshop you can see all of the skulls along with the Predator's helmet, spear and disc. Those weapons have long been on the FBI site as stolen, my assumption it that thieves targeted everything on the wall but the skulls got damaged removing them being heavy and fragile. Anyone know any different?
At the same time I managed to speak to Kevin Hudson who build the Alien skull for the cabinet (which was also stolen), he gave me some information as to the original sculptors of mine.
I build wooden framed stands for each skull and covered contact areas with cushioned velvet. They all fit on my wall securely behind glass, protected from dust and sunlight. I also got a chance to display my AVP skull and spine prop. The lower area was idea in size to incorporate an AVP chess set I got with some damage and pieces missing, I inverted two walls to surround the base and repaired a broken corner statue to finish it.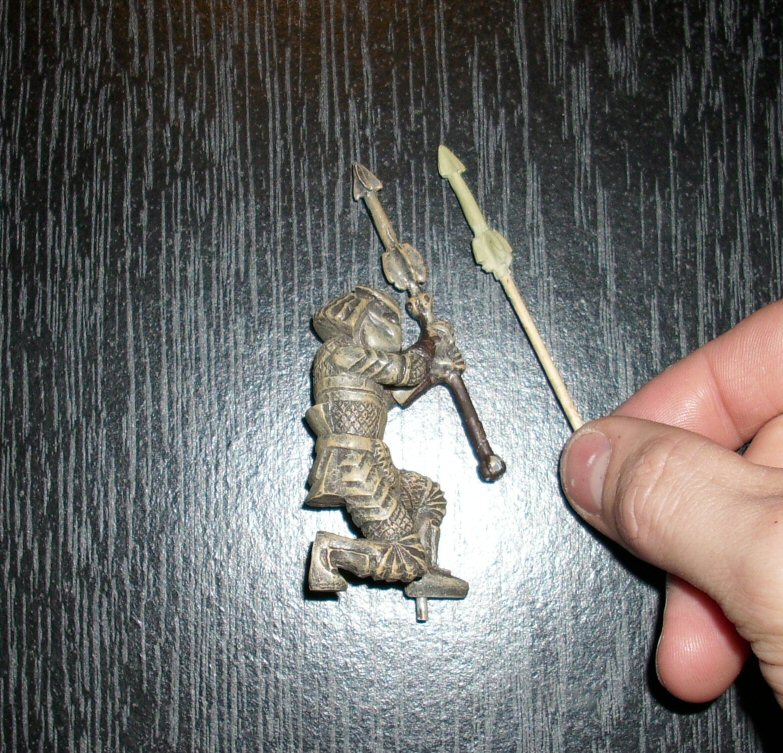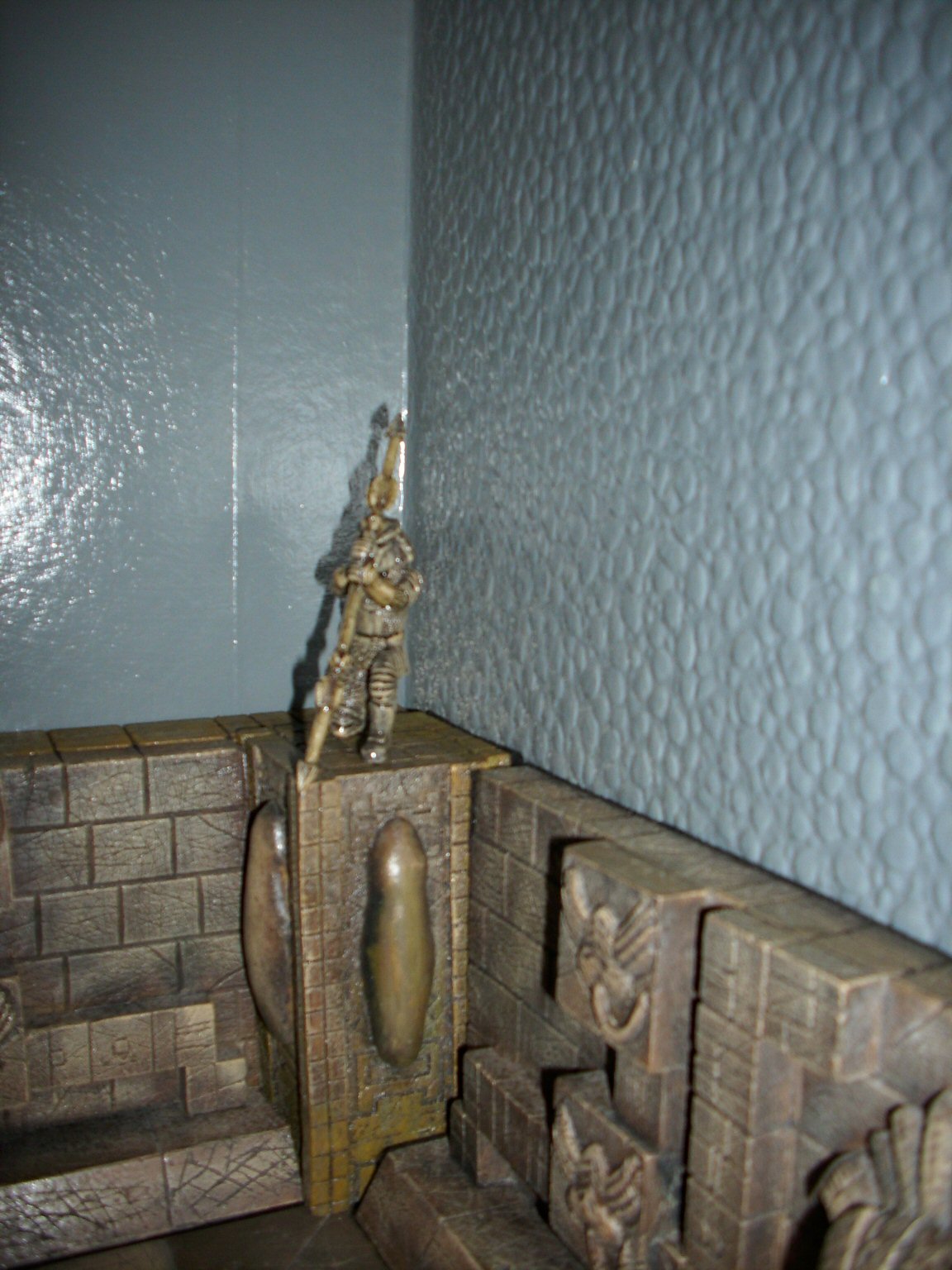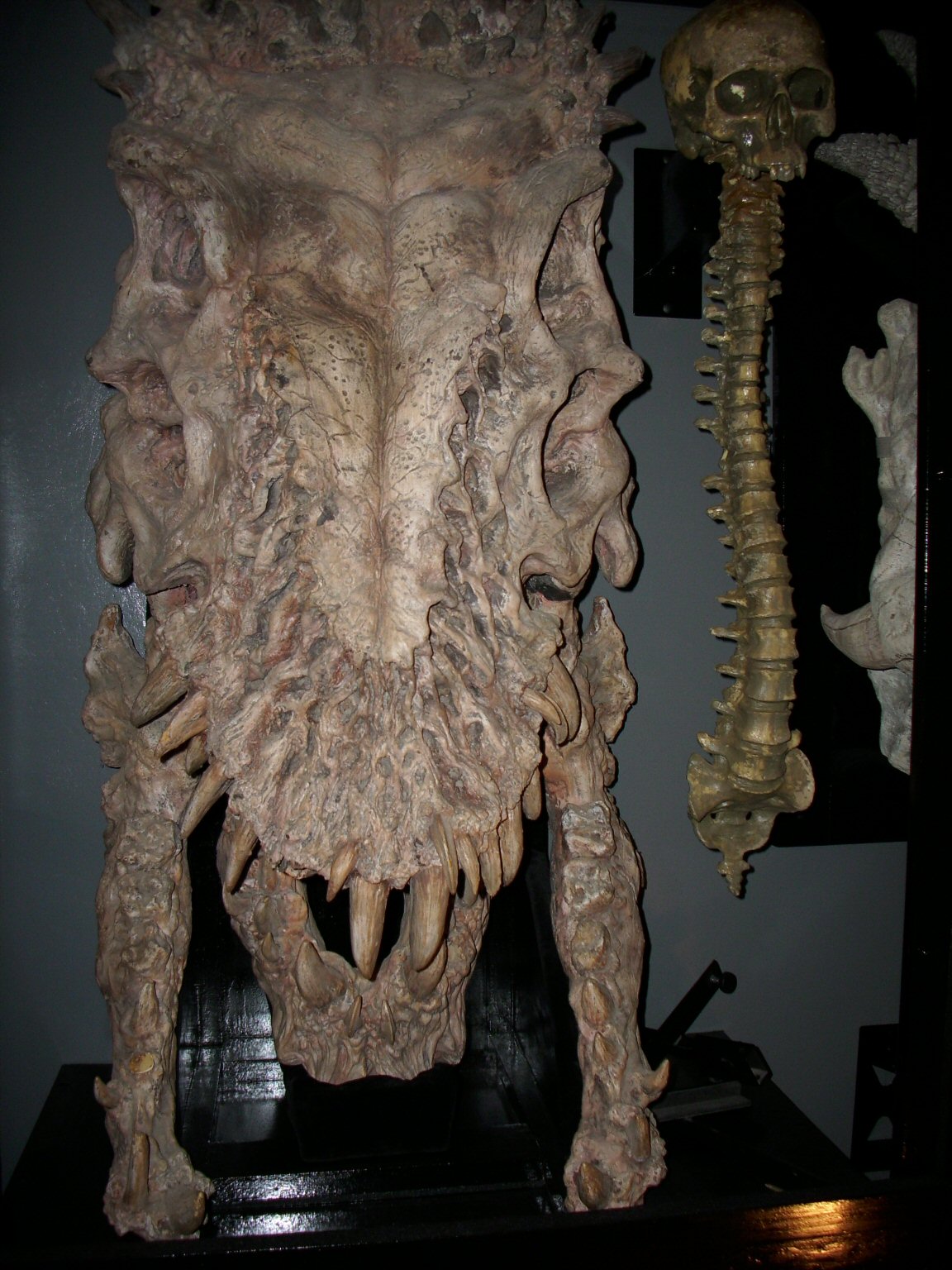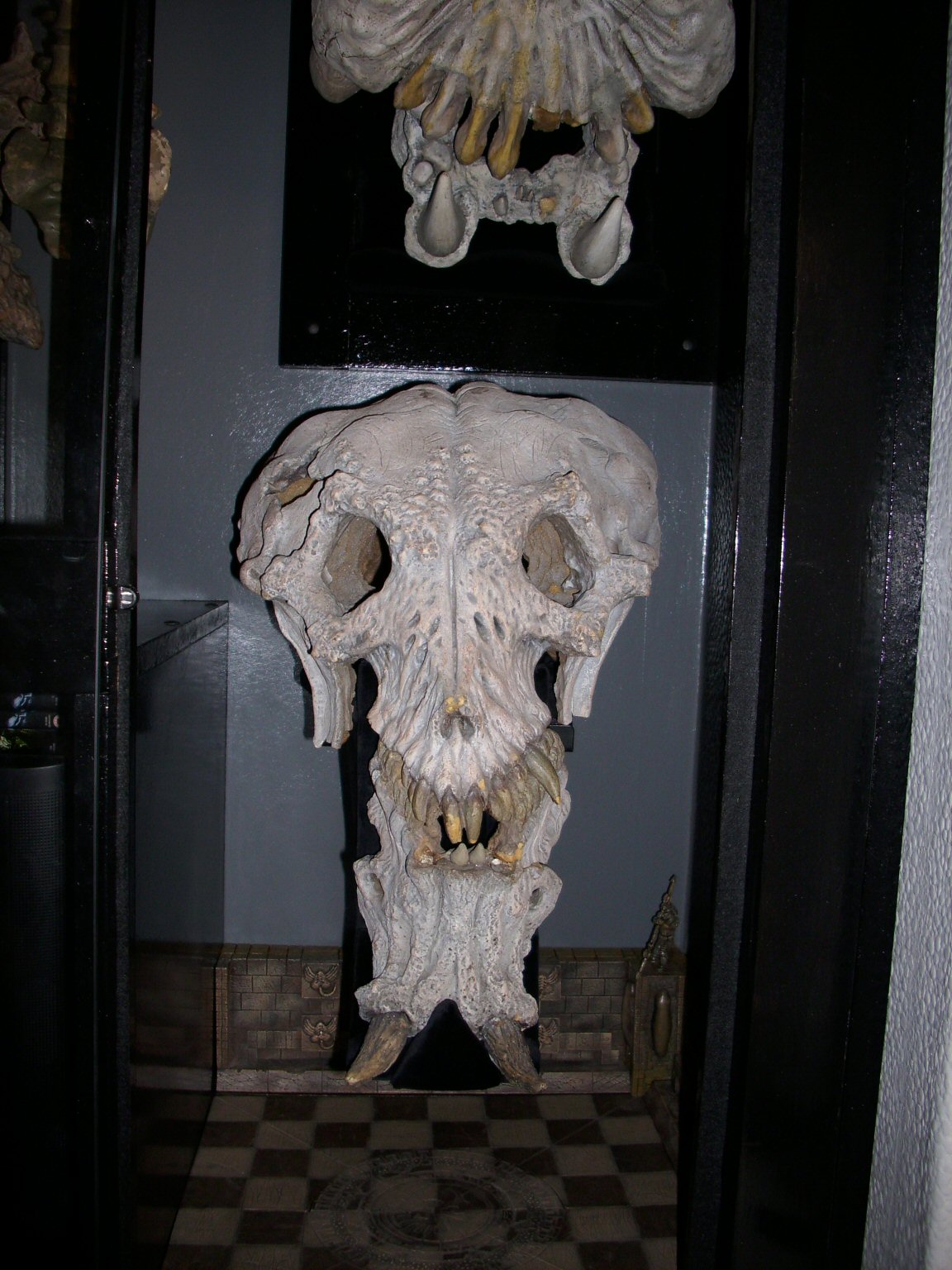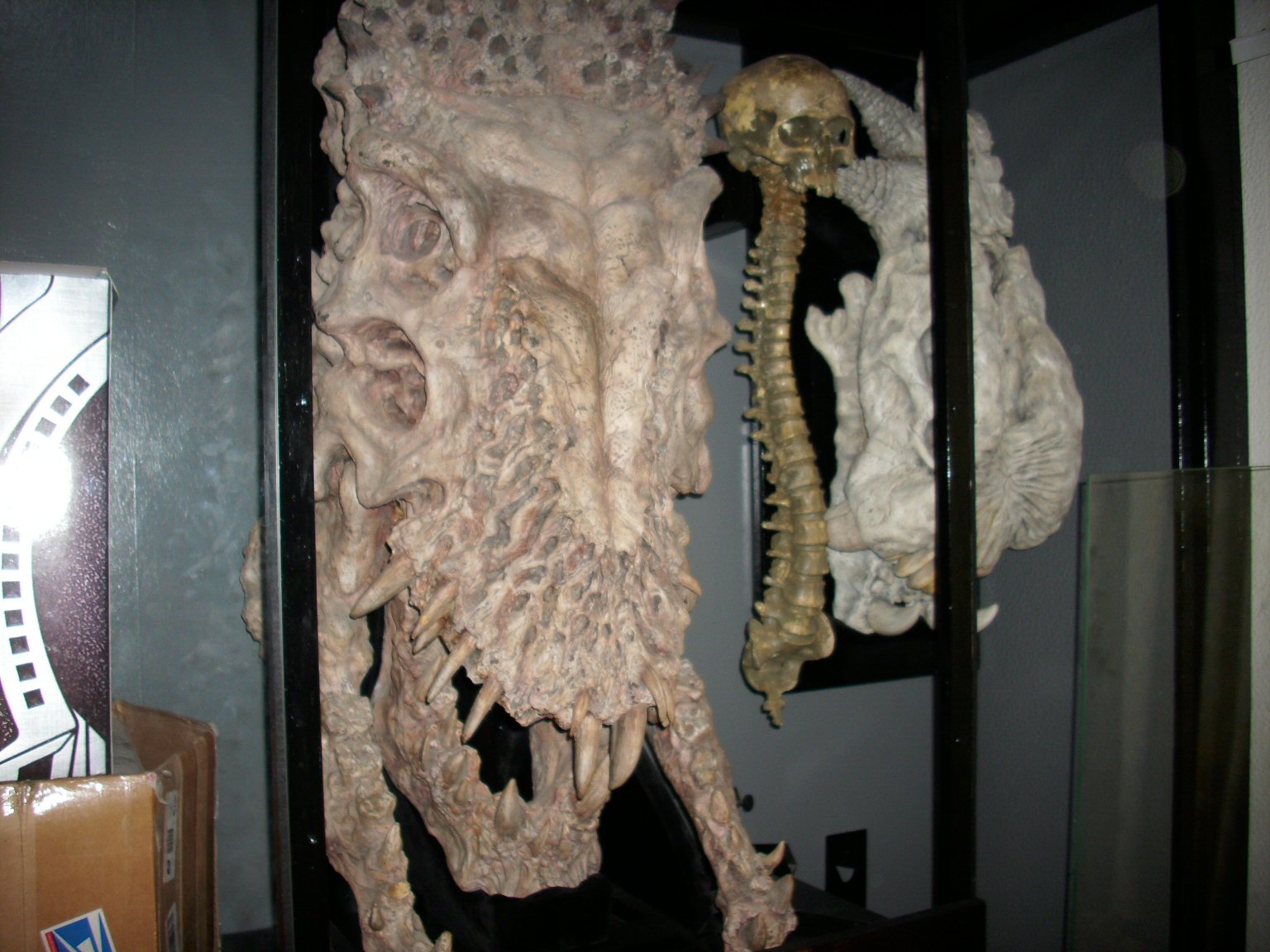 Last edited by a moderator: