Just wanted to share a few pics of my Rick Grimes Season 3 costume that I put together for this this past weekend's Wizard World Comic Con here in New Orleans.
Al good bit of my ideas came from the creator of this 'build' thread, so
many
thanks to him!!
http://www.therpf.com/f24/rick-grim...te-pics-196674/?highlight=rick+grimes+costume
Anywayyy, on to a few pics:
My dutybelt rig, complete with accurate Rick style airsoft Python and Gerber pocket knife: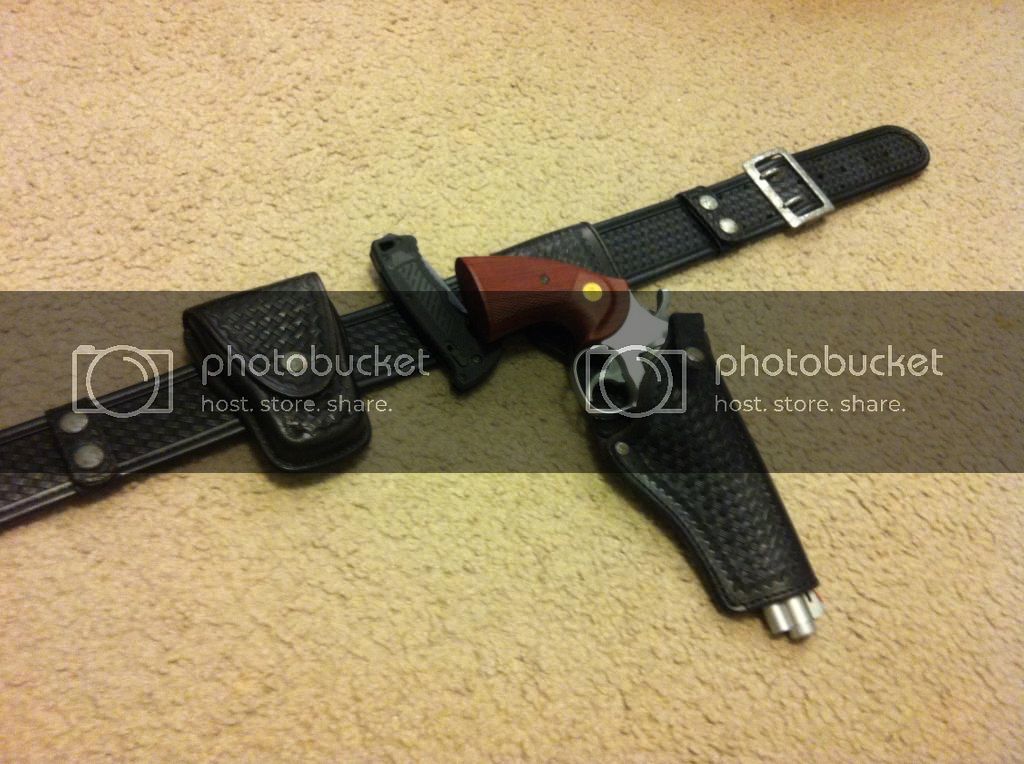 Everything was bought new, so I artificially aged the brass components of the belt with a combination of three paints to give them an oxidized, slightly rusted look. I also lightly brushed and rubbed in brown paint to few select areas of the leather to help the belt look more worn: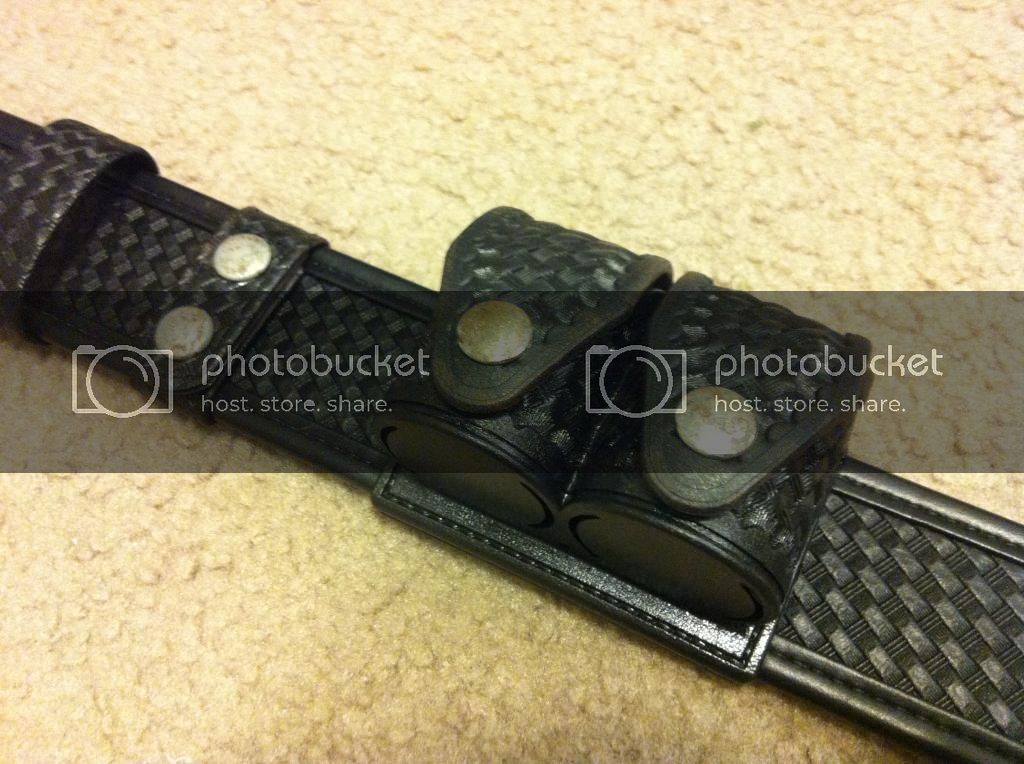 For the machete, I more-or-less did the same techniques the poster in the aforementioned link did, but I also added black cloth tape to the handle and fake blood to the blade: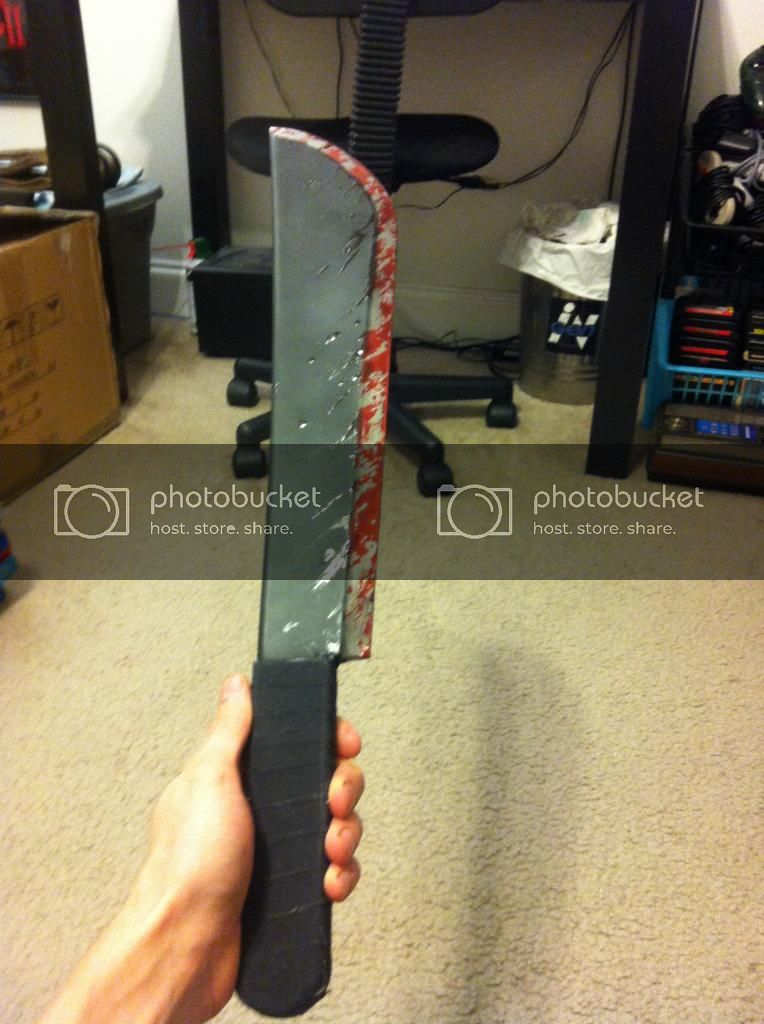 For the boots, "close enough" was all I was after (the real boots get CRAZY expensive) and I was able to snag these used off of ebay for fairly cheap. I applied some light brown paint, patted down with cloth, to add some extra scuffs/weathering:
For me, the shirt, was the hardest thing to find (aside from the holster and the gun). I eventually settled on a very light khaki colored western style shirt from Banana Republic. I then proceeded to Rit Dye it tan, hit it strategically in places with a box cutter, soak it in a muddy puddle, let it dry,beat the excess dirt off, rub charcoal into it and, of course, give it a nice splatter, or three, of zombie blood.
I also gave a similar treatment to a freshly purchased white Henley to wear underneath the shirt ala Season 4 Rick.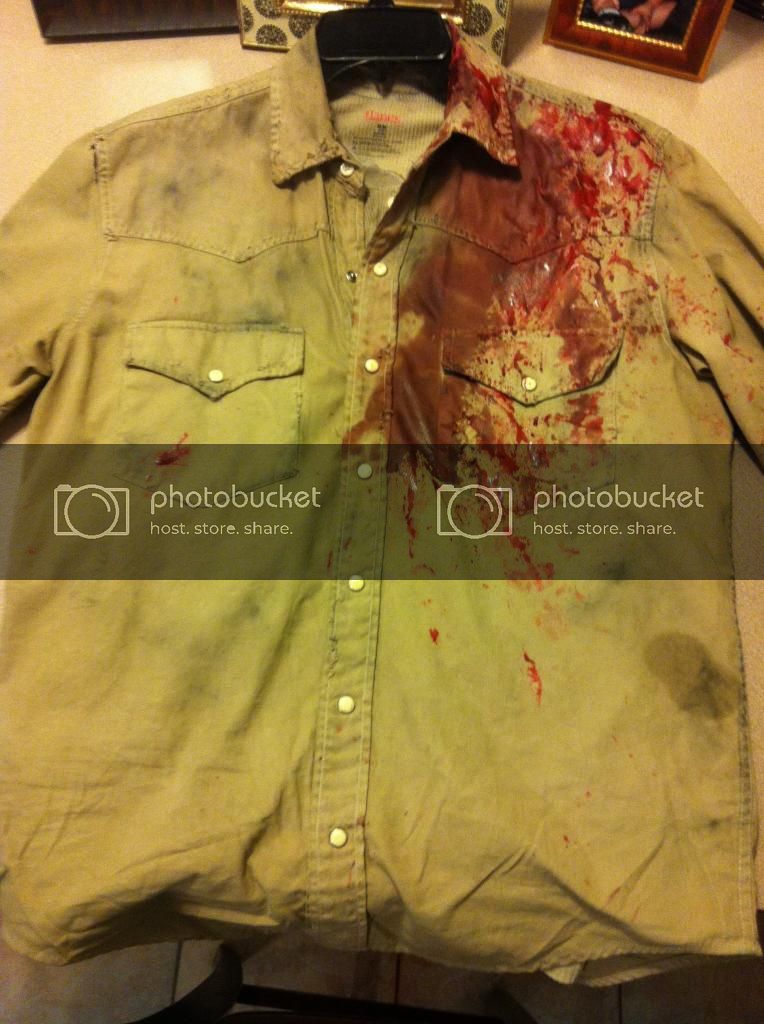 I also purchased and aged a pair of black jeans and a silver watch quasi-similar to Rick's but forgot to take any separate pictures of them. I am married so my wedding band got to double as a costume prop!
I faked tanned several days leading up to the Con as I'm quite pale and wanted to have that grimy, post-apocalyptic, 'bronze-y glow'. I applied charcoal to my face, neck and forearms, added some 'hero wounds' here and there and finished everything off with some blood and fake sweat (dilute black tea in a spray bottle). Lastly I wrapped my right wrist in gauze to simulate the injury Rick sustains in S4 when he fights Tyrese.
My only regret is that I couldn't make my hair look like Rick's (it just isn't long or wavy enough) and I am INCAPABLE of growing a beard!!! So, what facial hair you see if the best I could -- with two months of not shaving haha!!
But that aside, the costume came out well and quite a few people stopped me to take a pic or ask me
where my son was
.
Anyway, enough blabbering; on to some pics!!!
The wife and I: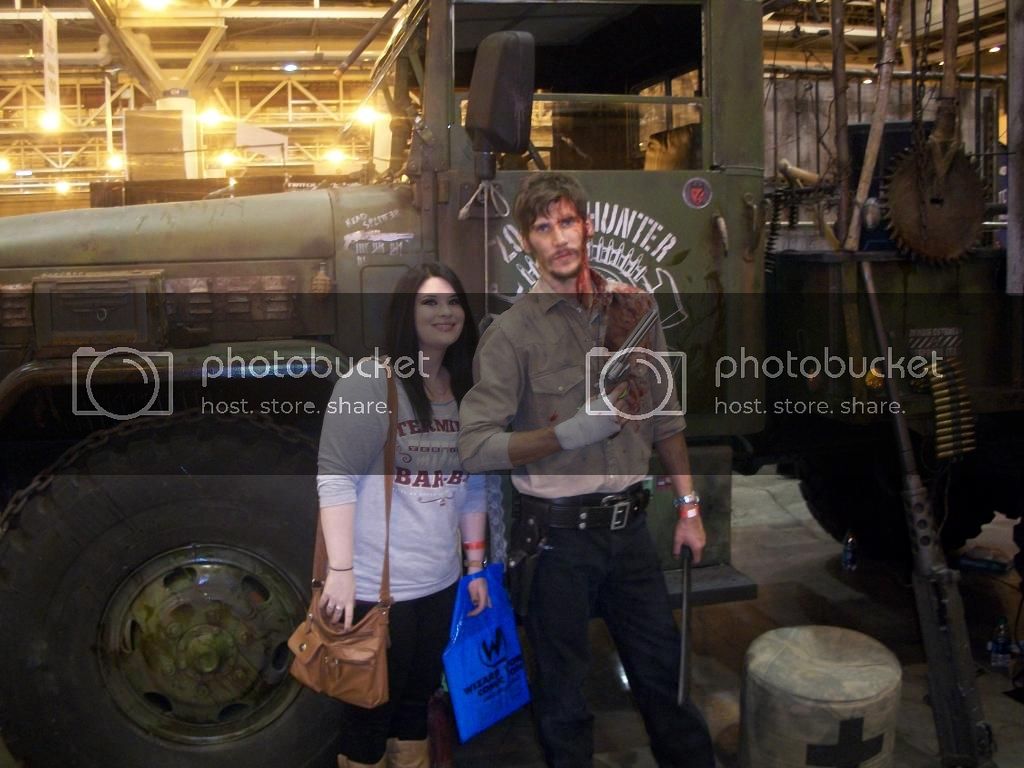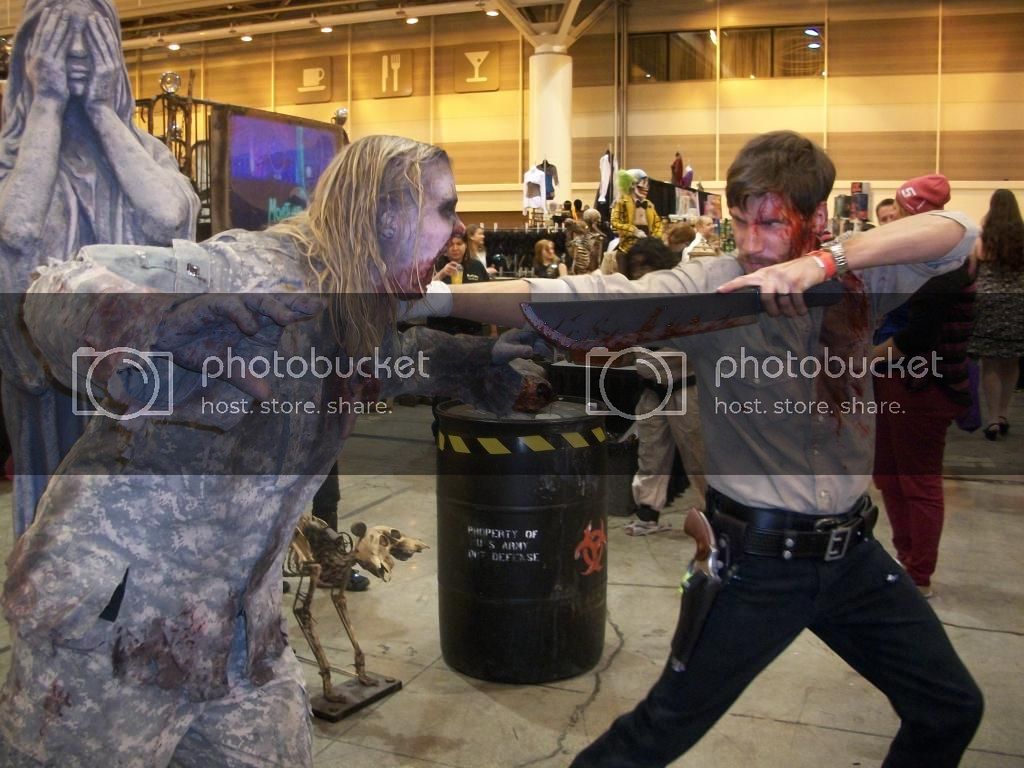 Me doin' by best 'dramatic Rick pose':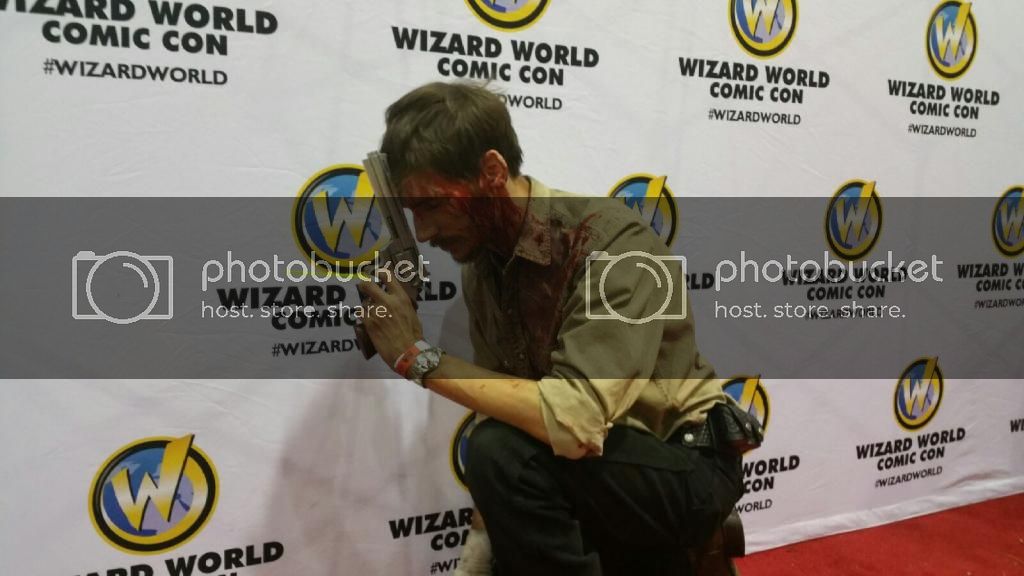 Kickin' ass alongside Iron Fist: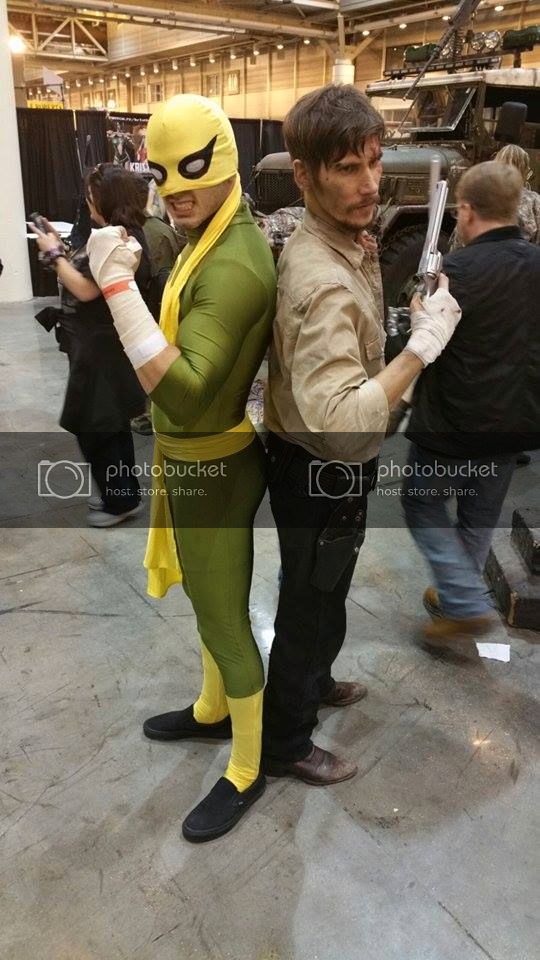 End of the night selfies before "de-funking" (aka
showering
:lol).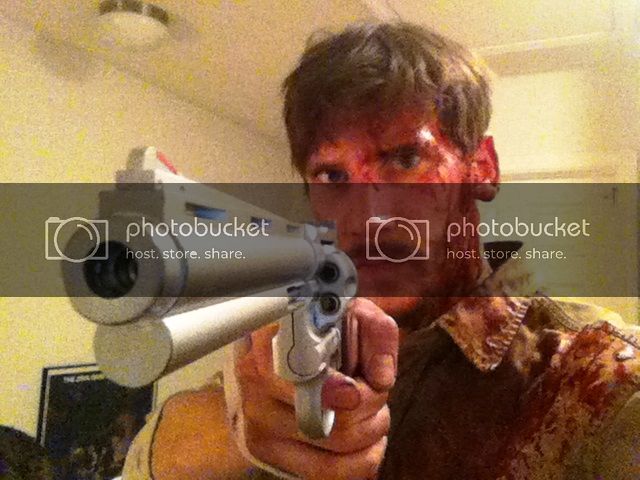 Oh, and did I mention we ran into
these guys
on the way out?
Thanks for looking and to those of you who's Rick TWD costuming threads I poured over countless times for inspiration/ideas!
-- Mike