Elvira- She made the B rated horror movies look a thousand times better, put new meaning to being a vampire woman, brought big hair back in her own flair and a golden dagger she'd 'cut you' with if you didn't like it, and made the Oak Ridge Boys sing her name (......okay, not the last part, but they did have a hit song 'Elvira' and are one of my all-time favorite singers so I had to include them! Giddy up!) I might not be the best one out there to don the outfit of the famous mistress of the dark, but she's long been one of my dream cosplays and I'm giving it the good old 'why not' Meg's-going-for-it-anyway shot in the dark and diving head first into Elvira mode. I will actually be a second generation Elvira in my family - my Mom once costumed as her when she was in her 20's too! So this one's for my Mom and me......
When it comes to being a vamp, I'd rather go old school and big hair than glitter junkie any day. :love Take that twilight. :behave
I'm making the whole thing myself of course, from wig down to even the jewelry, since buying the 'official' stuff at costume stores is way overpriced and they totally suck quality wise. The pre-made costumes and wigs are costly too and terrible looking if you ask me. Handmade is much better, even if it is a tad bit different. I am a sucker for detail so I started studying her first by watching some episodes of her show again, and then gathering reference pictures.
I started with the earrings, her ring, and the wig.
First was the wig. The Elvira wigs are too beehive looking to me, so I found a black 'poof' wig for cheap. $4.99 instead of $30 for the official, and when it came, of course the bag didn't do it any favors. So I took it all apart, brushed the whole thing out, cut her bangs in and started styling it my way.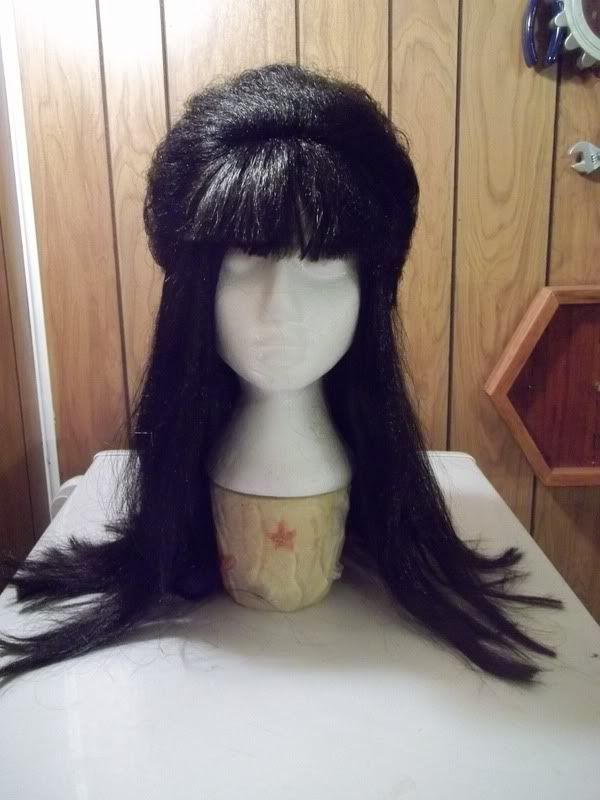 Finished wig!