I decided to do a set of gauntlets that looked a bit different than anything we've seen in any of the movies (I'm working on a fan film that has two different preds in it, so I wanted two quite different sets of armor and weaponry for each). And what I came up with is the "Slimliner System".
Blade retracted: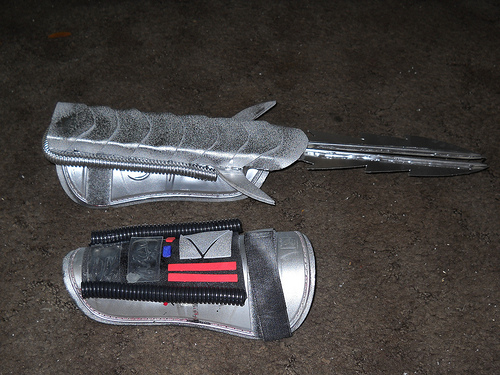 Blade extended:
One of the things I never really liked about Stan's original design (gasp!) was the bulkiness of the arm gauntlets. They just look heavy and unweildy. Maybe it's just because I'm not a very large guy, and when I wear big bulky gauntlets it looks like I have Popeye forearms.
Anyway, I wanted something that looked much more light and graceful. So what I did was flip the single blade so it is horizontal instead of vertical, and made the entire gauntlet much flatter, thinner and more streamlined.
I like the look.