I decided that my first post (aside from my introduction post) would show progress on my Shrunken Shrink Ray from "Honey I Shrunk the Kids!". I've seen a few threads on here that depict life sized shrink ray replicas, which I would love to have the space to have one of those in my house, but I don't! But I do have space for a 1"=12" scale model in the Livingroom though! So here are some pics! I'm using mostly Evergreen Plastics Styrene with some Weld Bond 4 to make the majority of the structure, no 3D Printer for me! I'd love one, but haven't turned that corner yet. I have some "found objects" in here as well. The gears are actually from Joanne Fabrics button section, the motor in the front is from a broken toy and I'm sure there will be some more pre-fab type objects in there by the time I'm done! Everything else is scratch built from raw and shaped styrene. I will also be putting the shrink ray on scale a table, adding a bit of floor and a smaller table that will have the apple on it! SO there will be some fiber optics used to show the red aiming laser and then they'll switch to blue-purple to show the "firing" of the device. Of course there will be a small baseball and fiber optic laser hitting that as well. My crazy brain has also figured that perhaps I can even place this device in an actual scale attic space like the Szalinski's house, broken window and 1980's electronics included! BUT first, the machine! I last worked on this in the middle of May, we had a long family trip coming up and with some direction from my wife I decided to focus on prepping and packing for that! So now that the absolutely amazing vacation has passed I'll start working on this again very soon! It's not perfect, by any stretch. But perfection wasn't the aim. I'm going for more of the theatric feel, as well as just experiencing the madness of Wayne Szalinski's device and the mad scientist sort of assembly of this iconic movie prop from my childhood that captured my imagination!
It was an important goal to make it move. Manually, but still, it had to be able to move.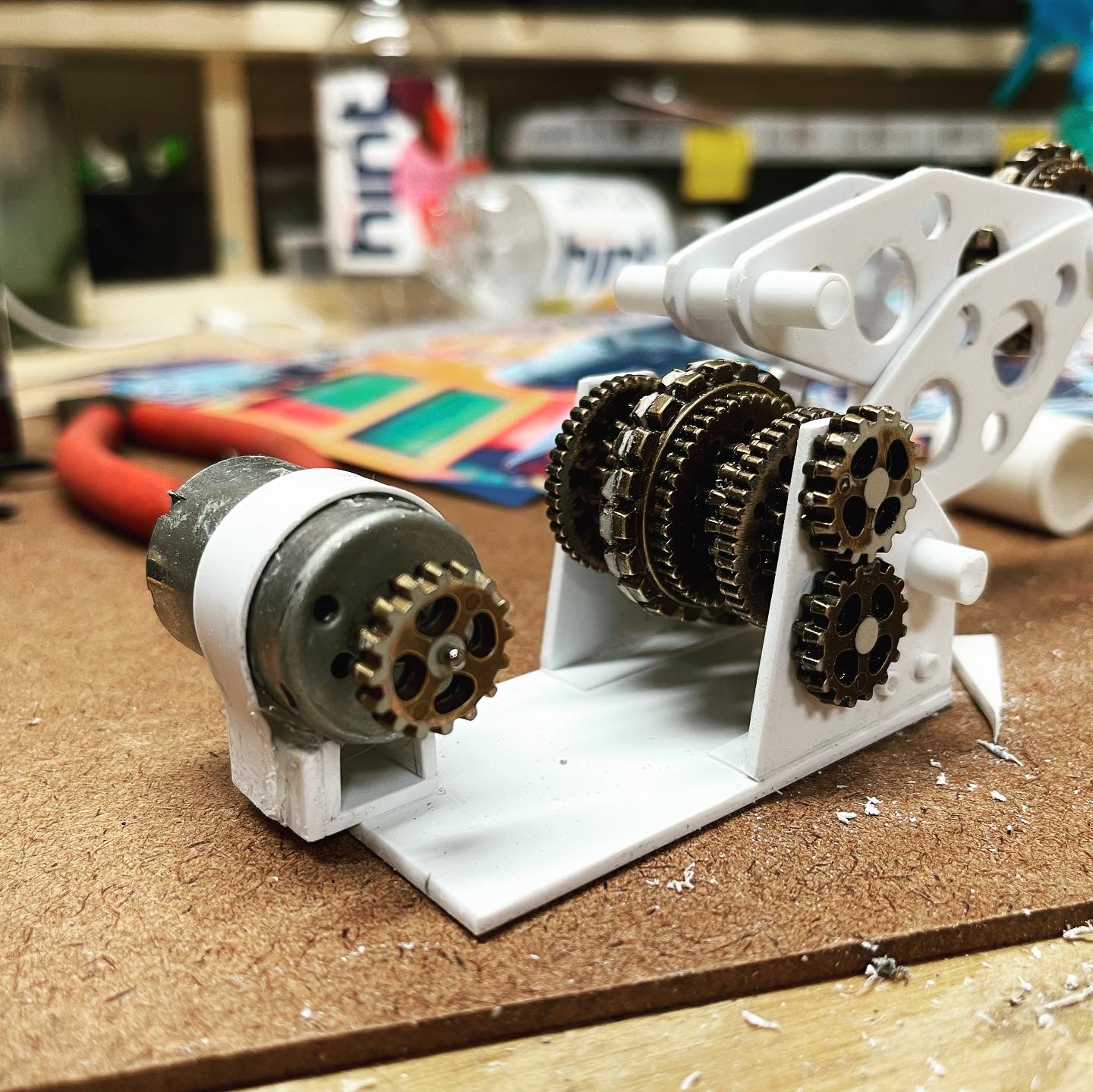 The I Beam structure was super time consuming. I don't recall the movie I had on when I was putting that together from solid rods of styrene, but I do know it took almost the whole movie... I wanna say it was probably "National Treasure" haha!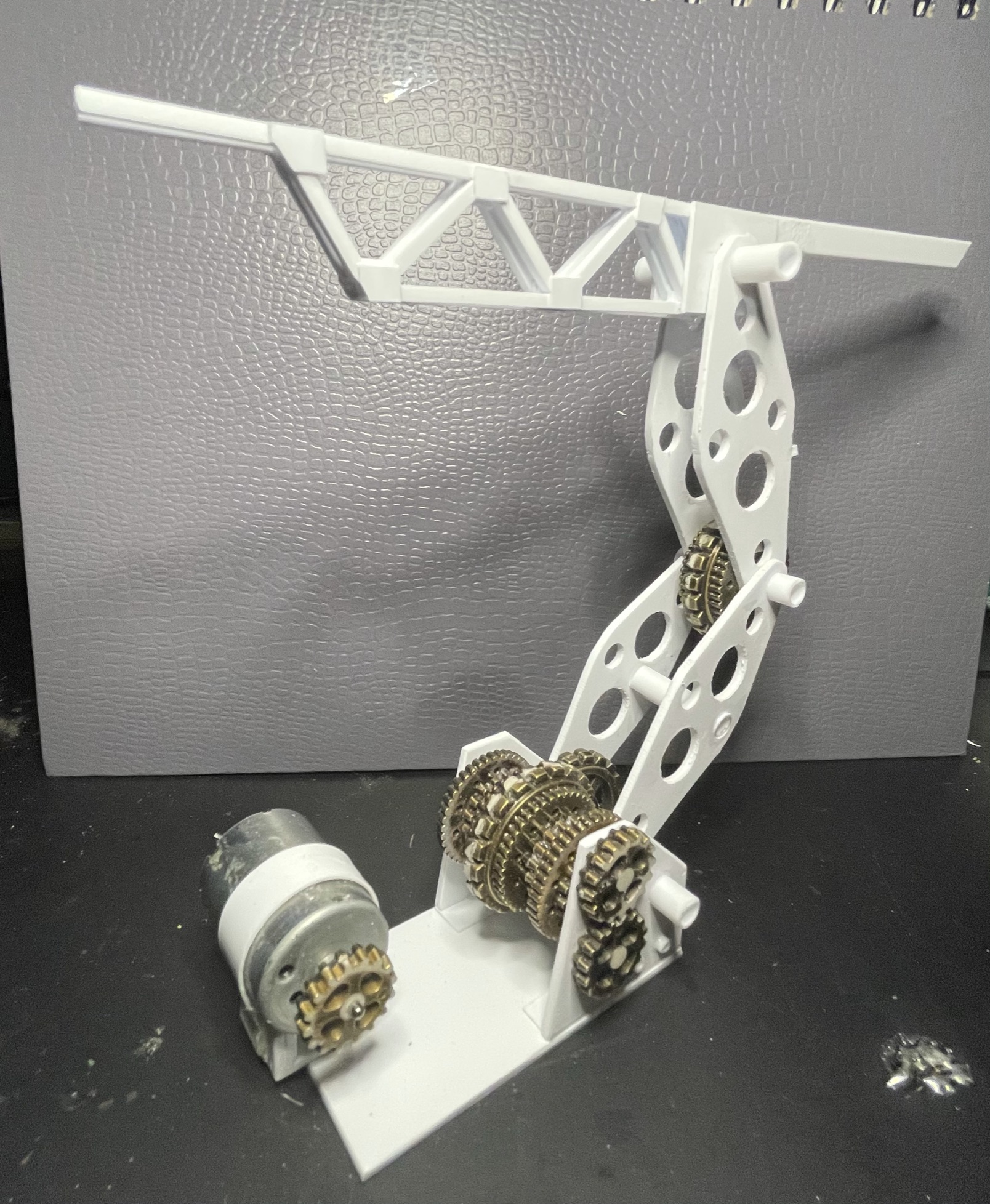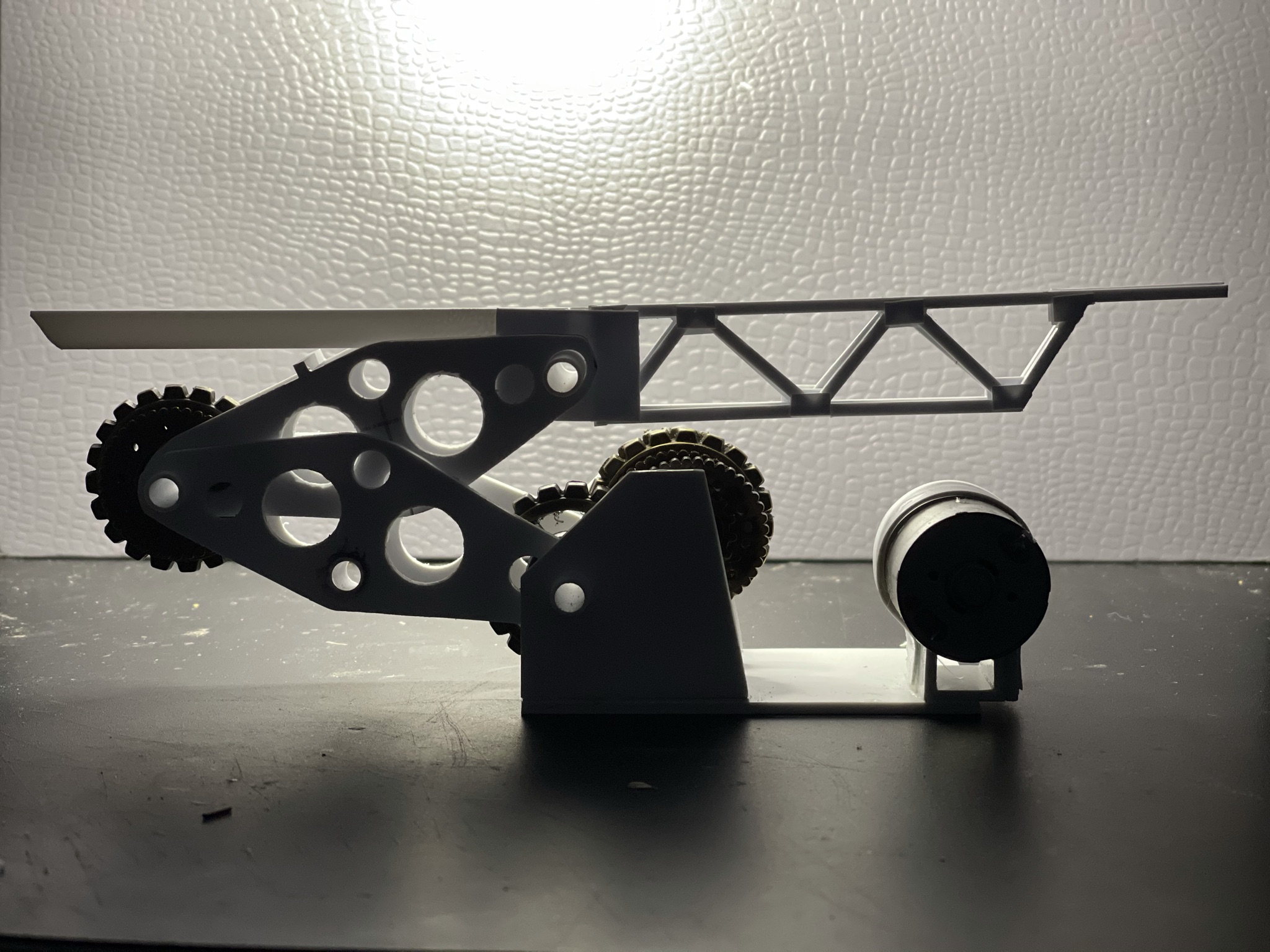 I love the silhouette that this gives off! I did use a drill press and my band saw to get all four of the machined armature plates with the holes in them... That is .40 Styrene and it was not going to be feasible or safe to cut those out at this scale with an exacto knife. Not only would it have been dangerous, but it really would have done a number on my wrists! If you have the tools, use them!
This was tedious! I couldn't find any heat sinks from any salvaged computer towers I've stripped, so, I had to make one! This thing really only took like 30 minutes to assemble, but it took like 2 hours to figure out a process to reasonably do this, I tried quite a few things! I used cross stitch sheets, the gridded kind, that didn't work at all... I tried etching, which would have been fine if I had a mill, but by hand it was going to take about a thousand years... then I remembered that I had 90 degree angled styrene! I ran out mid way so I ended up cobbling some "I" beam pieces to kind of match. Those will be on the back right corner, out of site... acceptable I think!
The center tube here runs the whole distance from the tip of the yet fabricated emitter to the rear chamber. The black tubes are actually the tubes inside of the rolls of receipt paper found in cash registers! Those will eventually be wrapped with "braded hose" and "copper pipes". That center tube will also house the fiberoptic cables that will be lit from that rear black chamber. There will be two LED's in that chamber, a red and a blue, they'll light up the strands accordingly. The discs with the slots and holes cut out of them will be wrapped in red/copper wire, the same kind of wire that's found in electric motors. That is to simulate the magnetic structure, I think, that is around the ray's body. Now that is a type of tedium that I need to be in the right state of mind for! Also, most things like that where I'll try to leave the natural color of that item alone will be done after painting... so that particular hell can wait until almost the last step! I'll start working on all this again in the upcoming days! I'm really pleased with how this is coming, and I'm excited and nervous to take all the remaining steps to complete it! Taking my time is key! Order of operations is key... like if I close this off or glue this down, 15 steps from now, how will that effect me!? Anyway, more to come!