I don't have much yet, but I wanted to show what I have Predator-wise in my prop collection.
First is a P1 helmet I got from KJ years back when I first started collecting movie replicas.
It was a scratch and dent piece which I was told was based on an Icons cast.
I put a ton of work and a couple of cans of bondo in resculpting this piece, but I didn't have much reference material to work with.
I got permission from KJ to mold and cast the helmet, but I think I managed to only do 3 copies since I wanted to make a more accurate helmet sculpt according to better reference material.
However, I get easily distracted with new projects and never got around to doing a new sculpt.
The one on the right is how the helmet looked like after I heated and bent it (it was pretty flat when I received it) and put some basic bondo work. The one on the left is how it came out when I decided to pretty much plaster the whole thing with bondo and resculpt the majority of the helmet.
Here's a few pics of it painted mounted on a foam head with some polyfoam dreads and pvc rings. It's the original sculpt painted so it weighs a ton!: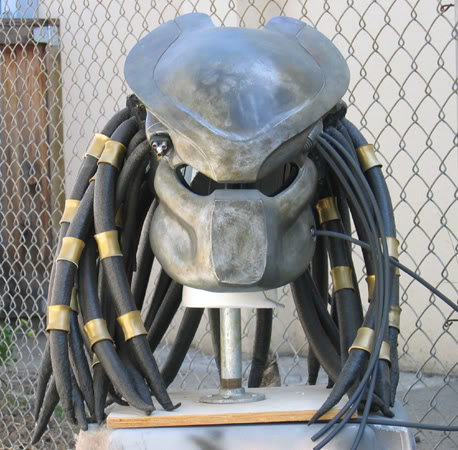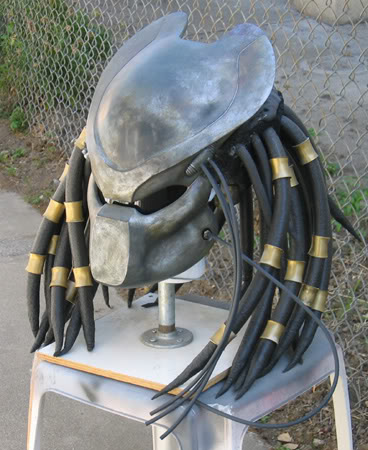 Here is my Accurized Plasma Canon Generation 2 which I acquired from Carl (carlart) some time back.
He was nice enough to sell me one and this is one of my favorite pieces in my collection.
I kinda rushed the paintjob on this, but this is such an awesome sculpt.
This is the Predator Statue made by Distortions for Morris Costumes, I recently acquired which I'm planning on modding into a full 360 degree statue:
Here's a sculpt of the dreads I'm going to cast to replace the sculpted dreads on the statue:

I know it's not much, but we all have to start somewhere and I'm hoping to acquire a few more bio helmets so I can have a wall of bios surrounding the statue.
Thanks for looking!
-Ely