Hi folks. Well I've been on the Lair now for over a month and I thought I'd start a thread to keep you guys up to date with the progress I'm making on my suit.
I started by comissioning a mask and bio from the mighty Termokk. These are yet to reach me as he has been working hard on getting them perfect for me. Here are the first shots of my mask and bio he sent me. I have since asked for quills to be added to the mask as I think they add realism. Notice the awesome green mirror lenses in the eyes of the bio. It also has working led red targeting lights and magnets to keep it attached to the undermask.
Here is the WIP shot of the undermask - quills are being added as I write this.
From there I realised I needed a mannequin for when my mask arrives so I went looking for one. It turns out there is a shop directly across the street from me that sells old ex-display mannequins so I picked this one up:
My girlfriend started to get bothered by the naked man standing in the corner of our living room so I dressed him up and added some mountain lion eyes I bought from a taxidermy store off Ebay. These are in preparation for displaying the mask: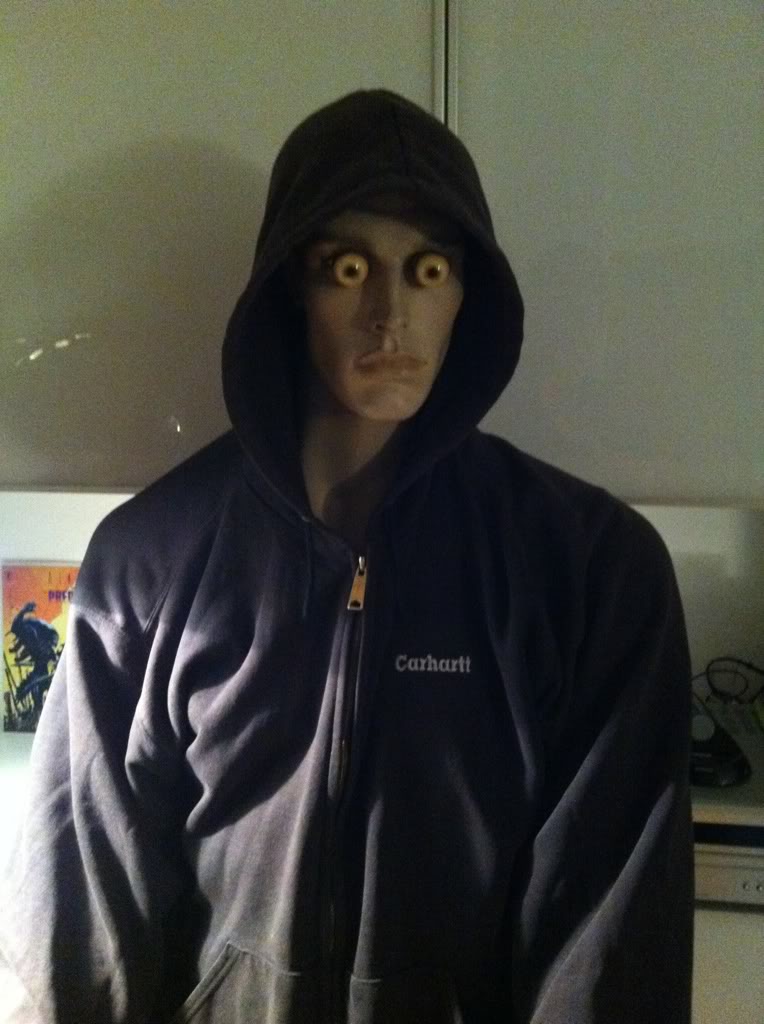 I have now paid Termokk for a fully painted and foamed torso complete with quills and am just waiting for some WIP pictures of that - he says it's almost done. In the meantime I've been scouting for the rest of the bits I need and buying some extra props in preparation. First off I bought this bad ass Alien skull to sit behind my pred when he's on the mannequin:
The Alien skull is really cool - got it from Ebay for a steal from some lady in China.
Next I bought a plasma caster from a guy in Paris. It's resin and quite heavy but me and my best friend have been drilling it and pinning it with bolts. It's currently unpainted but one of my talents is painting models so I think I can make it look awesome once we've finished putting it together. This shot is also WIP as we haven't got all the right bolts yet (notice my facehugger also being painted right now in the background - for a different project!)
I have also just received a working bomb countdown display which is amazing. It was made by some guy in the UK who was selling them on Ebay - and I saw it on a post on here. Pics to come. I don't yet have the gauntlet to add it to but I have been Pm-ing Mannowar to get some nice unpainted gauntlets to mould it into. I also think I'll get my backpack from him. The rest of the bits (legs, hands, feet, skulls) are still to come but half the fun of this is putting the suit together over time. I will keep the thread updated as I make progress and hope to have some awesome new photos soon! Thanks for all your help everyone I've been chatting to on the Lair. This place rocks!
Xander