I've always been an Indiana Jones fan. In 2007 I was doing some research and found that there's a lot of accurate Indiana Jones costume pieces out there! I started collecting them almost immediately.
Here's what I started out with:
Breakdown:
Hat-Akubra Federation Regular
Jacket-Wested Special Offer ROTLA lambskin
Shirt-What Price Glory
Bag-Costumebase from eBay with Todd's Costumes strap
Belt-local Army surplus
Gun belt/Holster/whip holder-Costumebase
Whip-Adam Winrich's "Indy-on-a-Budget" 8ft 4plait cowhide whip
Pants-Merona Chinos from Target
Boots-Sketchers
Gun-Webley MkIV replica from Western Stage Props
Here are some recent pictures of my Last Crusade gear: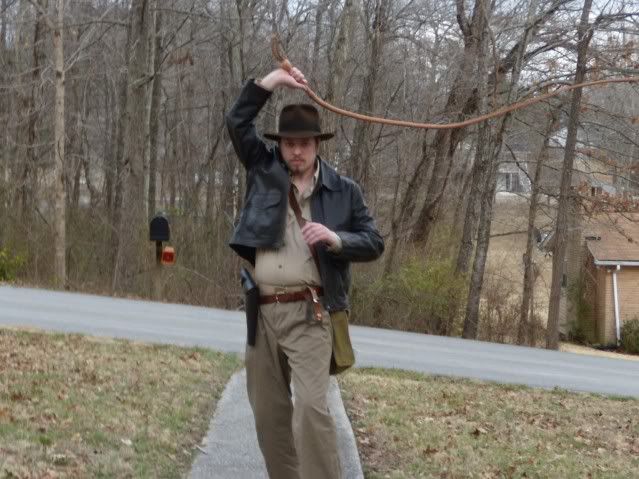 Breakdown:
Hat-Penman Last Crusade beaver felt fedora
Jacket-Wested Last Crusade goatskin
Shirt-Azuma Last Crusade
Bag-Todd's Costumes with Wade Egan strap
Belt-same
Gun belt-Wade Egan Last Crusade
Holster-Todd's Costumes Webley holster
Whip holder-Todd's Costumes Raiders
Whip-Midland Whips' 8ft 12plait cowhide whip
Pants-cheap eBay replicas
Boots-Todd's Costumes Alden replicas
Gun-Wade Egan Webley WG resin replica (painted by me)
I have since acquired much more accurate pants from Todd's costumes, a whip holder from Wade Egan, and I'm using a Magnoli bag.
I also have a less accurate Raiders set-up. I'm looking into upgrading it soon.