well here's the story, a few years ago i made a bio from a paintball mask, was terrible but i learnt form it and got hooked on pred costumes. so, last year i bought a mask off ebay cheap. turns out it was a priks elder, so after a year of sitting there i paint it. then get a cheap muscle man suit and latex it up, bambooie dreads. the painting on the muscle suit is poo and will be redone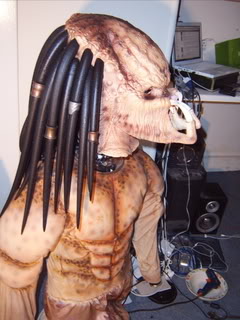 it stayed like this for a long time, until i found a source of foamies, so i made a belt system to hide a gap where my trousers and muscle suit end. i also had the idea of "safety" wristblades, coz i plan on wearing this out to a party on halloween and then into town to some pubs, diudn't think doormen would look to kindly on resin or metal blades, all foam for now then.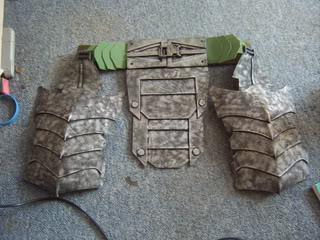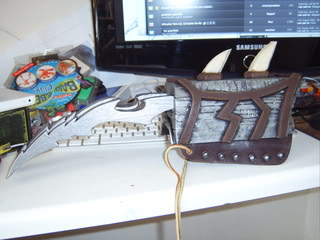 then thanks to Lee i have some feet, painted those up on a sunny afternoon with some strange looks from customers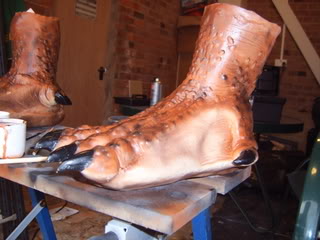 then after that i made some shin armour to hid the join between trousers and feet. the reason i am using trousers is coz this year it's budget and i want pockets.
then lee provided me with some hands, pre painted and thankfully they aren;t too different from what i hope my finished suit will turn out like.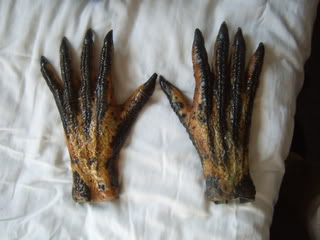 and then i tried it all on today for the first time, was good fun planning what to put on next so i didn't get stuck, soon realise a second pair of hands is a must. so got my bad tempered stepdad to help and take some pictures, he only took 2 and one of them was poo, so after 10 mins of posing and giving instructions i got this.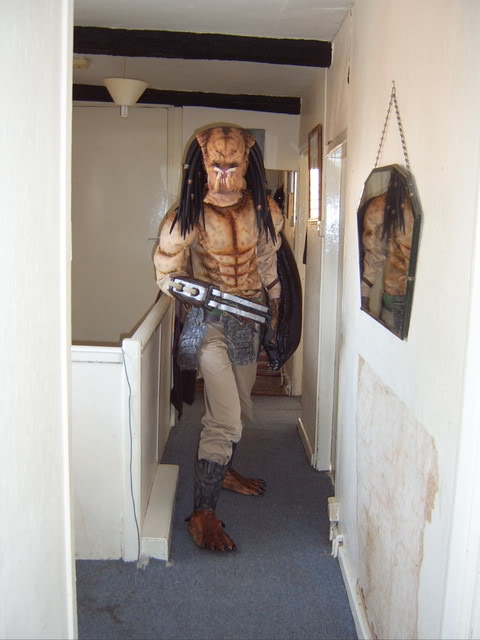 as a side note, i got hold of a mysteria alien trophy head and couldn't help but turn it into a shield AVP style, won;t be having it on for this halloween coz it weighs a ton, but it looks good
i have a lot to do to finish this suit but only a few things i would like to do before halloween, as far as i am concerned for now after a small repaint my skin is complete. i do require a neck ring and body net though, then chest and backpack and i will be ready for this year.
next year i hope to have a full skin suit some proper armour, looking at carls, awesome work, better start saving tho. and a bio, want something a bit different so might be making that one myself.
i am pleased with the way my suit is turning out, thanks to Lee for providing me with some key parts and dangerdavey for making the mask, i love it