Hello! I decided to make a Work in Progress thread to help keep me motivated. This is only my second cosplay-making experience, my first was an armored Night's Watch outfit, but that was mostly me modifying and aging premade parts, so THIS will be my first time making
everything
myself (hold me, I'm scared!)
I'm an artist by trade, so I've been spending a lot of time trying to sketch out the armor to "understand it" - not just what pieces look like, but how they fit together and to the person wearing it (I'm much shorter than Nikolaj Coster-Waldau, so trying to make a 1:1 replica wouldn't work - gotta make it look good on
me
!). With that in mind, I'm using the below study I made to help figure out the appropriate sizes for the armor pieces.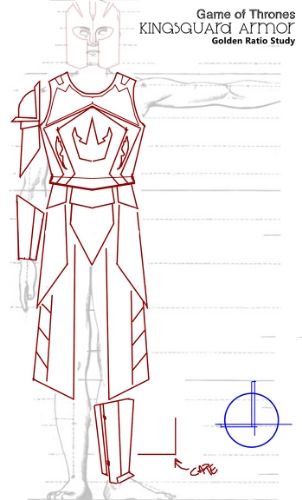 Next, I started sketching out templates for the armor and all the crazy designs. Here's an example of what I'm working on tonight: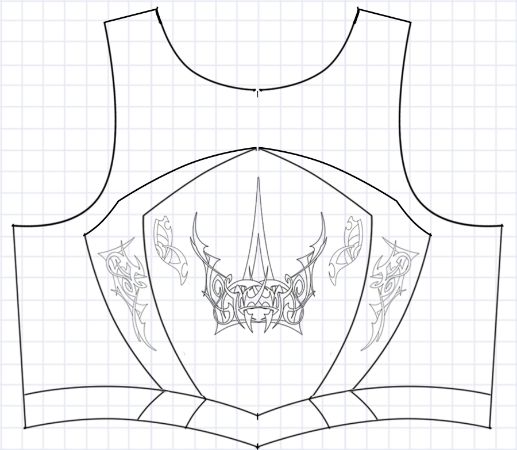 I'll be making the armor using sintra PVC sheets and bondo. Having never used either before, I decided it'd be best to do some test runs, especially when it comes to carving the designs. I decided to work on the greaves for this test, since being leg armor, they'll not only be closely observed less, but likely more damaged/worn out from walking, kicked up rocks, etc. They didn't come out too poorly.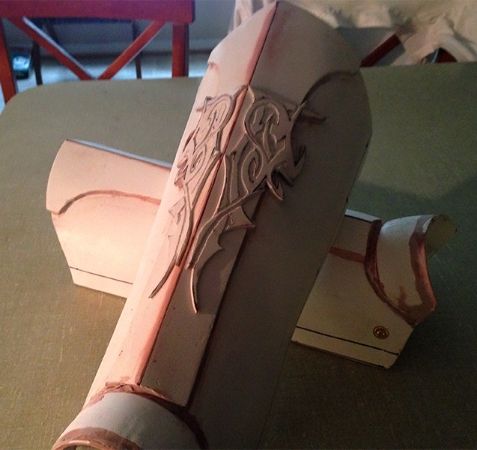 One thing I've been scratching my head over is the painting process. I've looked at nearly every faux metal/armor tutorial I could find and while the craftsmanship is all wonderful, the paint job is never quite what I'm looking for.
The actual kingsguard armor in particular is quite interesting - the wear and tear, texture, glossiness, and colors are quite responsive to the light - in the show, you see the armor in the right light and it's quite gold and gleaming, yet if the wearer turns just right, the brownish/red hues of age and the texture of ancient patina seems to creep across the gold...
Basically, I want my armor to look as convincing as possible (who doesn't), like it was once beautiful armor that's been worn and abused by swords, mud, and mad kings' fire for generations. A friend of mine is a painter, so I've spent the last week experimenting with him using different techniques, paints and materials. I've still got more experimenting to do (haven't even
touched
any sealers yet), but I think I'm getting close...
This is all the same test piece, just angled at the light differently. You can kind see how the gold "appears and disappears". The overall color is too dark, and the actual armor won't be this dramatically aged, but as a proof of concept, I think it's getting there.

Well, that's it for now. Hope you enjoy. If anyone has any tips on anything from paint to basic construction, I'd
love
to hear them!
Last edited: