I made a thread a while ago with my first attempt of buying a raw cast of the bio and completing it.
Which i made into this
but i wasnt happy with the paint id gave it i decided just to make a more classic look and ended up turning it back to all silver and giving it a reflective visor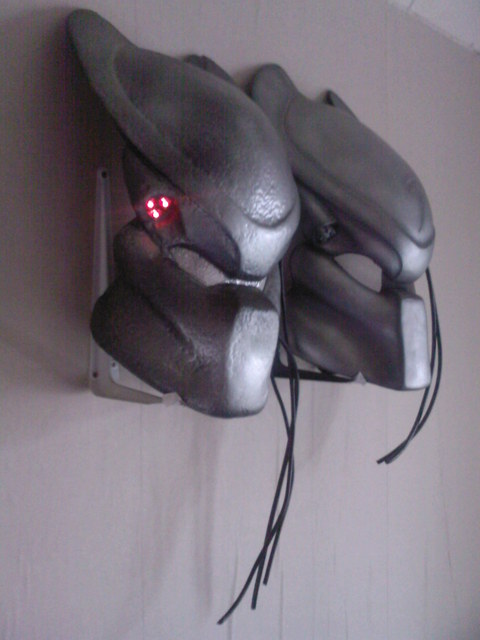 However when i had finished this i kind of hit a slump I couldnt think of anything else to do. This was my first and only "prop making" (dont know if id call it that. thats how new i am to it). And one day i came across the HCG P1 bio/bust display and i thought it would be wicked to have one of thoes on my wall. However they are way too expensive for me so i knew i could kill two birds with one stone by under going a new project of making a display piece myself.
Much like with the bio cast i bought i decided to start from nearly scratch. I bought a latex mask
(I will skip alot of progress pictures which i have but are not needed)
After i trimmed the excess latex I filled the mask with foam filler to keep the shape. Painted the skin and neck piece. I rushed it i only used spray paints because very little skin is going to be visable. I got a heap of dreads of a guy id previously dealt with in the past. I was originally going to make an order from a UK guy on here but i couldnt turn down my friends offer. Painted the dreads and stuck them into the head.
The picture doesnt represent all of the dreads just its the best picture i could find to represent the stage i was at.
The next stage i did was cut up some copper and gold piping i had laying around the garage. Its my cheap alternative to "beads" because ive been making everything on a budget. I also replaced the reflective eyes in favor of black see through plastic. Reason being i have hollowed out most of the foam now so there is just a basic shape keeping the mask in place. But if i so wished i could make the head wearable.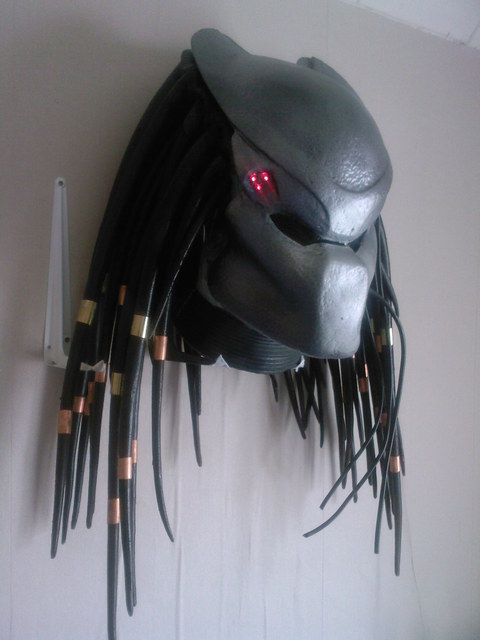 And onto my near final stage.
Very simple. I got some high res pics of the berserker bio from sideshow got the best shot of it from the side then printed out that + inverted (other side) of it and a picture of the jaw from the front. I cut them out and stuck the central piece in the middle of the 2 jaw pieces. I then added a line of 5 thinly cut pieces of cardboard and glued that to back of the paper allowing me to be able to shape the jaw by folding it so it would hold. Then i simply added a couple of dots of glue to hold the jaw bone in place.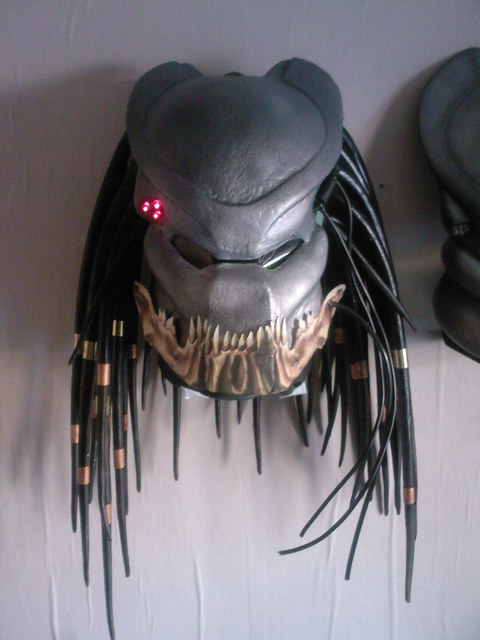 And there he is! I know if looks cheap, the mask is a bit rough the beads are cheap and the jaw is made of paper. But ive given it a go! I've already got in mind where id like to go next but im a bit reluctant as i think my creation would lose its individuality if i did what was in my mind. Ive been tempted to paint the mask all black as well as add a dark dark red visor. But i fear id betray the mask so much to where its just going to be a shameless ripoff of Mr. Black. The jaw bone is already kind of enough i think.