I discovered The RPF after watching Adam Savage's DL-44 build on Tested. Prior to that I was unaware of prop building. Even though I dabbled in custom action figures, it never occurred to me to build props. After some browsing here and Volpin's site, I decided this was something I could and wanted to do.
With that, for my first prop I wanted to do my own take on the Aperture Science Handheld Portal Device. I read through Volpin's build as well as Throwing Chicken's. I don't think I could ever match their builds, I still wanted to tackle this.
Let me say this, I appreciate anyone who is willing to subscribe to this thread and follow the build for the long haul. My progress is slow for a multitude of reasons. Doing it the way I want is high on the list. I will not compromise on the way I want something to look or act. I have built special tools to do one job and this in and of itself, is another project. So I may not get it done in record time, but I know it's done the way I want.
So like all good builds I promptly started putting a plan together...in my head. I started buying supplies that seemed common to a lot of the builds and were good for scaling as well. Soon I realized I needed to really started writing stuff down and putting an actual plan down on paper.
I knew I wanted to use as many commonly available items as I could. This way it keeps availability to a maximum over one off parts. I also knew I wanted to give it all the bells and whistles, lights, movable parts and sound.
I started out using two 4" PVC couplers for the chassis. I figured on working my way forward. Thankfully I determined early on this was silly. So I figured I needed to focus on the barrel and work my way back. Since this is where most of the magic will happen anyways it made the most sense.
I could have just lit the barrel from behind like the prior builds and been ok with that. While there is plenty of prior art to dictate what it would look like, I always felt the business end of an ASHPD should be more "live" than the static version we have seen in the past. More on that later.
The equipment installed decided on what power supply I would use. For my needs I will be running two packs. One 12 volt and one 4.5 volt. They are both filled with AAs. I also wanted to keep the switches/buttons to a bare minimum. So there will be a master on/off switch and what I termed a "Portal Acitvation" button. That's all. I wanted one button to do the work so I used a latching relay to accomplish this. I'm feeling out the idea to add a small lug to the underside so when I dock it in the base it will light from 120 volt power. Haven't made a call on that yet.
Ok. Enough talk onto some pictures.
I first tried to make a barrel from pieces of PVC.
]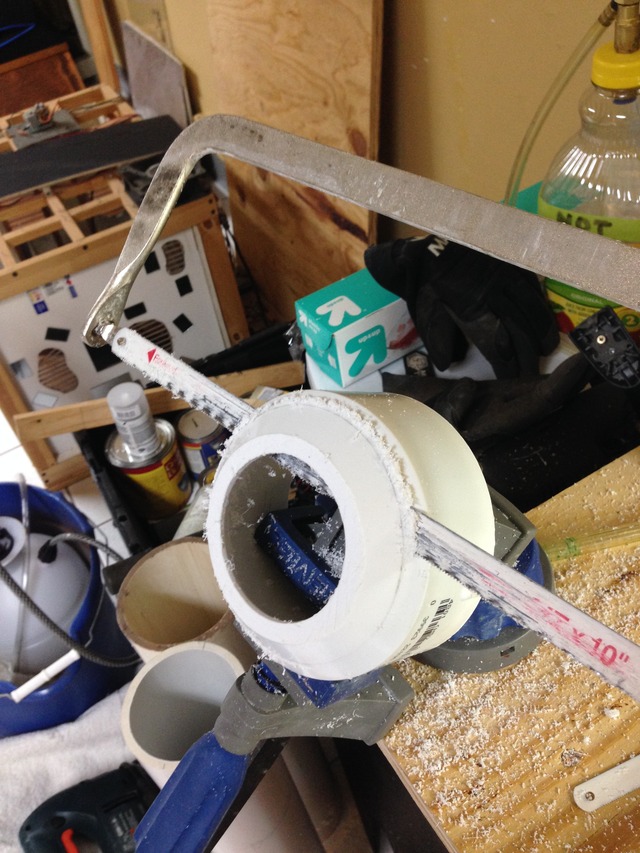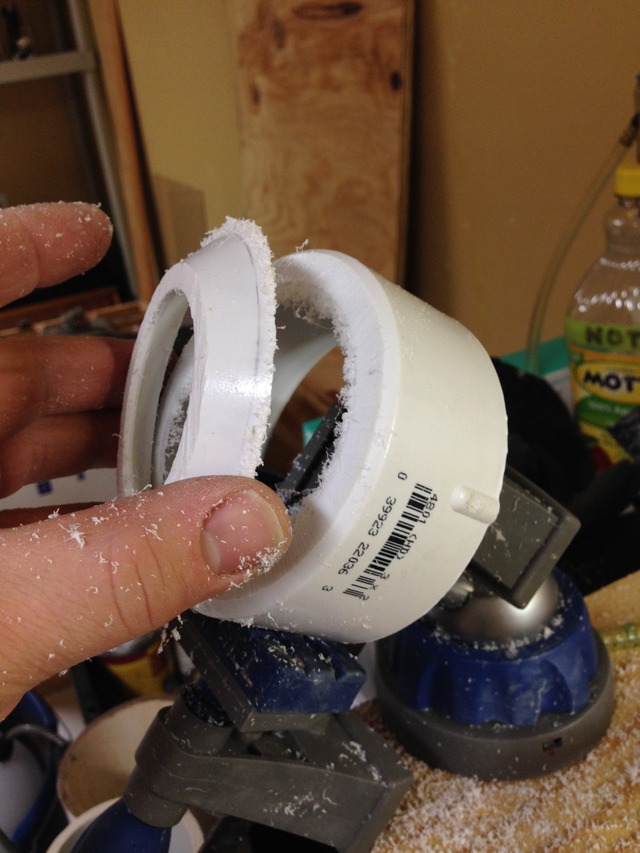 My thought was pre-made perforated PCBs for everything. I was going to sandwich the main board between two of the pieces.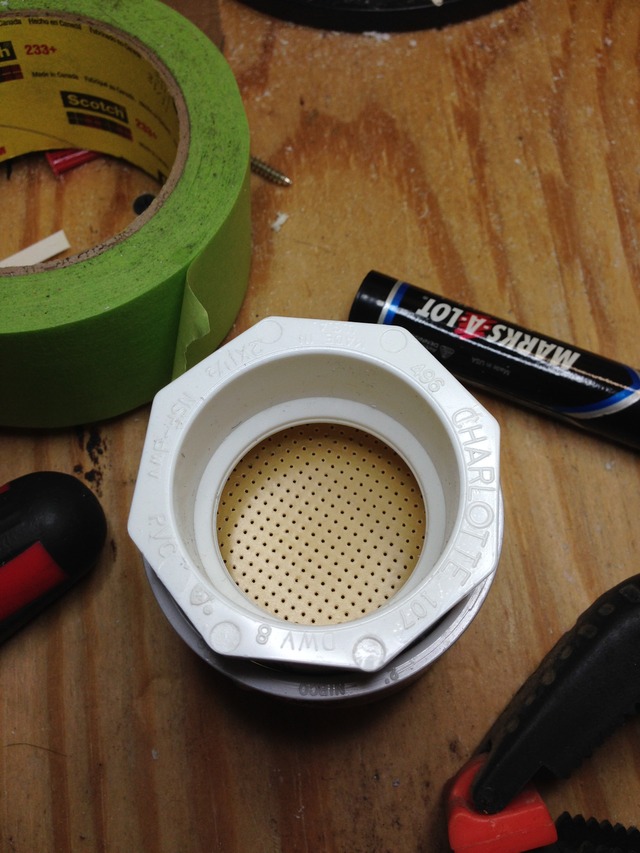 While logistically it was simple enough, I struggled for a while trying to get the nose right. In the end, I scrapped the PCV idea and my friend turned some Delrin down on his lathe for me.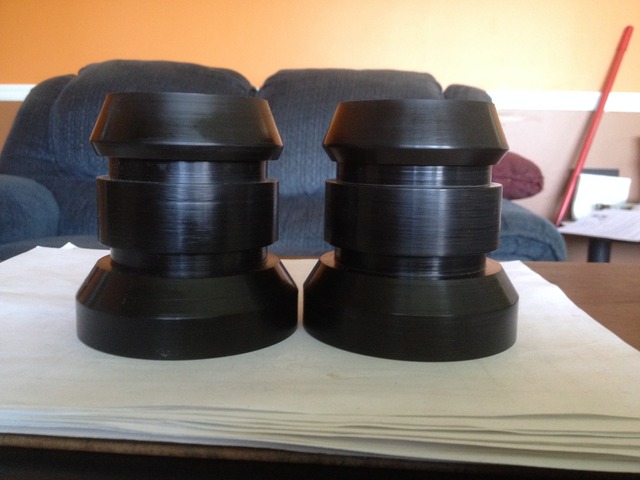 This is attempt #s 2 and 3. On the left is the second attempt. It's a great outing, but some bit chatter forced him to cut a bit further down and it threw of some of the measurements. It's my test and back up piece. Attempt 1 was very rough and has some of the first cuts but is still viable for certain testing uses. #3 will go untouched until all the fit and finishes are tested and complete.
You can see in the pic above my first main board build. It worked fine, but being a perforated board required a lot of jumpers to be used and I wasn't a fan of that. Since I scrapped the PVC portion, this forced me to change the design of this as well. I ended up laying out and etching my own board for this.
It's considerably smaller. I free handed the resist, so it's not the best, but it works beautifully. As I mentioned earlier I always felt if you're creating portals, the barrel should seem live. Like it's constantly priming to do its job. So I decided install a fan instead of a static "diffuser" in the bore of the barrel and add a chaser around it. Stick with me here.
First things first. The fan I got from an old little DVD player. I wanted it to be two speeds. One very slow while "idling" and then another when the button is pressed. Problem is, while I wired it as such, it's not the type of fan for the job. It's an asymmetrical fan and I can't remove any of the blades to exaggerate the effect. The minimum voltage to run the fan isn't slow enough to help either. I will still wire it this way, but it's one of the only aspects I've compromised on.
The tricky part is how to achieve the chaser effect. This was no easy task. It was a lot of trial and error and a good amount of hope. Once I settled on the dimensions of my barrel I ordered a polycarbonate tube.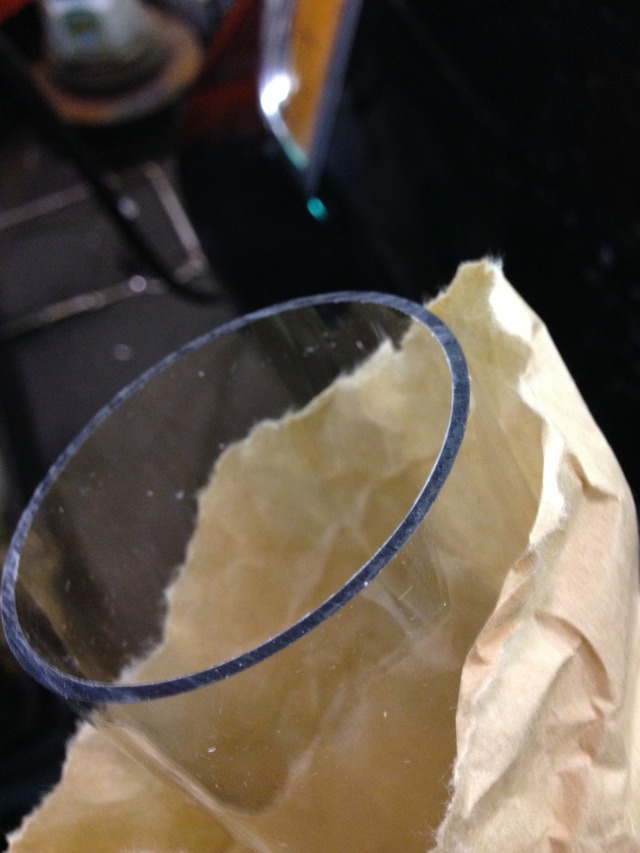 I needed to separate it from everything else as well. So I went to the auto parts store and grabbed an exhaust pipe adapter and ever slow slightly sanded it to fit. I hand sanded this, almost a polish to help slide it in, other than cutting it length it was a perfect fit.
Now to work out the electronics. I have a ton of surface mount LEDs sitting around the proper color. So I had that sorted. I went to work on the control portion. You can find an array of these circuit designs online. They include a parts list. So that was easy. There was a lot of bread boarding done to test this circuit, I came to find out what I already knew to be true. Radio Shack had poor QC on their silicon. After pulling what was left of my hair out I figured out I needed a better quality chip. Luckily I have an actual electronics shop driving distance from me. So I went there and bought the place out. Or so it seemed. So nice to actually talk to some one behind a counter who not only knows what I'm talking about, but can teach me a thing or three. Here's the final testing of the circuit.
<---CLICK ME!
The LEDs used here were used for testing only, as putting an SMD on a bread board is prohibitively difficult. The circuit called for a potentiometer which I didn't need. So I set my desired speed and put the appropriate value resistor in there instead.
I had the hard part out of the way. I went on to design and etch another board. I had never done a round board before this and now I've done two.
Here's a pre-etch shot of both sides.
Here's a post etch of the top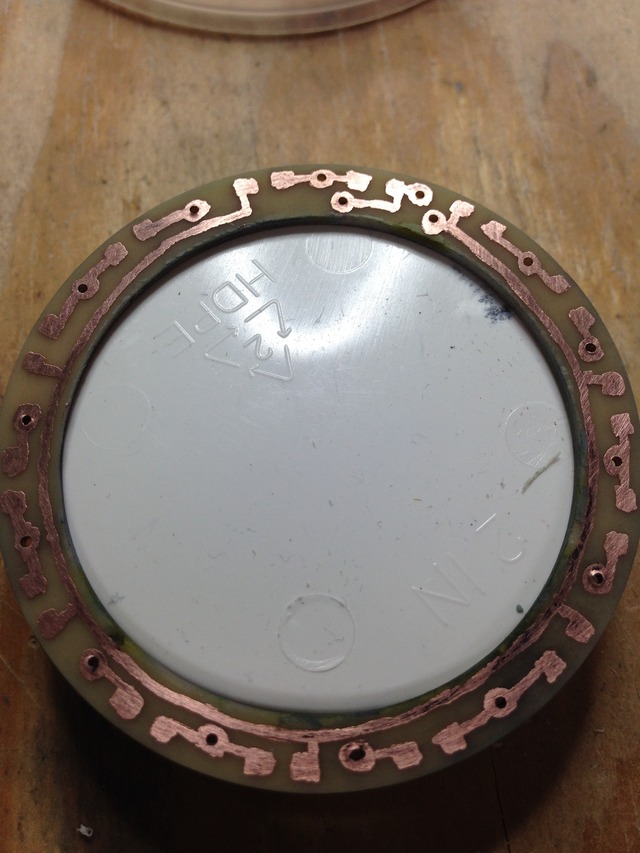 At this point I'm sure you've started to figure out the plan. As I move through this, anytime anything is changed I make sure to take the time to do a full electronics test along the way. Be it a mechanical or electrical change, I like to make sure everything is still copacetic before I make too many changes and have to start figuring out my issues.
Here's a fully assembled pic.
As for the sound. I ordered a sound board from Bob at Replica Props. What a neat answer to a problem. Great customer service and simple instructions. The only hiccup here was I wasn't clear on how the chip worked and didn't order exactly what I needed. So I ended Having to build a small relay board to make all the proper sounds go with the proper colors. Other than that, it works flawlessly. I ordered a small amp from eBay for around $5. I believe it was a Class D and it was the perfect compliment to the little speaker.
So in the interest of moving this along...
Here is a main board test
<---CLICK ME!
A chaser test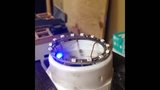 <---CLICK ME!
And a full electronics test bare.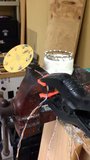 <---CLICK ME! (Includes audio)
The rundown is as such:
Barrel with chaser board in the bottom. The polycarbonate/metal sleeve combo goes in next. (No pic of that)
Then the layer cake.
From top down:
Fan
Mesh
Foam Diffuser
Main Board
Foam Insulator
All that results in this:
It looks worse than it is. I have already ordered a wiring solution.
And for me the piece de resistance. This worked so much better than I ever anticipated.
<---REALLY CLICK ME!
I have not gotten to a full electronics test in the barrel yet. I am tackling mounting it first then I can move on to that. I hope I can bring you updates in a timely manner and appreciate any interest you have in my first prop build. More to come. Much, much more to come.
TL;DR
I'm building a portal gun, thanks for checking out the pics.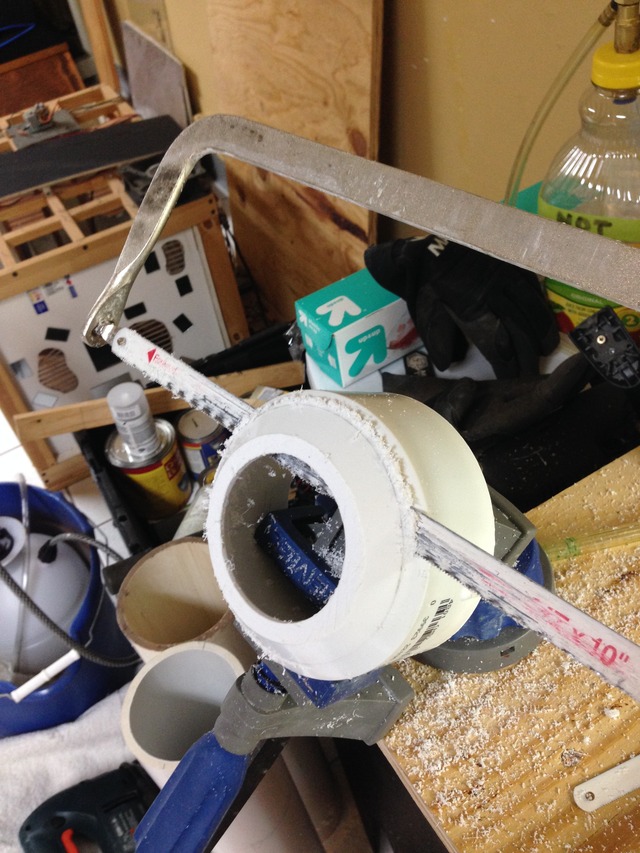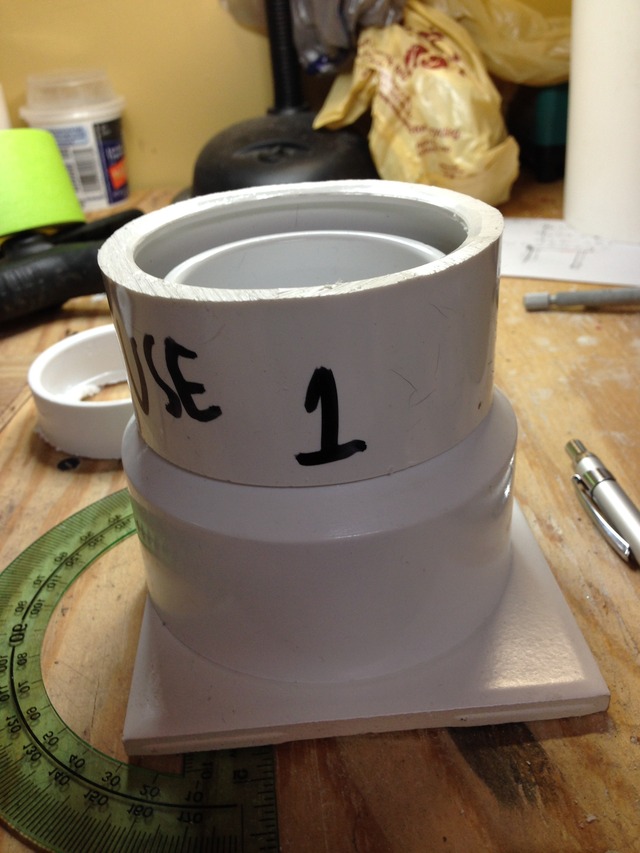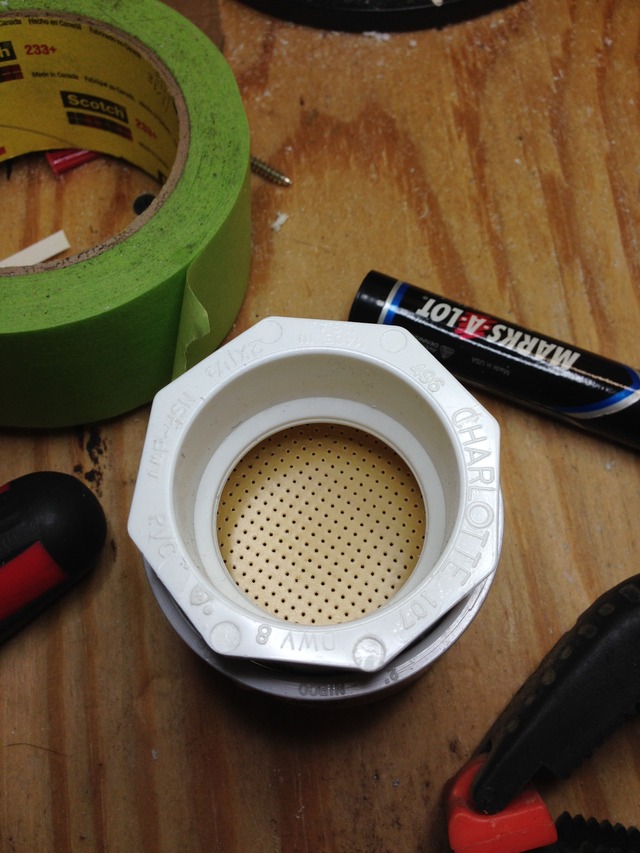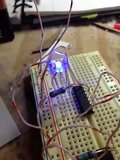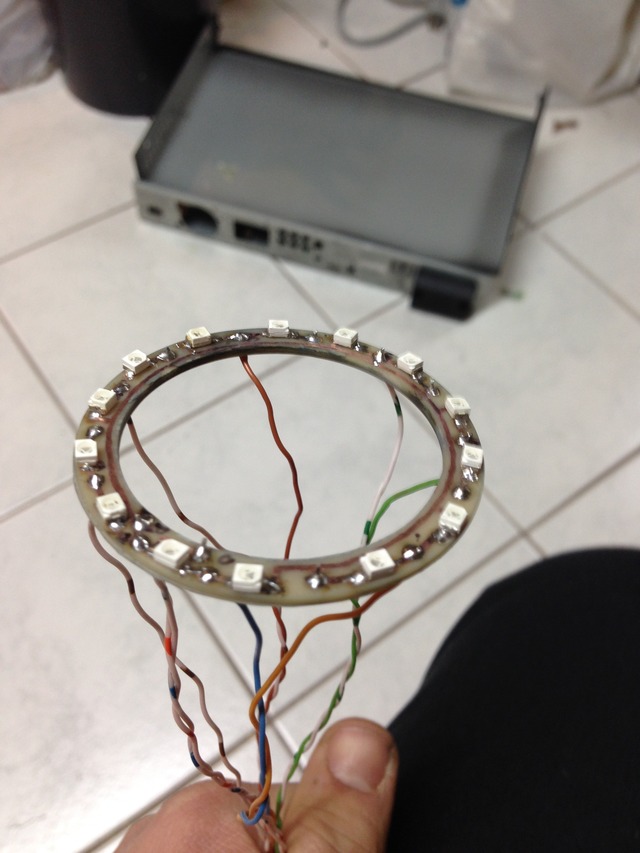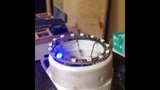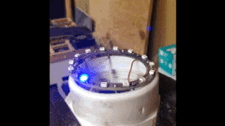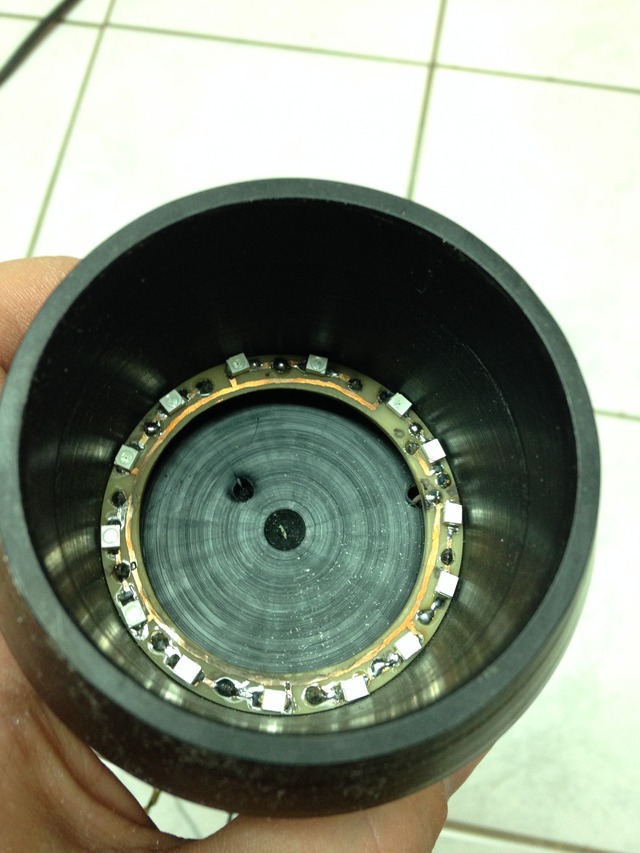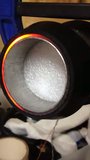 Last edited by a moderator: