Sr Member
RPF PREMIUM MEMBER
UPDATE: MG81 Relic (Loose Restoration) for the Han ANH DL-44 Blaster Flash Hider
Hello my fellow prop enthusiasts.
A month or two ago I received a fantastic collector piece from my friend
OdiWan72
, this MG81 Feuerdämpfer:
It is by all accounts in RELIC condition. Here it is under a "spotlight" as I received it: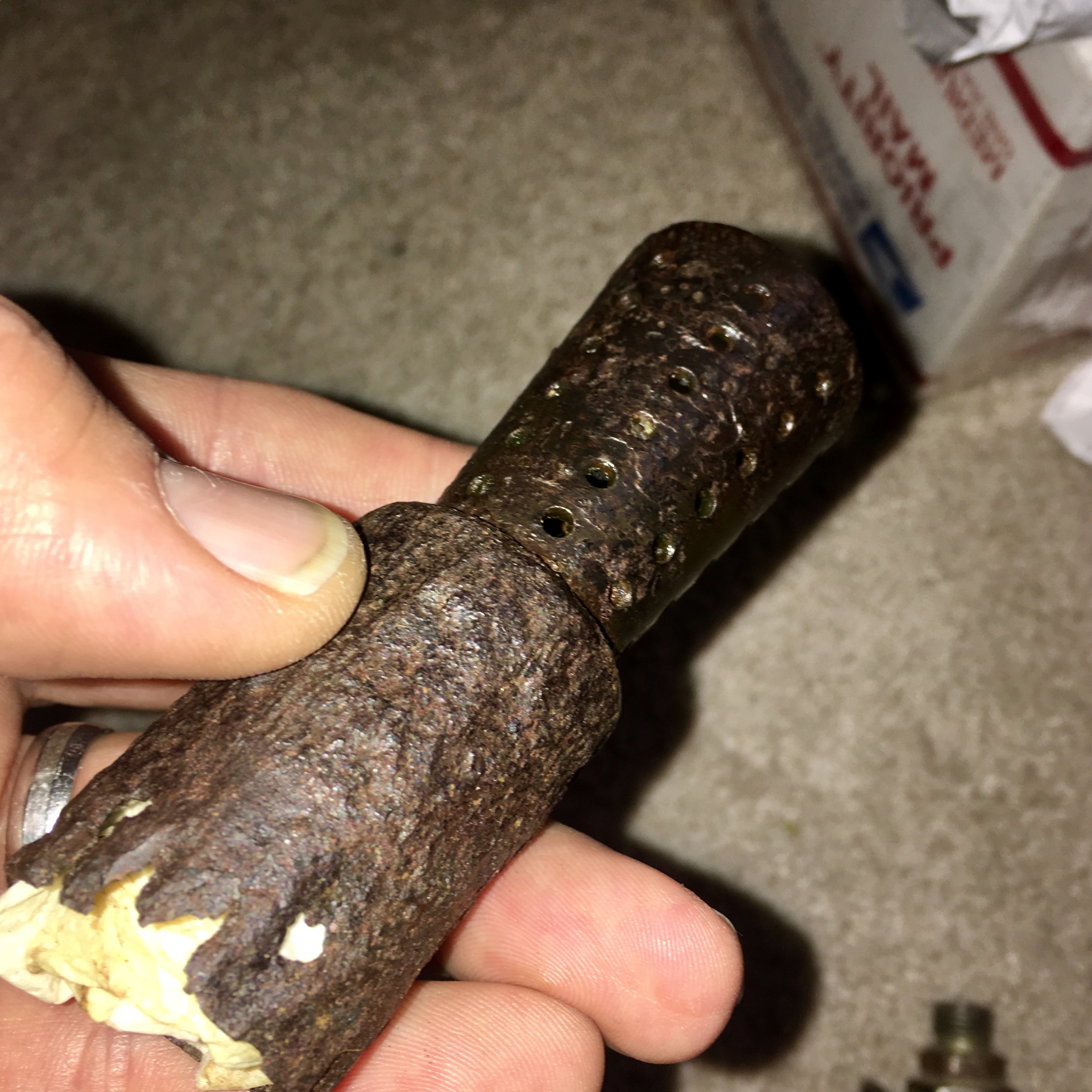 You can see all of the rust build-up, the deterioration, and general mutation to the original piece's physical shape.
EDIT: Actually, here are some better photos of the pre-restoration process flash hider:
Being inspired so much lately by the several restorations completed by
newmagrathea
at the
Prop Chop Shop
I decided to try my hand at this monumental task.
My process is very much like
newmagrathea
's process, although on a much smaller scale.
I put the flash hider through several sessions of electro-cleaning rust removal using an old Star Wars pint glass, white vinegar, the Mommy Dearest Special, alligator clips, and a current generator: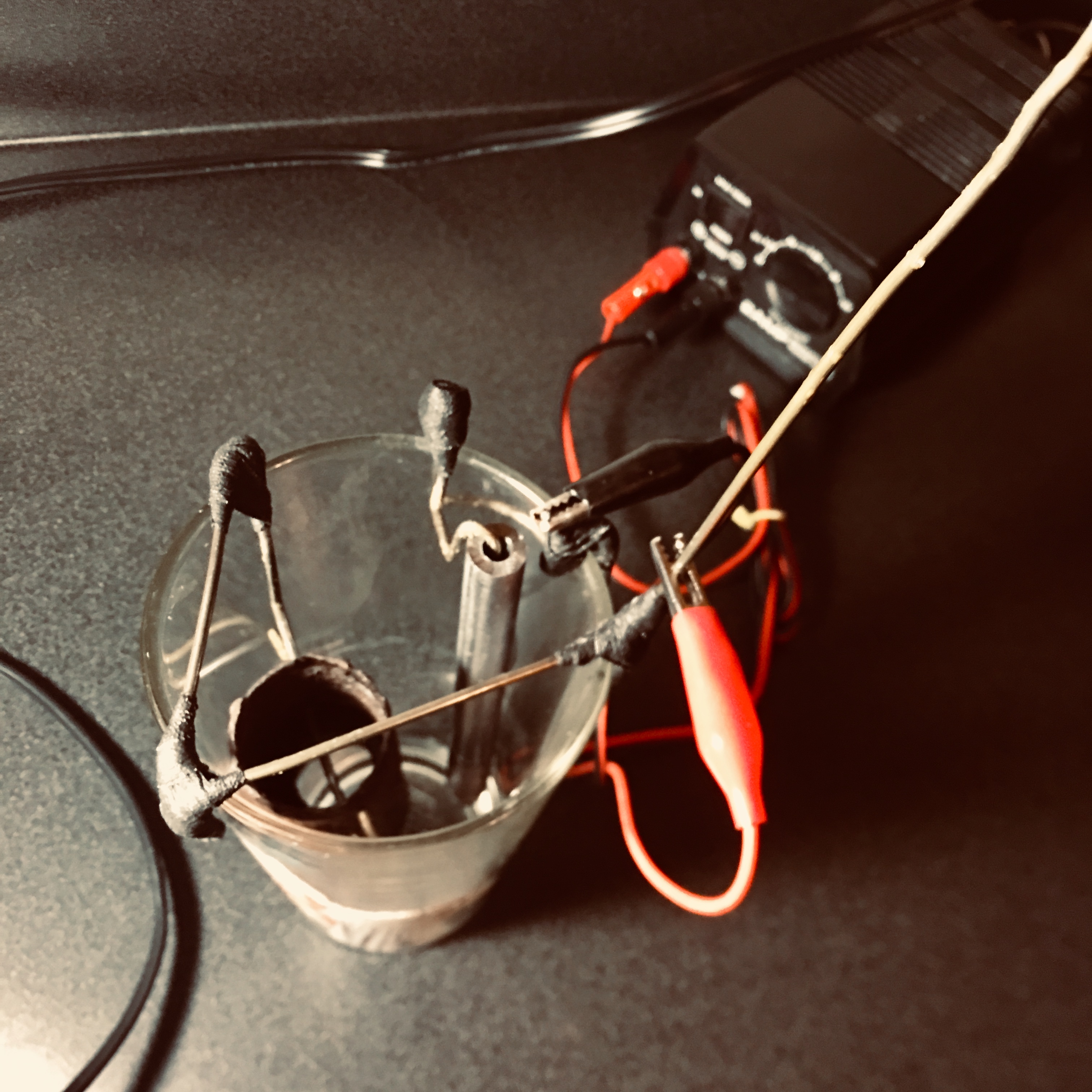 Lots and lots of rust was removed from completing this process 6 or 7 times.
***WARNING: Doing this process as I have it set up, will create a biproduct of Hydrogen gas, which is toxic above very low levels.
ONLY DO THIS IN A WELL VENTILATED AREA! WARNING!***
From here I did about 30 minutes of hand filing on the cone along with about another 30 minutes of delicate wire-wheel time on my bench grinder leaving (after this first filing session) this result:
***WARNING: For those newly using a dremel, rotary tool, bench grinder, etc. EYE PROTECTION MUST BEEN WORN! FACE PROTECTION is also a GREAT IDEA! Also, I HIGHLY RECOMMEND some sort of BREATHING MASK or RESPIRATORY APPARATUS! Don't believe me? Blow your nose a few times after a session! WARNING***
From here, multiple multi-hour sessions with a watchmaker's triangular hand file to sharpen up those knurl lines on the base of the flashhider, leaving the following (I added tape to the ends of the fh in order to stop cutting my fingers with it while handling and rotating the piece):
Hey! Want to know what crippling arthritis feels like for a few days? Just pick up a set of these items: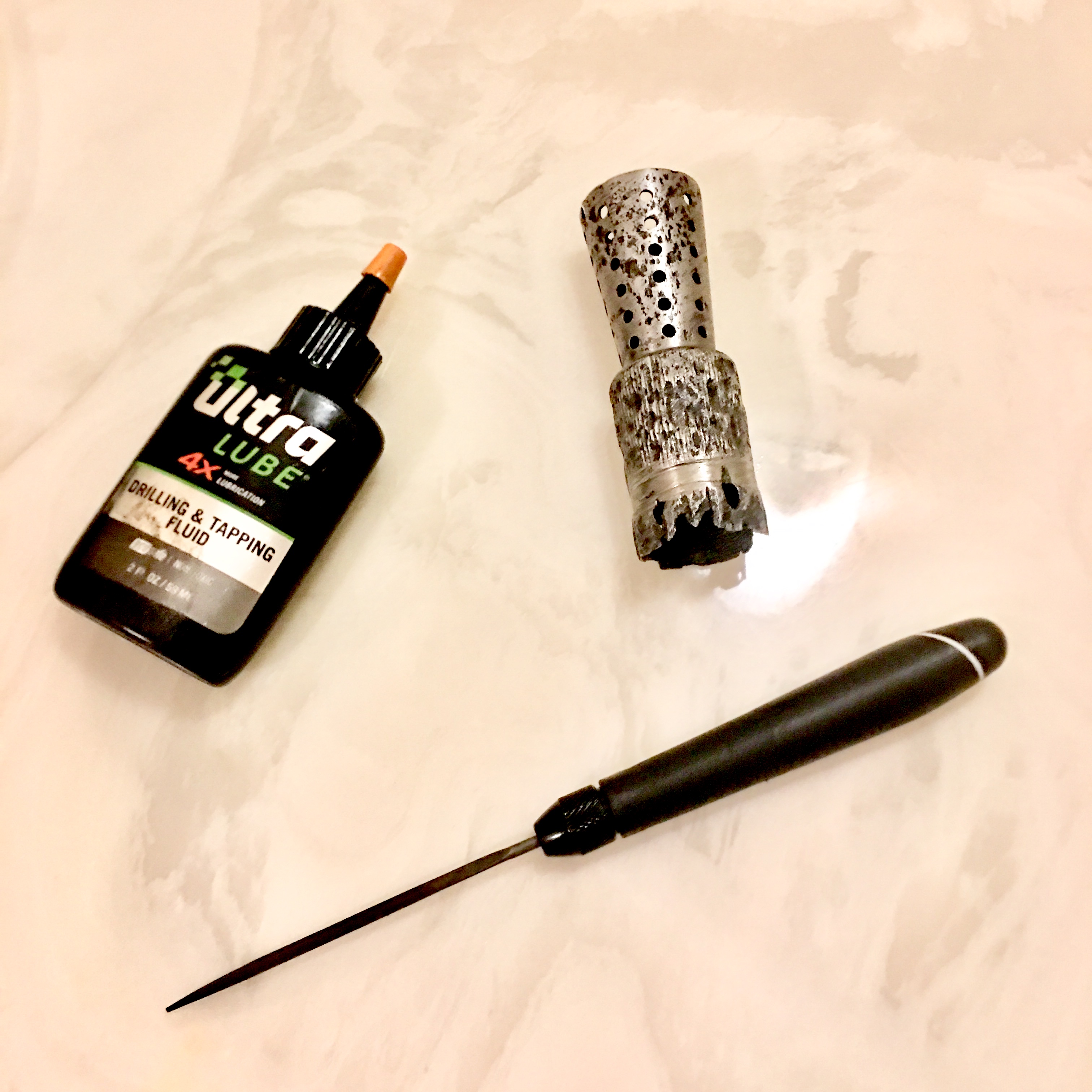 After an additional two multi-hour hand-filing sessions to reshape the lower protion of the flash hider (as well as even more knurl-line re-working) I was left with this: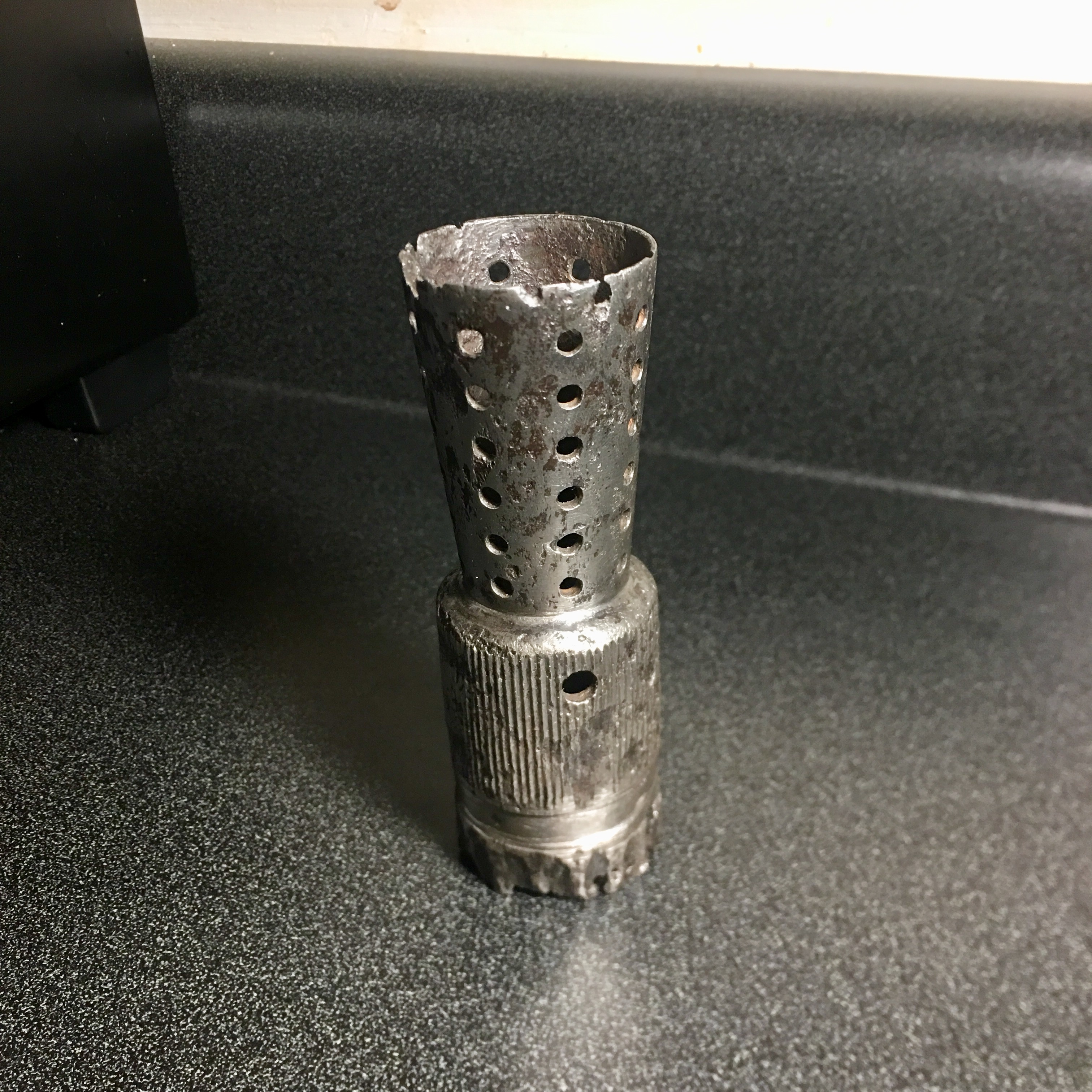 From here, I completed another 30 minute de-rusting by the white vinegar electro-bath. Now it was time to reblue this badboy:
I elected to use Brownell's Blueing agent for this. I washed the fh thoroughly, then degreased it, rubbed the flashhider with steel wool, and then applied the blueing agent to it. This process was repeated again and again (okay, like 4 times) until I was able to obtain a fitting rich darkness for the flashhider:
And here she is... this is as far as my throbbing fingers will take her:
And now I need just a few more parts:
Here are some comparison photos next to a Todd's Costumes DL-44 Flash Hider: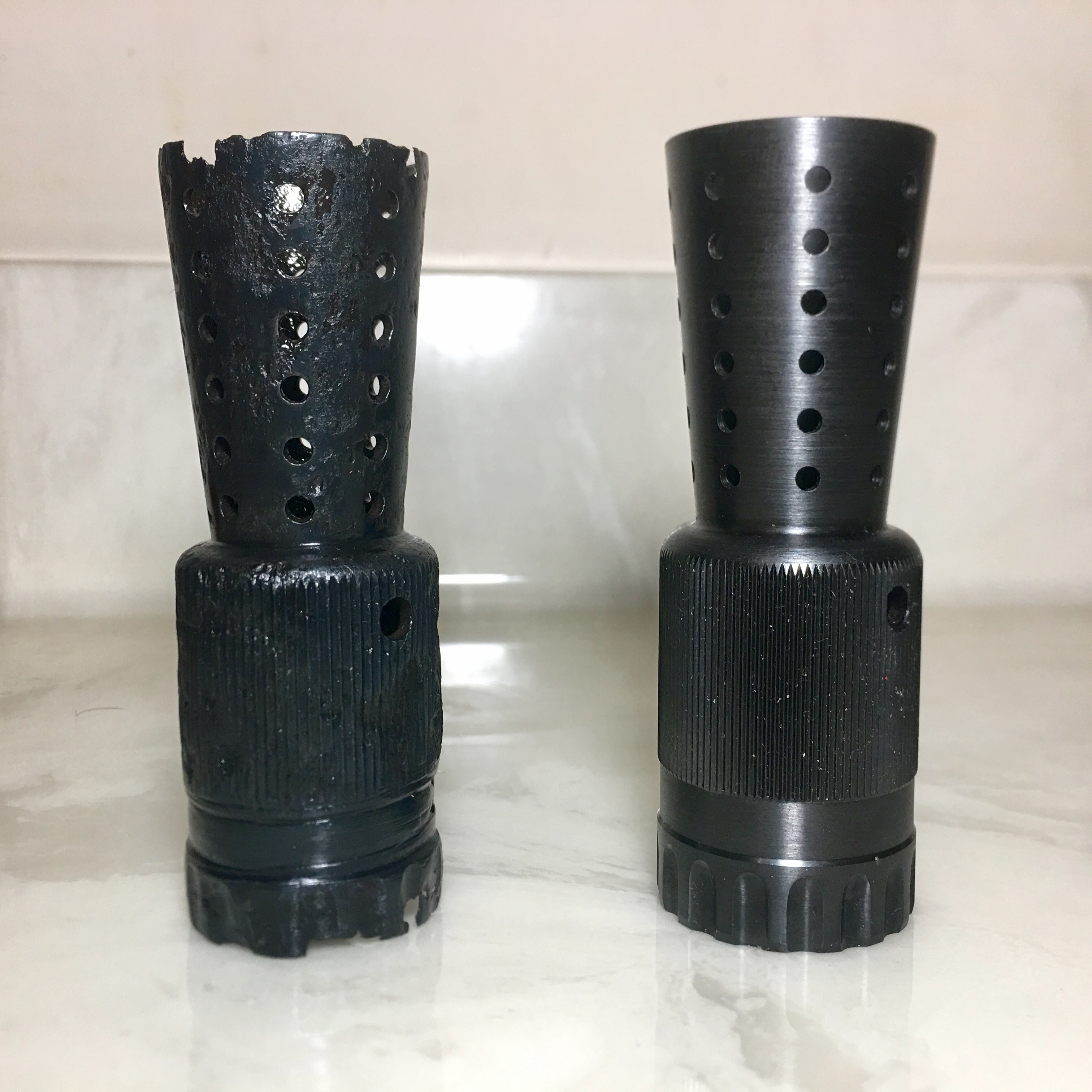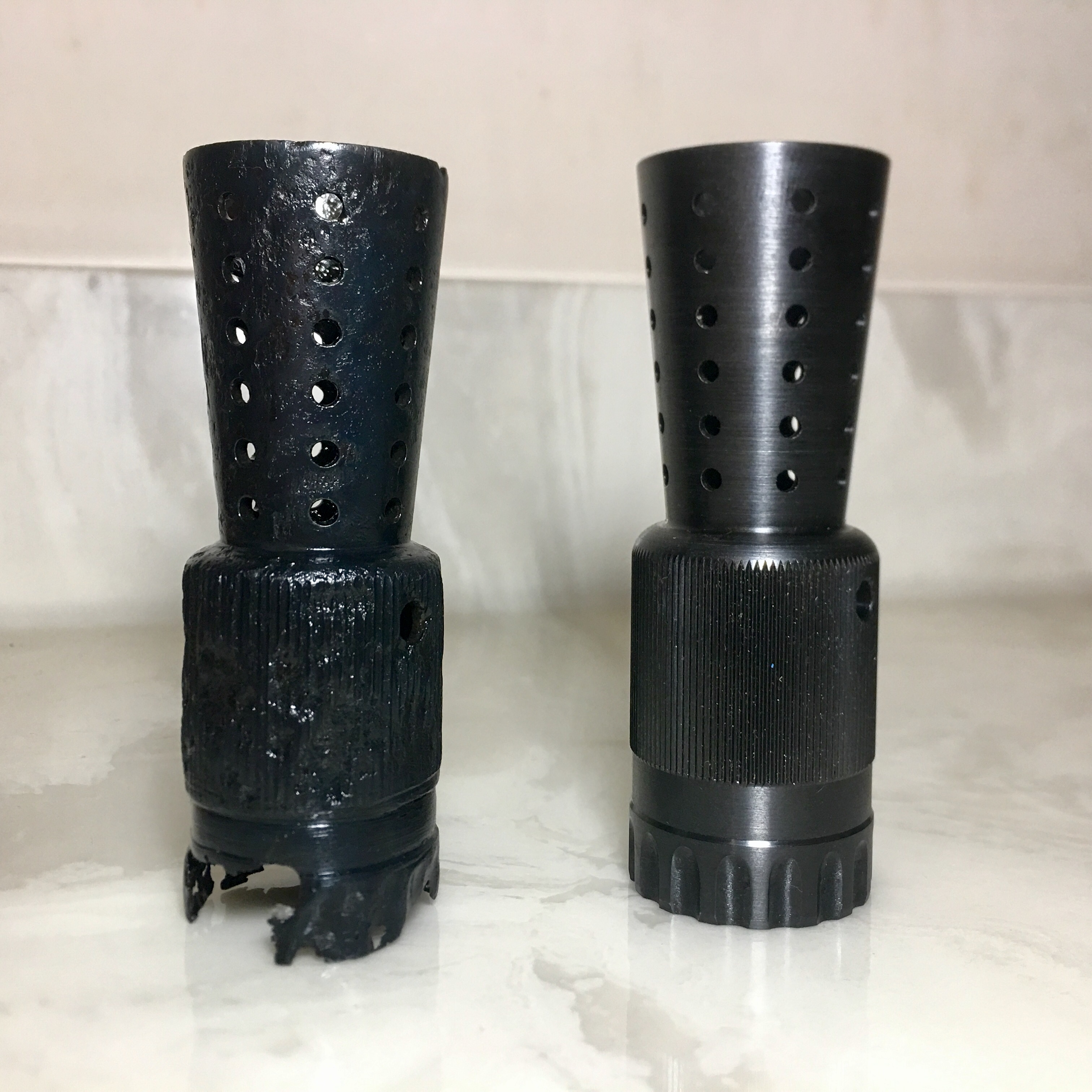 Thank you checking this out.
Of course the bottom is a bit worse for the wear as are some of the knurl lines more than just a bit over the line of acceptability (especially the band edges near the bottom of the flash hider) but it definitely is much better than it was at first arrival.
This probably will remain among my collection but not on a live fire due to its condition, but just holding this in my hands really gets the wheels turning about where and what all this flash hider has been through. The world has certainly gone through many changes since those days... or has it?
Last edited: