Sr Member
RPF PREMIUM MEMBER
Hello. Thanks for checking this out.
First off, I need to say thanks to a few people for their help and advice with acquiring some of these pieces and also with their help and advice (some of which I ignored to my own detriment) on what to do with these pieces. These folks are:
Planettera
teecrooz
Edraven99
ataru72ita
Romans Empire
Pukkalemons
and of course, Master
Sym-Cha
All of your help, in various ways have made this saber what it is so far. Some of that help may not have come directly from you but from me picking up on your advice within threads right here at theRPF. Normally I would just present a finished piece and hide all of my numerous mistakes, but perhaps my mistakes will help others avoid making their own.
ALSO, this is obviously not finished. I still need to acquire a real booster and balance pipe as well as the D-Ring needing to be attached, but I can't go on with all these pieces spread out like a tornado disaster area on my work table for years waiting to acquire those parts...
Finally, I have just opened a Photobucket account and am going to attempt using that for this thread, so there could be a lot of reading with no pics. If so, I will edit this later the old way.
Here is what I have so far completed:

Here are the original real parts at my disposal:
These pieces are from left to right: Graflex Clamp, Armitage Shanks Hand Wheel (center bidet wheel version), Hales No3 Mk1 Rifle Grenade, Texas Instruments Exactra 20 Calculator, vintage Transistors. The clamp looks really good from this side, but you will have a chance to check out its other side later. The AS hand wheel caused some issues which I will go into later as well. The grenade tested my patience, even with great advice from
Edraven99
(and I failed that test haha). I have not installed the bubble strip from the calculator yet, nor the transistors as I am trying to figure out the best way to attach them.
Here are the replica parts that I am using until I secure the final real parts:
These pieces are all RomansEmpire parts of various vintages. From left to right they are: Clamp Spacer, Modern Booster Replica, Vintage Booster Replica, a life saving Nut-type of device, Vintage 3-piece Emitter. The clamp spacer may be the most current version... I don't really know as all of these pieces I picked up from
Planettera
I prefer the look of the Modern
Romans Empire
Booster, but it doesn't work with my AS bidet wheel (or really, my bidet wheel doesn't work with this booster), which led me to get the black vintage one. The nut-device was actually sent to me with the emitter, but I think the way I ended up using it is how it is supposed to be used. Perhaps someone with experience can correct me here. I opted for the emitter based on how shiny it is. At some point I will be building a super clean all-RomansEmpire OB1 as his parts are really only second to the real thing from what I can tell. I spend about as much time on his website as I do here, just ogling his work and salivating. One day...
These are the other non-real, non-Romans behind the scenes parts that I have used: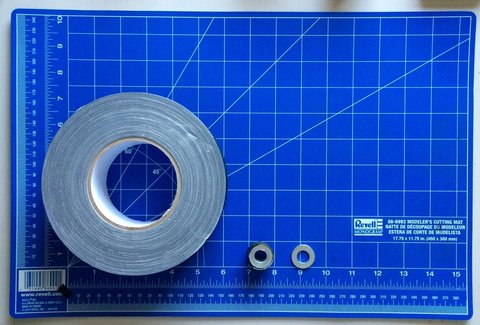 These are: Black Gaffers Tape, 8 Washers, and a 3/8-16 threaded rod. The rod was originally a 12 inch length that I used a rotary tool to cut down to about 10.25" per Romans' recommendation on his site.
First I had to figure out how to put the emitter together. Unfortunately, I don't have an image of the three pieces of the emitter because the way I got them to stay together was by covering the shiny emitter parts with a towel and then using pliers to pinch the whole thing together as the inner piece (with the ring of holes) has a circumference a bit larger than the interior section of the outer piece that it sets into. When all else fails, use pressure and/or beat on it. This worked well with the emitter.
There is also a brass (?) section, very similar to a piece that screws into the real Hales No3 Mk1 grenade, that goes in the middle of the inner chromed (?) emitter piece. The inner chromed emitter piece is held to this brass piece with hex screws. I then screwed my 10.25" threaded rod into this brass piece as seen here: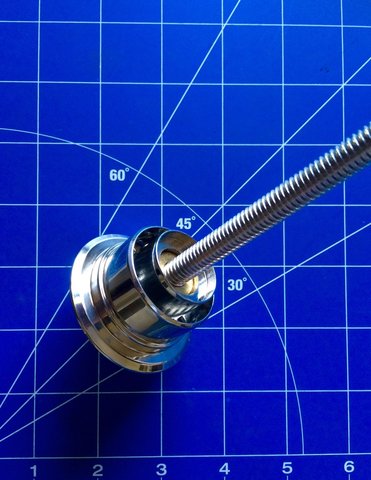 Next came the grenade: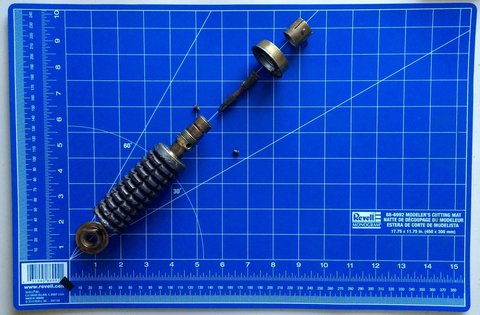 That somewhat pointy piece, below the windvane in this image, is the detonator. It normally resides within the brass shaft of the grenade. It is held in place by two pins/screws that allow the detonator to travel a short distance up or down inside the brass shaft. Having spent the last 100 years buried in the French countryside, the screws/pins of the grenade were a bit stubborn about being removed. My detonator did not want to come out. Unfortunately, the threaded rod needs to go through the very same area of the brass shaft.
Edraven99 was kind enough to answer my questions about the grenade and how to remove this piece. One suggestion was to gently tap the detonator with a screwdriver or something to see if that loosens the pins/screws or even gets them to come out altogether. I followed this advice for several minutes until my impatience got the best of me, at which point I really started banging away on the detonator. You may not know this, but that kind of pointy detonator in the photo, in reality, was actually VERY pointy before I started trying to remove it. This is an example where beating on metal is not necessarily a good thing. All of my banging on the detonator caused the bottom threaded plate (that screws into the grenade's frag body) to warp. Now the brass shaft plate won't screw into the frag body.
To fix this, I used my rotary tool to rid the brass shaft plate of most of its lower threads. I'm sure this grenade never thought a 100 years ago that it would meet its brutal demise AFTER a world war, across the ocean in the garage of some middle-aged Star Wars fan. Stupid grenade! I taught him!
Anyways, its passable. The French countryside was also not very kind to the finish of the grenade. And onto the rod it goes:
Next comes the clamp spacer and Graflex clamp. Pretty straight forward. Just line up the holes of the Clamp with the threaded areas that RomansEmpire put into the spacer for his threaded transistors.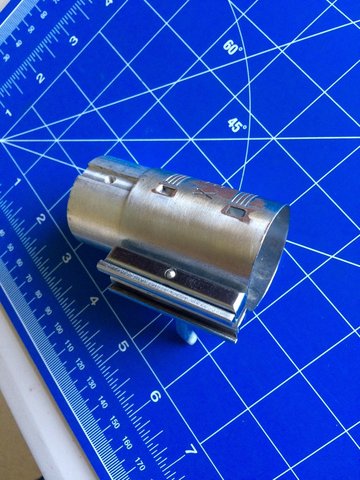 And onto the rod: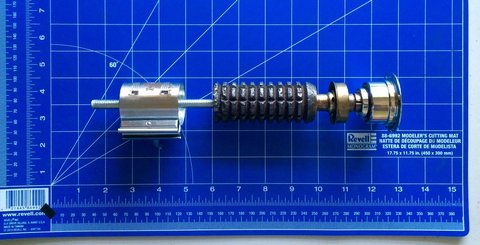 Next comes the booster. I do prefer this more accurate booster, but as I mentioned, it won't work with my AS bidet wheel: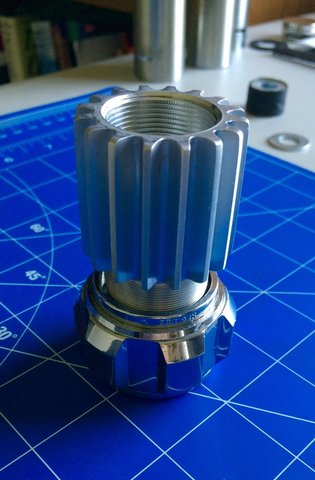 The interior part of my bidet wheel is shaped differently than that of a typical basin-type vintage AS hand wheel. For reference, this image is the underside of the bidet wheel:
This image is the underside of a correct basin-type vintage AS hand wheel: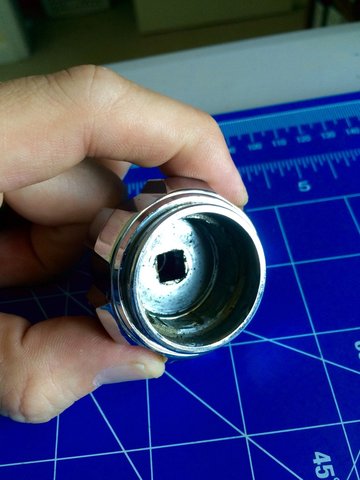 SO, this also means that a real booster also will not work with my bidet wheel. I will have to have it machined at some point once a real booster is in hand. As for now, I opted to buy a vintage Romans booster that does not have the side section: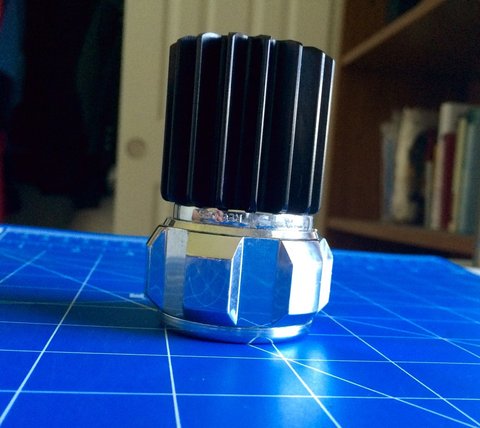 It goes on easily enough: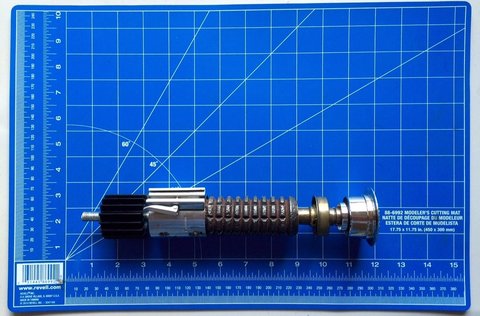 Now the issue is spacing between the booster and the hand wheel as the vaned "gear" portion of the booster does not sit flush with the bottom of the handwheel. What I did to fake this part for now was to take 8 washers and wrap black gaffers tape around their circumference: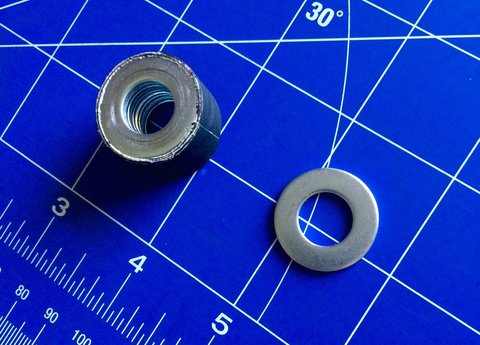 Romans' vintage booster even had a little circular section cut out of it for these washers to seat in almost perfectly:
Next was putting the hand wheel on, which after the test fitting with the washers was no big deal:
To secure it all together, I used that amazing nut-device I mentioned from earlier. Again, I thought it went with the emitter, but I think this is much better use of it (if it wasn't actually designed to be used this way):
And here it is all together: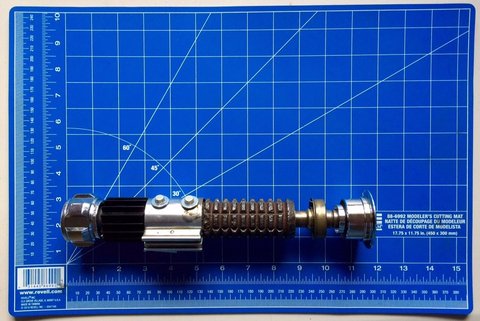 Here it is with my Luke ESB (now fixed!):
Again, I still have to put the Exactra bubble strip on, as well as the transistors. Can anyone recommend how to attach these vintage transistors?
I also need to know what size D-Ring to get too, so any help there is appreciated.
I also want to show you the pommel end of the OB1 as the bidet wheel I am using did not come with a traditional end cap. It was what I have figured out to be a switch that I presume caused the bidet to flush. It would not look right at all. Here is what the OB1 (so far) looks like without any end cap: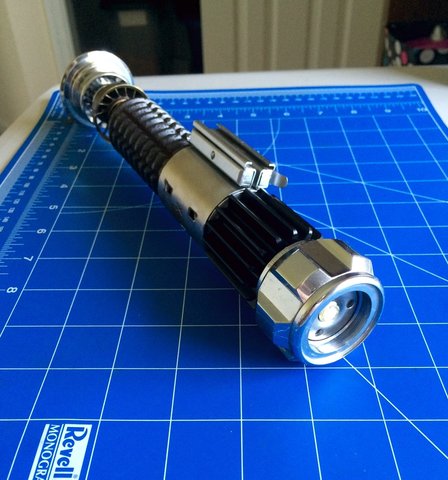 I could leave it open as I don't believe there are accurate images of what the screen-used OB1 had on the end. Still, I did order some rare earth magnets that cover the hole pretty well: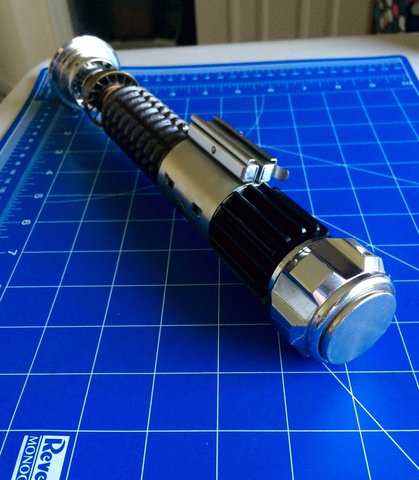 I have also made a custom end cap for it out of one of the magnets and a locket I found on eBay:
Not only is it informative, but it bridges the gap between two of my favorite amazing film universes.
Just kidding.
Thanks for checking this out.
Hopefully the images have embedded properly. (They didn't the first time)
I am serious about the transistors. Any advice is appreciated on my OB1.
Andy
Last edited: