Ok, over the years I've noticed that Halloween has been diminishing for a lot of people, at least around north east Ohio. So this year I'm going all out to try an revitalize the holiday for my hometown. Maybe if they see a well done Mr. Freeze costume some people will be inspired to do the same. I've spent a lot of time doing research, and from I've got a few ideas I want to run past the experts. I want to make a more militant looking Mr. Freeze without a lot of cartoony flat panels. As such I'm basing my costume off of the awesome Arkham Asylum art with some ideas taken from other pictures.
Here's what I'm thinking so far:
-The head dome will be a plastic plant cloche, most other costumes I've seen use them and they've worked pretty well
-Of course welder's goggle with red lenses is a must and can't be overlooked
-His belt I wanted some pouches and pockets, so a surplus M1 cartridge belt might be in order
-His gun will just be a modified nerf gun
-will need to get snow boots and maybe some boot spats to cover them
-For his clothes though I'm a little worried, I'm afraid that buying a black or dark grey snow coat/pants will be too bulky and make him look like a puff ball, so I was thinking about getting a motorcycle body armor shirt or football shoulder pads and then covering that with sheet foam to break up the outline. (going from what I've seen on here I've already gone out to Harbor Freight and bought anti-fatigue foam)
that's the back view by the way.....the front looks a lot like football pads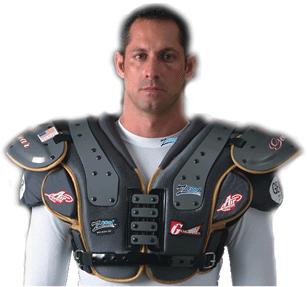 I was also thinking of getting catcher's shin guards instead of the boot spats
http://m.baseballrampage.com/p/productphotos/DLG-145_TIF_display.jpg
Now this is all well and good but any advice would be great....I'd like to save some money but it looks like this is going to be a triple digit costume unless I want it to look like crap.