I created a cosplay of Moon Knight, wearing his "magic Egyptian armor" as seen in the 2014 volume of
Moon Knight
, issue 3.
Here are the various parts, and their creation. This was probably my most ambitious project yet, and required several techniques that were new for me, so it was a learning experience.
Cape.
The cape is a double layer of cloth (all the cloth is a stretch denim), sewn at the edges. One layer looked too transparent. It's heavy, but that feels right.
In terms of color for both cloth and paint, I was going for a pure white, non-weathered/shaded look, as it looks in the comic, where the white is stark, unshaded white in high contrast to the background.
I looked at a bunch of cape shapes and sizes. His spreads out like a half-circle in some places, but is more straight in other pics. I decided the half circle would be too much when it was hanging down, and went for essentially a rectangular shape, with some cut off at the end and in the center. I basically just put it on and pinned it where it looked like it should be cut to get the look I wanted. I used a latch my wife already had to connect the ends, and then visually covered that by putting a tie string in front of it. The latch worked very well to hold it together.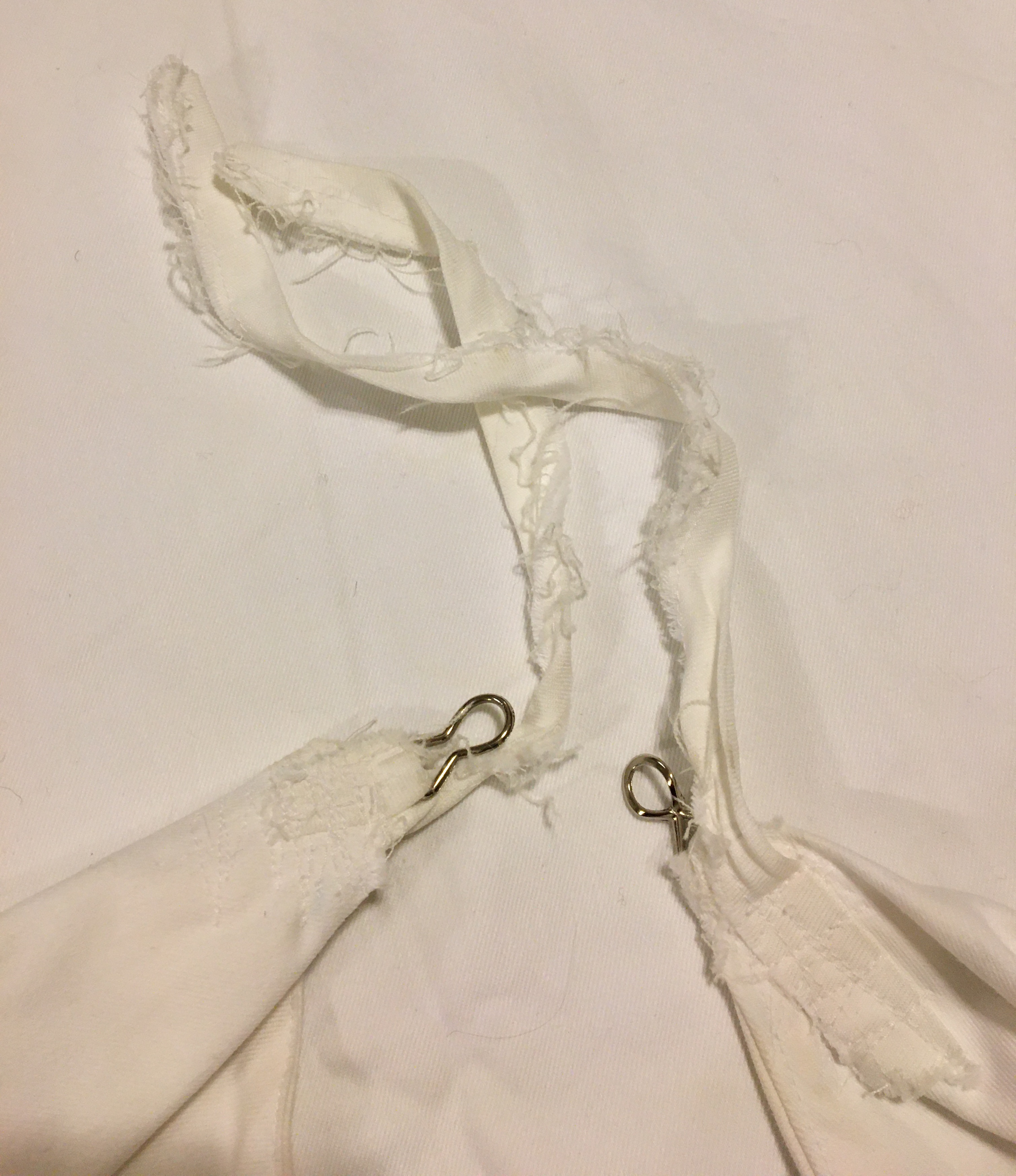 The cape drags on the ground by several inches, which is intentional and matches the comic. It does mean the ends of the cape are getting a lot of weathering.
Bicep rings.
These are made of heat-bent Sintra. I used a Dremel to make the vertical score lines. They ended up being slightly too large, so I padded them by gluing some foam, covered by the same fabric used in the rest of the costume, inside. They're spray painted. The Sintra color was fine, but I needed to fix some bumps and holes with Bondo, so I painted them.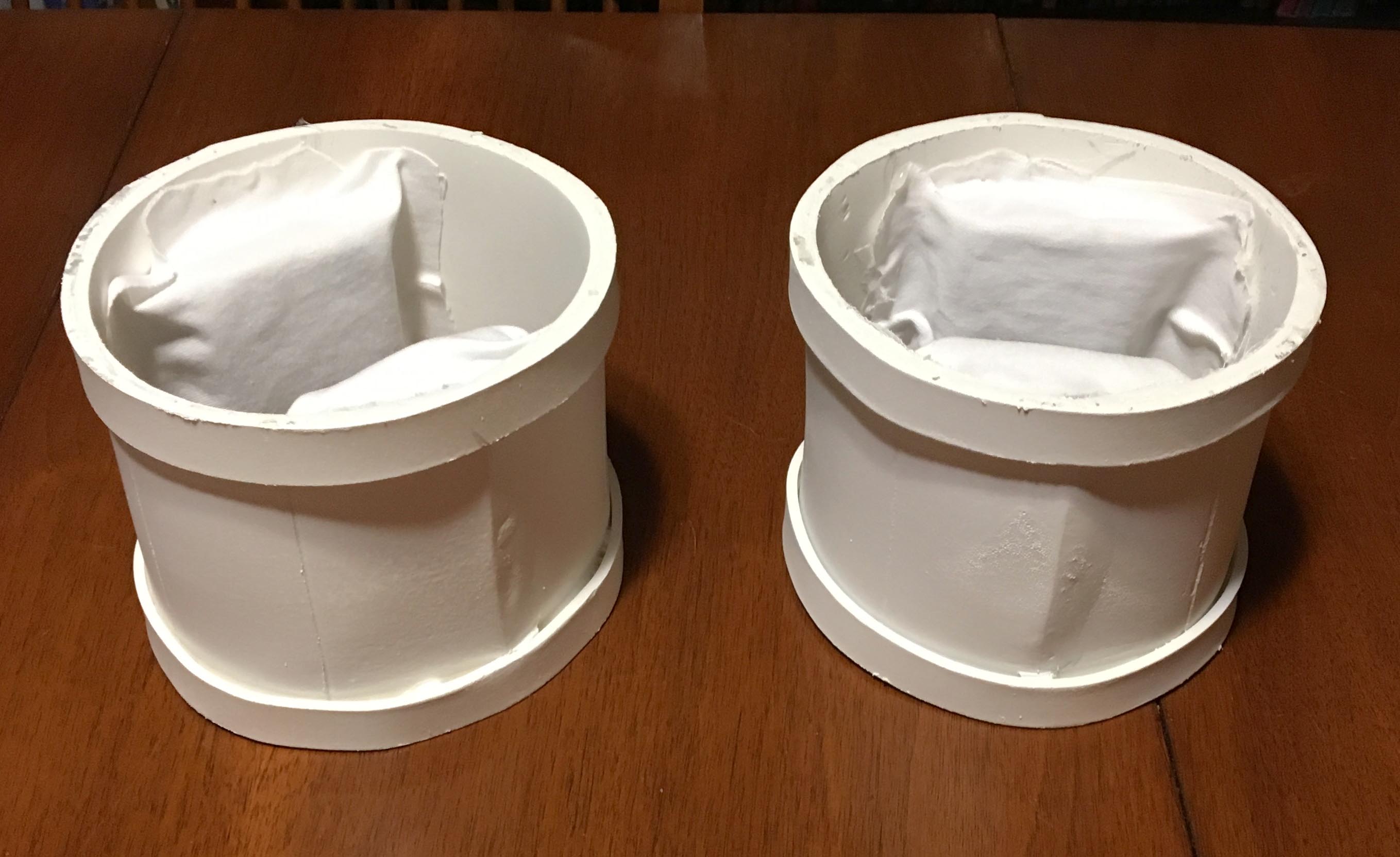 Forearm and calf bones, and wraps.
He has a set of three humerus-style bones strapped onto each of his forearms and calves. These bones are clearly too small for human bones, so I decided to just sculpt them myself instead of trying to exactly replicate some real kind of bone. I used a single sheet of insulation foam and cut out a basic bone shape using a bandsaw. Then I sculpted them using a Dremel, and sanded them. Then I coated them with multiple layers of glue, then spray rubber dip, and finally spray paint. This is the priming/painting process I used throughout the costume unless otherwise noted. The use of both glue and rubber dip is because I have found that spray rubber dip and SOME spray paints will chemically eat away at insulation foam, leaving a hugely pitted surface. The glue protects the foam from the spray dip or spray paint. I also like using both glue and rubber dip in order to not only make it smoother, but also stronger. My experience so far is that with multiple coats of both, the insulation foam does not break or get indentations as long as it is not actively smacked around.
Seen with black rubber dip, below: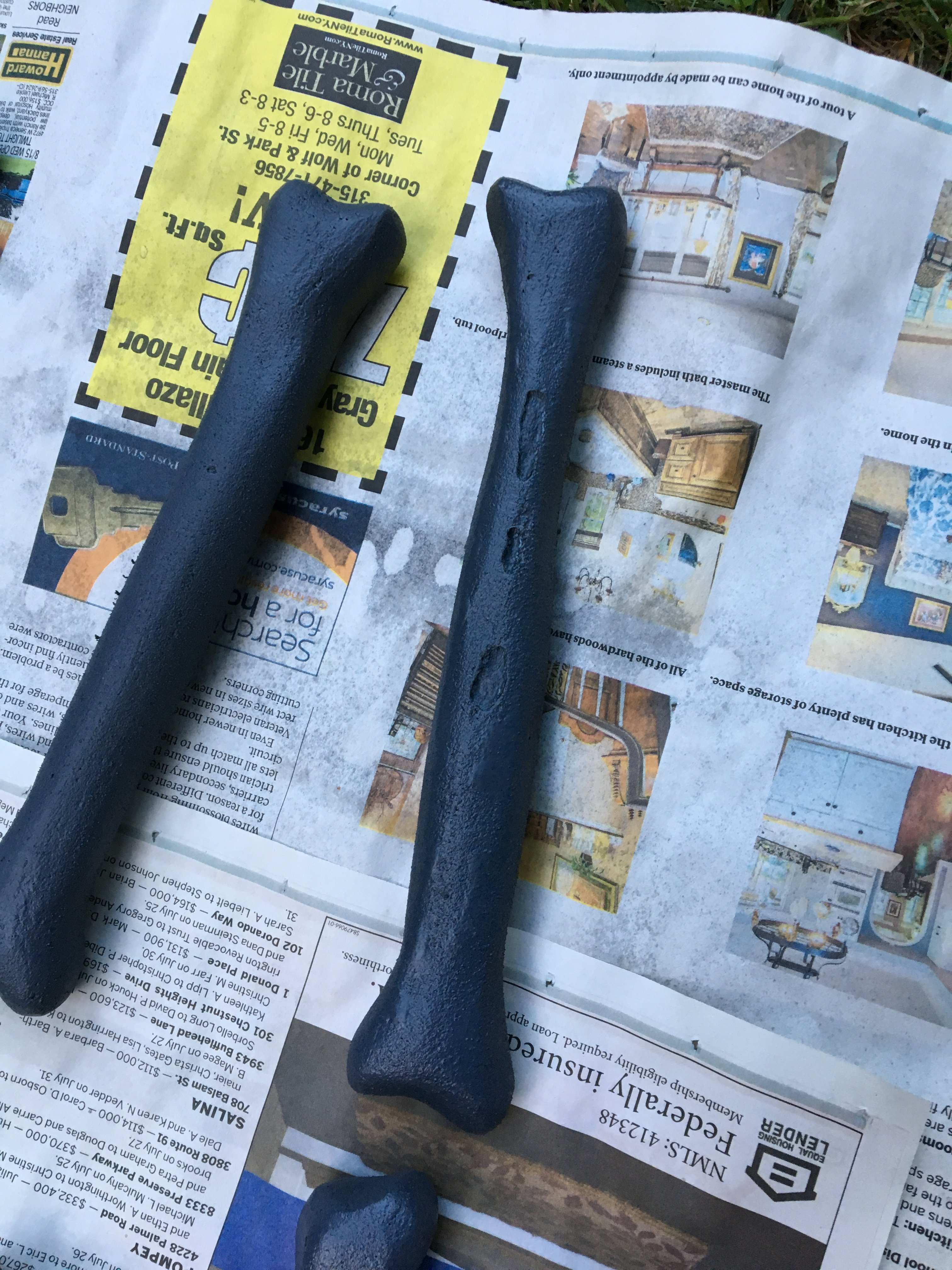 The bones are then attached to each other in groups of three by wrapping them together with a thin strip of cloth, which was glued to the bones and to its own ends. I have found that Elmer's Craft Bond works best for me as a fabric glue.
When I put on the costume, I attach the bone groups to my arms and legs using a second strip of cloth (after putting on my pants and shirt). This wrap is just tightly wrapped around the bones and my limb, and is attached to itself using some Velcro.
Note, I used the industrial sticky Velcro, but it doesn't stick super-well to fabric, so I also riveted the inside Velcro to the fabric, and sewed it on as well. I need to start using some other Velcro, I have not been happy with its stickiness. Any thoughts on Velcro attachment from anyone? Sew it on, glue it on, use the iron-on?
Rib armor.
These are made of floor mat foam (one layer). I cut them out individually, shaped them with a dremel, and glued/rubber dipped them as above, although in this case I hand-painted them with acrylics instead of spray paint since the ribs bend while being worn, and I didn't want the paint to crack. This seemed to work, I haven't hand-painted flexible foam before.
Then I attached them to each other at the back using a craftfoam hinge that's glued on the inside. (This is not visible in general, but especially because of the cape.) They are then tied together using a couple fabric straps, as seen in the costume. But then I also put some more craftfoam strips glued on the inside to really hold them firm. The tips are heat-bent outward slightly to mimic the drawing, although perhaps a bit more than they need to be. I attached them to the shirt with Velcro; it is now pulling off the back of the foam so that needs to be fixed, but generally speaking it worked. I have added more Velcro to better fix the curve over multiple wearings. I was shockingly happy with how they came out, I have not used floor-mat foam much.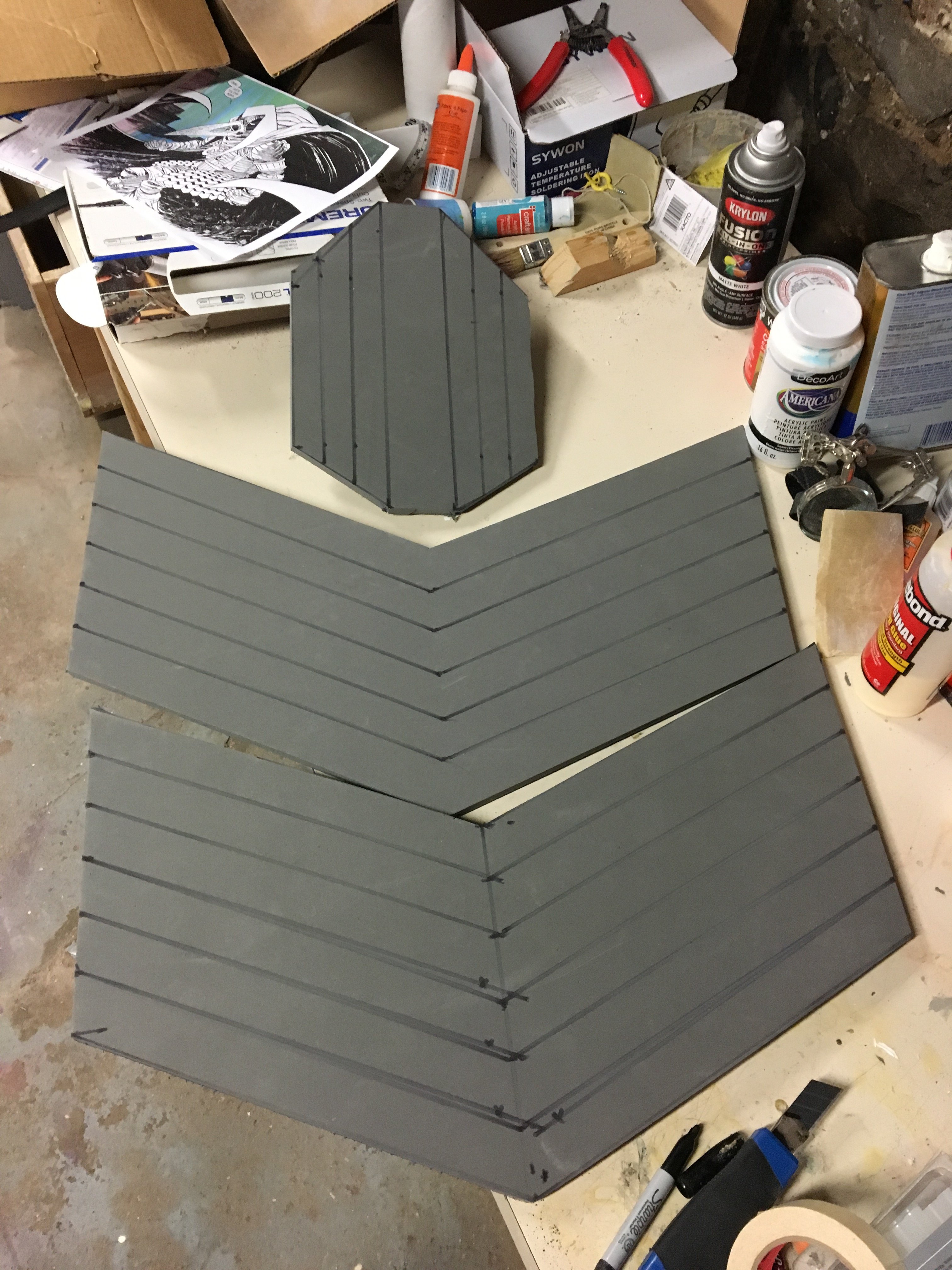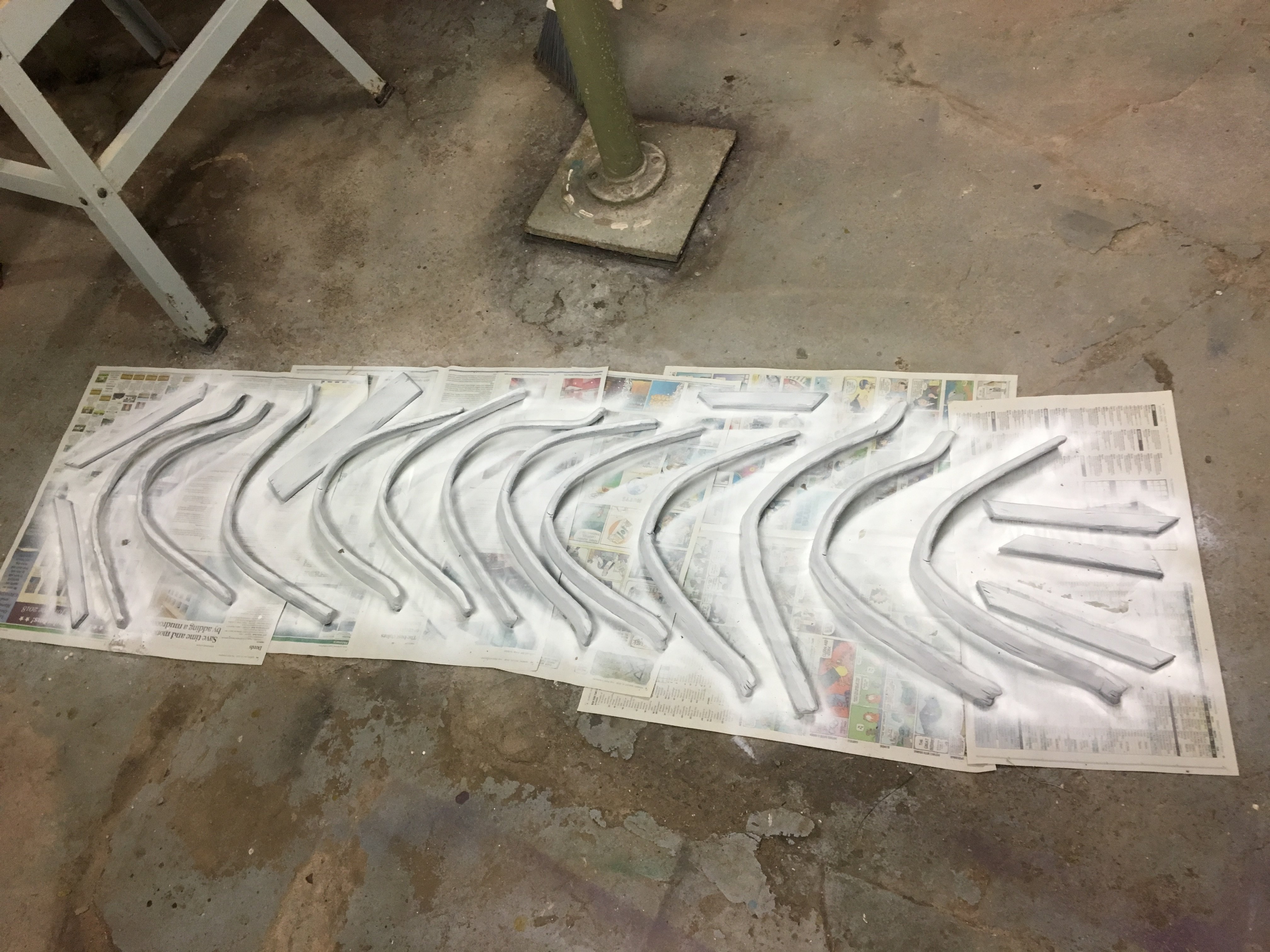 Front and then back:
Abdomen armor.
The same as above—floor mat foam, hand-painted—but this is supposed to be wood, so I carved wood grain into it. It attaches to the costume via Velcro (which worked fine here), but it is also held in place with the belt.
Front and then back: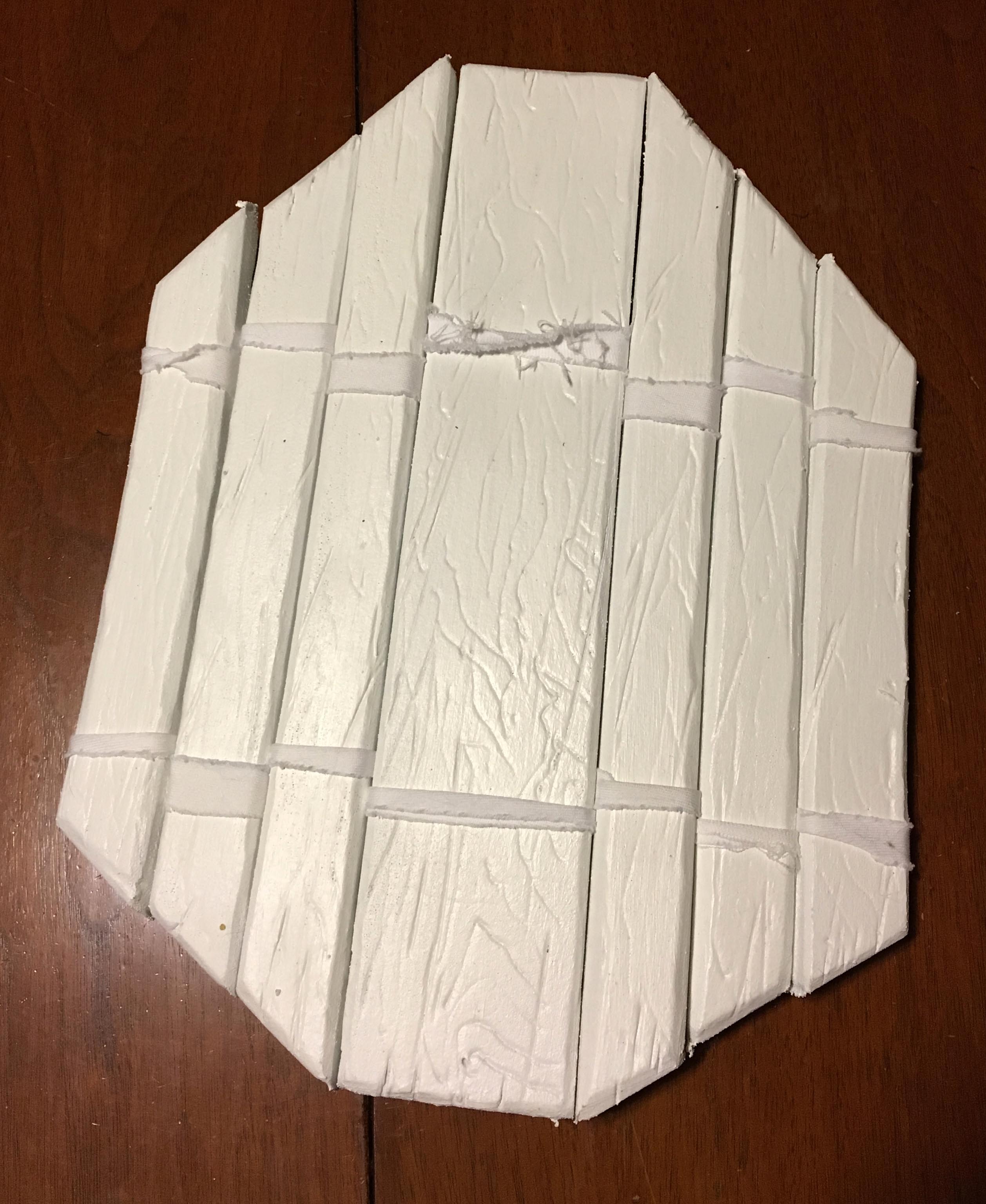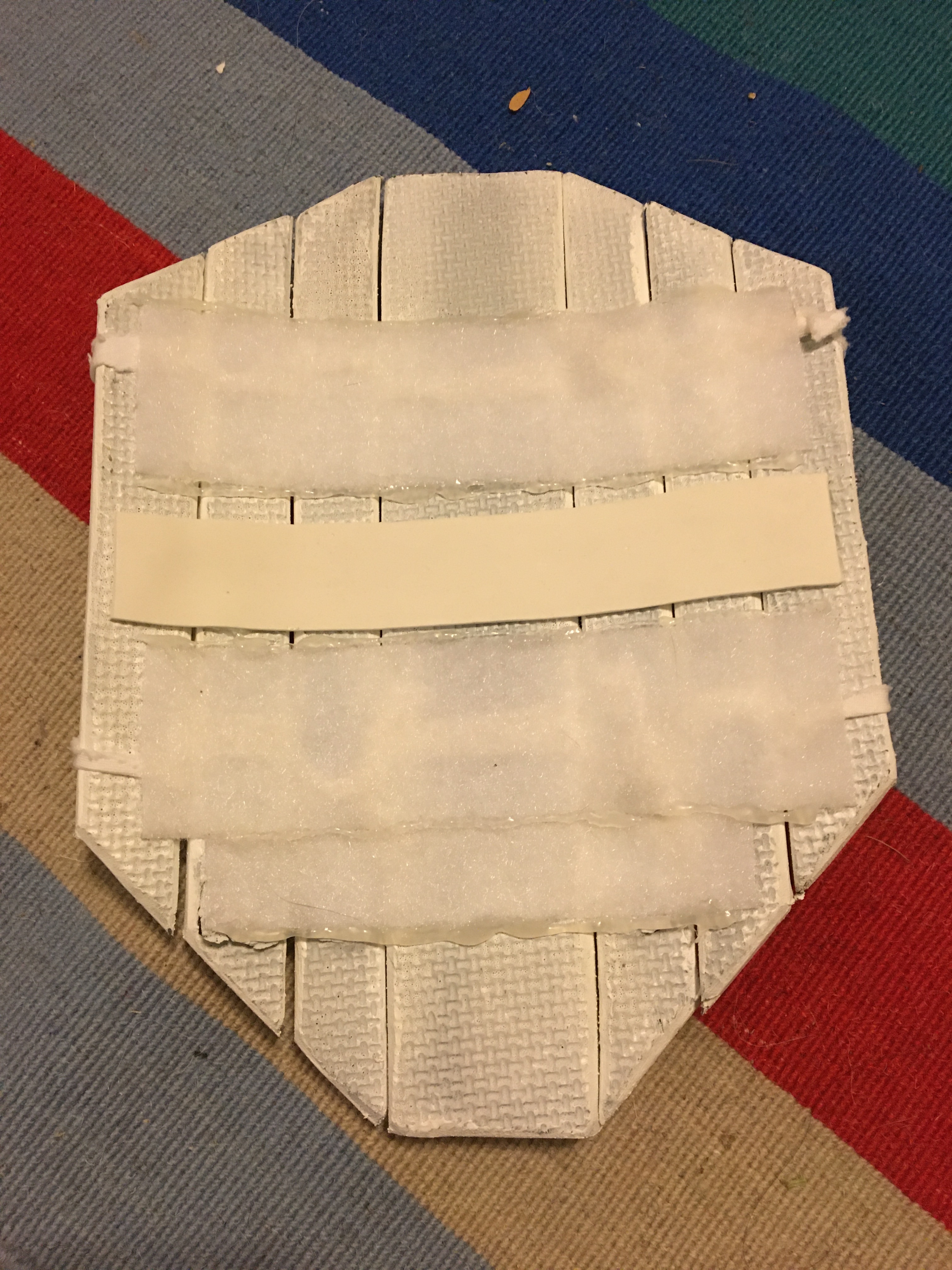 Pants and "under-skirt."
I made these separately and eventually decided to attach them (at my wife's advice) by sewing them at the top. I used a pajama pattern for the pants that I have used before, using some white stretch fabric. Then I covered it with white strips, which are glued to the pants. I wasn't quite sure how to do this; I ended up just putting on the pants and glued the strips on while I was wearing them, and let them dry before taking the pants off. The strips, incidentally, have the edges wrapped over and glued down so the edges are clean, not ragged. I didn't both putting strips over crotch, so as to retain my mobility; that area is covered by the under-skirt and is not visible.
The underskirt is also made of fabric, and then has strips glued on top. It is sewn to the pants at the top. The whole thing is held up by belt-loops which are sewn into the pants. I put the (real) belt in through the loops while the skirt is pulled up over my belly, then pull the skirt down over the belt, so you can't see it at all. It works very well to hold it up.
Skirt down, then skirt up, with zoom in on the belt loops:
Shirt.
The shirt is basically the same construction as the pants—stretch fabric with denim straps on top, based on a pattern. The pattern is a front-closing shirt; I modified it so it closes in the back instead of the front, using Velcro. It has Velcro strips riveted on to hold the rib and ab armor. I glued the strips on while I was wearing it, as with the pants, to make sure the shirt still fit correctly after they were on.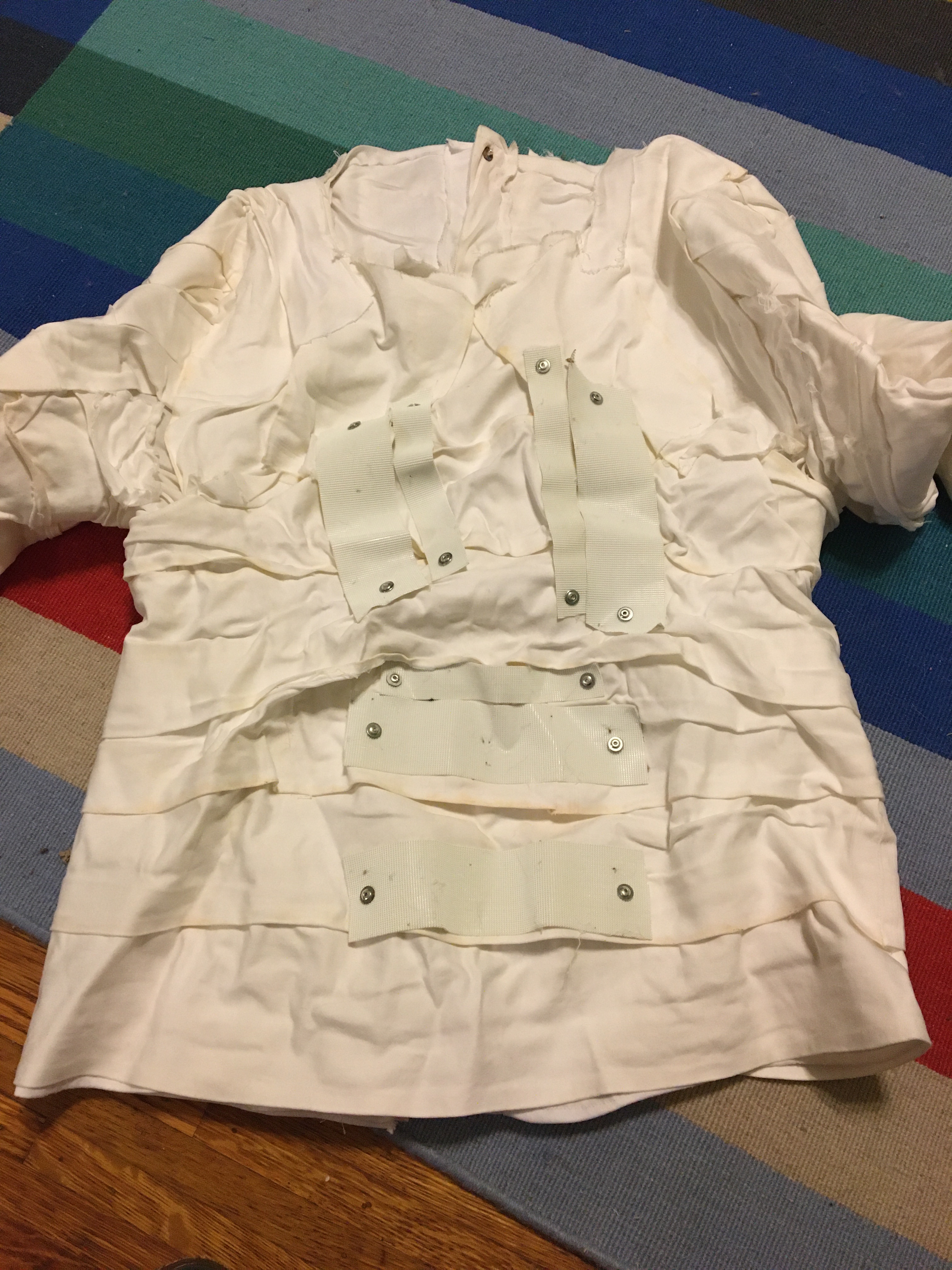 The shoulders have a different strip-pattern that's woven together, as in the comic. I made these woven sections separately and glued them on.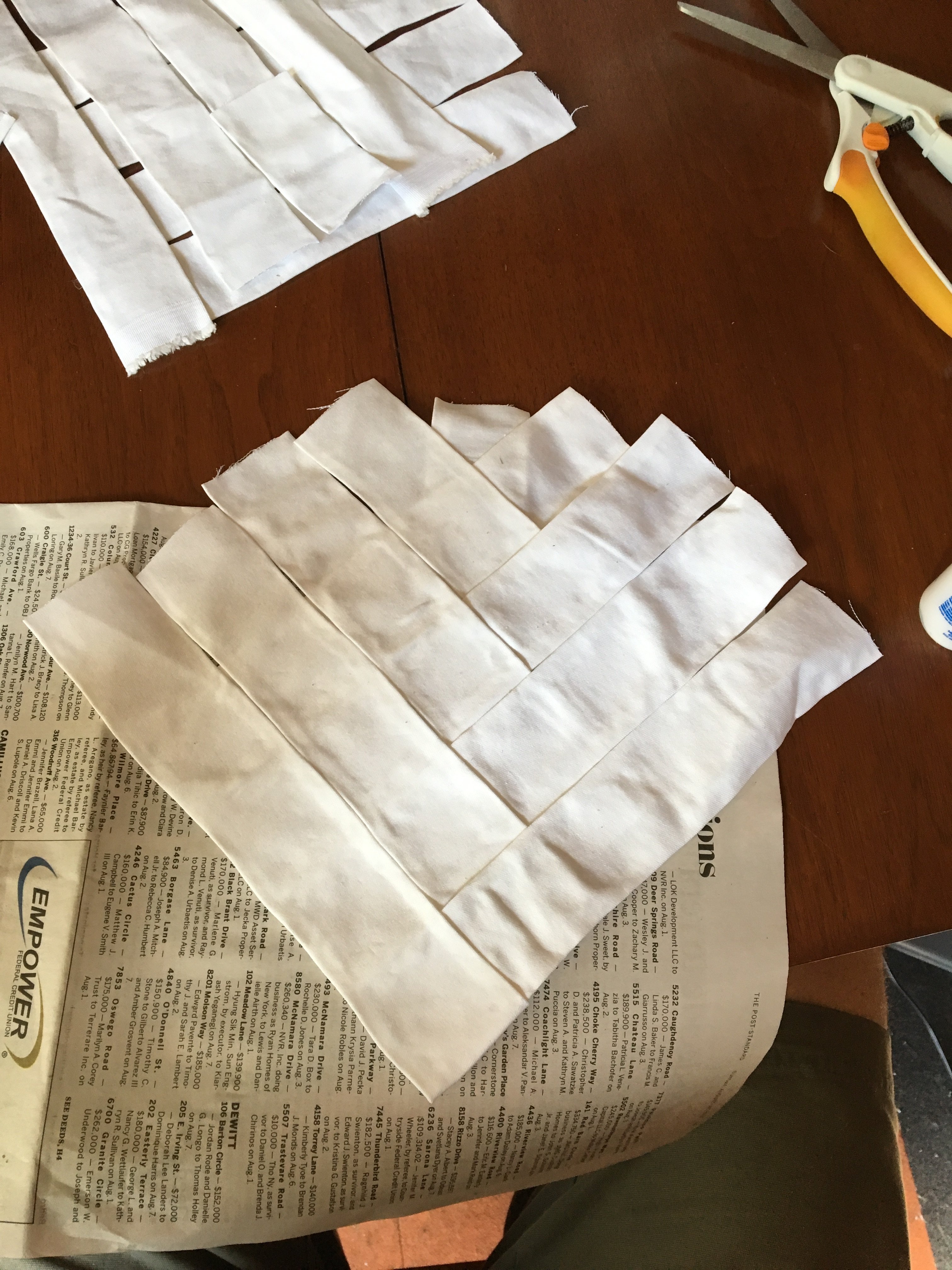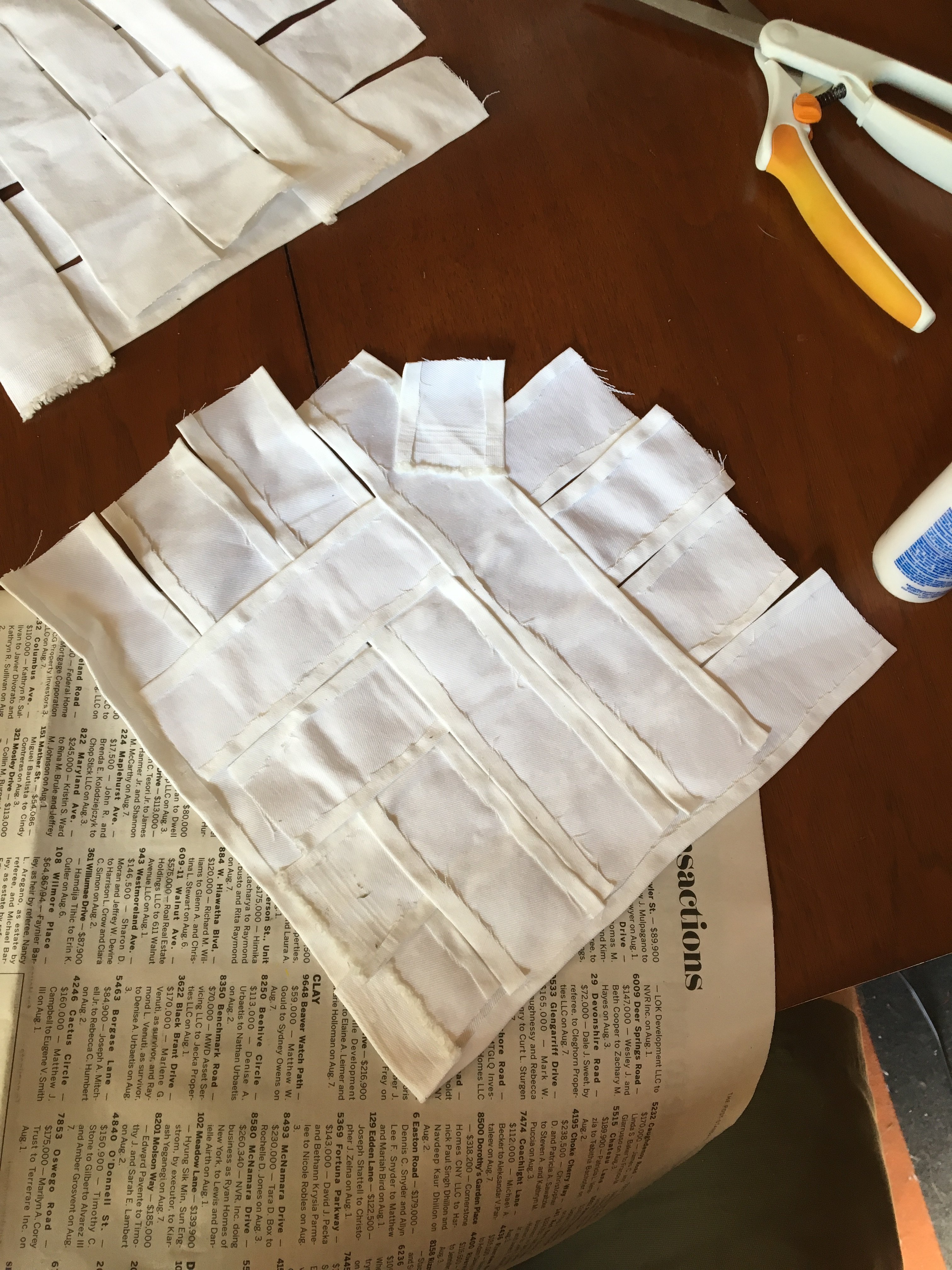 Gloves.
I took standard white cotton gloves, like you use to handle art, and glued on the strips (again, while I was wearing them). The glue came off to some degree due to sweat. I used a different glue on one glove and it wasn't as strong. I have since reinforced the gluing.
Shoes.
I took flip flops, and glued a pair of socks to them using contact cement. I sliced the tip of the socks open to accommodate the flip-flop strap at the front. Then, you guessed it, I put them on and glued the wrappings on top. They go up high enough so the legs of the pants just go down over them. You can't see the seam between pants and socks/shows unless you look very closely (this is true of the gloves too). Also the forearm/calf bones and their strappings help cover this up.
I have found that flip-flops, water shoes, and slippers work really nicely for cosplay shoe/boot bases. They're comfortable, and are easy to slip your foot into while they are attached to some larger sock/calf structure.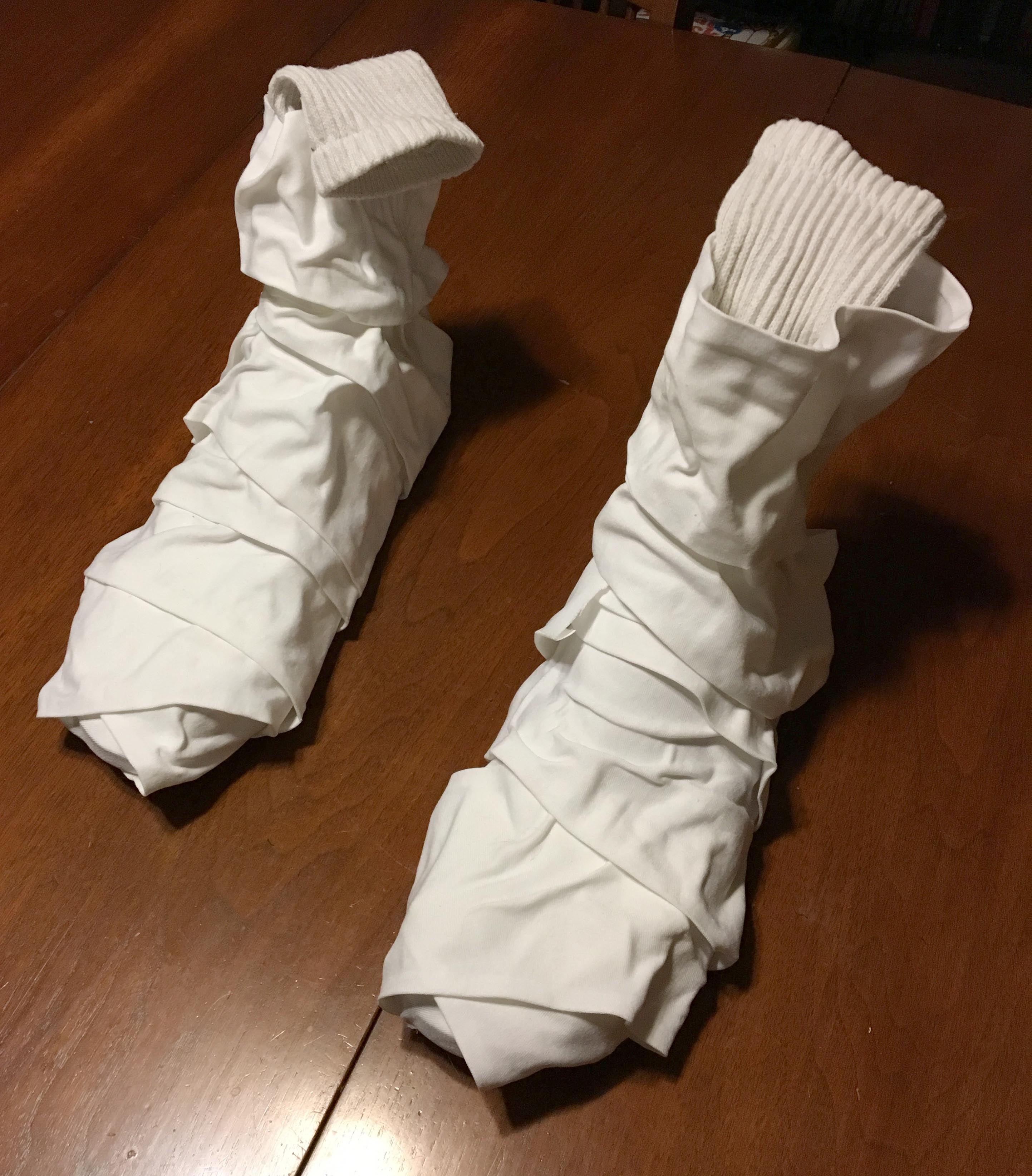 Belt.
This is a simple piece of the fabric strap, with a Velcro connection in the back, which is covered by the cape. I have added little pouches that slide to the back to hold my phone and wallet. They can't be seen due to the cape.
Below: the scarf, belt, and the straps that hold the limb bones on:
Scale mail skirt.
This took some research. I looked at how a variety of costumers have attached scale mail, and ended up doing a slight variation (although I'm sure other people have also done it this way before). I made a fabric skirt backing (different from the "under-skirt").
I cut out 100+ scales based on how many rows you could see in the original art. They're made of un-painted Sintra. I drilled four holes in the scales using a drill press and a jig to get the holes spaced evenly.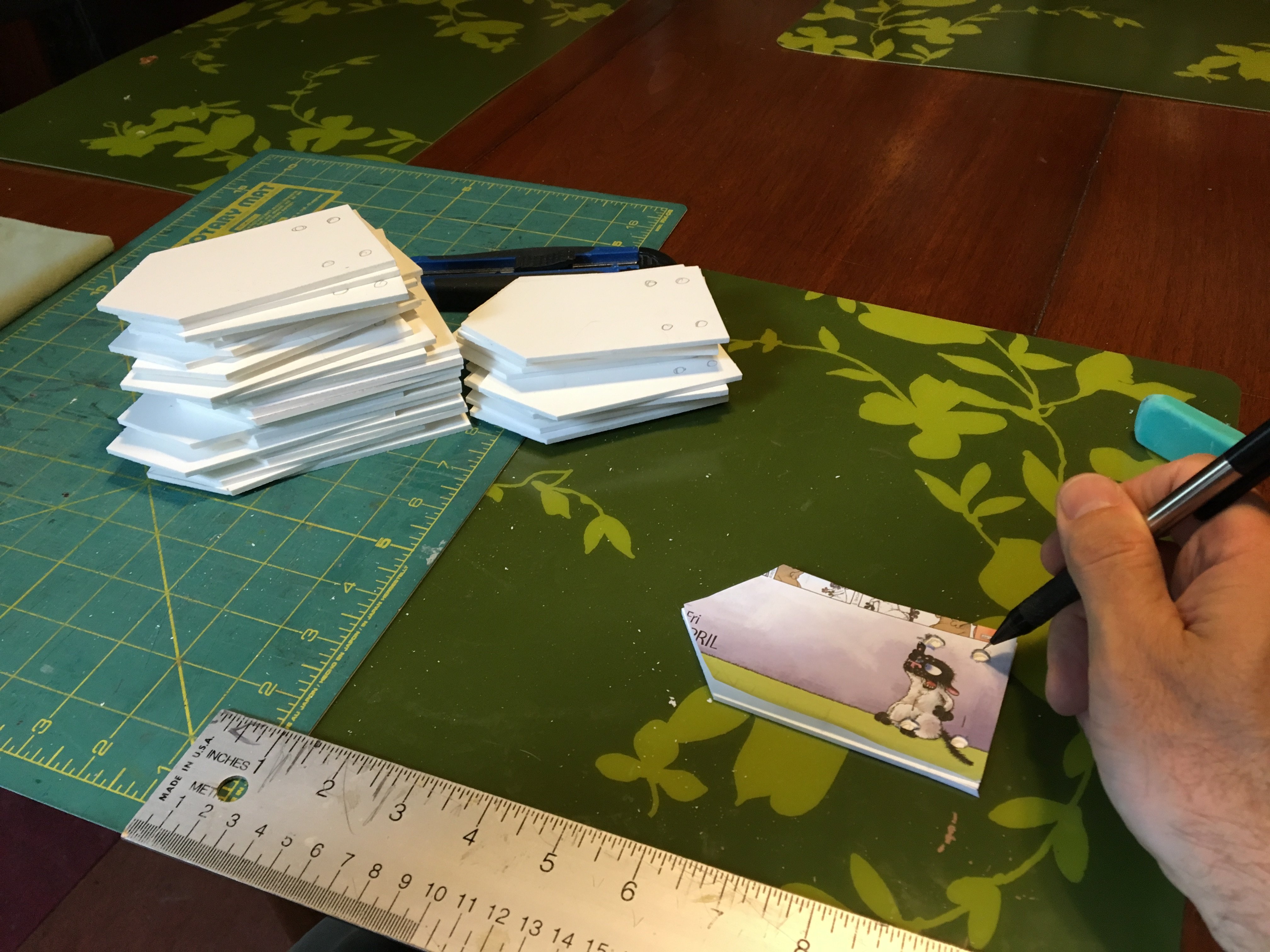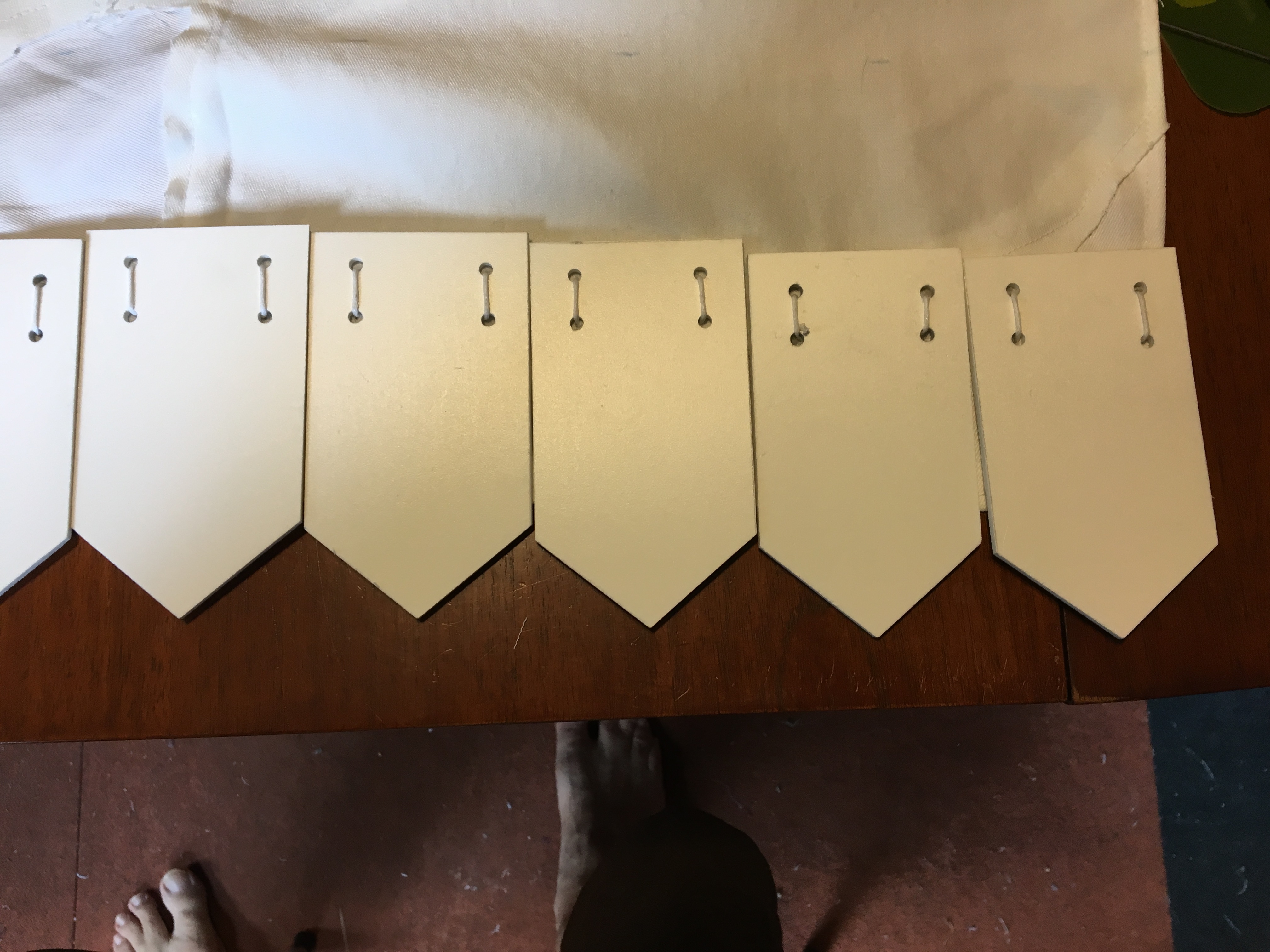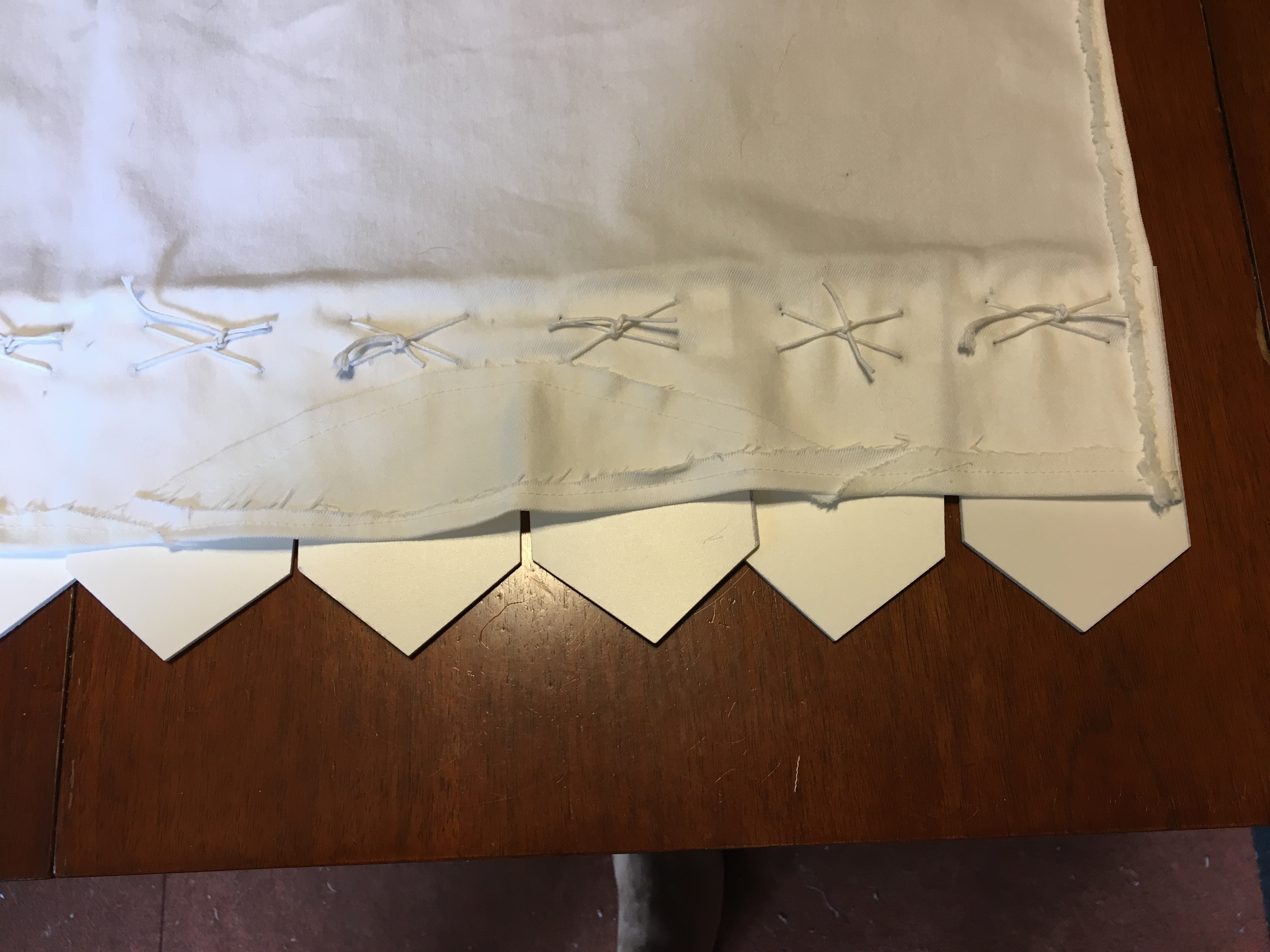 They're tied to the cloth skirt backing using white cord, and when I ran out of that, normal string. I tied them in a criss-cross pattern, so the front shows two vertical lines of cord, and the back shows an X. This held them in pretty tight in place, and allows excellent flexibility and mobility. Again, I saw a lot of methods for tying the scales together, this seemed like the best option for my situation.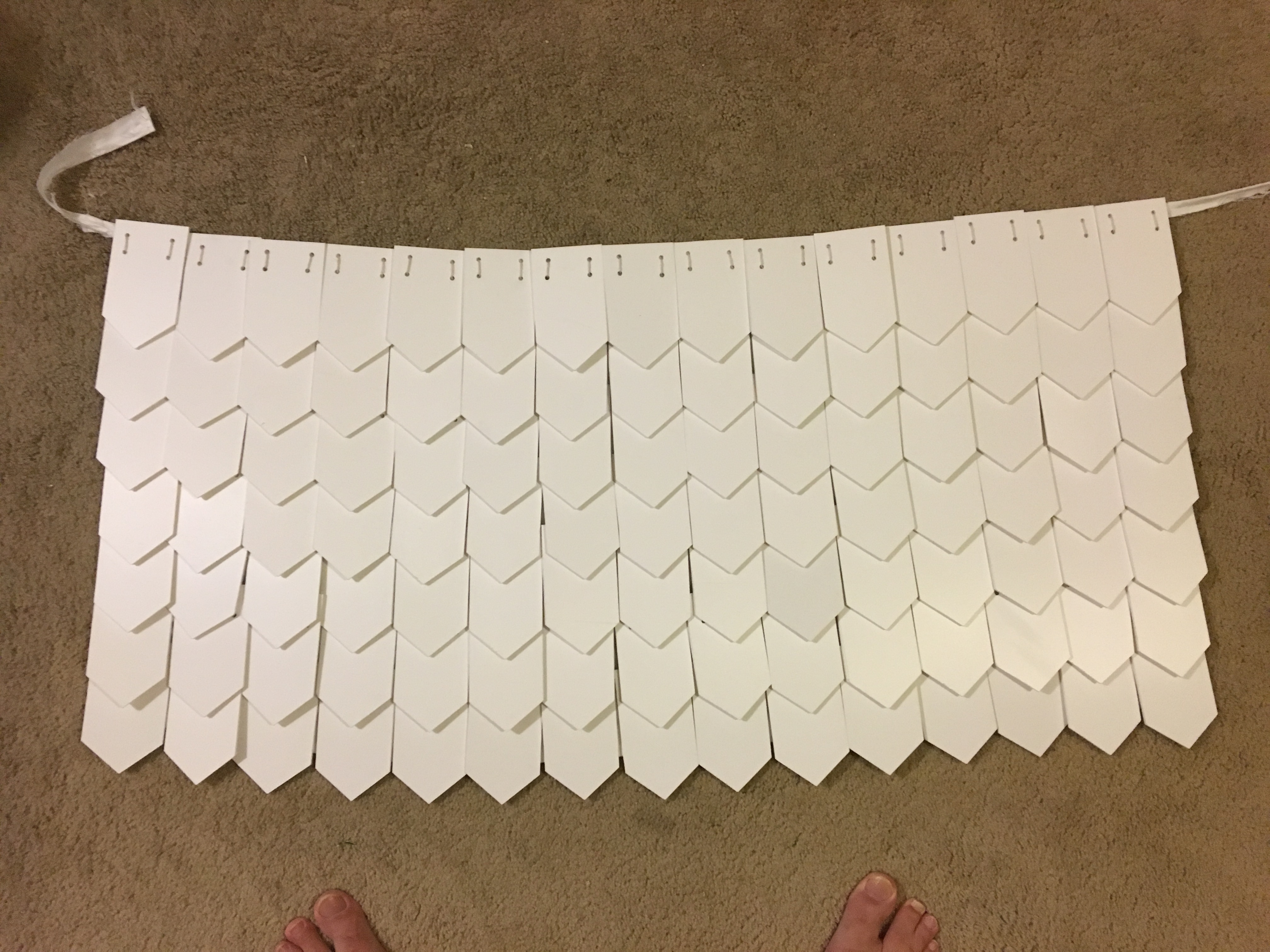 I can sit with the scales, especially with the cape underneath my butt to help smooth them flat as I sit. I thought it would be a good idea to sew them all individually to the backing cloth skirt, instead of linking them together, in case any of the string broke.
The whole thing is hand-tied in the front with a fabric tie. However, the fabric stretches over time, so it got looser as I wore it the first couple times. I now made a set of suspenders that go under the shirt and attach to this scalemail skirt via some latches so it won't fall down.
Bird skull mask.
This is made of 10 layers of insulation foam, vertically glued together. I cut the big chunks off with a hand saw, then dremeled it to down to shape. This was a challenge, as it was hard to be sure of exactly what measurements I'd need for the hole for my head, and the shape of the skull is pretty complicated. It is a little big in some spots; the head hole is a little too big front-to-back, and the beak should be a little less high and wide. Also, I was super-annoyed to realize that you could see the lines between the foam layers, even under many layers of glue and rubber dip (mostly in the back). I have largely fixed this with spackle and more priming/painting, but not as much as I would like.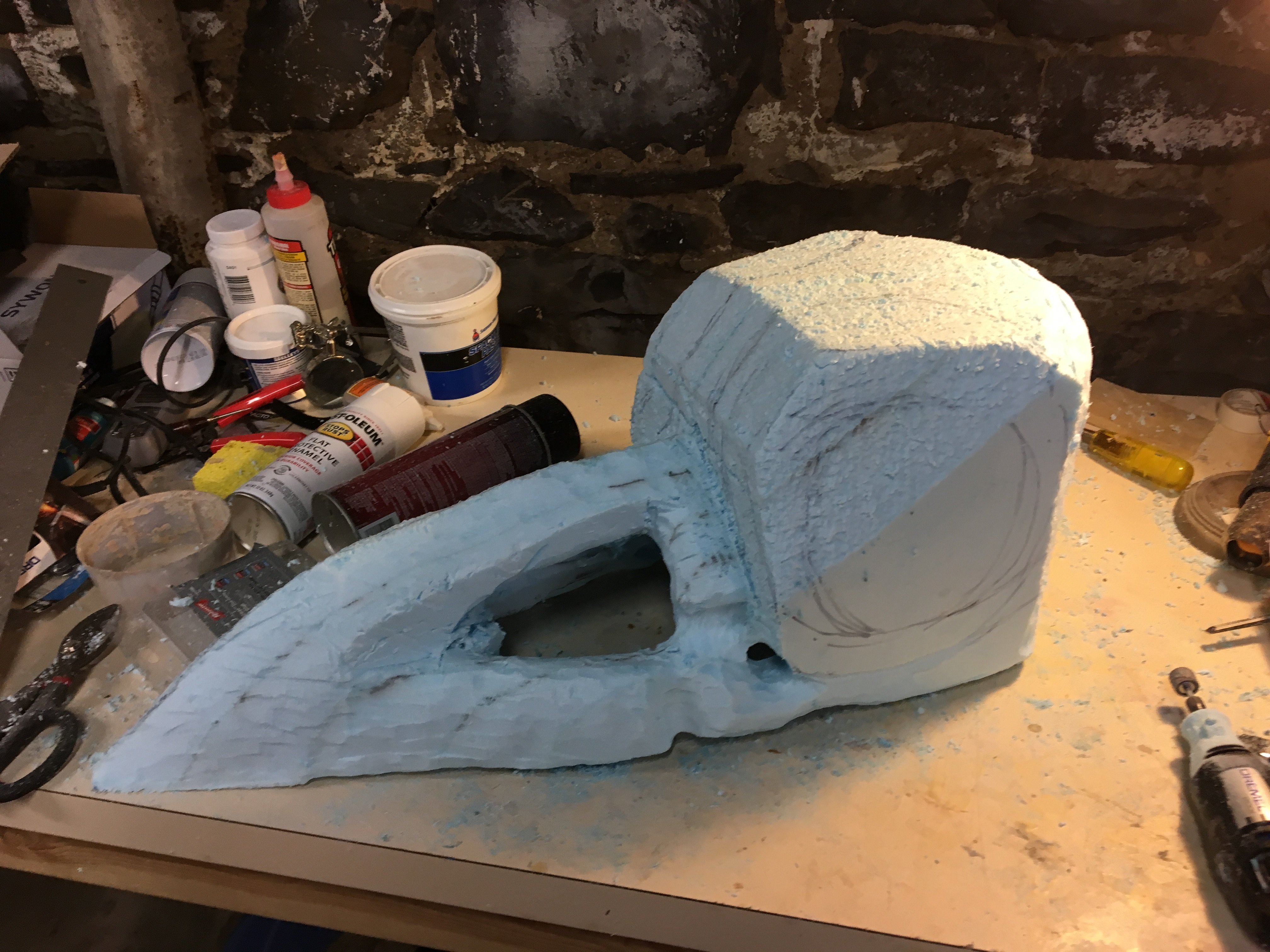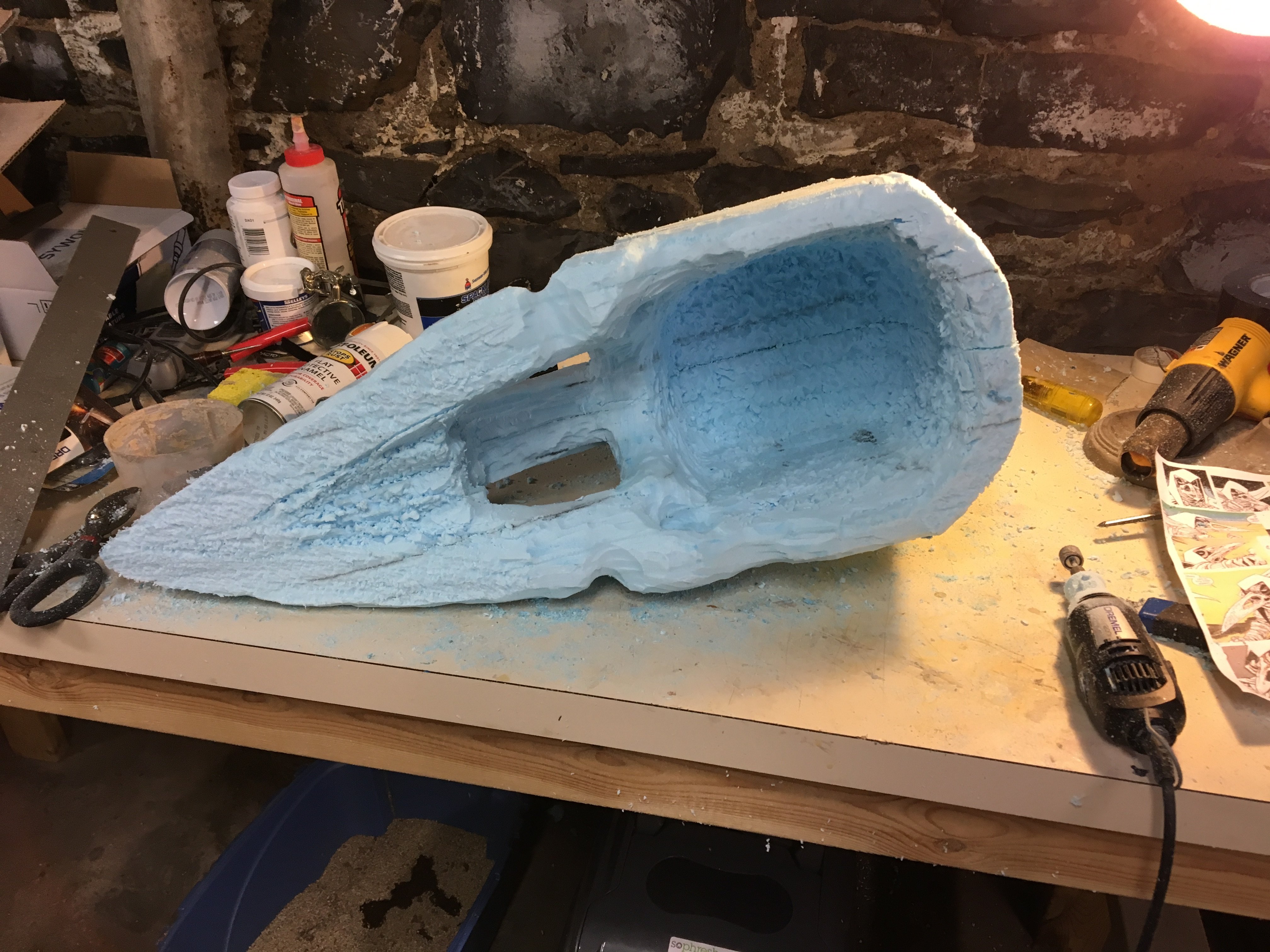 The one built-in issue is that the eye holes are not really in the right place, based on the original design. A bird's eyes look out to the sides, but we humans see from the front. In the comics, it's just sort of drawn from an angle so you can see his eye, but really you wouldn't be able to from that angle. In some drawings they angle the skull's eye hole so it would be easier to see out of. But even then they place his own eye where it wouldn't be; if you angled the hole enough to see, there wouldn't be hardly any skull forehead and it would look really weird. So I made the eye holes more or less like what they'd look like in a real bird. Lucky for me, the nose holes are in a pretty good place, so I could see out of those! That wasn't really intentional, but it worked. Again, even with all the problems, I was pretty happy with the result. I haven't sculpted anything remotely of that complexity before, and it definitely worked as a signature visual piece.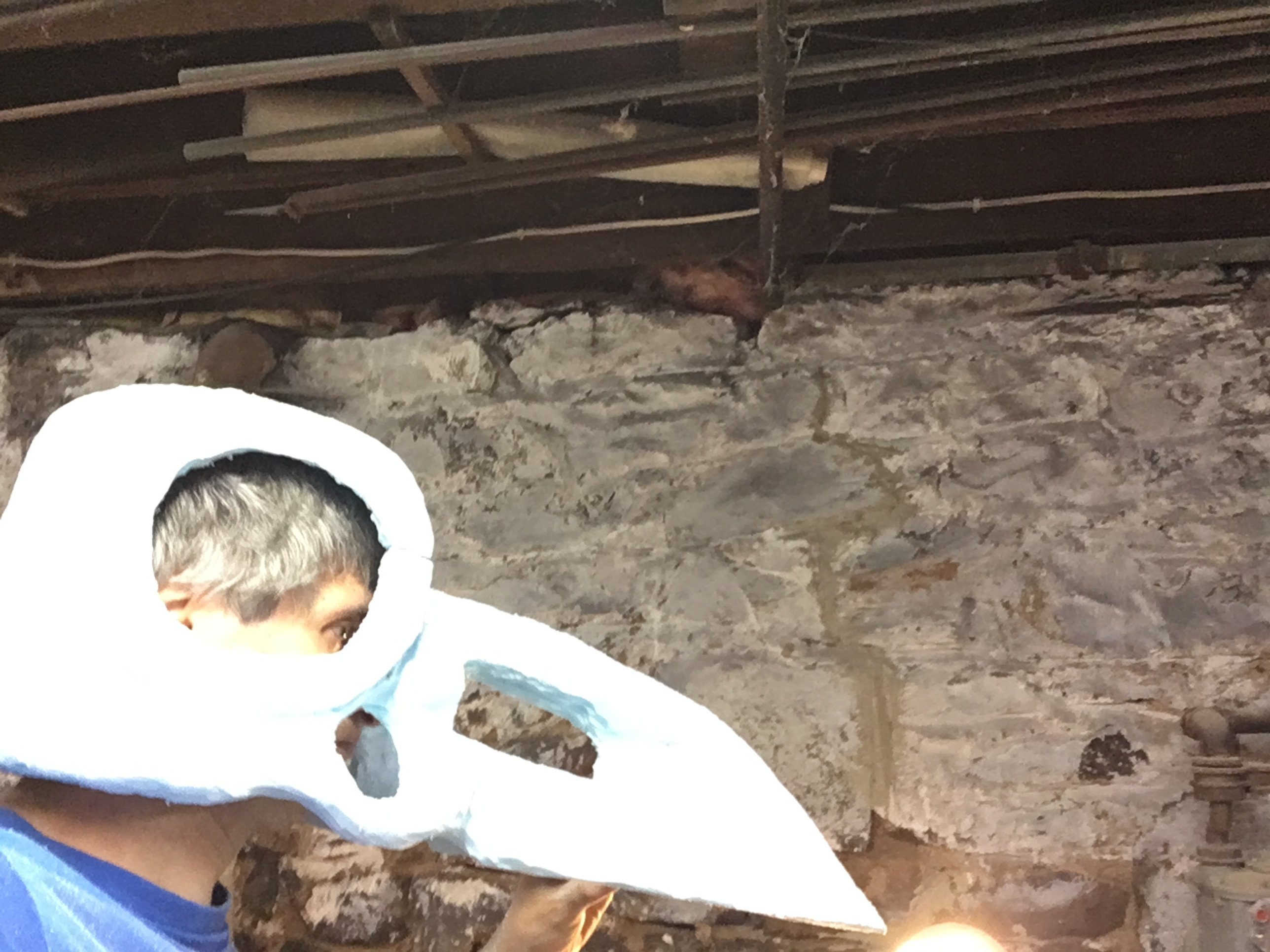 Scarf.
It's not obvious, but he has a scarf around his neck, covering the space between his black mask and his cape connection. I used a strip of fabric and just wrapped it loosely around my neck.
Moon necklace.
Once again, I carved it out of a single layer of insulation foam with a Dremel, and painted it as above. It's attached with a thin strip of fabric.
That's about all the images I can fit in this post. The black mask that goes under the skull, and the hood that goes over it, will be in the next post. I'll also wrap up my experience in the costume.
Last edited: