2nd go at posting this, I tried once but put it in the wrong forum, doh! Decided to do a bit more work on it before trying to post again.
Anyway, hello TRPF, I'm a particularly clueless noob with an ambitious plan to Cosplay Ashley Williams from the Mass Effect Games (well it makes a change from Commander Shepard), specifically one particular armour from Mass Effect 3.
Briefish background, I'm kinda old, kinda large and kinda odd, but after spending far to much time in the digital realm I started venturing to the strange outside world a few years ago, and actually started going clubbing, often to clubs where dressing up was encouraged or in fact mandatory. I started with assembling odd outfits from shop bought stuff but started modifying things, mostly accessories, small things mostly, but got to the point where I steampunked a nerf gun to go with an outfit for a steampunk cabaret night.
I'm also a huge nerd, and have been reading/watching SF since, well, before most of you where born
also been playing video games since Space Invaders was cutting edge, so I started going to Cons/Festivals etc here in London (London England, yes I'm from the UK and spell armour with a u) after several years of absence. Wow don't loads of people cosplay these days and since I'd gotten into dressing up and modifying stuff I started to join in, with shop bought outfits to start with, but then I started modifying them and finally last MCM Expo in October I debuted my first home made outfit, I went as the Black Canary, it wasn't all home made, I just really sewed the body suit and made armoured bits for the gloves and boots, but I liked it and enjoyed the process of making it all, its satisfying (plus I'm a tart and like all the attention a good costume gets
)
So I was thinking about what I was going to do for May 2013 MCM expo and Sci Fi London Easter Parade 2013, hrrmmmm, I'd been swapping a few messages from a Mass Effect Cosplayers I'd photographed (I'm also into photography) at MCM expo, I was very impressed by by the ME cosplayers there and thought, could I do Mass Effect Armour?
I'd played all the games, but do the costumes, nah, way to complicated. But then I started reading up on it, You Tube, various blogs, the 405th and TRPF forums, and thinking hrm, perhaps its not impossible after all and then one day found my self walking out of Argos with a some EVA foam mats, a Dremel and a heat gun. Guess I'm doing this then.
(Just to reiterate that's not me nor my costume at the bottom right of the above picture, that's Ashley Williams done properly but someone who is young and pretty and knows what they are doing, I'm using her pics as a goal of the standard I want to try to achieve)
I started with Mass Effect 2 templates from Julian Beek
Blog | julianbeek
, Ashley William's armour in ME3 is very similar to Fem Shep in ME2 so I thought I was off to a great start. Except when I looked at the templates and this reference
Named Characters by Troodon80 on deviantART
I started noticing differences and I had my own idea's how to put the suit together anyway (I wanted to minimise joins between sections of foam), that plus the fact I'm rather large and needed to rescale everything meant I ended up redrawing most of them. After that I printed them out, cut them and started taping them to me and walking around my flat to make sure they fitted properly (is this odd? I guess not that odd around here), they went though several iterations before I was happy.
So then to building, So far the foam (I'm using several different bits of foam, thick 12mm floor mats from Argos, 8mm floor mats from Ebay, a 6mm exercise mat I got from a sports shop having a sale and 2mm craft foam from hobbycraft) is proving harder than it looks, there's a steep learning curve here. Mostly I'm prefer the 6 am 8mm stuff, the 12mm feels to thick and I probably won't use much of it. Cutting is going OK, but I'm going through a lot of knife blades and most pieces need a bit of a Dremel on the edges afterward. Also I'm using mostly gap filling super glue (ZAP ZAP-A-GAP) to build it, I tried using hot glue but prefer the super glue, it give me a little bit of working time, glues VERY strongly and seems to be less messy. Female Mass Effect armour is very curvy and most pieces need bending into shape after some heat gunning, so far that's being going OK, but the chest piece was a total PITA to do. Have been using the 2mm craft foam and 6mm strip styrene I got from a model shop for detailing and for panel lines etc, I've found if I just score the foam with a knife just enough to break the surface then run it under a heat gun for 30 secs it opens up to about 1 or 2 mm wide giving me a neat line, well much neater than I could with a dremel anyway.
Unfortunately due to my noobishness each bit has taken 2 attempts to build as I fluffed up cuts or assembly or got the sizing wrong
I'm going to need a lot of foam/knife blades and glue
These are some of the reject parts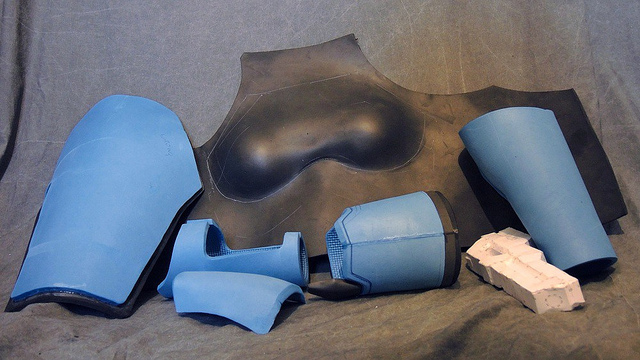 And these are the ones that are less fail I'll use. Think I might redo the forearm though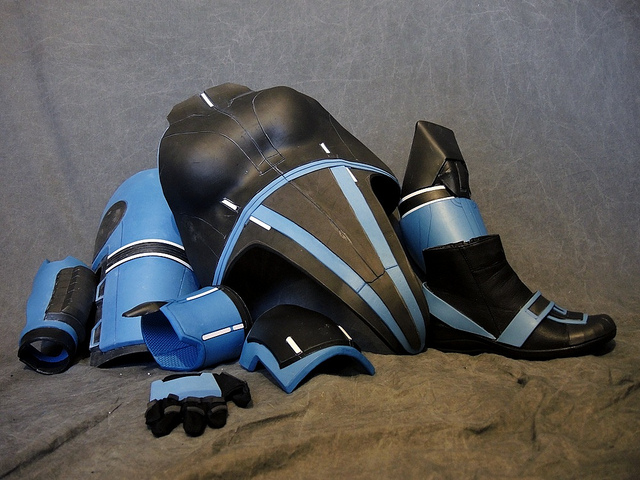 Another problem I have is that I live in a very small flat in London (have no shed or garage) and so can't really be doing noxious/bad smelling/toxic chemicals, so Resin or plastidip or anything like that is a non starter, so have to use cheap safe PVA glue to seal the foam. It will have to be sprayed blue after is built though, think I'm going to use Tamyia Racing blue acrylic spray as its the best match to the colour I've seen, with that and the white stripes and the curves Its going to look like a sports car when its finished
might be tricky to spray in my little flat though. I am slightly worried about the loss inflexibility of the foam after I've PVA'd it and painted it, I was counting on it being still a bit flexible so I can get it on me (the shin and wrist need to flex for me to get in them).
So far have done 7 sections (Right boot, shin, thigh, glove, forearm, upper arm, shoulder and the front of the chest), 6 of which are now PVA'd . Hopefully the left hand side will prove easier than the right as I've got the templates adjusted now .
(Yes that's me this time)
Some bits in the pic above are held on with masking tape, proper strapping etc will be done after painting, they are bit more complicated than Shepherds and my shin guard isn't straight. Plus that under suit is temporary, I've got a spandex catsuit on order to replace it and I need to find the right wig. And after its done I'm going to need to build a rifle to go with it aren't I.
Anyway I'm posting the here cause I've picked up lots of tips on how to use foam from this site and have seen a couple of Mass Effect Threads as well. But I feel this build is going to take a while, and updates will be few, but I've started so I'll finish, but updates will be few and far between, esp for the next couple of weeks as I'm going on holiday soon).
Oh and UK people, the Sports Direct chain is having a huge sale on at the moment, and one item they have on sale is a Lonsdale brand exercise mat, reduced to £8.99
http://www.sportsdirect.com/lonsdale-fitness-mat-761112
this is a 180x60 cm, you have to remove the fabric top (it just pulls off) and edges, but under all that is 6mm good quality very dense EVA foam that cuts and shapes nicely, certainly better than the interlocking floor mats I've got, I'm using it a lot, only problem is after you remove the fabric one side stays a little bit sticky, but that will be the back anyway. Oh and the Hobbycraft chain where (maybe still are) selling 30x45cm sheets of 2mm craft foam for 79p, with a 3 for 2 offer.
Last edited by a moderator: