Hey all! Now that this wonderful Sculpture & Makeup section is up I thought I'd go ahead and show off some of the work I've been doing since 1987. Sorry there are so many pics but I thought it best to just post my portfolio up to this point instead of making a bunch of seperate threads. These first pieces are recent works but then I start showing them in terms of the ones I'm most proud of instead of in chronological order.
Anyway, my name is Dale Morton, I'm from a small town called Hurricane, West Virginia, and I now mainly make mascot character costumes for a living but I also still do makeup and masks when the opportunity arises in addition to custom super hero costumes. My website is at
Dale Morton Studio Mascot Costumes - Home
. What follows is strictly makeup and mask work. Hope you like it.
The first shots are of a mask I was commissioned to make of an android character for a local independent film that is still in production. This is the sculpture followed by the mold-making process and then the finished mask. The mask is made of reinforced latex, the face plate is fiberglass, and the back of the skull section is clear acrylic: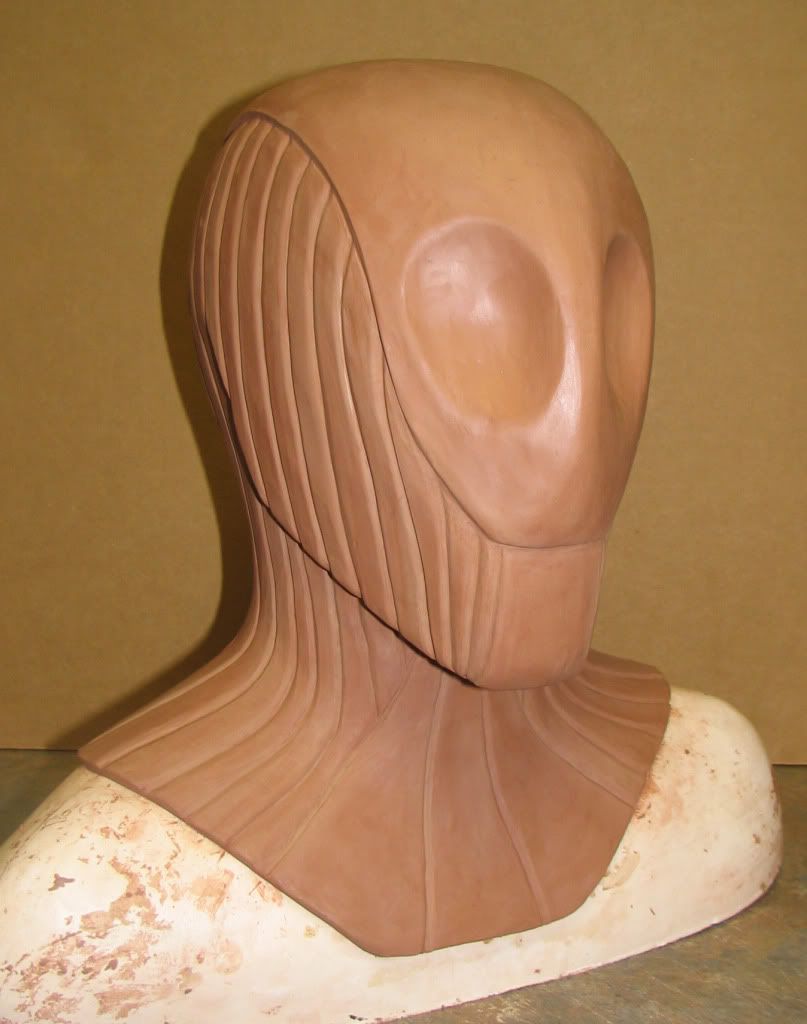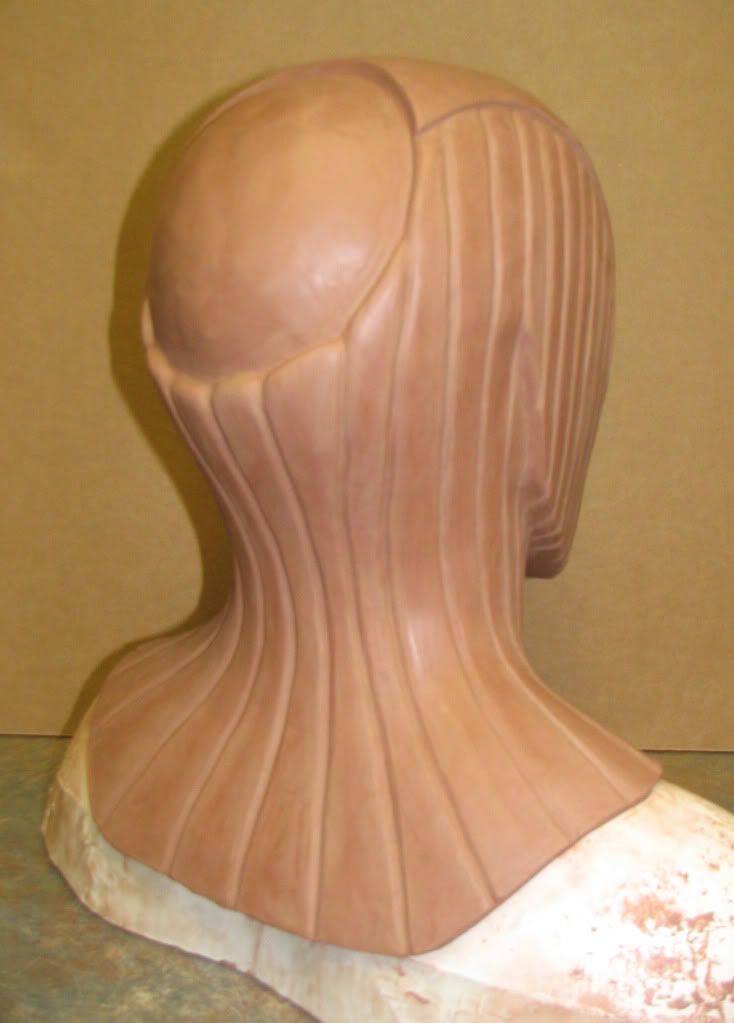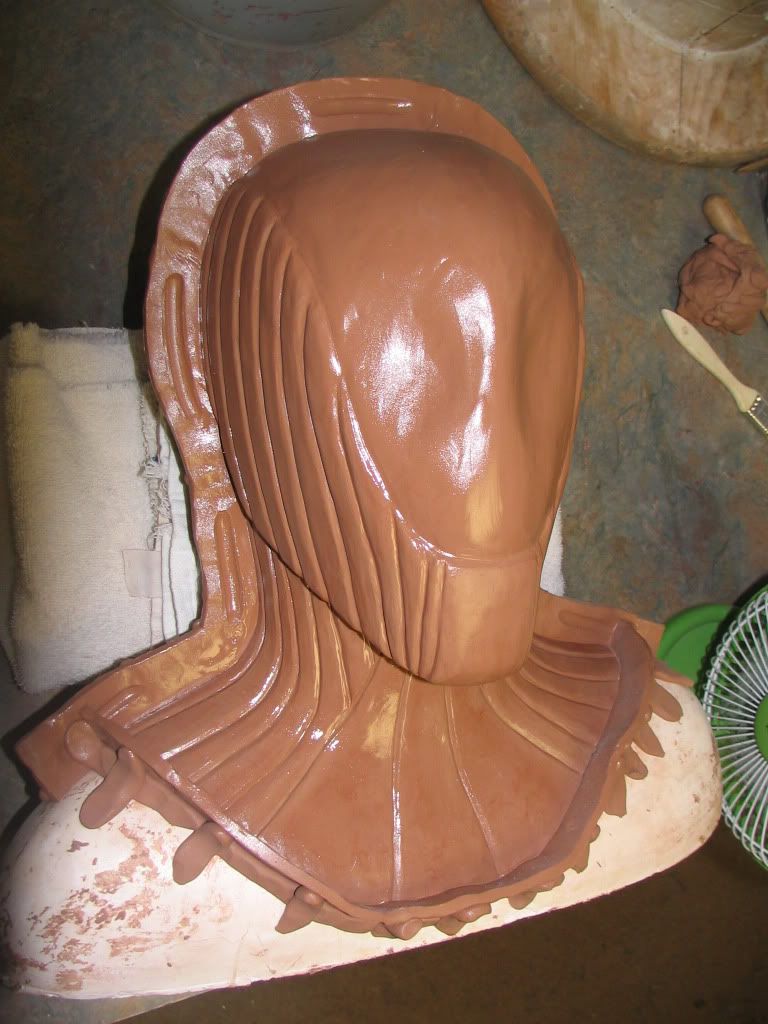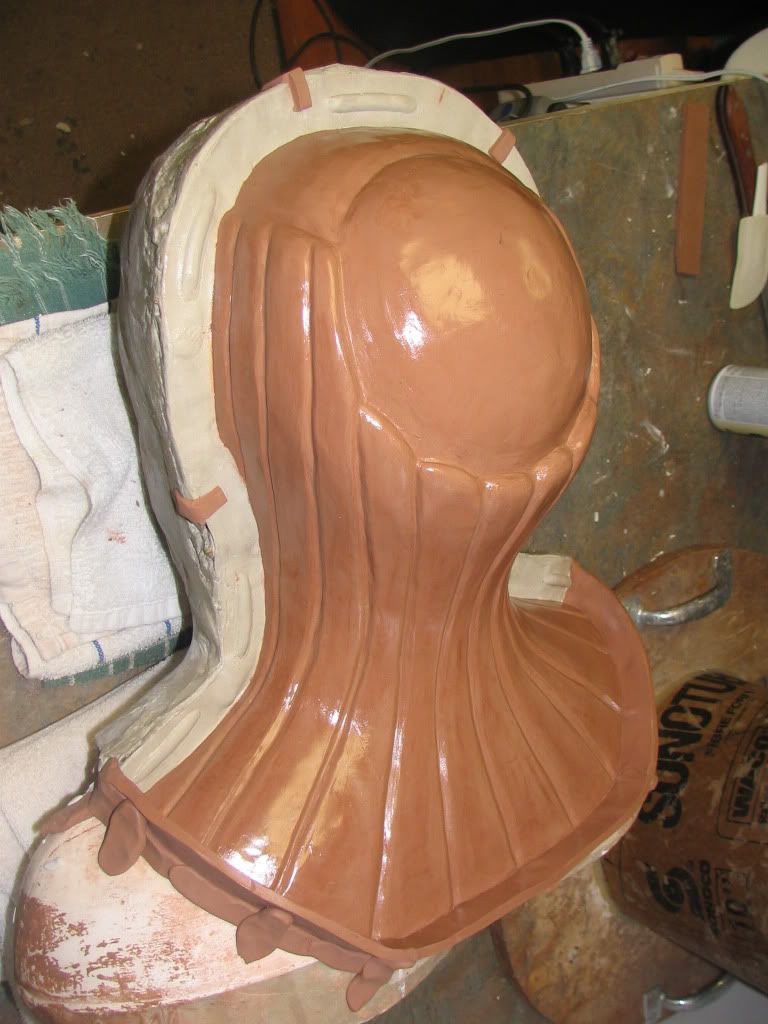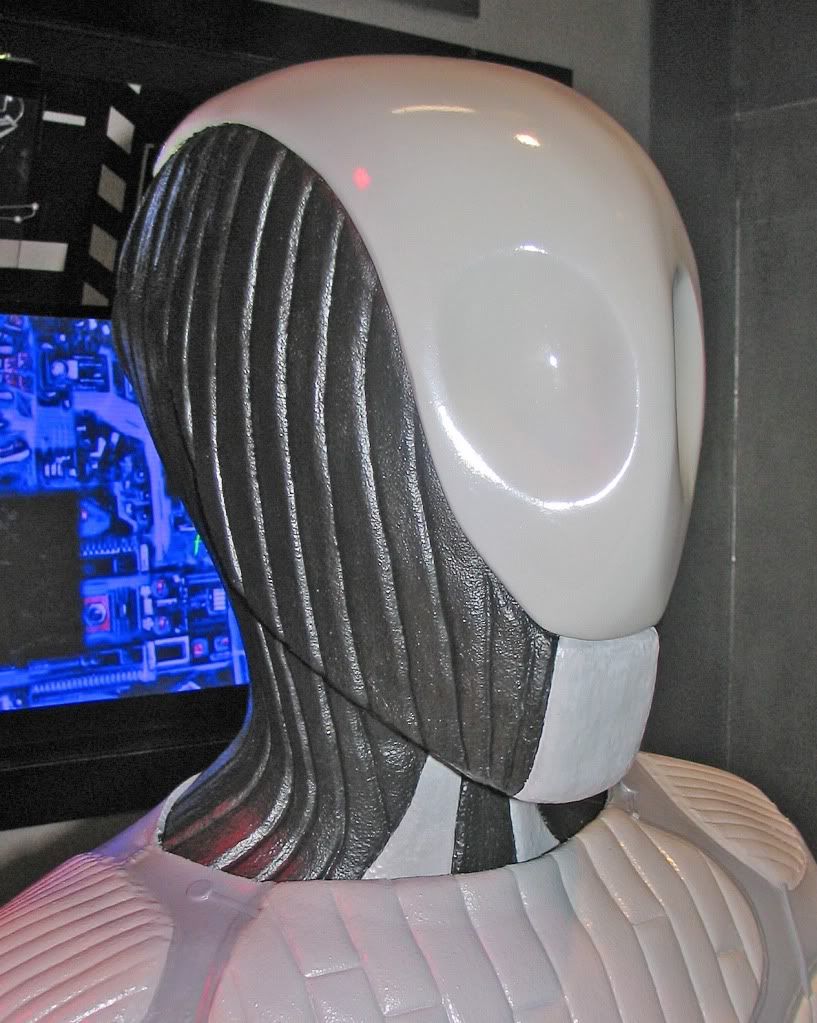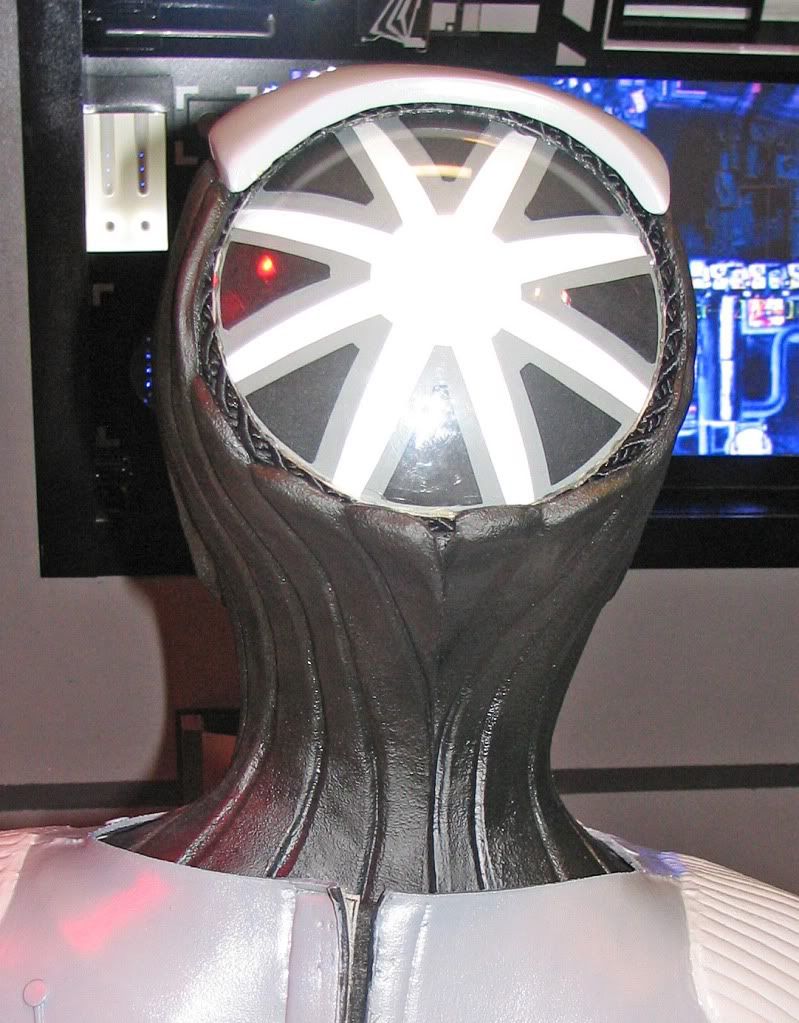 Next up is an "Evil Jack-O-Lantern" mask I created for myself for my 2009 Halloween Gathering. Sculpted in Kleen Klay, mask of reinforced latex.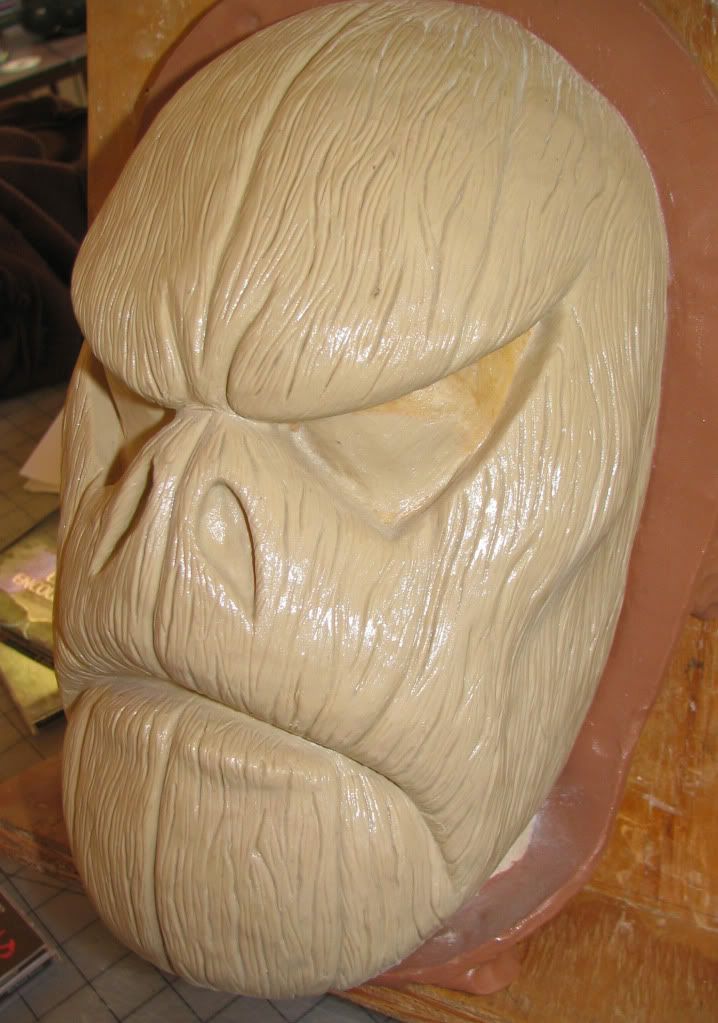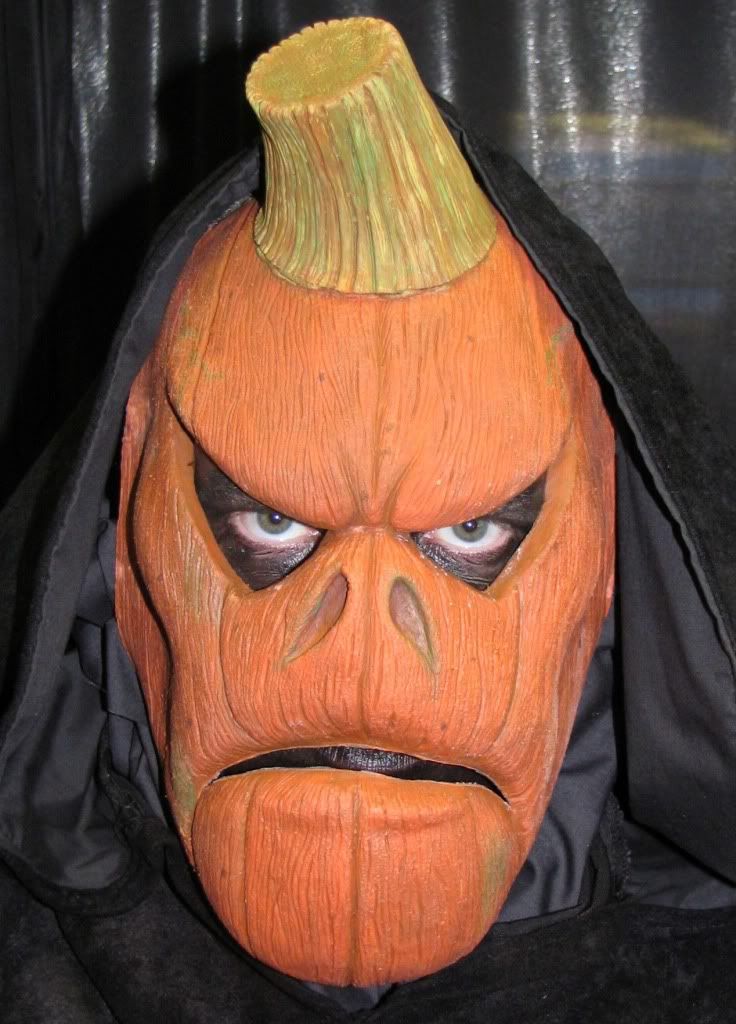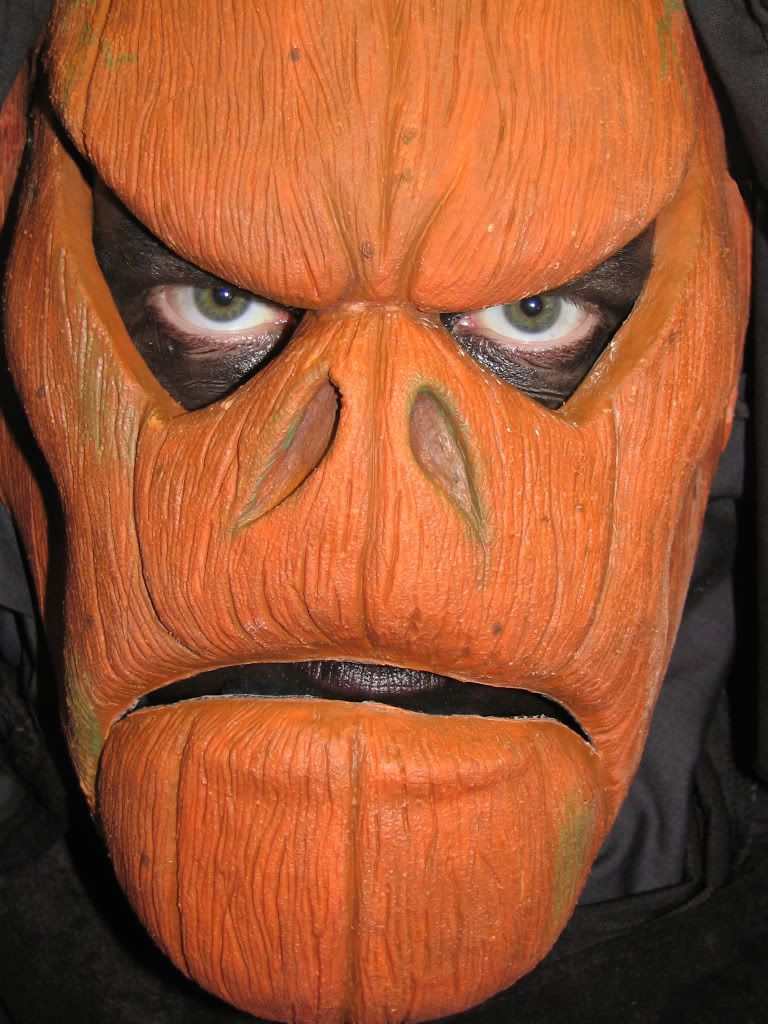 This mask I created for my Halloween Gathering 2010. This is one of those plastic chrome silver skull masks you can find at Wal Mart every season, I just took it and did a Scarecrow Skull paint job on it and added the rafia for the hair. Even though I didn't sculpt this one, I'm still pretty pleased with how the paintwork came out.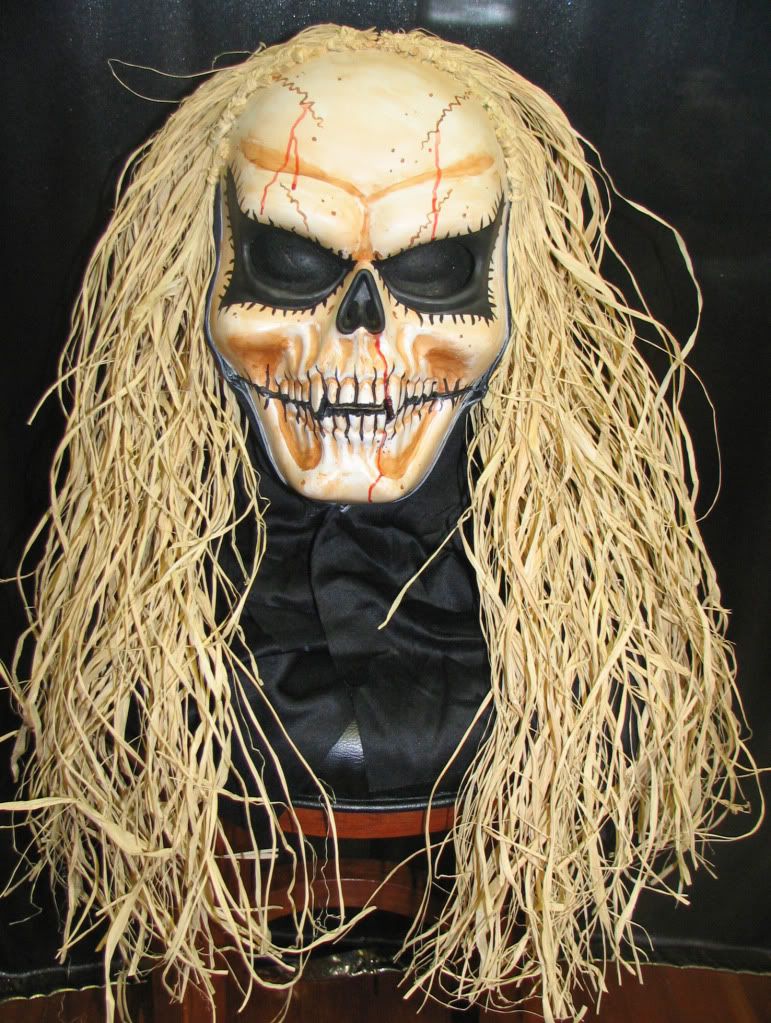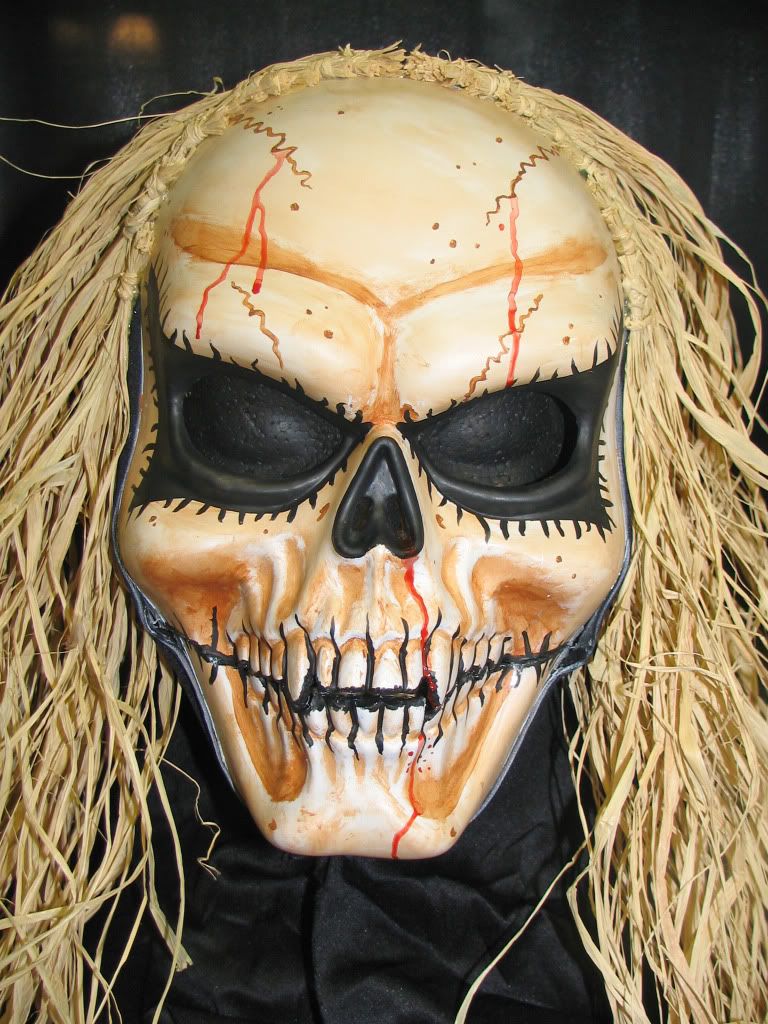 Here's where we start going back in years. I created this Predator mask back in '87 and it was only the second mask I had ever made (the first was a Freddy Krueger mask that is NOT worthy of this forum). The bio mask was made of fiberglass; the armor pieces for the costume were all made of cardboard and the shoulder cannon had radio controlled servo motors in it for movement.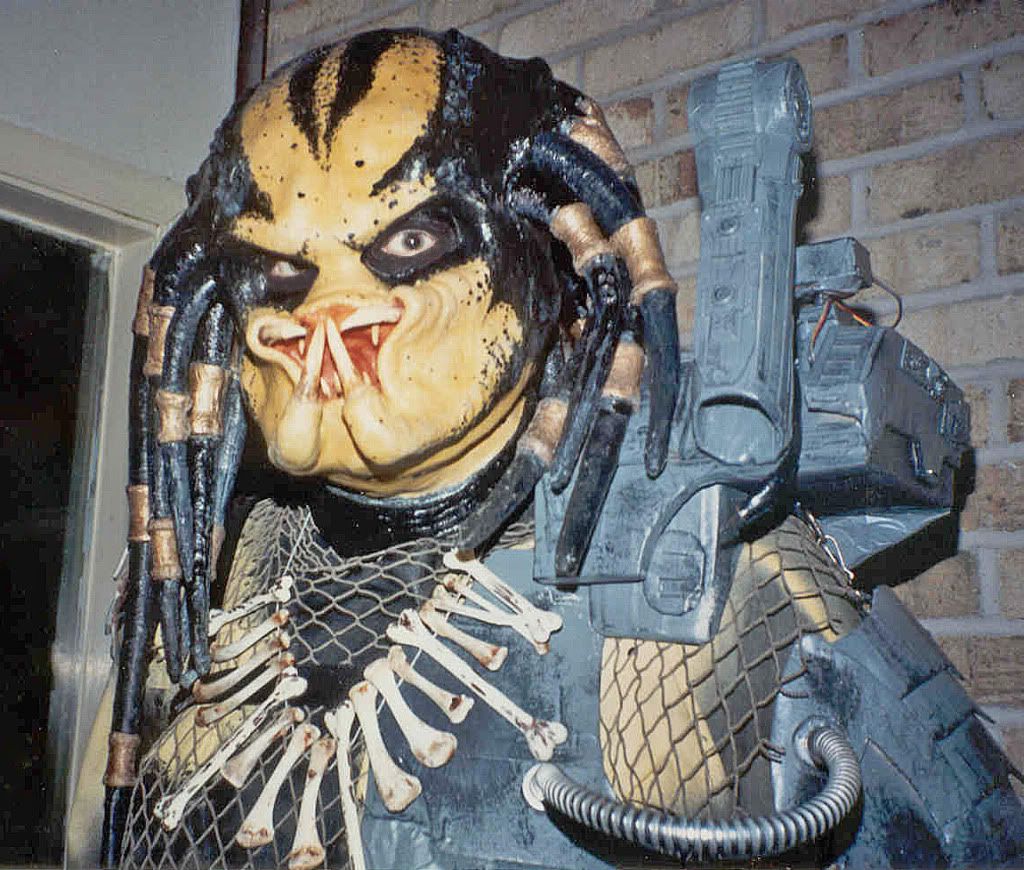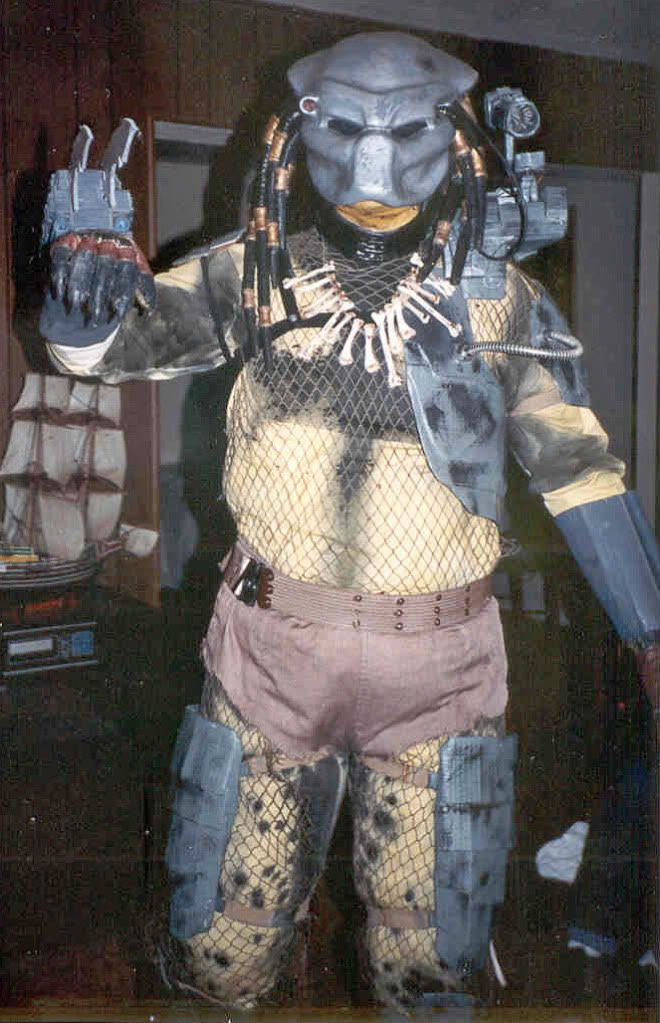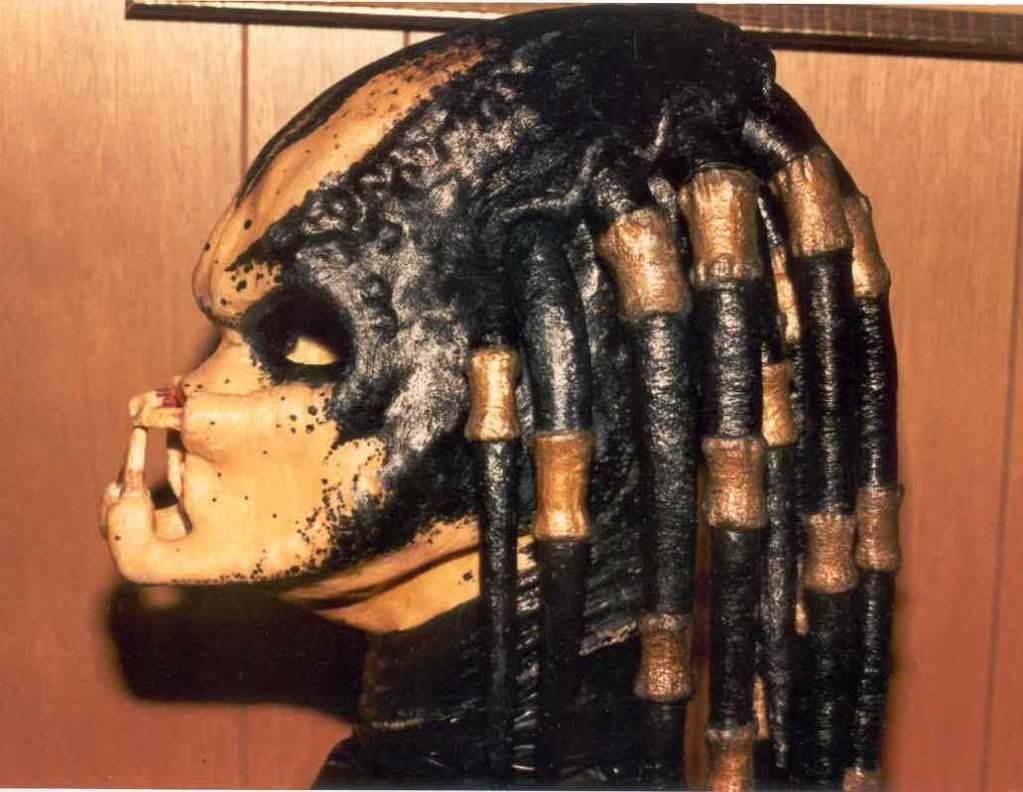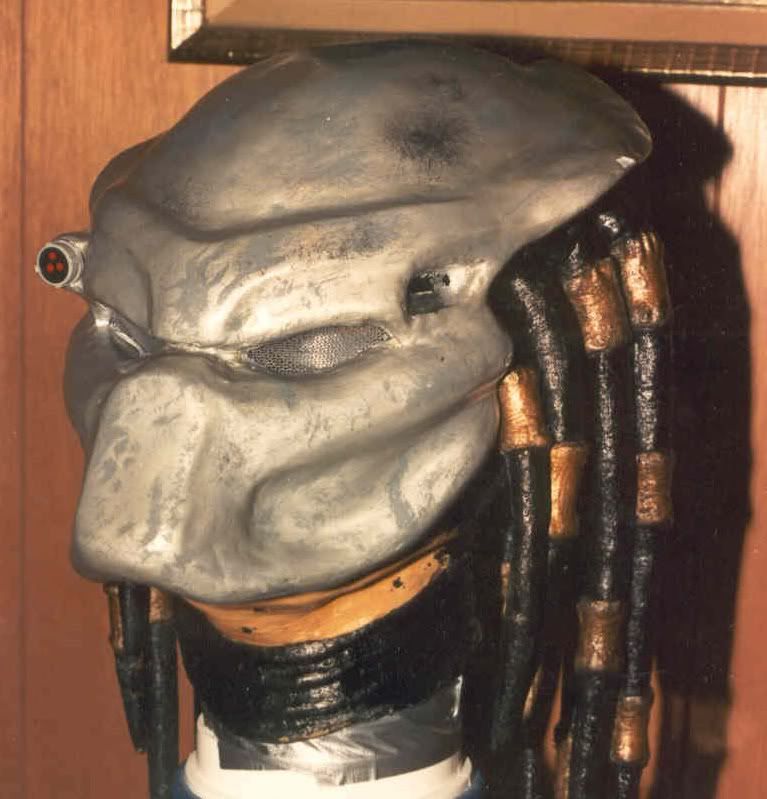 This foam latex Witch prosthetic mask was created for a production of the musical "Into the Woods" in Charleston, West Virginia.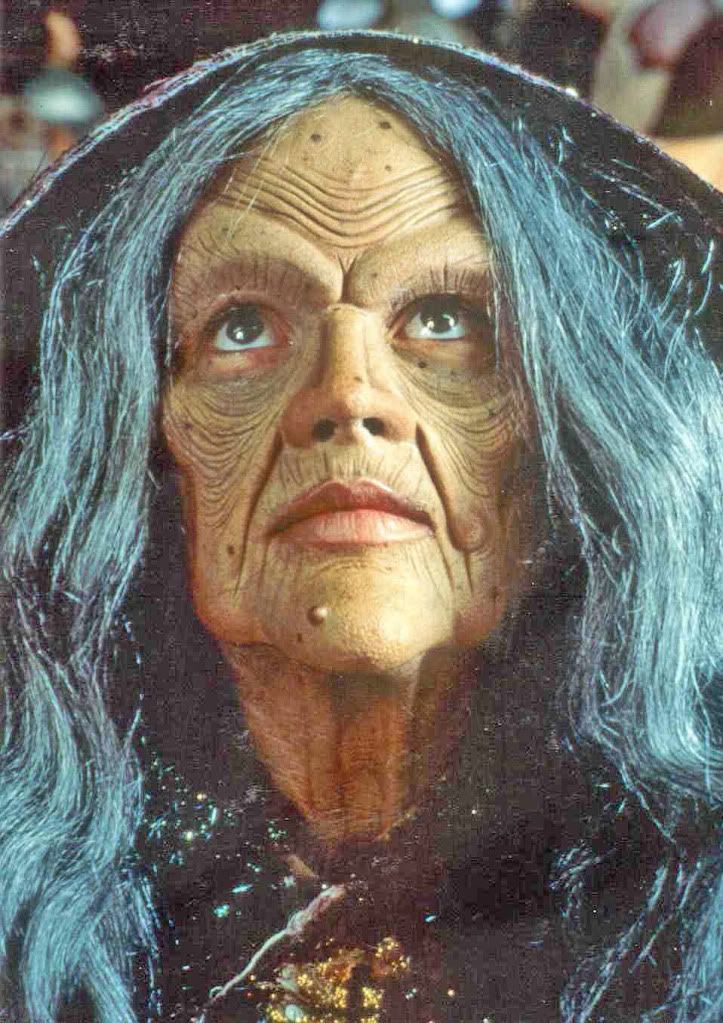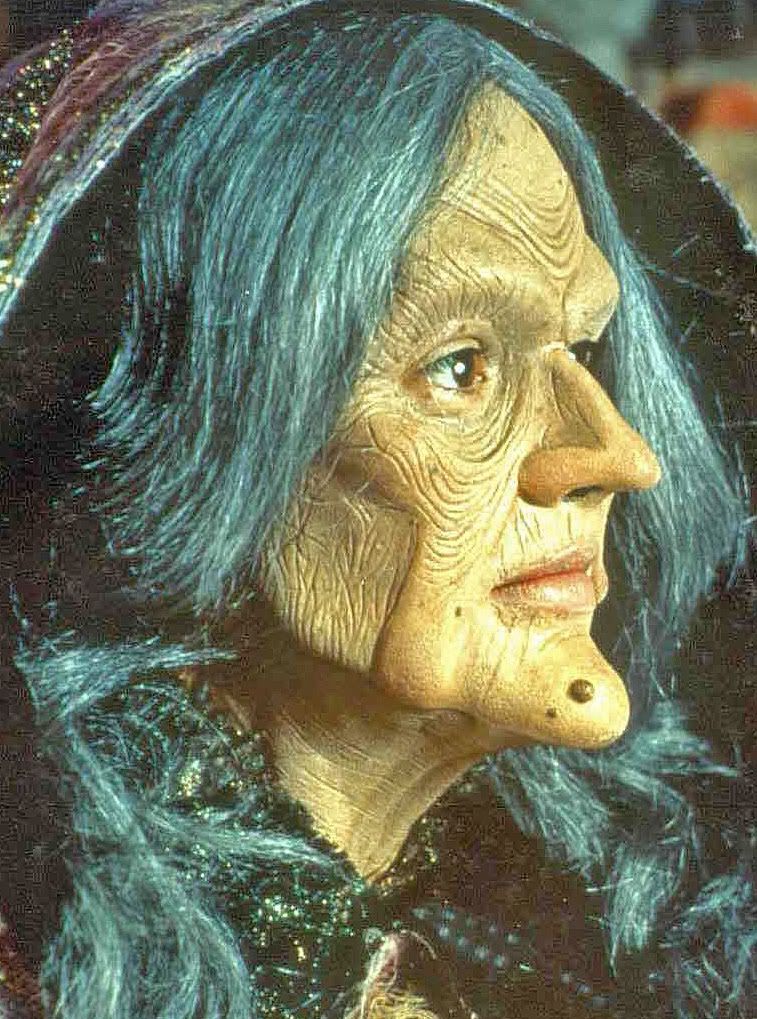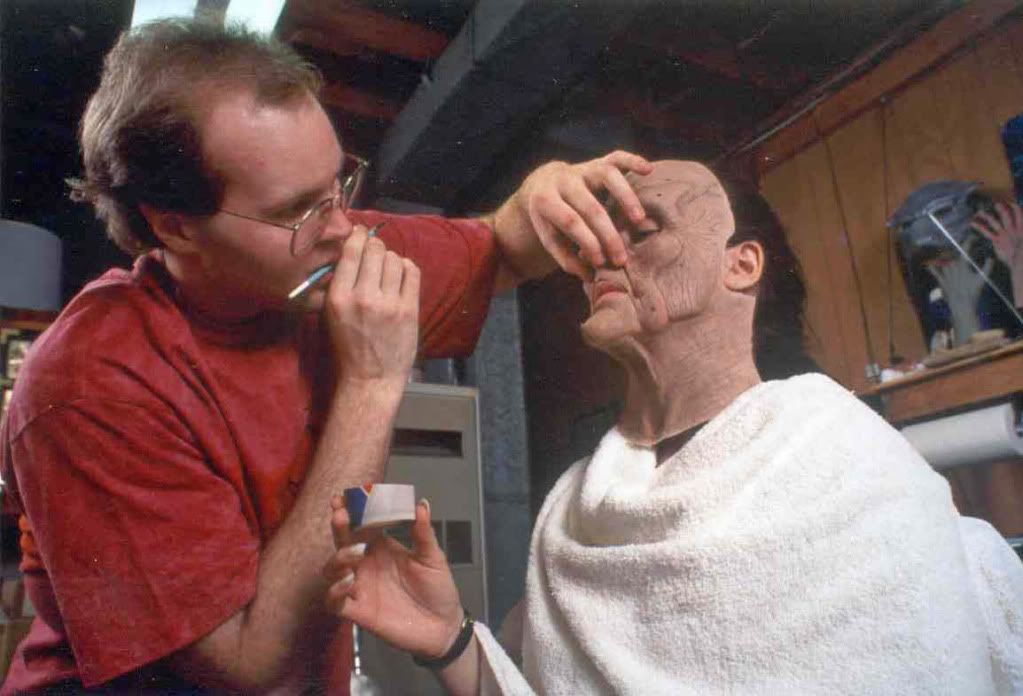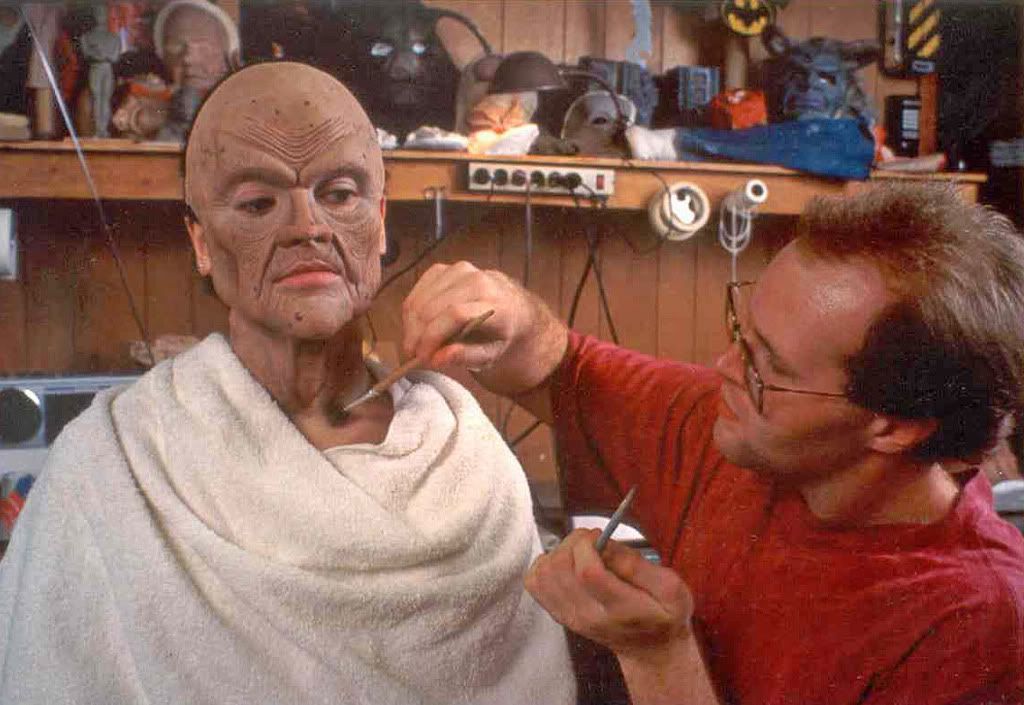 These Big Bad Wolf foam latex appliances were also created for "Into the Woods".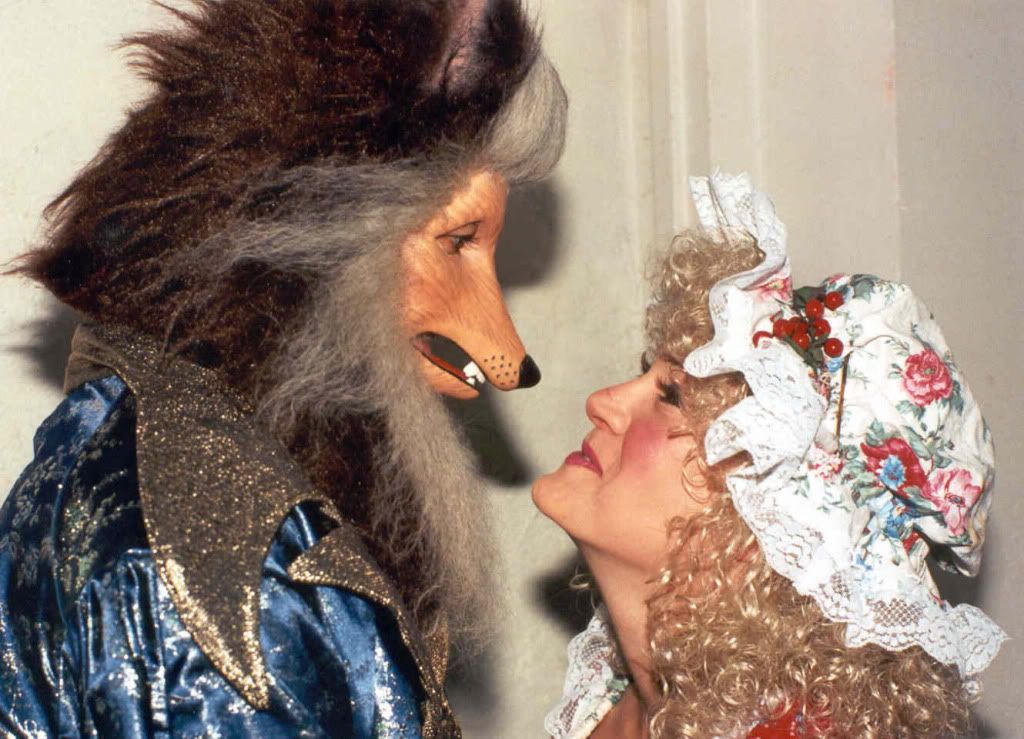 This is me wearing my own foam latex appliances of B-movie horror actor Rondo Hatton. This was made as part of classic monsters ensemble at Big E Con in Virginia Beach.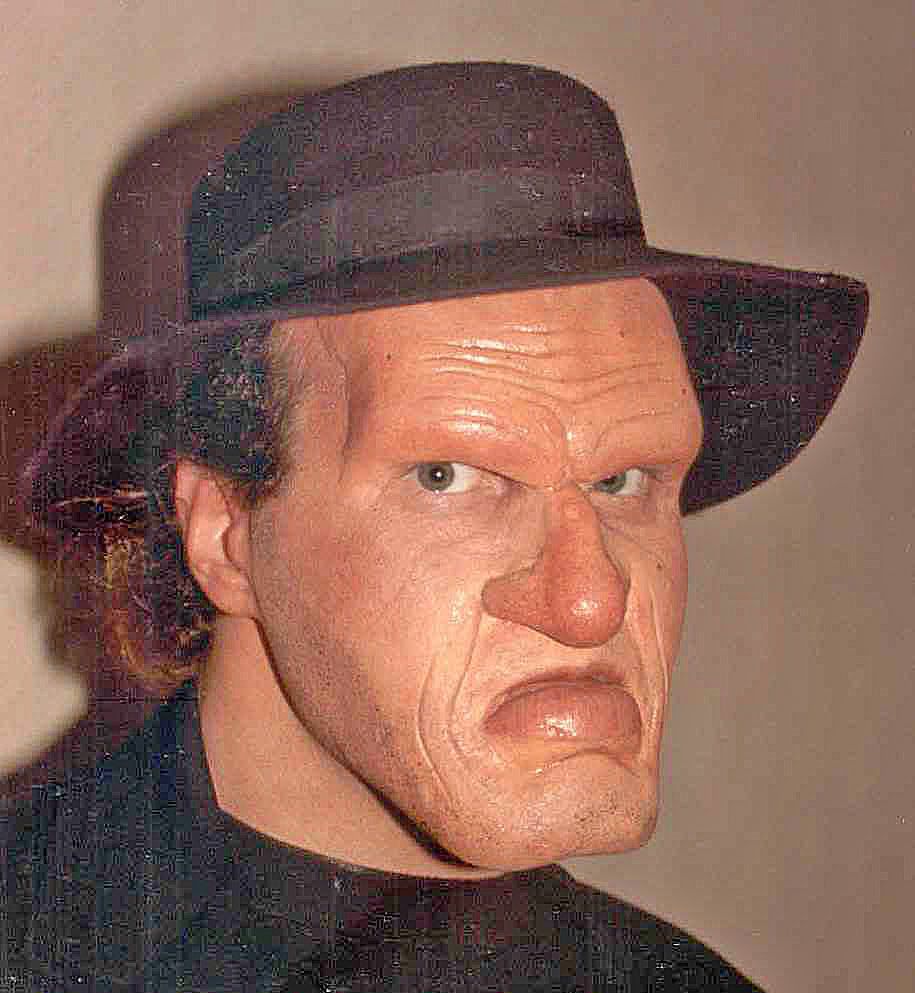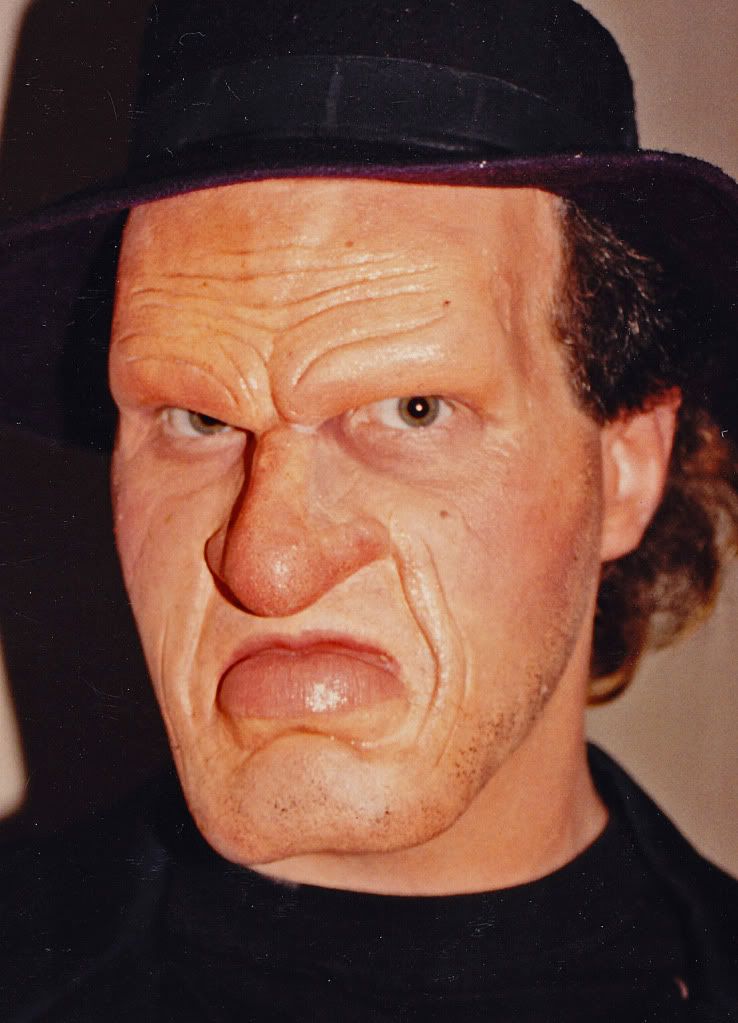 Me again wearing my "Phantom of the Opera" appliances, also at Big E Con.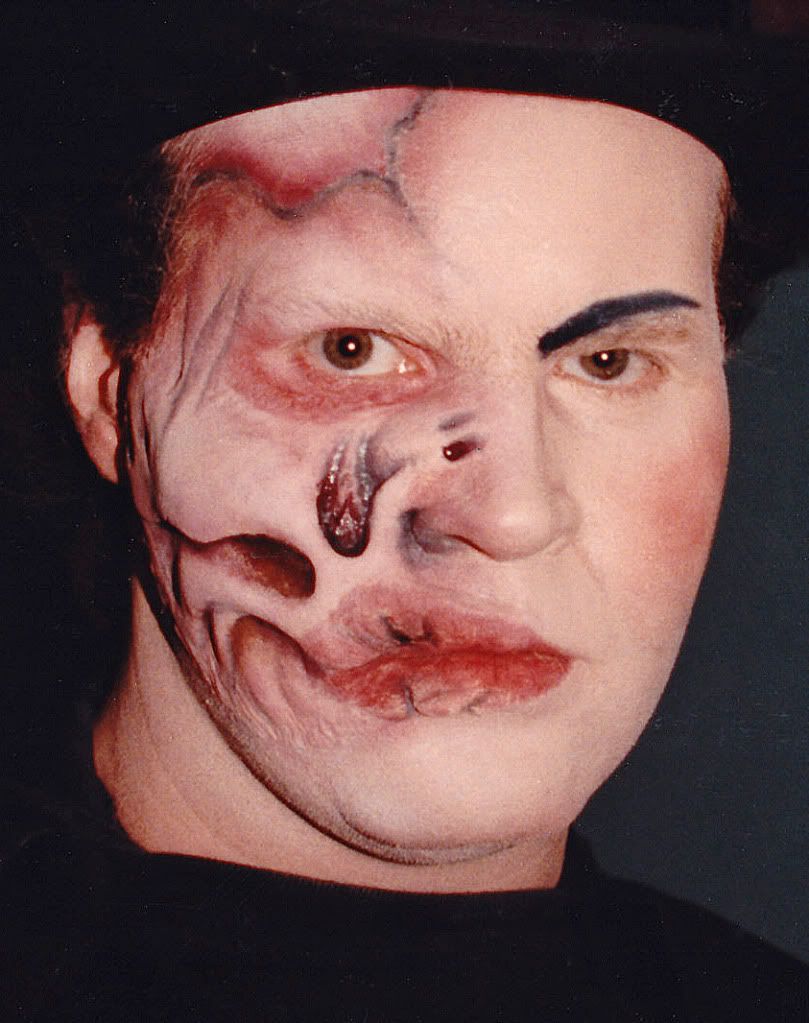 And here's a real actor, Drew Johnson, wearing a set of those same "Phantom" pieces.
The following is a foam latex makeup I did as part of The Dick Smith Advanced Professional Makeup Course that I began in the early '90s. This is my friend Robert Withrow in the finished makeup.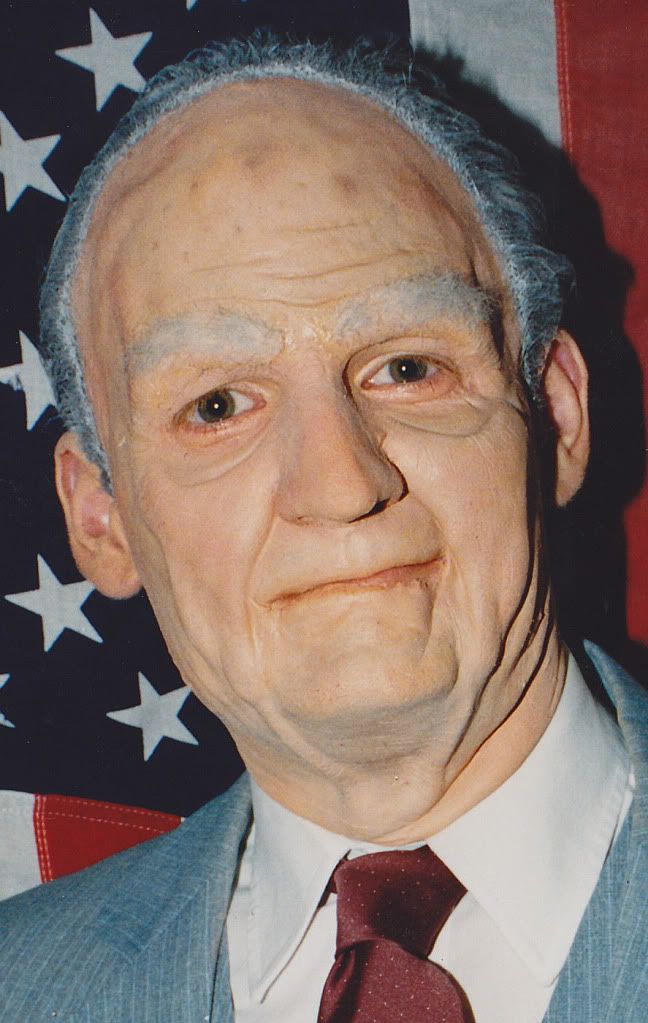 Here is a mechanical Grim Reaper-type puppet made for a series of TV commercials as part of the Governor's Highway Safety Program. "Mr. D" had cable-controlled brows, full range of motion in his eyes, hand-controlled mouth and two cable controlled hands.
The bloody ankles makeup you see here was created for an episode of "Rescue 911" shot in WV. The wound was crafted from Stein's derma wax, covered over with liquid latex, sections of deer bone and a lot of Dick Smith formula blood. Incidentally, the stuntman wearing the makeup is Curtis Epper, son of legendary screen stuntwoman Jeannie Epper.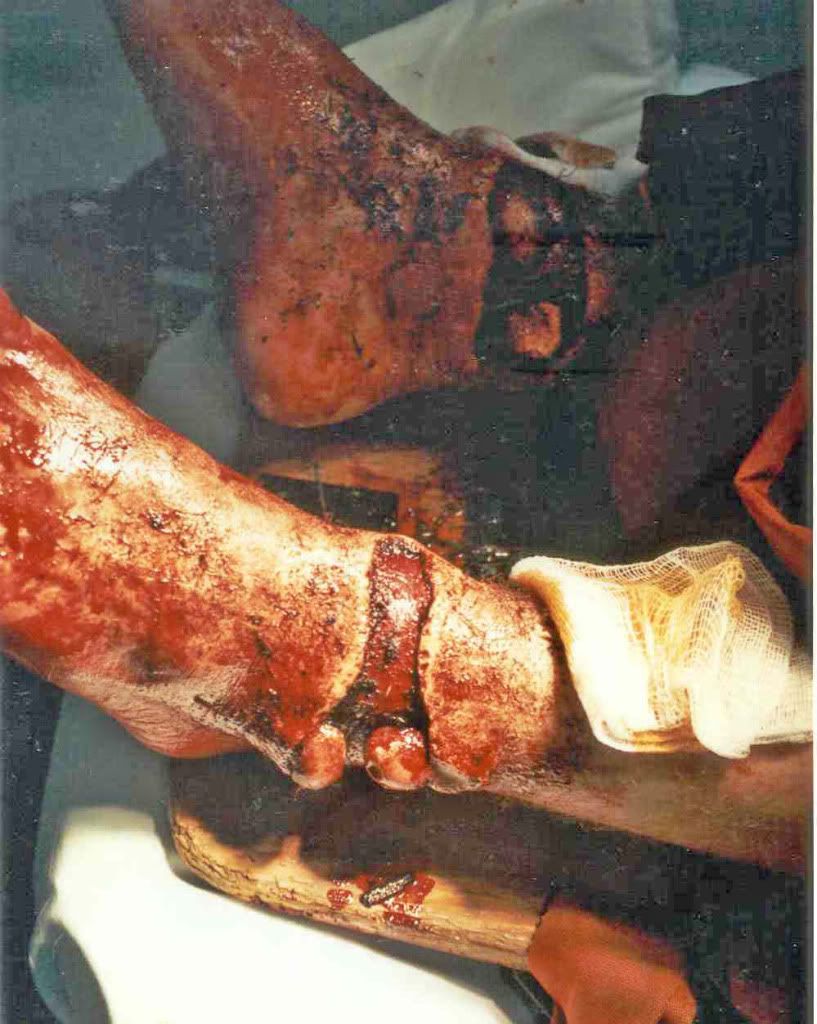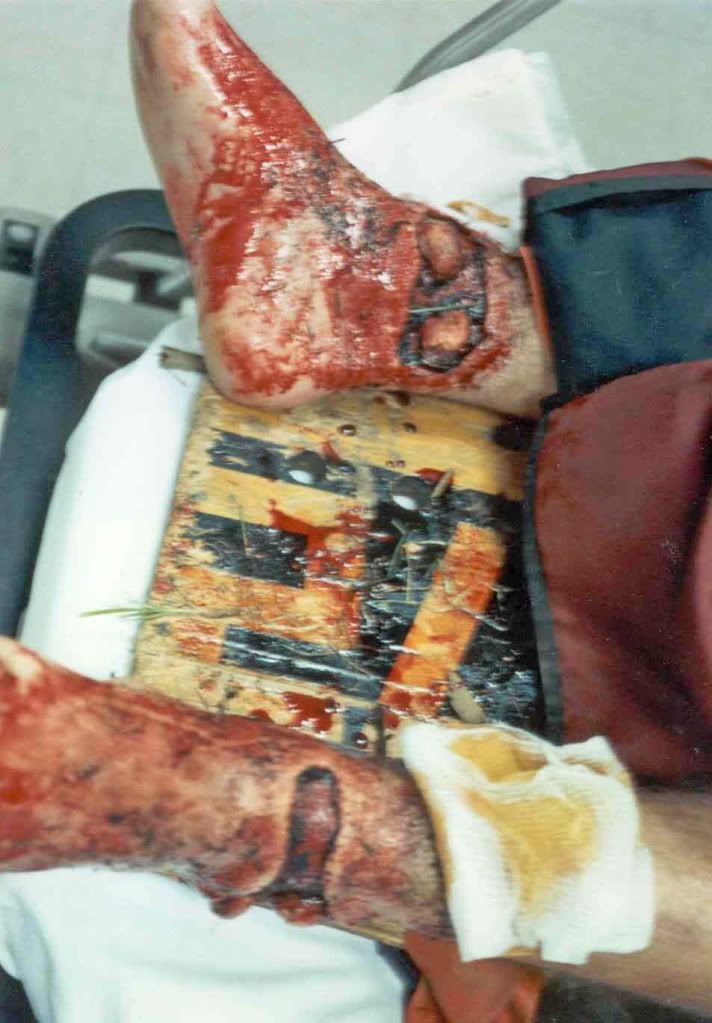 The alien you see here, named "Nova", was made for a local low-budget film that later got picked up and distributed by Troma. It's titled "Strangest Dreams: Invasion of the Space Preachers". It had several runs on USA Up All Night and Gilbert Gottfried got in some wonderfully hilarious digs at it. I made four alien creatures and an exploding human head for this film.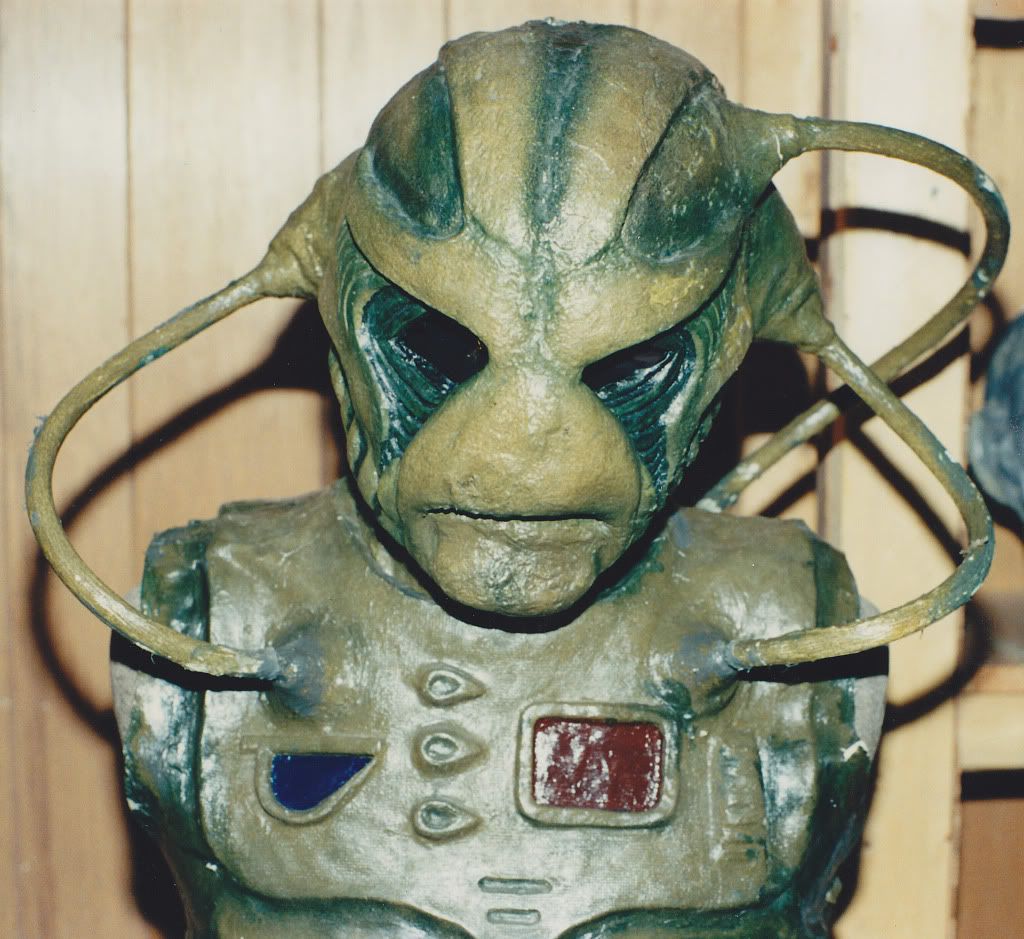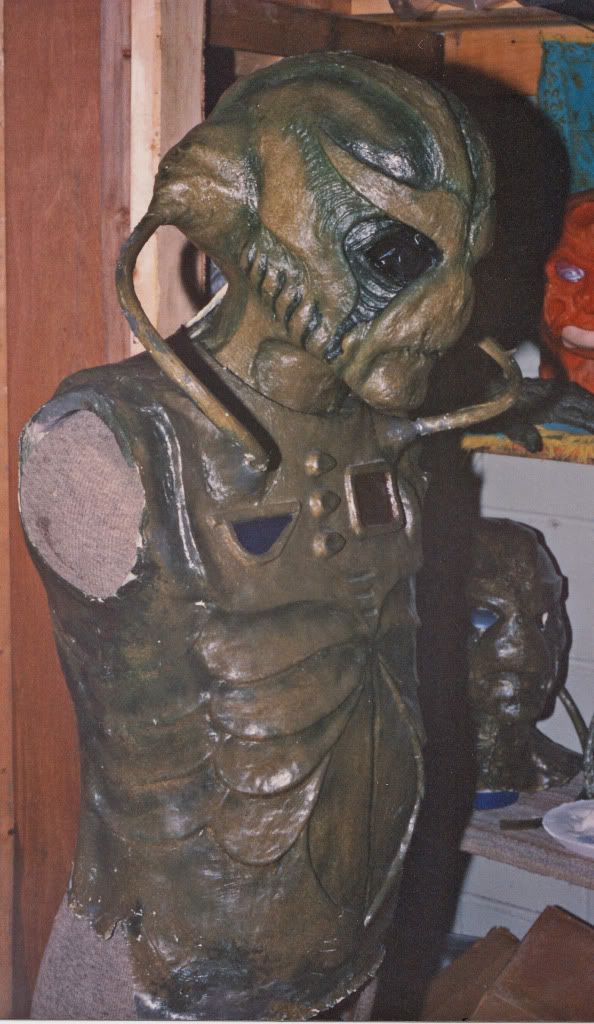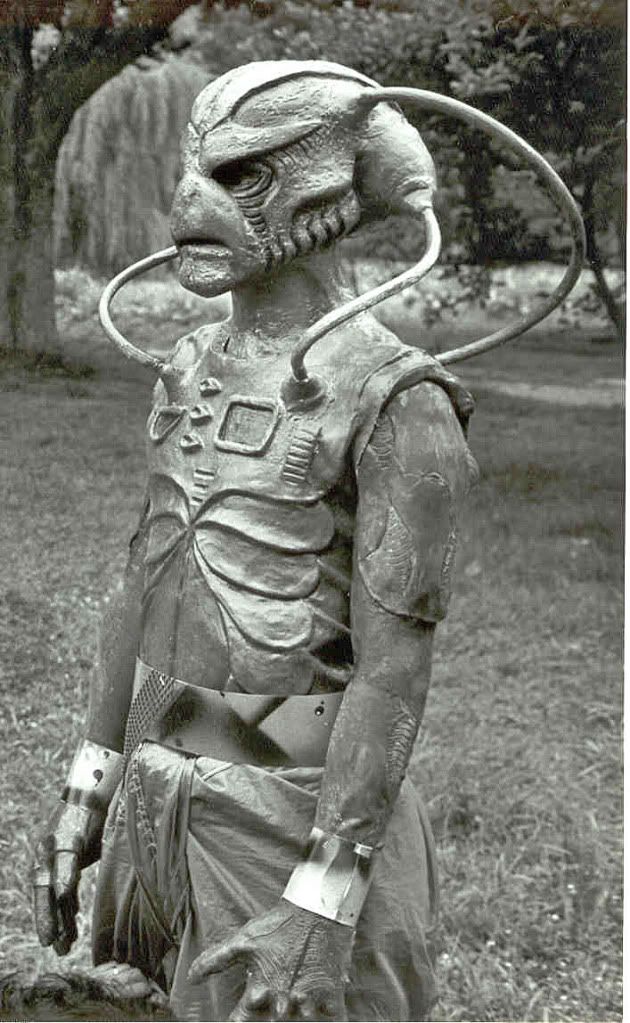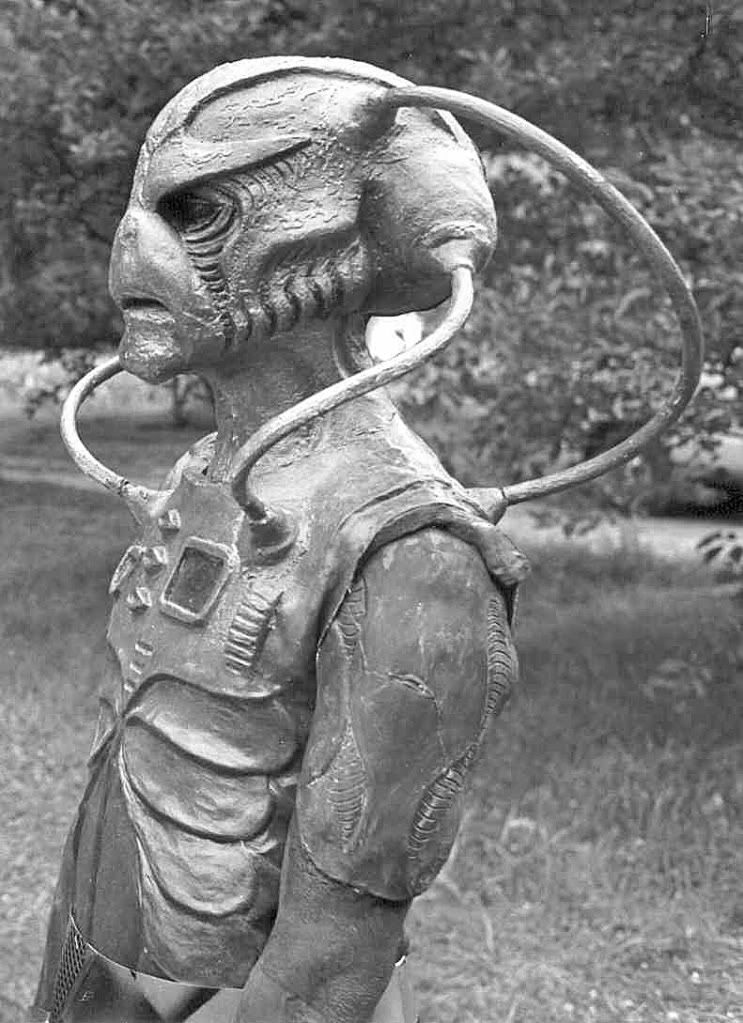 (A note about this last image: I did NOT make the costumes that these aliens are wearing, I only made the masks)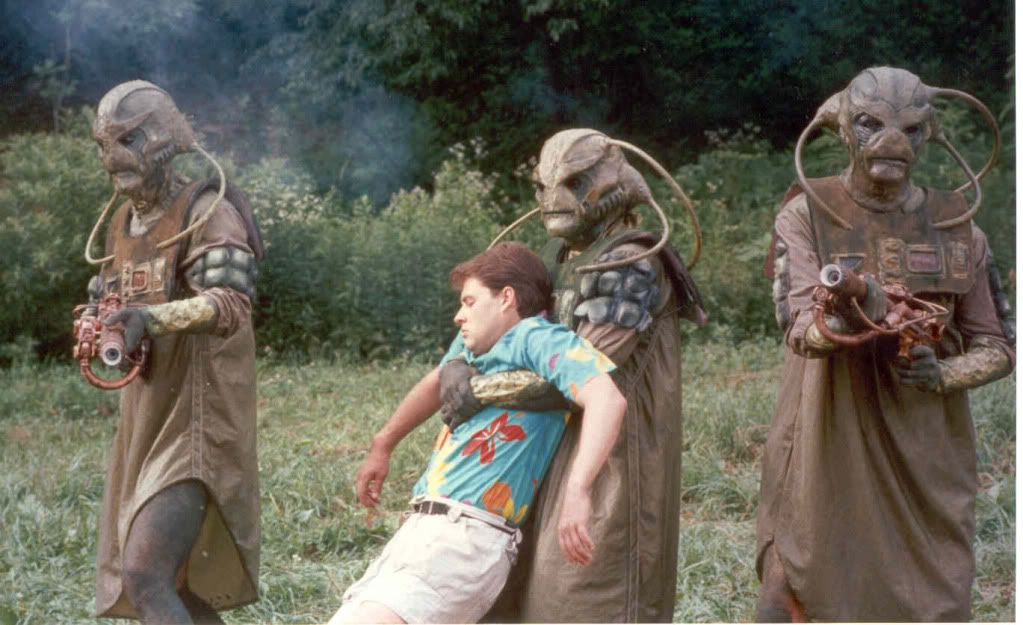 Here's a gorilla sculpture that I started but never got to finish. :cry
Here's ANOTHER gorilla project that I didn't get to finish. :cry This was intended to be a mechanical gorilla face with a foam latex skin, fiberglass underskull, acrylic teeth and cable-controlled mechanisms. This is as far as I got with it.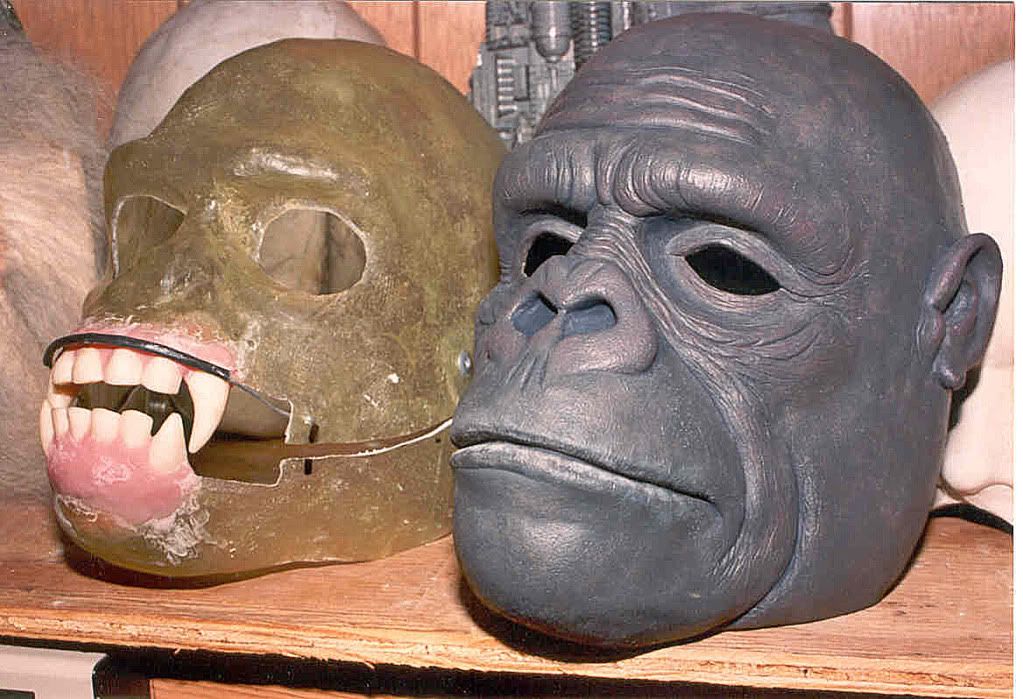 This was a custom-sculpted mask commission from some guy calling himself "The World Famous Monkey Boy". He went around and entertained people at baseball stadiums.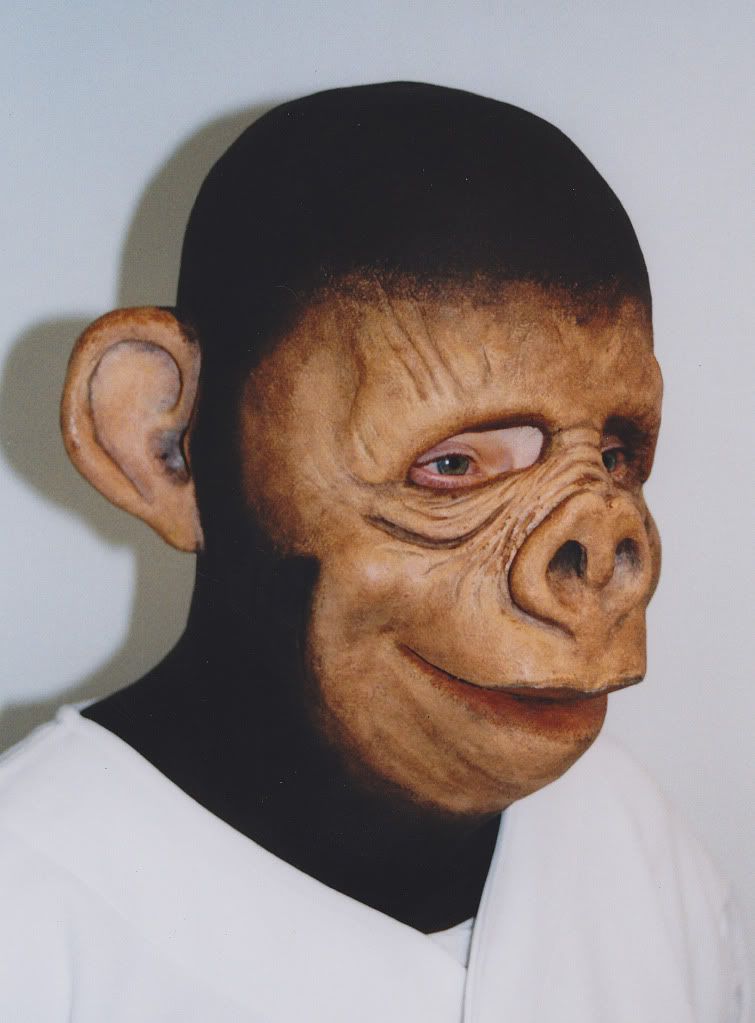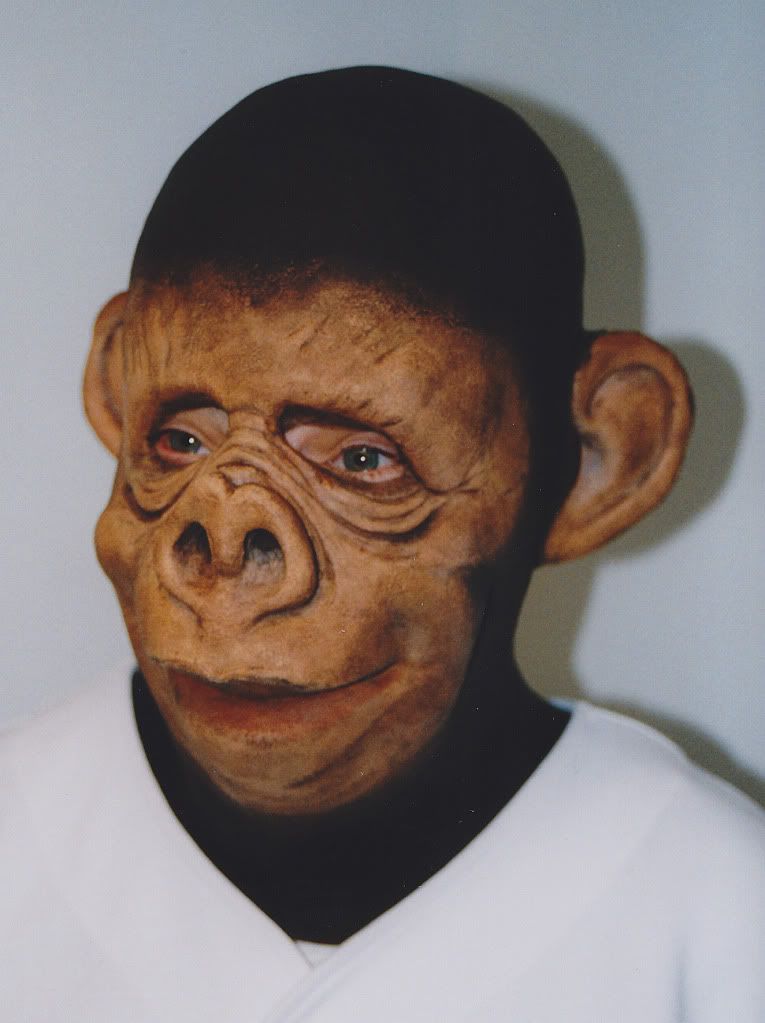 Here I am wearing my own Klingon latex prosthetic.
My friend Robert Withrow in Joker makeup and costume. I wish I had a closer picture of his face, but alas...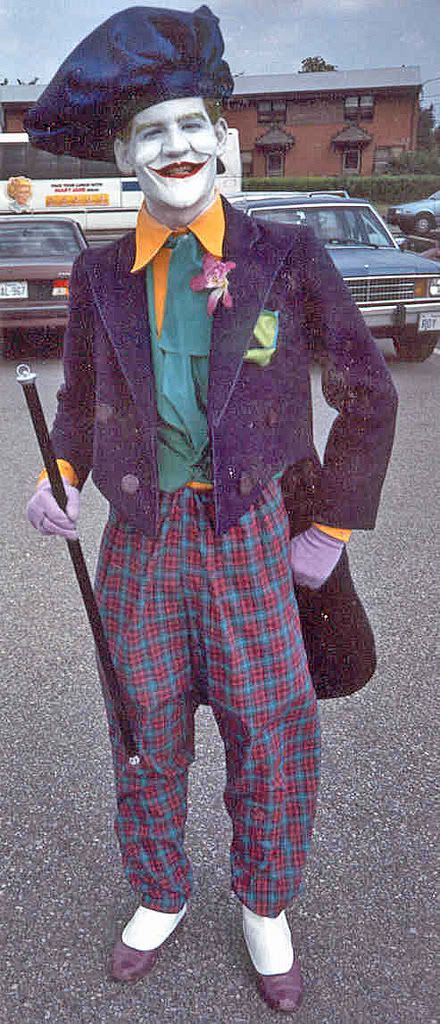 Foam latex Gammorean Guard mask made for my nephew. Horns and tusks from Friendly Plastic.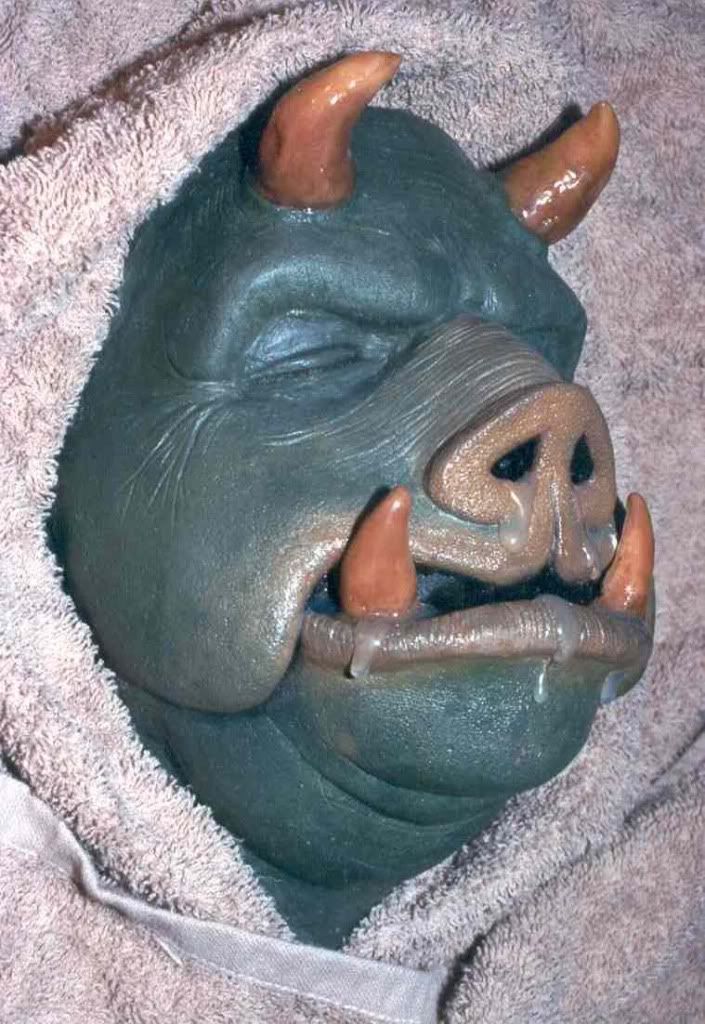 Foam latex mask for a production of "Beauty & the Beast". Horns made of Sculpey.
This is me wearing a foam latex mask based more on Disney's "Beauty & the Beast".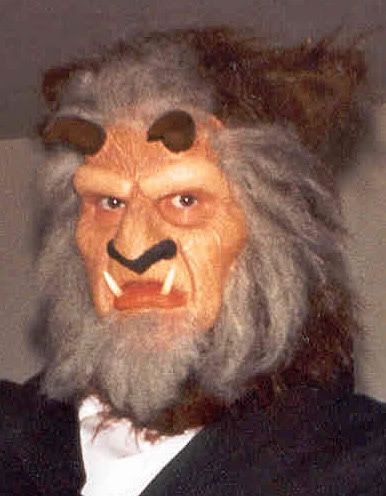 My Frankenstein headpiece sculpt.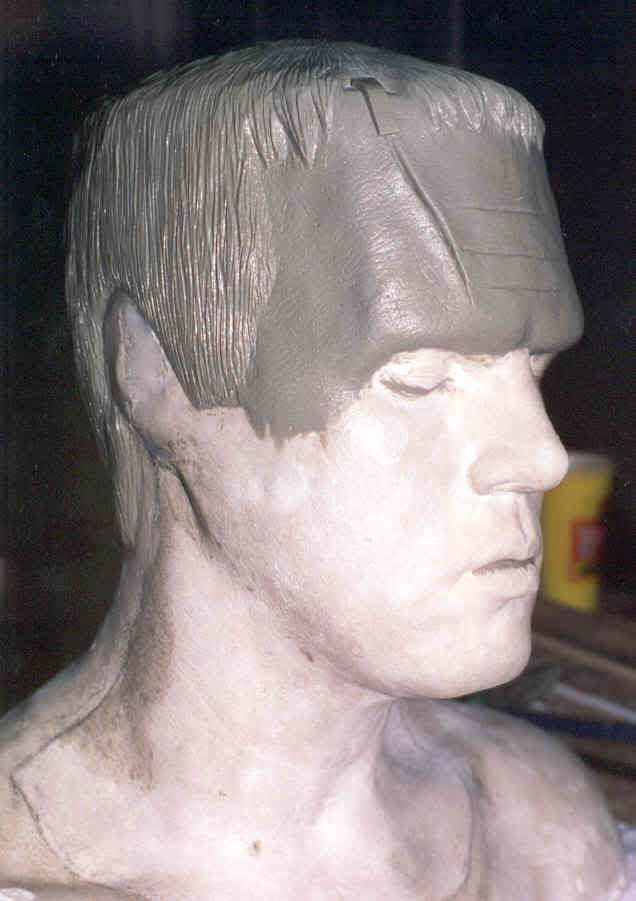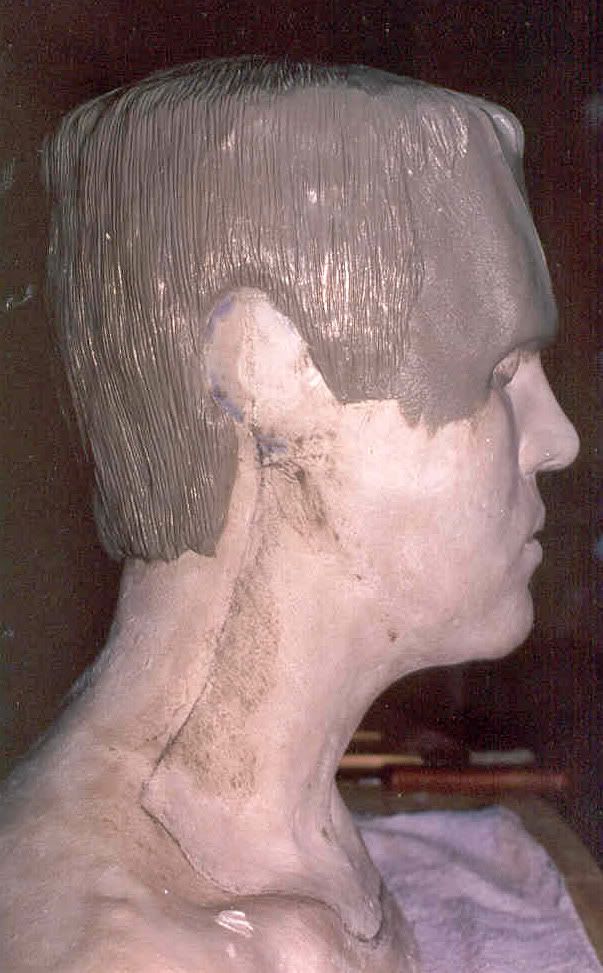 This maquette of a female vampire demon was created for a potential horror film that never got off the ground. Probably a good thing, too, the script sucked. :lol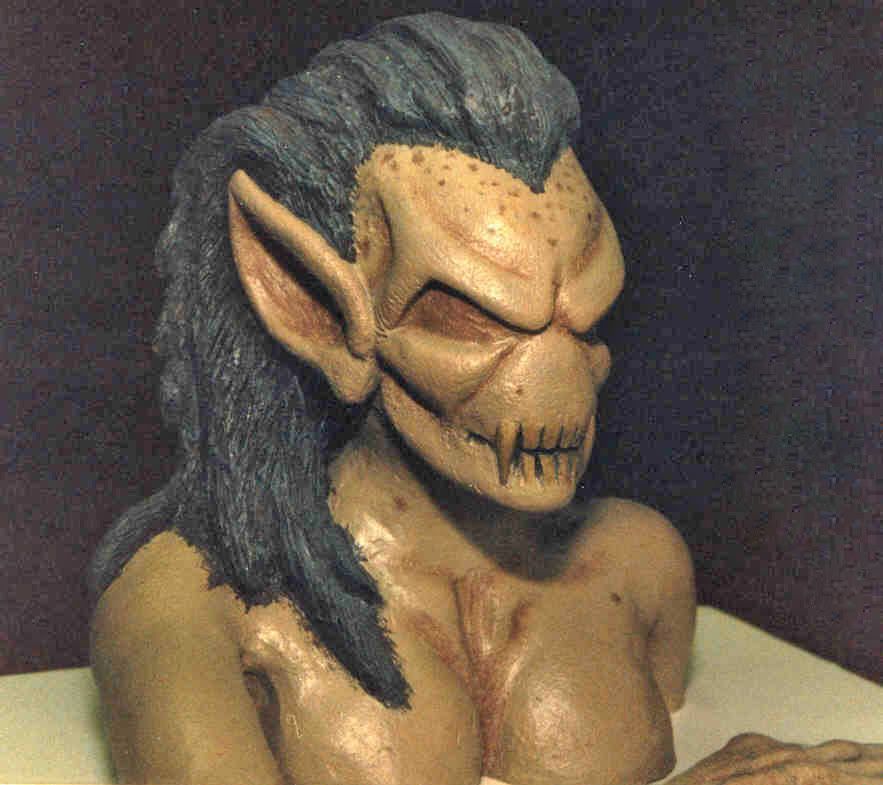 This latex hand was also made as part of the preliminary work done on the aforementioned horror film.
Here are some simple facepaint makeups, both on me. We have an age makeup and a cat-like makeup.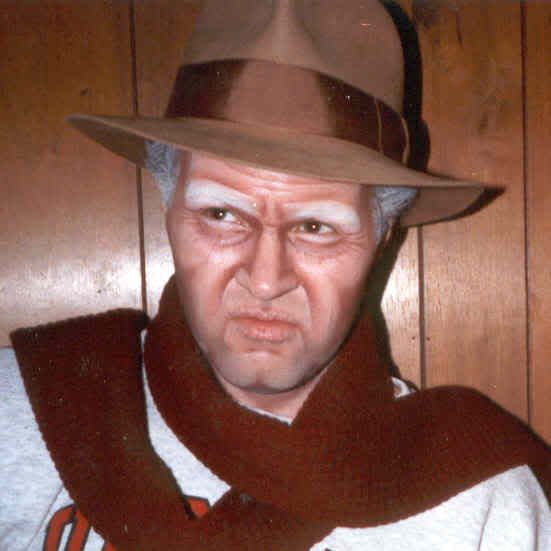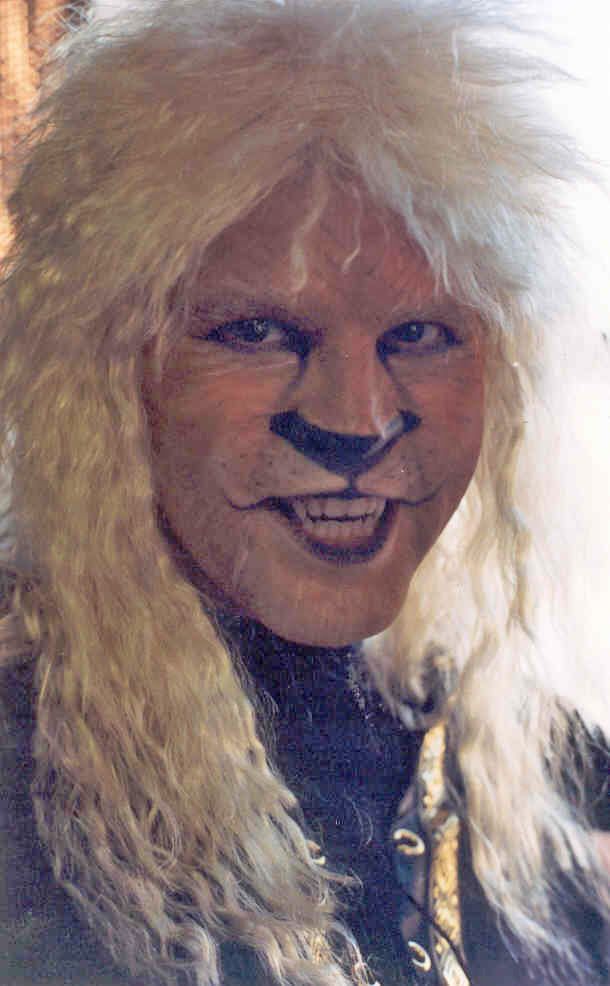 Here are the acrylic fangs I made for the cat makeup.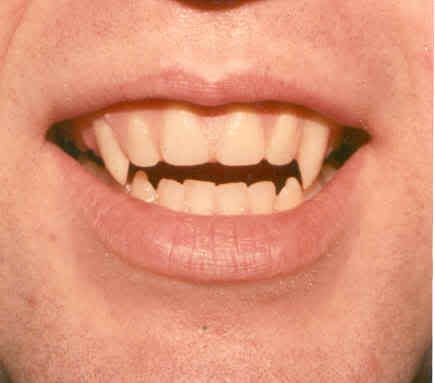 These are Hydrocal casts of my late grandmother's hands that I painted up to look as real as possible. It was basically a painting excercise in realistic skin paintwork as a lead-up to the work you'll see in the next images.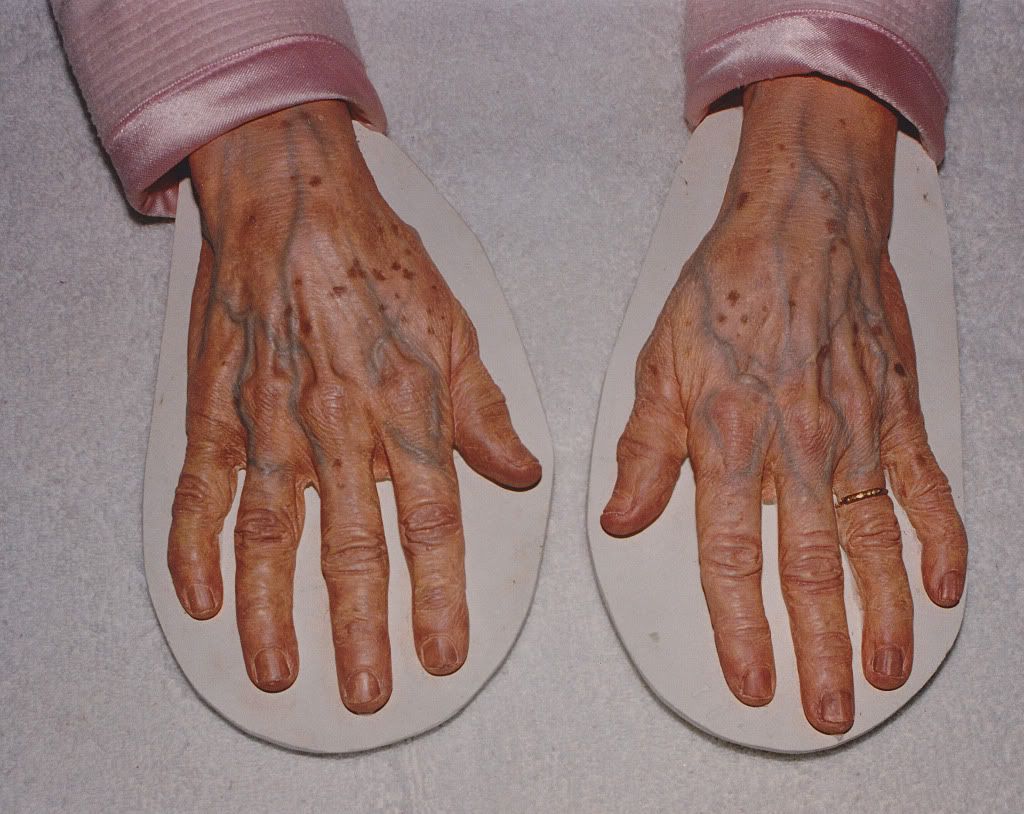 I worked for about a year for Hanger Prosthetics making replacement limbs and other prosthetic devices for those in need. The following images are of urethane and silicone arms and hands that resulted from my time with them.
Urethane replacement arm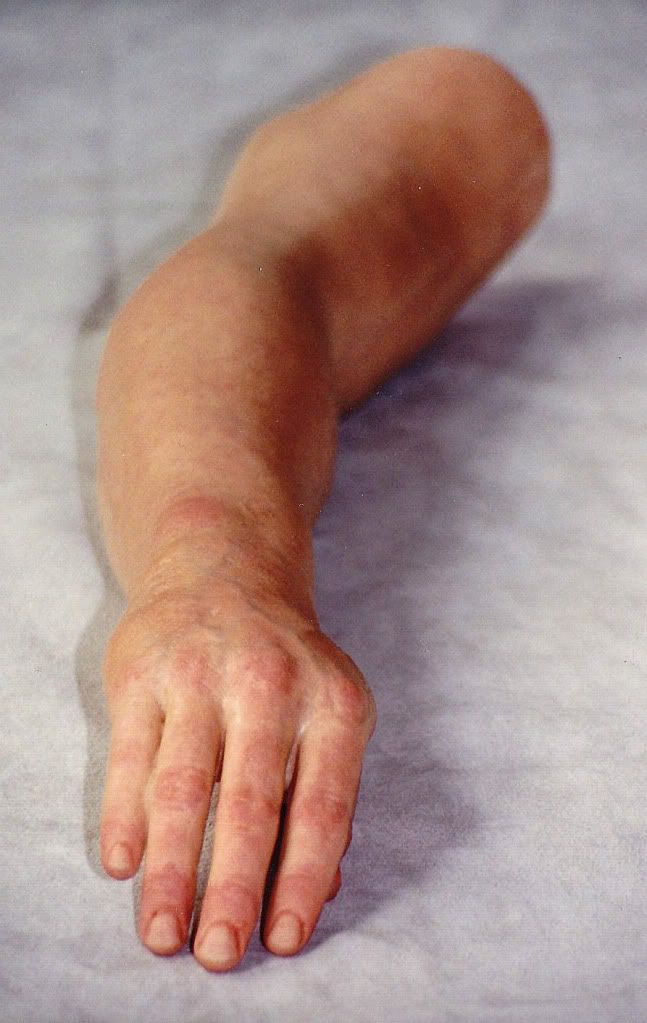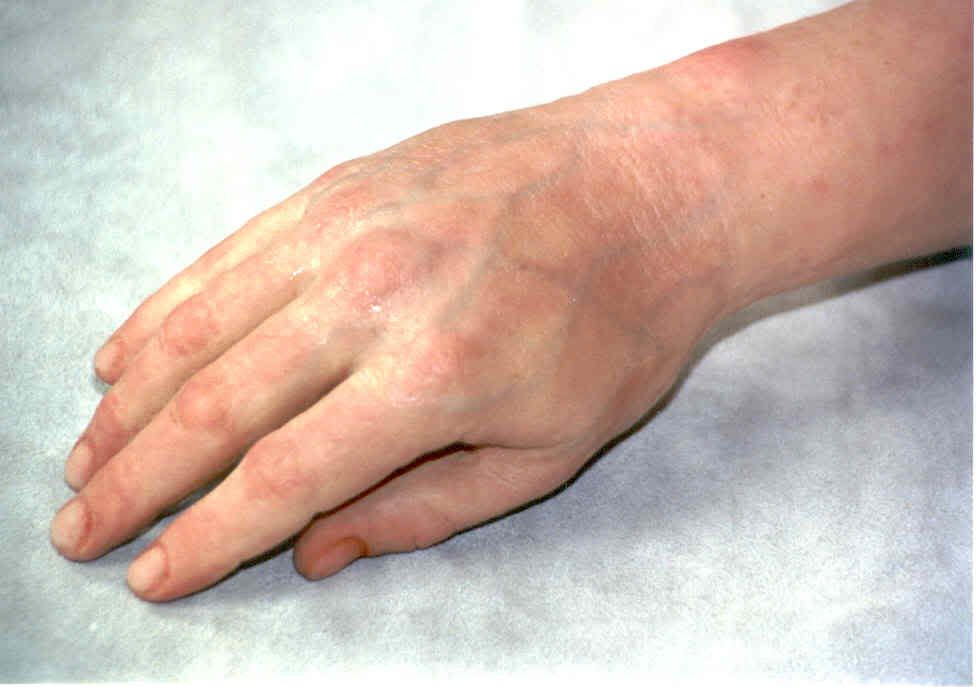 Urethane replacement hand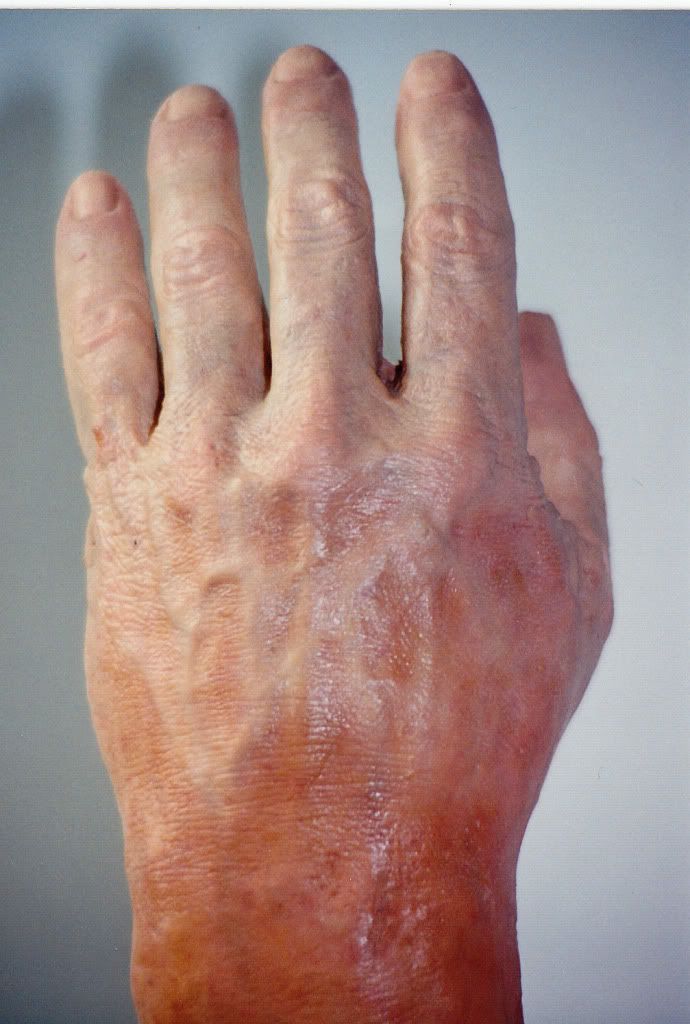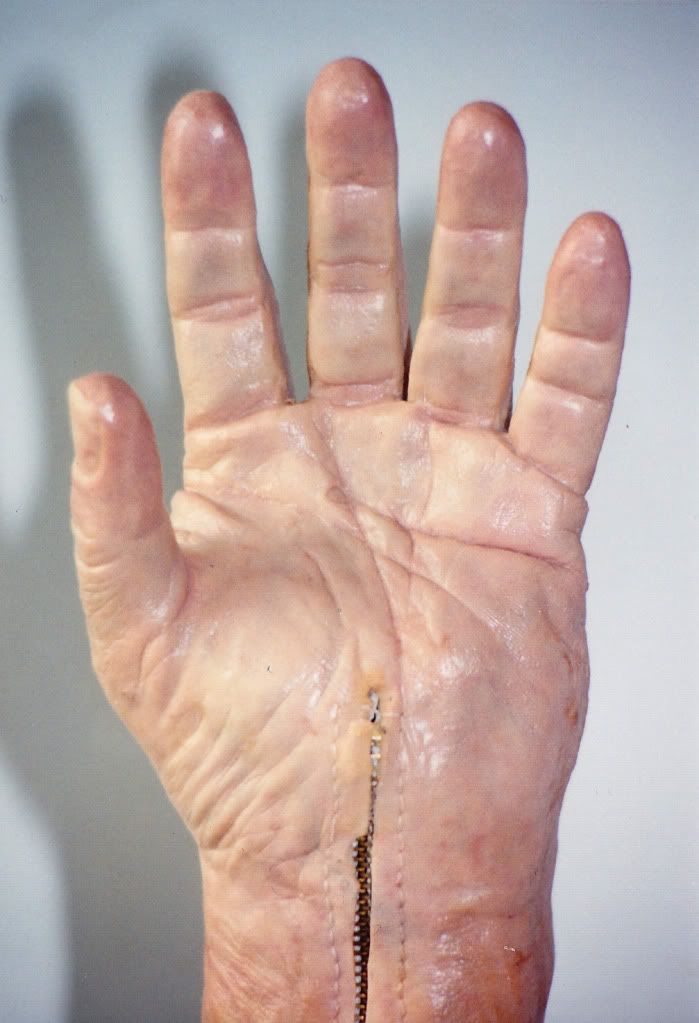 Silicone replacement hand
Here is a sculpture I was commissioned to make for a local museum. The figure is of Governor William MacCorkle who figures prominently in the history of Charleston, West Virginia. The bust was sculpted first in clay, cast in molding plaster, and the finished piece was poured in Hydrocal and painted to look like bronze.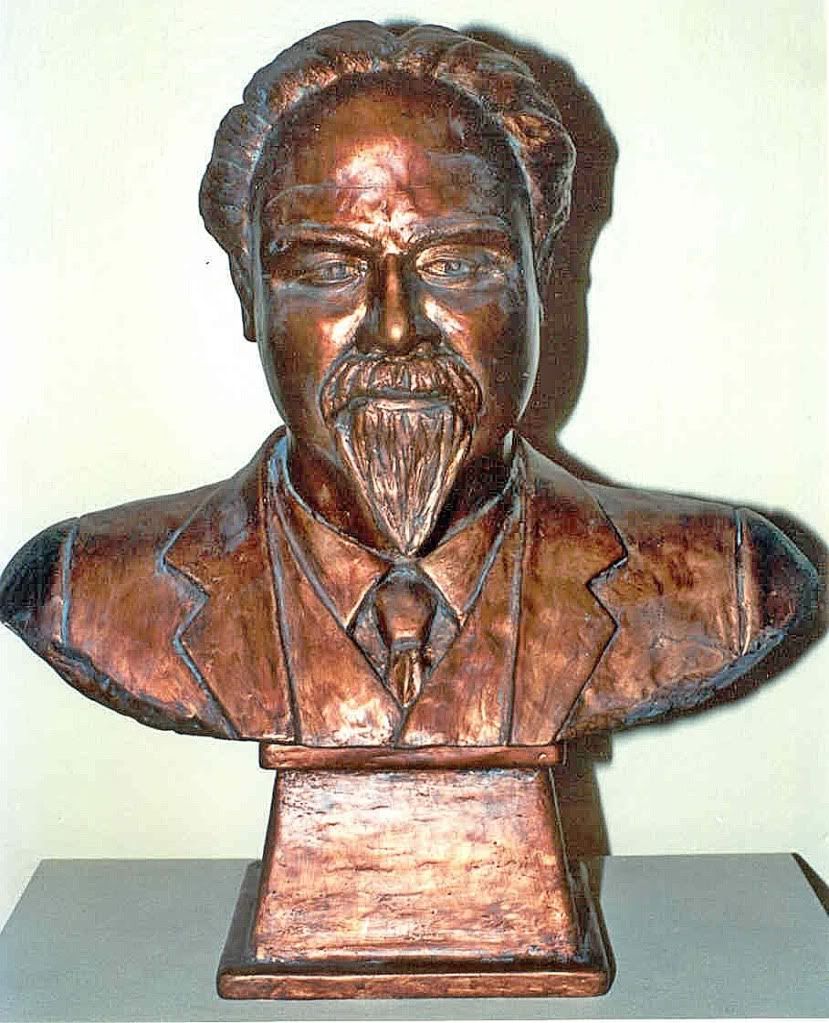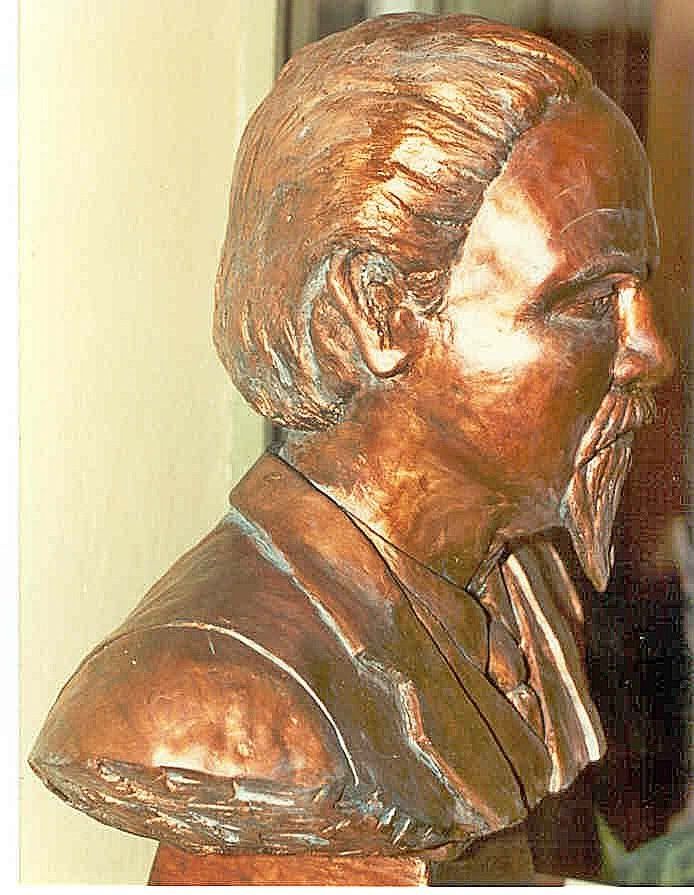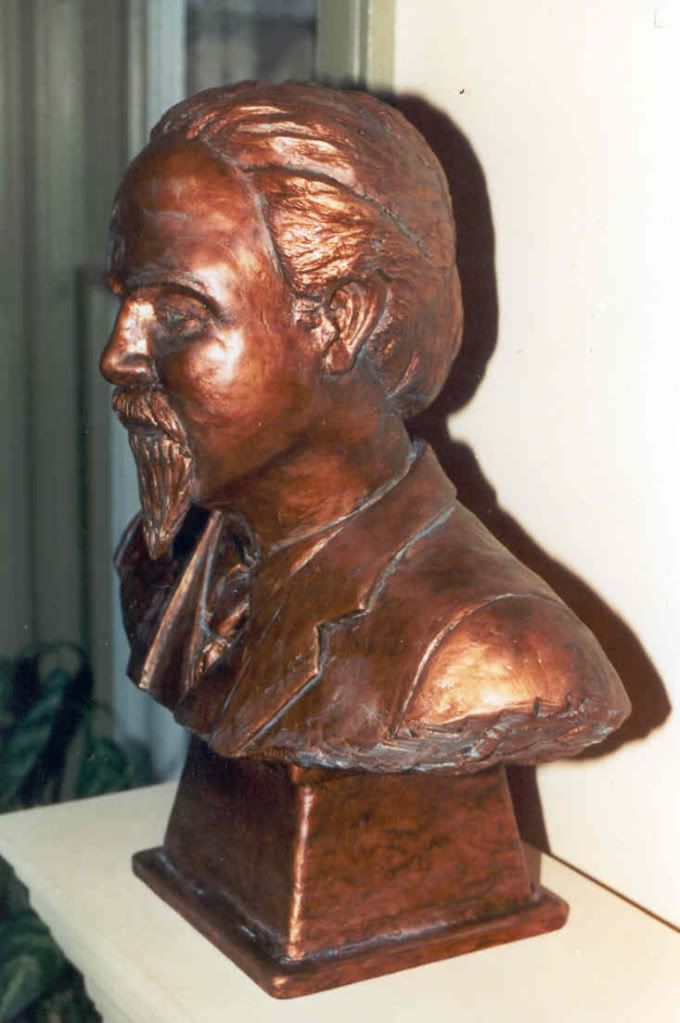 Here is a lifecast of a girl I dated in the mid-'90s. We cast her smiling and I then sculpted her eyes open as well as her hair and eyebrows. It was meant strictly as a display piece.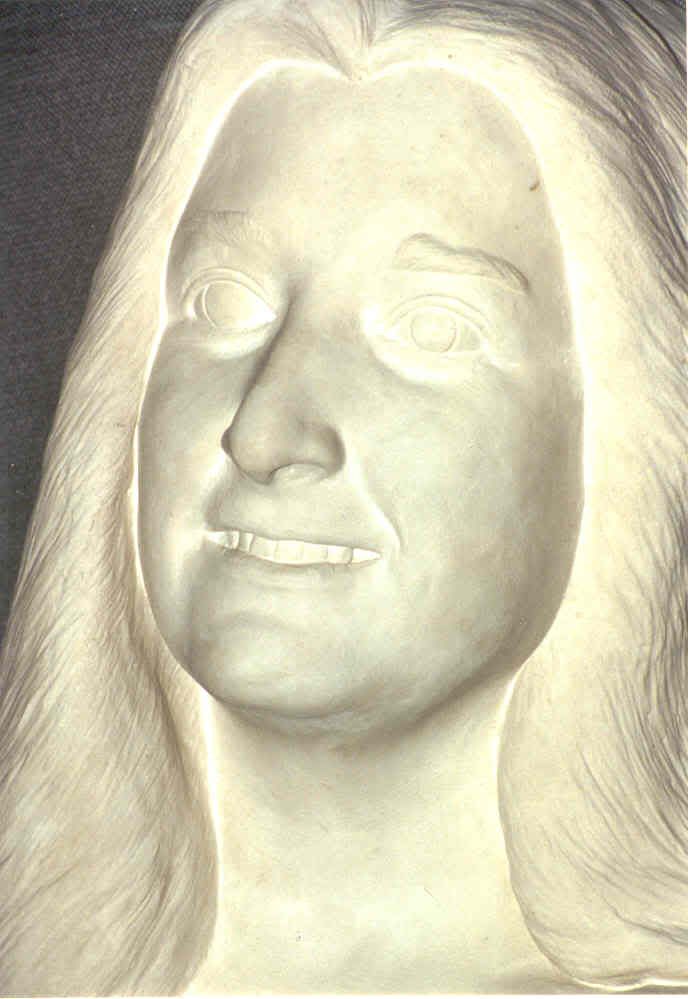 The final piece in the vast collection is a sculpture of Abraham Lincoln for an advanced sculpture class I took at Marshall University. It was sculpted in clay, molded in silicone and poured in Ultracal.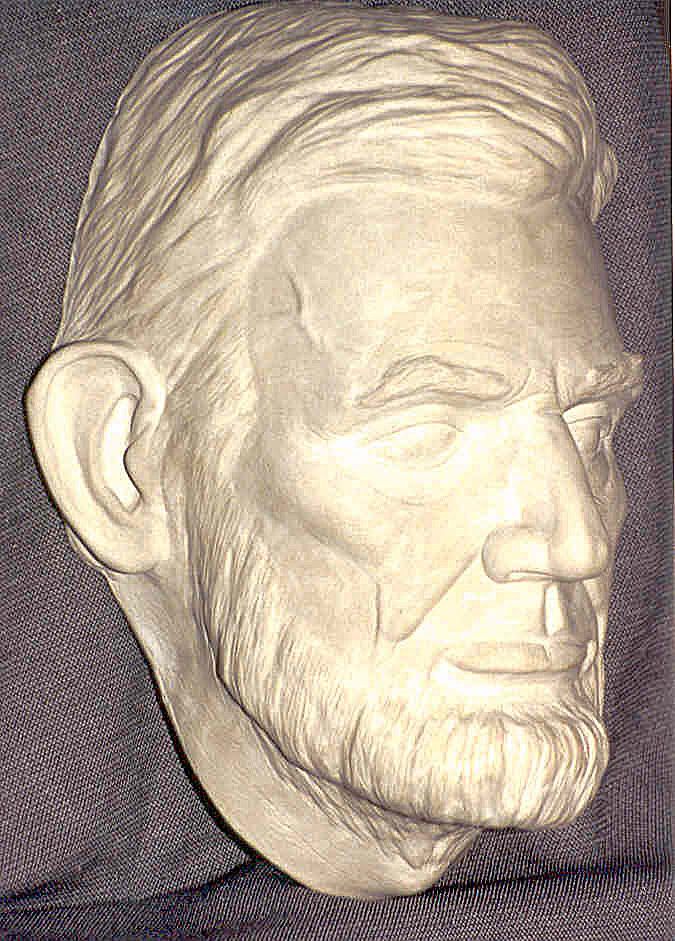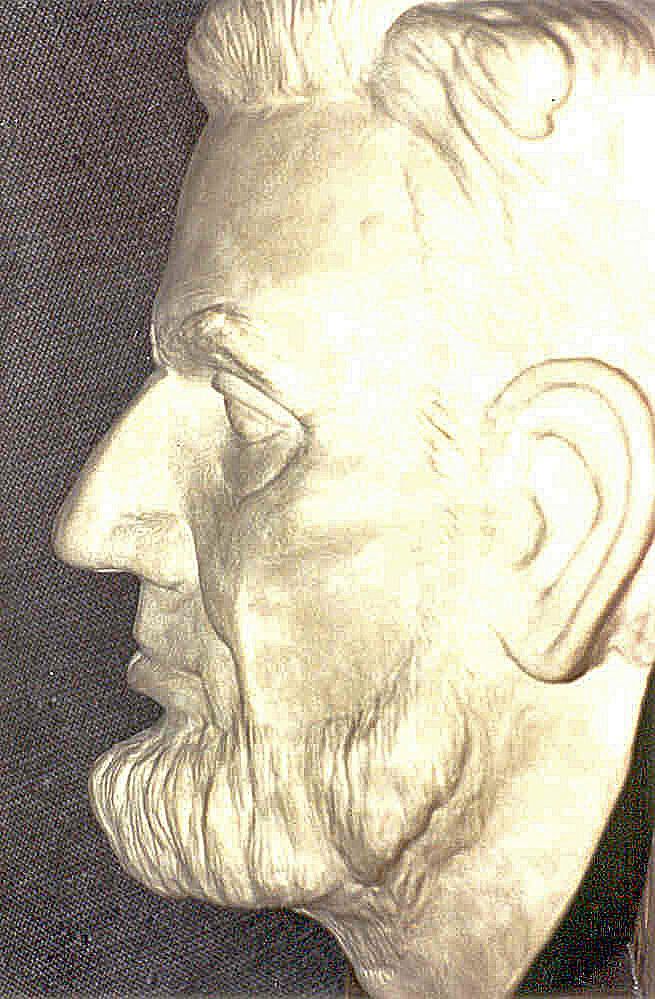 Hope you've enjoyed this little glance into my past work. Honest opinions and critiques are always welcome.
-Dale.