Master Member
RPF PREMIUM MEMBER
Hello,
By popular request, I am looking at running a few stainless steel belt clips for the macros so people can get something a bit more sturdy than aluminium
CLIPS ARE NOW LIVE:
For reasons out my own hands, I'll need to place an order for materials before the 5th of July, in two days! so I'm seeing if I can get a really quick interest going to gauge how many I want to do or at least to see if a few people can get on board with the characteristics below
I'll really appreciate it if we can get an idea really quick, I'm not rushing the project, this is because I have an opportunity on material to ensure a lower cost for you guys, I hope you understand
So, I'll be doing two versions because I'm guessing some people will want screen-accurate, attached to the "face" of the Eumig, and some other will want functional, attached to the hood of the Eumig
this is a bit more complex to run two styles, but I think there is no way around this to make everybody happy if possible
so, here are two plans simulating the shape of both clips after being folded into shape:
the clips will be 38mm wide at the widest end, 13cm long for the long one, 11cm for the short one, and the holes will be spaced 22.2mm, 7/8".
and a few final studio photos
long: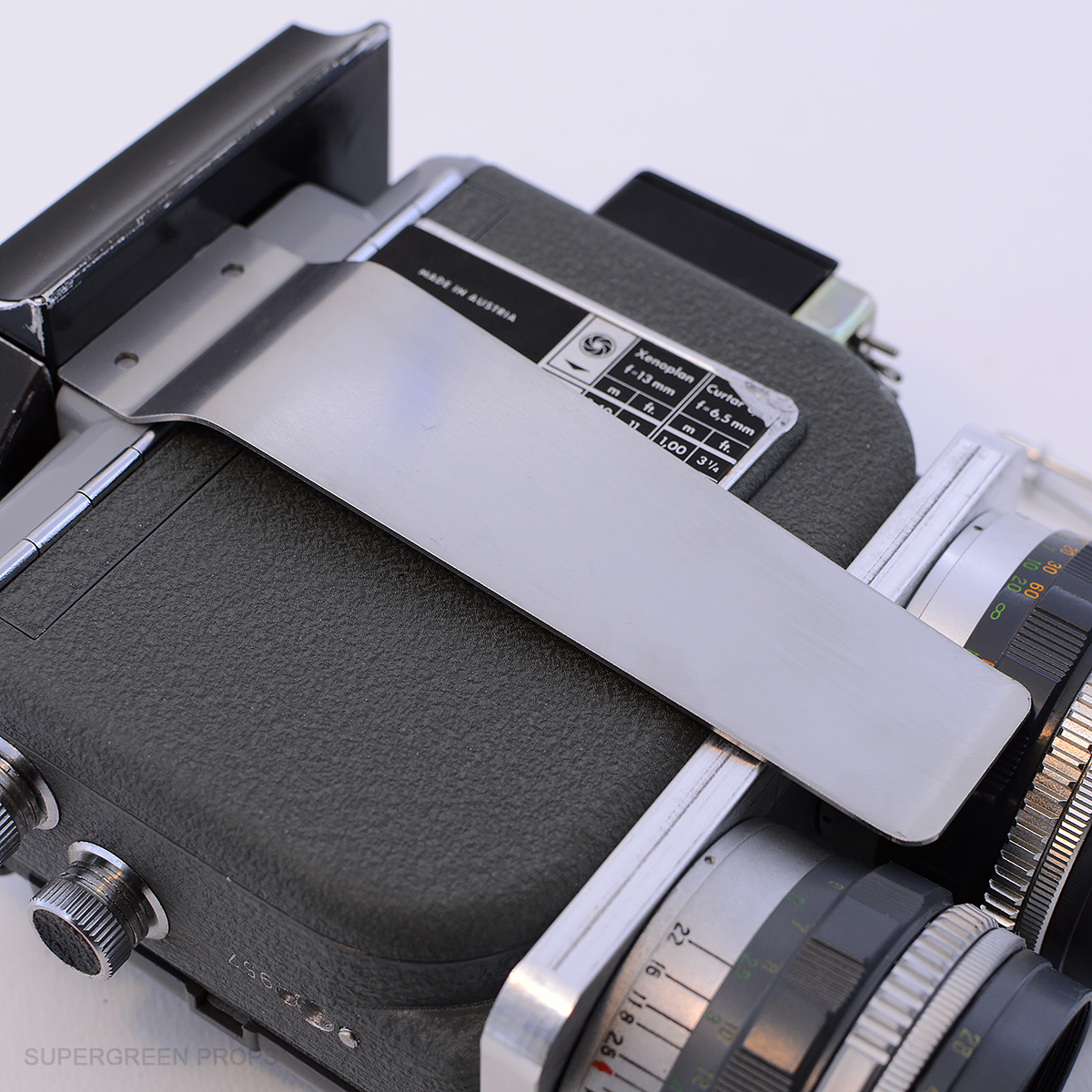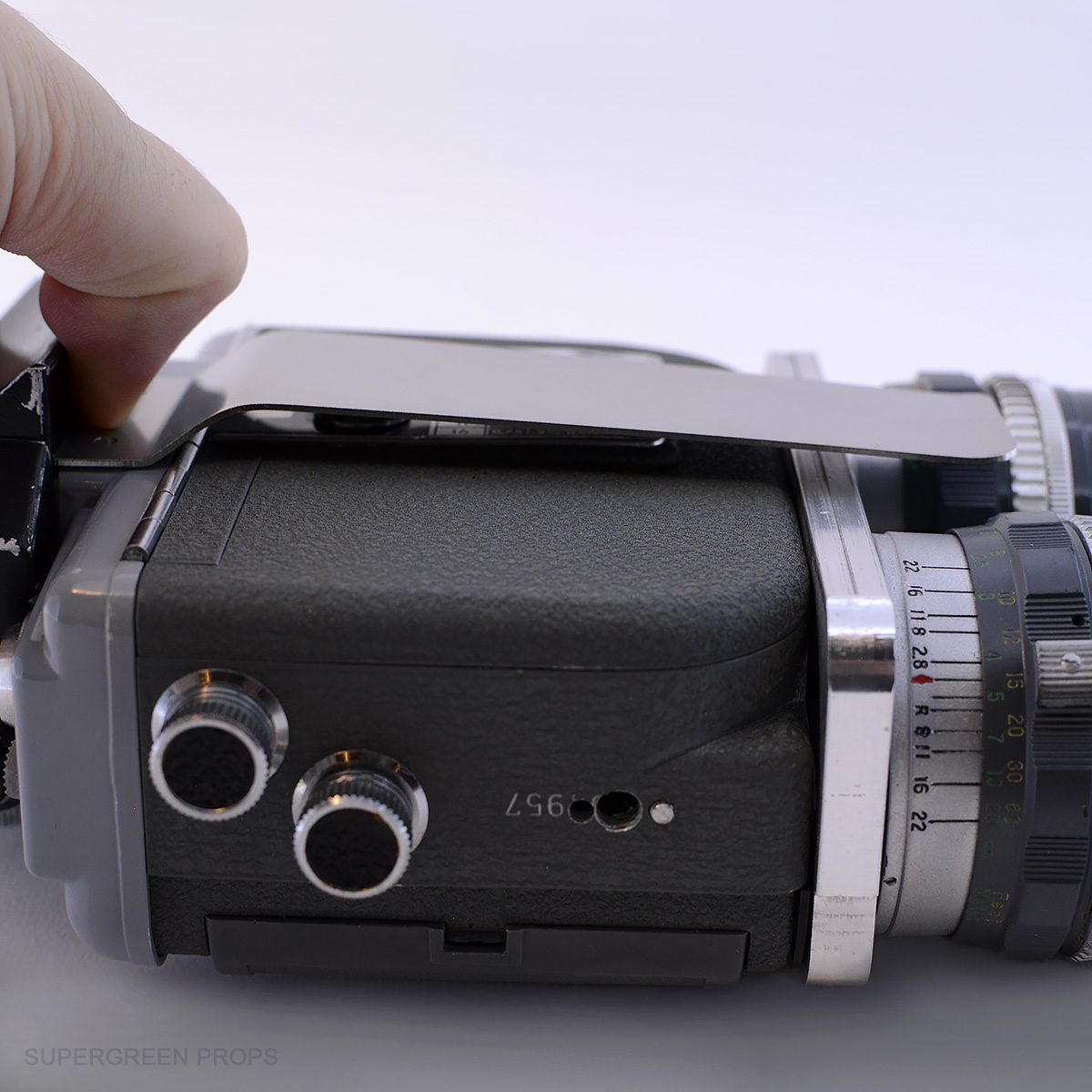 short: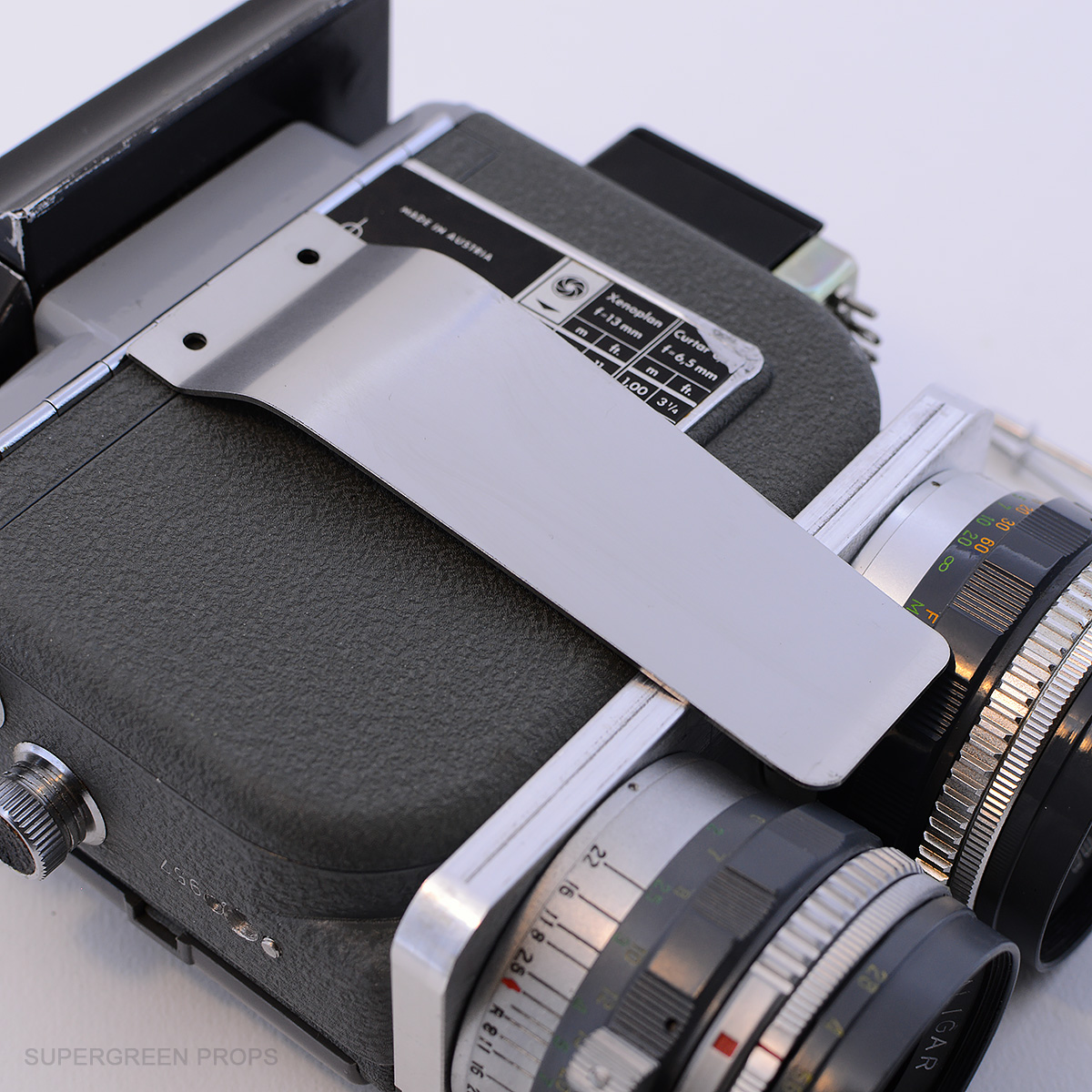 comparison of the 3 versions on the website:
long
: screen-accurate - impossible to open the eumig door
short
: for a fonctional set were you can open the door
stunt
:
only
for the stunt macros
What do you get:
- short OR long version 1mm thick stainless steel clip (with protective film on the top side)
- 2 rivets
Price:
My idea is to be between 28€ and 32€
, Final price: 29€ + shipping (6.5€ worldwide)
.
the range is to be safe, I'm hoping we can be at the lower end of it:
mission accomplished I guess!
below are all the official usual details on how I proceed.
How/Where to buy:
As usual, everything I sell can only be purchased on my website, supergreenprops.com:
Supergreen props - Handcrafted collectibles
I am obligated by the French law to edit an invoice for any money that goes into my bank account and the invoices have to be sequenced. The only way for me to handle that is through my website. It is easy for you, the website is fun and bilingual, it is perfectly secured and the payments completely handled by Paypal. You just need to register, enter your shipping address and the shipping costs will be calculated automatically. Make sure to enter your address as soon as you create your account as shipping costs are shown for France by default.
I know that some people might feel uncomfortable with a website, but please understand that I have no choice and that, even though there is a website, it's still me, eethan/Matthieu, behind everything and you can reach out anytime for any question here or by mail
contact@supergreenprops.com
I'll always be happy to help or have a chat; really, you know I'm a friendly and talkative guy and love to talk about cool props, so, don't hesitate!
Payment:
As explained above, I am obligated by the law to edit a sequenced invoice with all my sales, this goes exclusively through my website. The payments are completely handled by Paypal checkout, with buyer protection, and you can choose to pay directly with paypal, credit cards through Paypal (even if you don't have a Paypal account), or even local payment options like iDeal, Sofort, Bancontact, Giropay, MyBank, P24, EPS... At no time will I have access to your payment information or bank details, never. When the order is paid, you'll receive confirmations by mail for every step of the order and an invoice.
Shipping:
When you are logged in and have created an address, shipping costs are automatically calculated in your cart. There are two options, less than 3cm in thickness or more than 3cm. I encourage you to take the less than 3cm option when available as it is much cheaper and still tracked
All shipments are shipped with the French post service and tracked; you'll receive the tracking number by mail when the package ships. It can be tracked directly on your local post website, usps, royal mail and so on. No need to use the French post website link included in the shipping notice mail if you are not in France. If you didn't receive a tracking number, please check in your spam folder or don't hesitate to contact me, it's important to get it
Shipping time varies greatly and we all know it has been pretty unreliable lately, however, to give you an idea, it should usually take between 5 to 12 working days to get from France to the US, there can be some rare wild exceptions that I sadly can't foresee, however, so far, I have never had a lost package, so fingers crossed, it continues that way!
Customs taxes:
All orders are shipped from France. If you are outside Europe, it is possible that your country collects customs taxes or fees, I can only let you know that this is a possibility and encourage you to know how your country deals with international packages and know if you have to pay taxes and how much they are. Please understand that this is out of my control.
Always eco-friendly whenever possible:
As I explain on my website, I try to be as eco-friendly as possible. I live and work in a farm in the south of France, I have all kind of animals around me and we try to respect nature as much as possible. We have a hedgehog in the garden and a lot of bees coming back lately, so hopefully things are taking a better turn!
This kind of work, let's be honest is not by definition eco-friendly since it's purely for our enjoyment and not something we all need to survive (or do we?). That being said, I do my best to always use recycled and recyclable shipping materials or even clean re-used materials sometimes. I also try to do as much as I can for the projects themselves.
By the way, the French post service that I'm using is 100% carbon neutral since 2012 that is only for France obviously, but that's already something I guess
All right! I hope that I didn't forget anything. Please don't hesitate to reach out to me for any question, I'll be happy to answer them or have a small chat with you as usual
Last edited: