Hi all - sorry to hear of the recent hijack, pretty lousy stuff.
I'm really up for any ideas/insights/theories/reference/anecdotes/camp fire songs regarding the Harkonnen trooper helmet from Lynch's Dune.
It's a shame so little in the way of prop information behind the movie has come to light considering the scale of production and time for more nuggets to surface. I'd really like to have a crack at reproducing it as closely as possible.
Here's what I have so far:
I snagged this from a Dune forum years ago which has now disappeared from the web and was pretty much a lapsed forum when I visited anyway.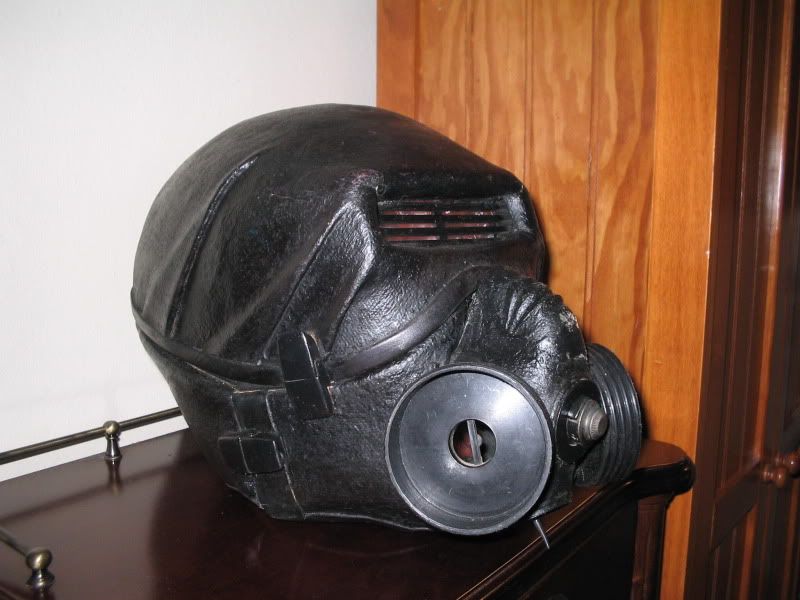 I'm led to believe it's screen used - whether such things as hero/stunt helmets existed I don't know but things like the texturing on the mask seem maybe rougher (?) than on the following excellent blu-ray grab (many thanks to Defstartrooper)
and another shot of the complete helmet:
Several things go through my mind
- the distinct 'ribbed' nose of the respirator (I can't yet find a match)
- is that fabric stretched over the helmet or are those creases sculpted?
- might the base for the (upper) helmet be a combination of hard-hat + goggles or welding mask?
- I'm trying to find a reasonable match for the (suitcase?) latches which lock the helmet together.
- Is the grill in the eye-slit some kind of off the shelf thing?
A lot of the production on Dune took advantage of cheaper labour and great artisans to produce completely customised props but I'm thinking some items like the Harkonnen helmet may have been predominantly made from available items as a base.
Thanks for reading and any ideas.
Last edited: