Master Member
RPF PREMIUM MEMBER
Hello everyone,
In case you have missed the Luke ROTJ v2 lightsaber thread in the Star Wars section of the board, Brandon Alinger revealed at SWCA that the original Luke ROTJ v2 lightsaber prop is alive and well and in his collection. He displayed a number of photos to the crowd there, some of which have found their way onto the internet
http://www.therpf.com/showthread.php?t=1862&p=3625305&viewfull=1#post3625305
Working from these new picture, production photos, and measurements taken off of an original OWK stunt saber from ANH, I have drawn up plans to replicate the orignal Luke v2 lightsaber prop. These will be the most accurate versions ever produced.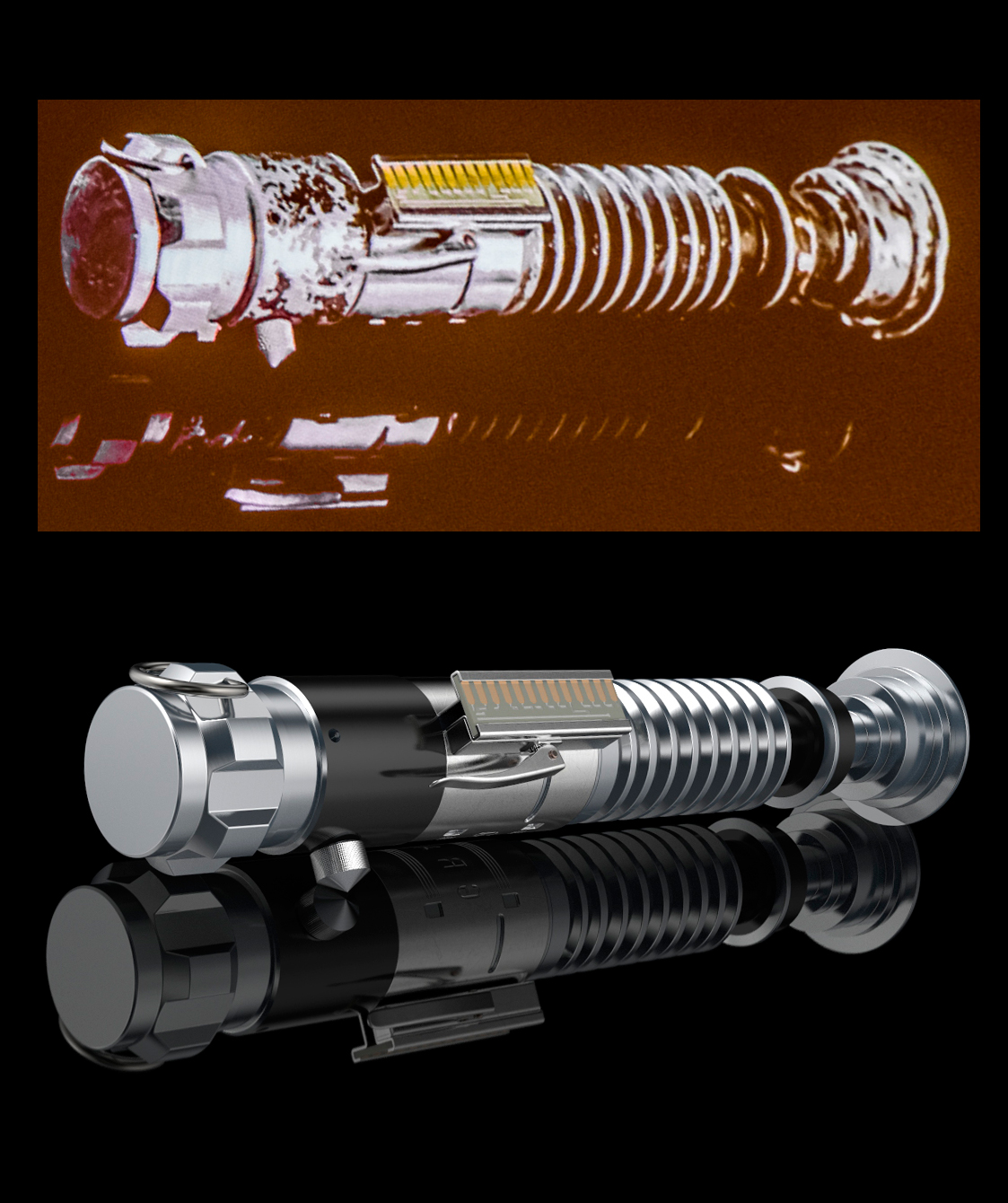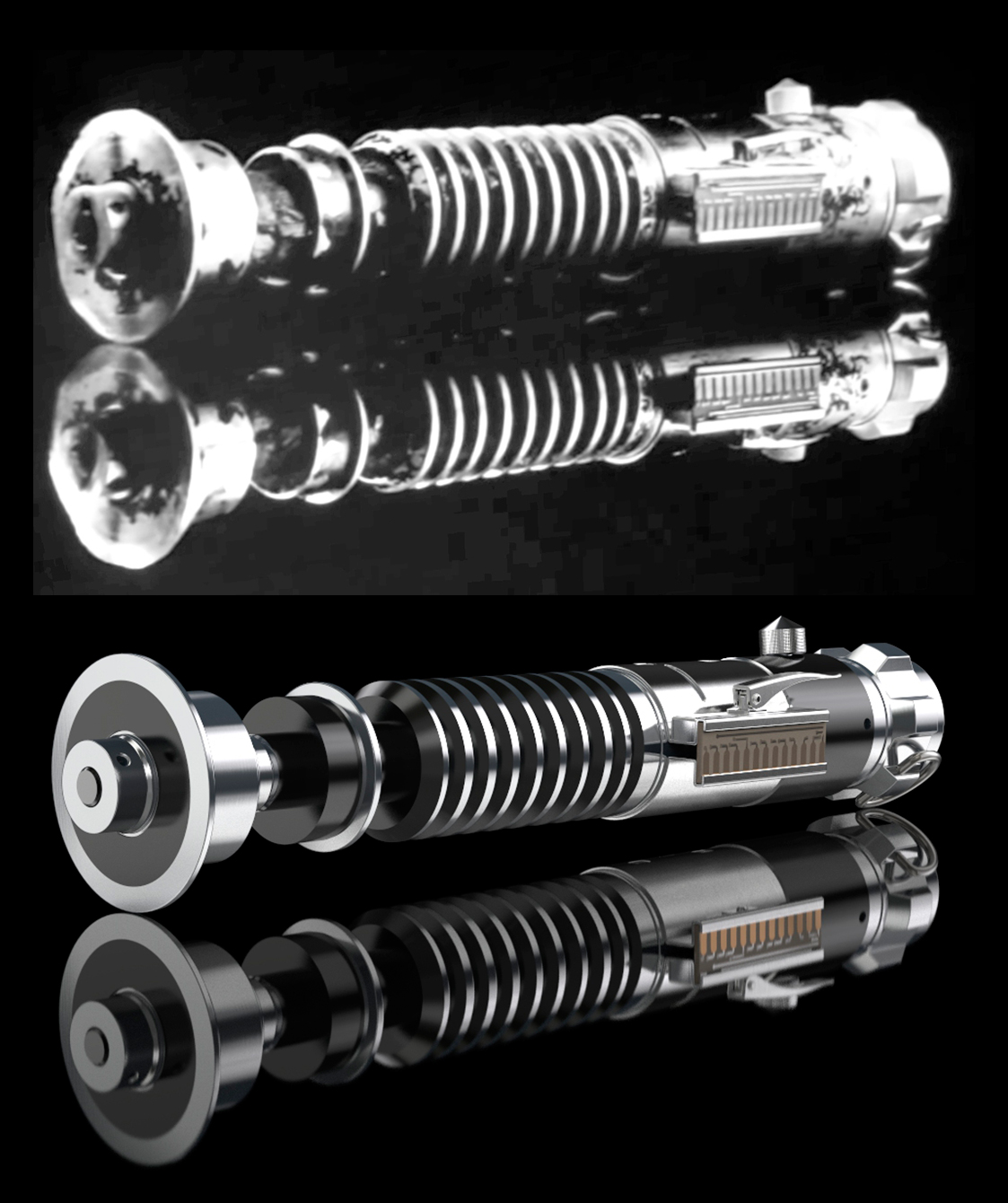 Here you can see some comparisons between the original prop and my recent modelI will be doing a short run of 30 blanks based off of this model. It will be your job to get a clamp, lever, and card. Slothfurnace will be doing a run of cards. Roman has clamps, Roygilsing will be doing levers.
The saber will come in 4 parts: emitter, body, and pommel, and conical knob. They will be hollow, and the emitter will be able to rotate like the original prop. You will have to screw everything together and paint and weather the prop. (I will provide a build tutorial when the parts come in).
The cost for the saber body should be $165.00 plus shipping.
This will be a limited run of 30 (with me getting the first 2, so really 28) and these will be sold on a first come first serve basis.
To reserve your spot please post here that you're on board.
I expect that if you post here, you accept that you have made a commitment to follow through on your purchase.
I will be placing my order at the end of the week, and if my shop's estimate holds true (and it did last time) I should have everything in a month.
So, don't doddle
Sign-up List:

1. Anakin Starkiller
2. Anakin Starkiller
3. halliwax paid
4. lgtsbr paid
5. Panaflex PAID
6. Usagi Pilgrim PAID
7. mugatu PAID
8. PoopaPapaPalps PAID
9. RexKramer PAID
10. NeoRutty PAID
11. jediscum PAID
12. manooga PAID
13. KhalDrogo PAID
14. AlexGordon PAID
15. Curmudgeon PAID
16. ajhix paid
17. scottjua PAID
18. thd9791 PAID
19. Tsophika
20. Wolfsburg PAID
21. Country Paul PAID
22. Juansith PAID
23. subaru PAID
24. Darran PAID
25. scarf man PAID
26. therockwwe PAID
27. D48thRonin PAID
28. Luke the Belter PAID
29. master jinn PAID
30. kursosawa paid
31. OdiWan72 paid
32. Dredgen PAID
33. Strontiumdoguk
34. Trilogy PAID
35. morgan63 paid
36. Andymac84
37. teecrooz PAID
38. roygilsing PAID
39. bill313 PAID
40. slothfurnace PAID
41. egosheep paid
42. enaswede PAID
43. E Williams PAID
44. Cantina_Dude PAID
45. Evil Benius PAID
46. ataru72ita PAID
47. Shinobi PAID
48. Boba Flint PAID
49. Cadger PAID
50. cayman shen to kurtyboy PAID
51. canuckmuse PAID
52. Portumac PAID
53. Mara Jade's Father PAID
54. Trooper_trent PAID
55. swampsong
56. teecrooz (2nd) PAID
57. Kroenen77
58. Darth Vinicius PAID
59. mburkit PAID
60. mugatu (2nd) PAID
61. Jack PAID
62. lordgilpin
63. phase pistol
64. DuneMuadDib
65. jonis PAID
66. robpenfold PAID
67. Bluebox303 PAID
68. moffeaton PAID
69. Spyhunter2k PAID
70. RockBottom PAID
71. achilles266
OK. So we've passed 30. But people keep asking to jump on board. I know there have been a lot of folks waiting on this run for a while, so I'm going to keep this thread open until midnight tonight and I'll take any names who want to jump on. Don't worry, I'll make it work. But at midnight I'm going to have to call this run and start moving forward. So, if you want to get in on this, post soon.
Also, I'm going to get a quote on the cone knobs too. If they're not too much, I'll add them to the order with the same price I quoted above.
-best
Dan
Edit May 6th.
So, the list is now closed. Since the list ended up being double what I expected, I'm going to have to finance this a little bit differently. My shop requires that I pay half up front and then follow up with the second half when the parts are completed. So, what I'm going to do is front the first half myself out of pocket. Then when the parts are ready, I will post pictures for all of you and ask for payments. This will allow me to cover the other half. On your end, it won't be very different. It will just mean an extra week or so between the time you pay and the time the parts show up at your door.
-best
Dan
Last edited: