Sr Member
RPF PREMIUM MEMBER
When I first got this saber last year, I had opted for the unfinished version - I'm perfectly capable of painting stuff and it also saved me a few bucks. After some minor disassembly, fastidious paint application, and reassembly I had a nice finished piece:




I was pretty happy with it, but a couple things just kinda' bugged me about it... First, it was simply TOO clean - it just didn't seem "real." Second, I also wasn't too thrilled with the crystal - I thought it should be something more like a natural crystal, rather than a faceted "jewel."




So after pondering these things for a while, I started searching and keeping an eye on eBay for "double terminated" quartz crystals. The challenge was not only in finding an interesting-looking crystal, but in finding one that was the right size - obviously it couldn't be any larger than the chamber that it would have to fit into. I found a dealer in China who regularly sold what I was looking for in various sized lots - anywhere from 4 to 10 crystals in a lot. Unfortunately the range of crystal lengths in the descriptions were rather generalized and vague - I had to guess based on the pictures and hope for the best, basically. Thankfully the crystals were pretty darned cheap, so if I ended up with something that I couldn't use it wouldn't be a big deal. So after several weeks of watching this guy's auctions, I bought a few crystal lots. Some were better than others - in terms of shape and condition - but I had some good options. The one that I really liked and wanted to use turned out to be a bit too long
So in the end I had to go with a second choice.




With the crystal problem sorted, my next task was to age down all of the bright and shiny aluminum and brass. I saw that Rylo had weathered a couple of these using Easy-Off oven cleaner, so I thought I'd give it a try. After disassembling the saber into its component parts, I began with the emitter first, thinking that it might be best to start small and see how things went. I also kind of tested as I went along, only leaving the oven cleaner on for a few minutes to begin with, and then re-applying it and leaving it on for longer and longer periods of time. I also used Birchwood Casey aluminum black in some areas, to give the effect of dark staining and grime. I applied it in various ways, depending upon where I wanted it - flooding it on with a small paintbrush, wiping it on with a rag, or simply dipping the whole part into the solution. I didn't leave the aluminum black on for very long before rinsing it off, and I immediately buffed most of it off with superfine steel wool. I ammonia fumed the brass parts (for approximately 6 hours) to knock down the bright shine and I found that the aluminum black also turns brass a nice dark brown color. The brass parts were also buffed with steel wool.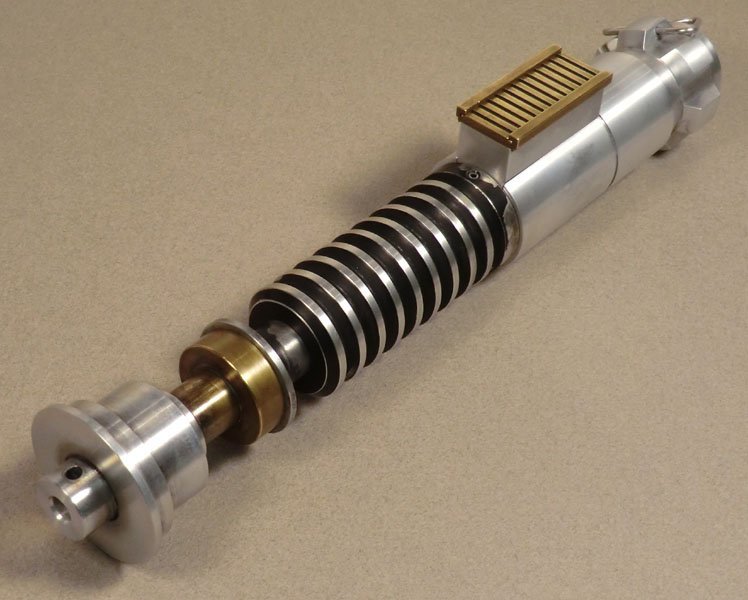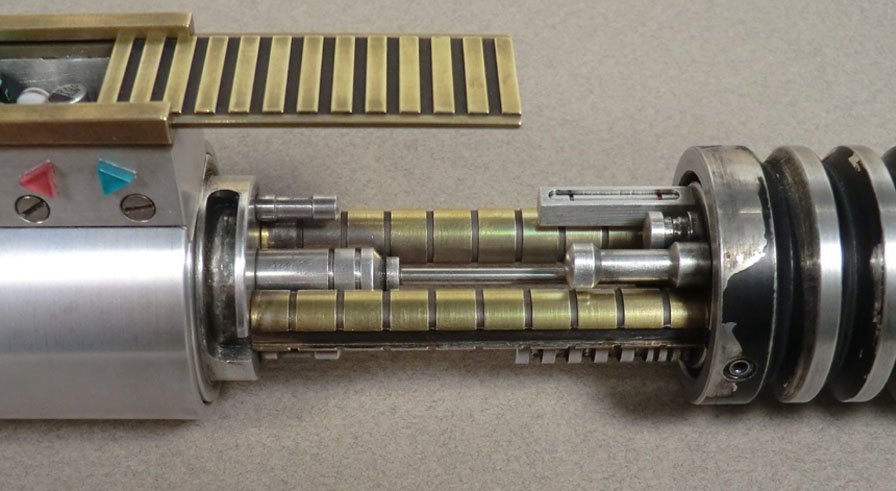 I airbrushed the crystal that I chose to use with a mixture of Tamiya clear, and equal parts Tamiya clear green and clear yellow. I also attached it to a short length of clear acrylic rod for a stand-off - I wanted it to be aligned with the center axis of the saber, rather than being stuck down in the very bottom of the chamber.




It's funny - I was never really a fan of the Luke ROTJ saber and never had the desire to own an example. But after seeing the beginnings of the project that eventually resulted in these sabers - with all of the cool "reveal" features - I knew that I had to have one. I think it might actually be my new favorite saber
And my Original Trilogy saber collection is finally complete. Thanks Rylo!
Last edited: