Well-Known Member
RPF PREMIUM MEMBER
Ok - so while I'm sitting here social distancing myself I happened to score a Graflex Replica and ESB conversion kit. It comes with the belt mounting hardware so that means I need a belt. Specifically, Luke's belt from Empire Strikes Back. But what I need more is the holster because I also have a DL-44 that needs a home and I won't have the lightsaber for a few weeks. Since I'm not planning on making the correct Solo belt/holster rig for some time this can serve dual purposes. And I happened to have all the required materials for the holster build here in my home workshop so here goes...
First, I need to do some research and find some patterns and as it happens it seems like there is not much info on Luke's ESB belt. Much thanks to
laszlo
for his thread with good reference pictures of the original and his holster which I used extensively.
​
I went through a few variations and sizes for the holster until I settled on something I thought would work (or at least had confidence would not be a total disaster). I printed out the final version with all the accessories and straps and taped them together.
​
Now to find the right leather to use. I brought out my scraps and main piece of vegetable tanned leather in 7/8oz. I've found this weight of leather is best for making holsters and it works well for this one too. I definitely wouldn't go heavier but you could use 6/7oz if needed I suppose.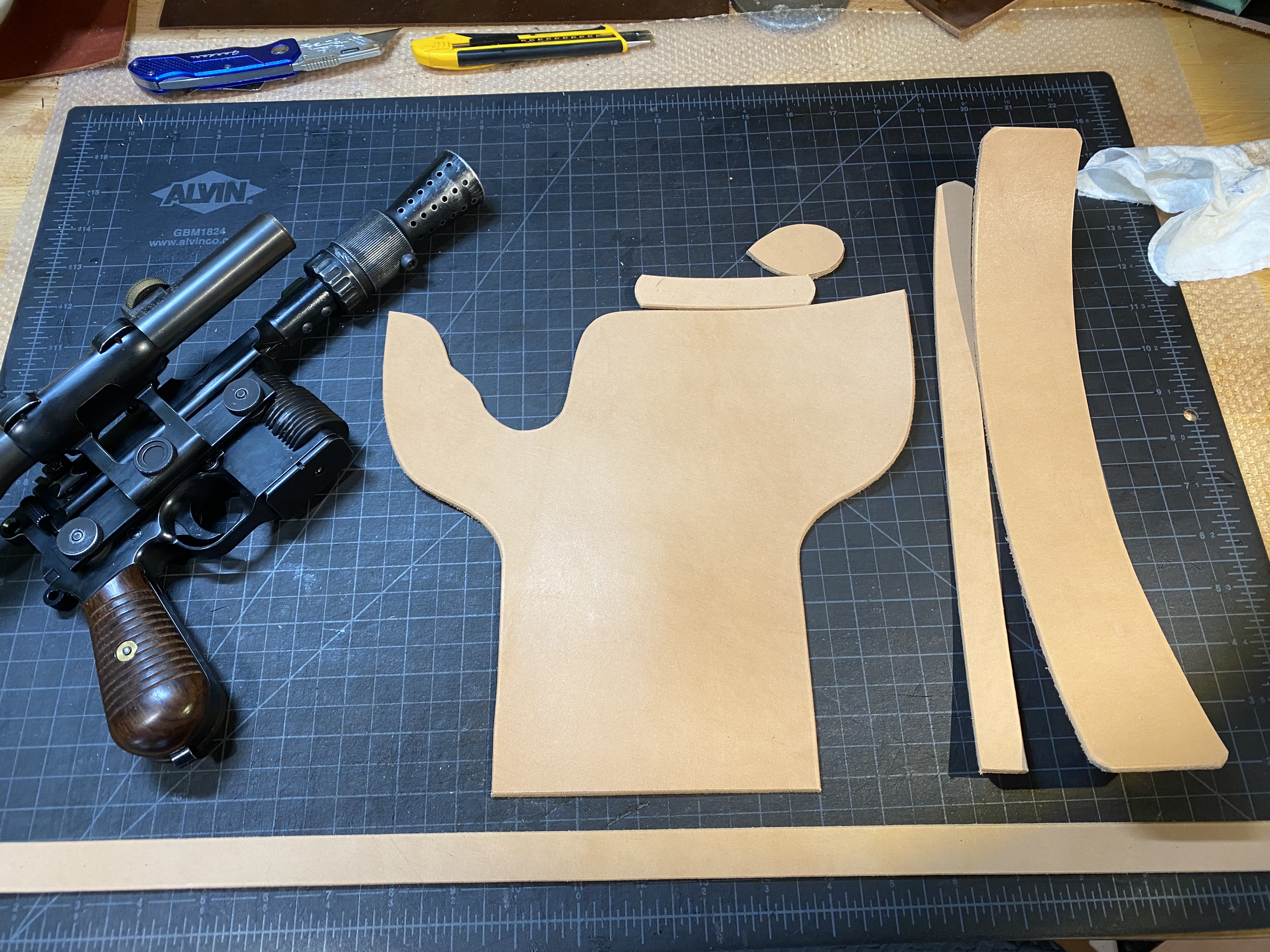 ​
I've got all my pieces cut out and I put a very light bevel on the edges with my smallest beveller just to give it a slight worn look and feel. You don't want to get too fancy on this type of build because the original prop is not the greatest quality. And in fact, just by the nature of the leather and standard leather working techniques this holster will be much more solid than the original I think. Also, my DL-44 based on the airsoft is up there in anticipation.
​
I used Fiebings Pro Dye in dark brown to dye all the pieces. I also inscribed my stitching line on the holster. I'm already feeling that this may be a tight fit so I made the line a little closer to the edge than I normally would. Every little bit might count here.
​
All the parts are now finished. I lightly burnished the edges with some saddle soap on some cloth, oiled them with neatsfoot, finally applied some wax-based top coat so they buff to a nice shine. I'm doing this all pretty quickly so the leather is still dark all this processing. It will lighten up a shade as everything dries.