Well this will be my last Lost Hunter for a while, i was quite fond of my open mouth attempt at Borg, so figured id have another go with a closed mouth.
Pics again will show a basic path of how i painted this.
To start i prosaided the mask, then i WHITE base coated ONLY the areas that were going to be in the lighter colour spectrum, ie the white and yellow areas.
Then i sprayed the rest using DARK GREEN thinned 50/50 with isopropynol, and roughly sprayed out the majority of the green area on the main part of the head.
that is what i have done here. Notice that the green looks very different on raw latex, than it does on the parts where there was a white base coat, this does not bother me in the slightest as the green will be darker in most of this paint up.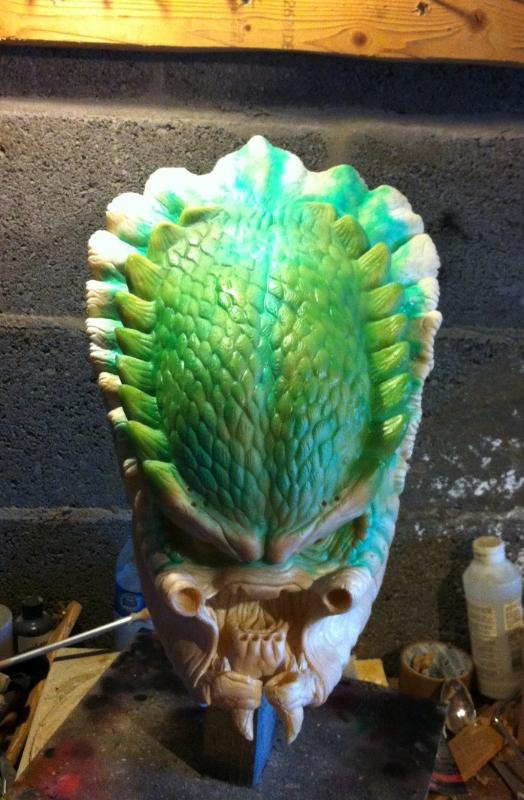 Then i used Yellow Ocre with a couple of drops of antelope brown ( just to darken it up alittle ) and went randomly over the white areas, some gentle shading was also done on the cheaks, again this is just roughly putting down where i think it needs to go.
Now this last picture looks like there are a few more layers of green put on, in fact there is only a random misting of black in places, NO other green at all from the above 2 pics.
it sinks the green down alot and will hopefully give some shading when i do the darkest green in the next day or so,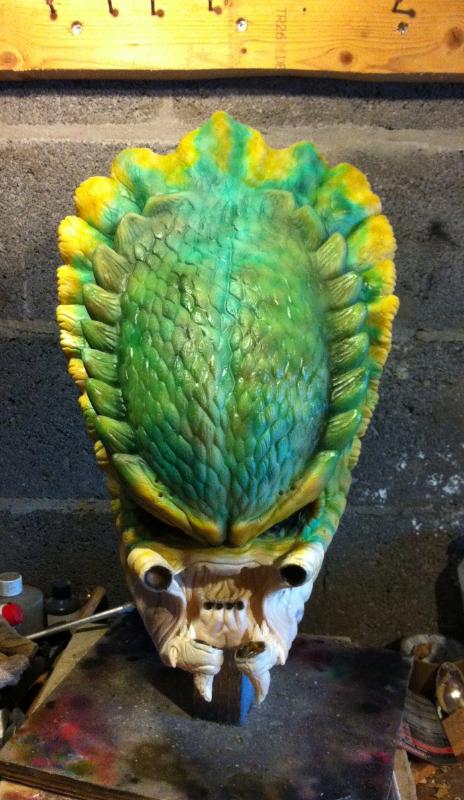 Thats where it stands today, hopefully i wil get a hour or so tomorrow, then i will get the green to where i want it, then i will break up the yellow on the edges of the crown with some off white. then i can start marking out the forehead pattern before moving onto the rest of his ugly mug.
as always i am using FW inks.