My first predator creation i plan to wear with pride. its some what an
Ancient War Predator i like to call. its a mix of a Lord, an Ancient and the Wolf.
im Nightmare Predator's twin brother. we both are in the process of building right now.
Annyways lets get started with the pics i promissed from my first thread.
First i started by making a plasma caster out of a plastic tube and many pieces of cut out foam board.
i painted it all black, went over it with a light coat of silver, and then sponged black acryllic paint.
with it i made a medi pack that goes with it. made out of carved and glued high density styraphome.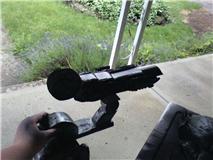 next i made a set of gold wristblades modeled after the single bladed gauntlets in PREDATORS.
i will make a matching set of gauntlets to go with the blades that have a gold drybrush paint-up.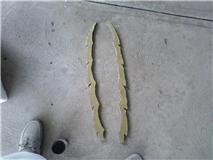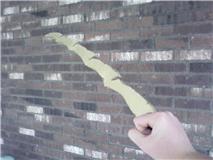 next i finally started to paint my Wolf mask. i painted i with a grey primer shown below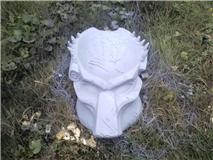 then i painted it with a black base coat.
then i gave is a gold paint job. i was assisted by my brother a little painting the gold. this is where
the Ancient part of the name comes in.
after i painted the mask with a gold metal look, i wanted to give it more detail in the horns. so i painted the horns a flat black and the rings under the horns silver to help give the broken horns an easier look (More defined).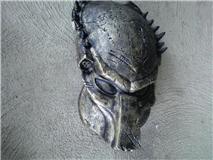 then i started to make the mask look like its been to HELL and back
and through and through battles with marines and aliens. on the horns was painted with lime green blood to make it look like splattered alien blood had eaten away at the horns in some places. i always loved scars on the mask
the same blood was put around the mask along with red human blood. as you will see below in the finished product.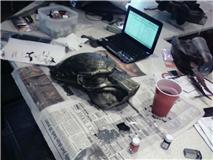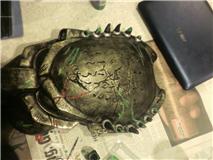 Thanks for reading. this thread will continue as i will continue to build on to this suit.
Cheers,
Matt
Last edited by a moderator: