Last Major-ish update: June 29th, 2021
I'm going to try and maintain this first post as a catalog of various references to various saber projects I find myself working on.
For those who are building, designing, or finishing a saber that I've worked on - there will be a link to all the images of those sabers that I could find publicly available in a Google Drive! If you have any images you'd like to add, feel free to PM me or post them here. Or, if you would like to be credited for your images or would like an image removed from the Google Drive, let me know as well!
Outline of my projects contained in this first post:
"Thin Necks"​
- V3/Shared Stunt​
- V2​
- Wooden Buck​
- Raw Casting​
"Barbican"​
- ANH Barbican 1.0​
- ANH Barbican 2.0​
"Dooku"​
- AotC Hero Hilt​
- RotS Stunt Hilt​
The "V3" or "Shared Stunt" - Jan. 13 2021 -

V3 Reference
The saber project that sent me down this path, it's come a long way since my first pass using practically just the Visual Dictionary photo for reference. It's quite an interesting saber and there is a lot going on in the grooves everywhere. The V3 is a special saber for me, for a long time
this
was Luke's RotJ lightsaber based on all the books and merch I had - so I really wanted to get this saber right. The V3 is honestly my favorite of the bunch - such a weird history
I believe the correct word is "eureka!"
(Give or take a few tweaks here and there as always.)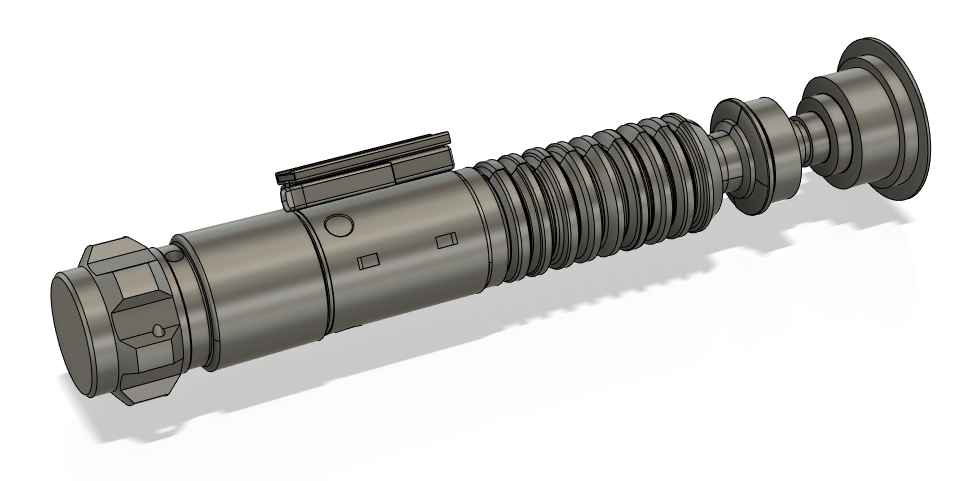 *pardon the absurdly large graflex lever please
June 2021:
How wonky can you go?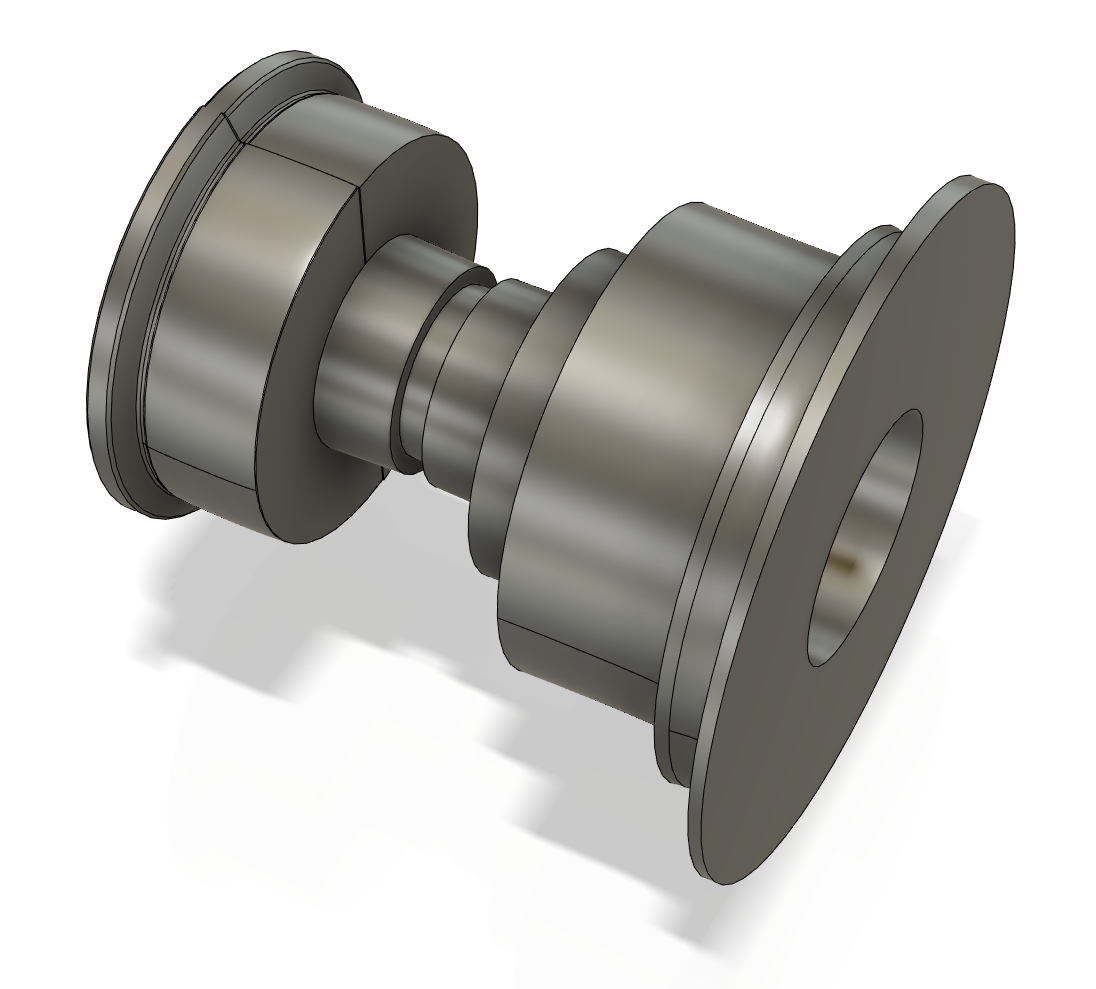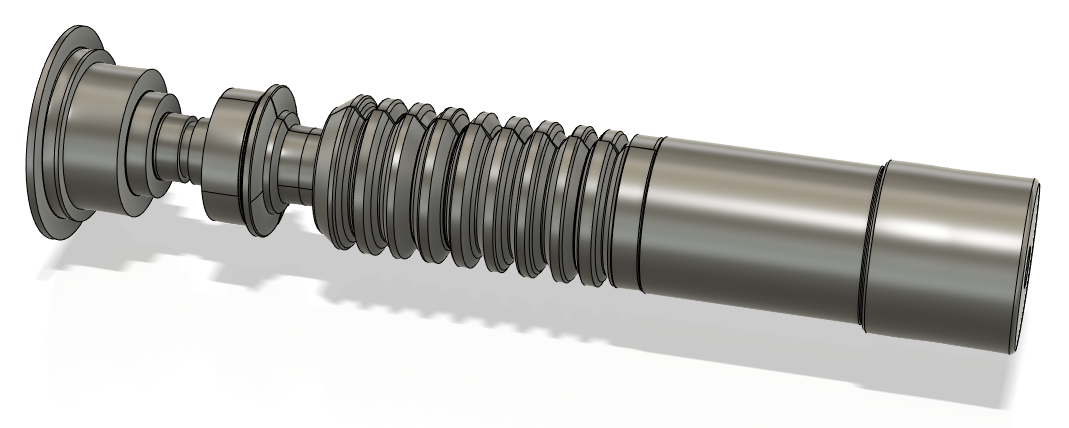 V3 History Reference:
For Reference, this is a "timeline" of when the V3 shows up in places:
ANH
: Assumed to be created from a wooden master, but unfinished during production
***I believe the V3 to be motorized during ANH based on my own references, research, and conjecture. Though it might be actually impossible to prove such a thing without onset prop photos that show a distinct steam line. Which I do not believe exist.
-If it was unfinished, why would it be important enough to save? The other unsaved props went straight into the trash for SPFX members to take (who did
not
return for the next film, as Stears' moved on) I would guess the production
used
props were put into a storage facility, and when they pulled out
used
pieces like an R2, this was pulled as well.
-Having just 1 stunt saber on set (the V2) would seem impractical when blades kept snapping all the time.
-
No toggle switch?
Could have had an in-line switch that was attached to the wire. That way the Guinness could not flip the switch on accident for example, and would also give more room for a motor or metal rod.
ESB
: Appears to be used in rehearsal for stunts [sports ANH paint job.]
RotJ
: Appears to be used in the Throne Room fight, Endor Speeder swipe, and practice for the Luke surrendering himself. Resin copies were made as well, which were potentially an inspiration for the design of the Yuma [sports ANH paint job, mostly faded throughout duel. Almost stripped in the final UK pick up shots. however, once in the US I believe the emitter was repainted solidly black for a few US Endor pick up shots to better match the V2]
1993:
Refurbished in the Archives by Don Bies for tour in Japan and to be featured in a book(?)
1995:
Appears in the book: "From Star Wars to Indiana Jones: The Best of the Lucasfilm Archives"
Appears in "The Art of Star Wars" exhibit in the Yerba Buena Center in San Francisco
1996/7:
Pictures taken in the Archives that now appear in the Original Prop Blogs' article
1998:
Featured in the book: "Star Wars: The Visual Dictionary"
2000/1:
Went on tour as part of "The Art of Star Wars," at locations including Barbican Art Gallery(?) and the Helsinki City Art Museum(?)
2005:
Was exhibited at Star Wars Celebration III
Appears in "Dressing a Galaxy: The Costumes of Star Wars" exhibit at the FIDM museum in San Francisco
2007:
Launched on STS-120 (Which also delivered the Harmony module to the ISS!) and taken into space, subsequently kept at the Houston Space Center for a time. *NASA inventory number was added at this time
2009:
Still in possession of NASA(?) as it appeared in "The Films of George Lucas" at the Johnson Space Center
2010:
In early 2010, appears to be at the Main House at Skywalker Ranch
Later appears at a museum in Sacramento
Recent Whereabouts:
Supposedly kept in the Main House at Skywalker Ranch (as of 2015)
The "V2" - WIP Feb. 10 2021
Initially I didn't want to pursue making a V2 because there are already so many great models out there and I know of a couple more great ones coming this year. I didn't feel like I would
need
to do it, but it was a fun exercise! (Though, I really just wanted to say "I did it!" for myself just to round out the lot) I've been watching some V2's develop closely so I'm holding off from doing more on it for the foreseeable future. However after a couple days of on and off modeling... I
did
get carried away a bit and refined it a lot more. I don't think it looks too bad?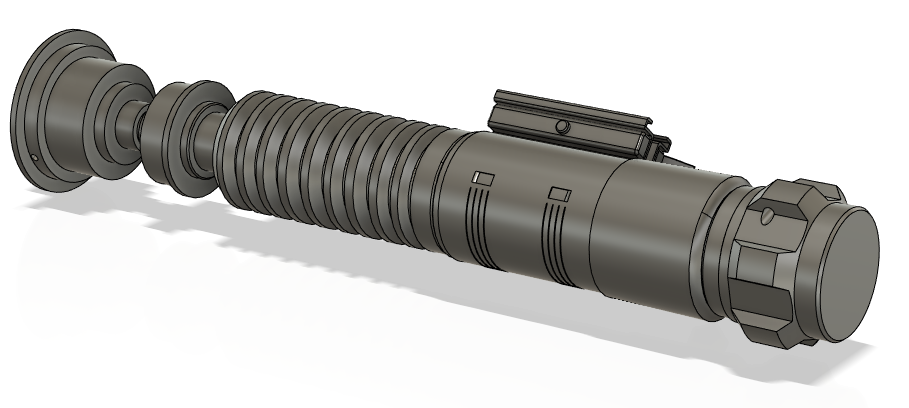 *please pardon the incorrect clamp lever/nut
It's not 100%, there are a few things that can be nudged in a few directions (as always) even thought it looks pretty darn good on these pics if I do say so myself. Overall, I have managed to make the body successfully fit snuggly into the v3 - save for the last grenade valley wall towards the clamp. Not sure how to fix that one, so I'll just guess the V2 didn't have a casting deformity there or something?!
But I was ecstatic when I saw all the grenade rings fit into the V3!
The major remaining bits on it are the pommel cubes - Only a couple of them got photo comparisons, the rest are guesswork lol. Actually the nipple could use some work too. (But trust me - there are some real fine V2s on their way that I personally am looking forward to picking up!)
V2 History Reference:
For Reference, this is a "timeline" of when the V2 shows up in places.
But in all honesty, just read this thread:
Luke ROTJ V2 lightsaber
Reading those developments as they happened is going to be miles better than what I could explain.
ANH
: Assumed to be created from a wooden master - Alec Guinness' primary motorized stunt saber
ESB
: Appears to be used in rehearsal for stunts [sports ANH paint job]
RotJ
: Promoted to "Hero" status and used as the belt hanger throughout the film. (disappears off set after filming)
Early 2000s(?)
[Acquired by Brandon Alinger, founder of theRPF - presumably in this time period]
2015:
Featured at Star Wars Celebration: Anaheim in "Star Wars Original Props and Costumes" Discussion Panel"
2017:
Featured in Mark Hamill's Pop Culture Quest
The "Wooden Buck" - WIP Feb. 23 2021 -
Buck + Cast Reference
There's a lot of subtle geometry on this guy. It's real fun to work on - and its been quite an enlightening process. Seeing where certain geometries on the V3 likely came from and such.

My assumed construction of the wooden buck. However, based on some observations made by others who have handled the prop, I am unsure if the lower pommel end actually pops off. It makes sense to me that it would, but I have been told there is almost nothing to suggest that when inspecting it in person. For this model though, I will make the assumption that it does come off, as it saves a theoretical step. Whether that step is the crew recast the buck and cut the lower pommel off to add the trunk, or if there is another buck - I have no idea.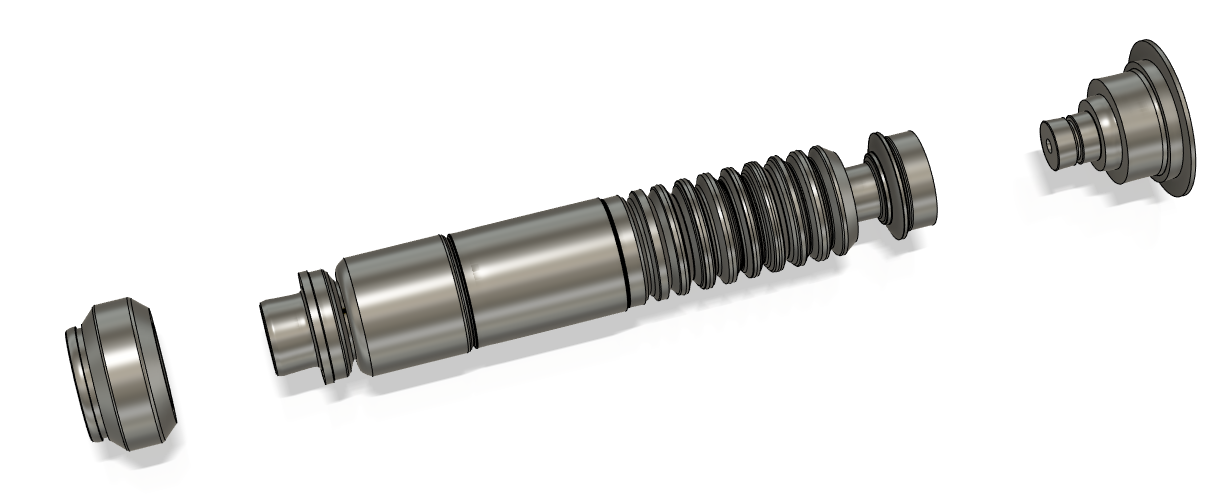 The Wooden Buck History Reference:
For Reference, this is a "timeline" of when the Wooden Buck shows up in places:
ANH: Created to be the master for Obi-Wan stunt saber castings, likely by someone on the SPFX team. Probably binned at the end of production, and as SPFX crewmembers pick souvenirs, it is saved along with a blank casting.
2003: Auctioned on eBay with a blank casting. [Did not sell]
[PropStore acquires both buck and blank casting]
2011: On "Tour" as part of PropStore's exhibit that would go to conventions. (SDCC 2011?, 2012?) with blank casting.
2019: Auctioned as part of PropStore's 2019 Entertainment Memorabilia Live Auction on October 1st [Blank casting auctioned separately]
Recent Whereabouts:
In the collection of Gus Lopez [with the blank casting too]
OK I did the cast too. Might've gotten carried away. WIP still though.
​
ANH "Barbican" - June 17 2020 - Completed(ish) -

Barbican Reference
See Pg. 4 for details.

ANH "Barbican" Mark 2 - July 6th 2021 - Completed!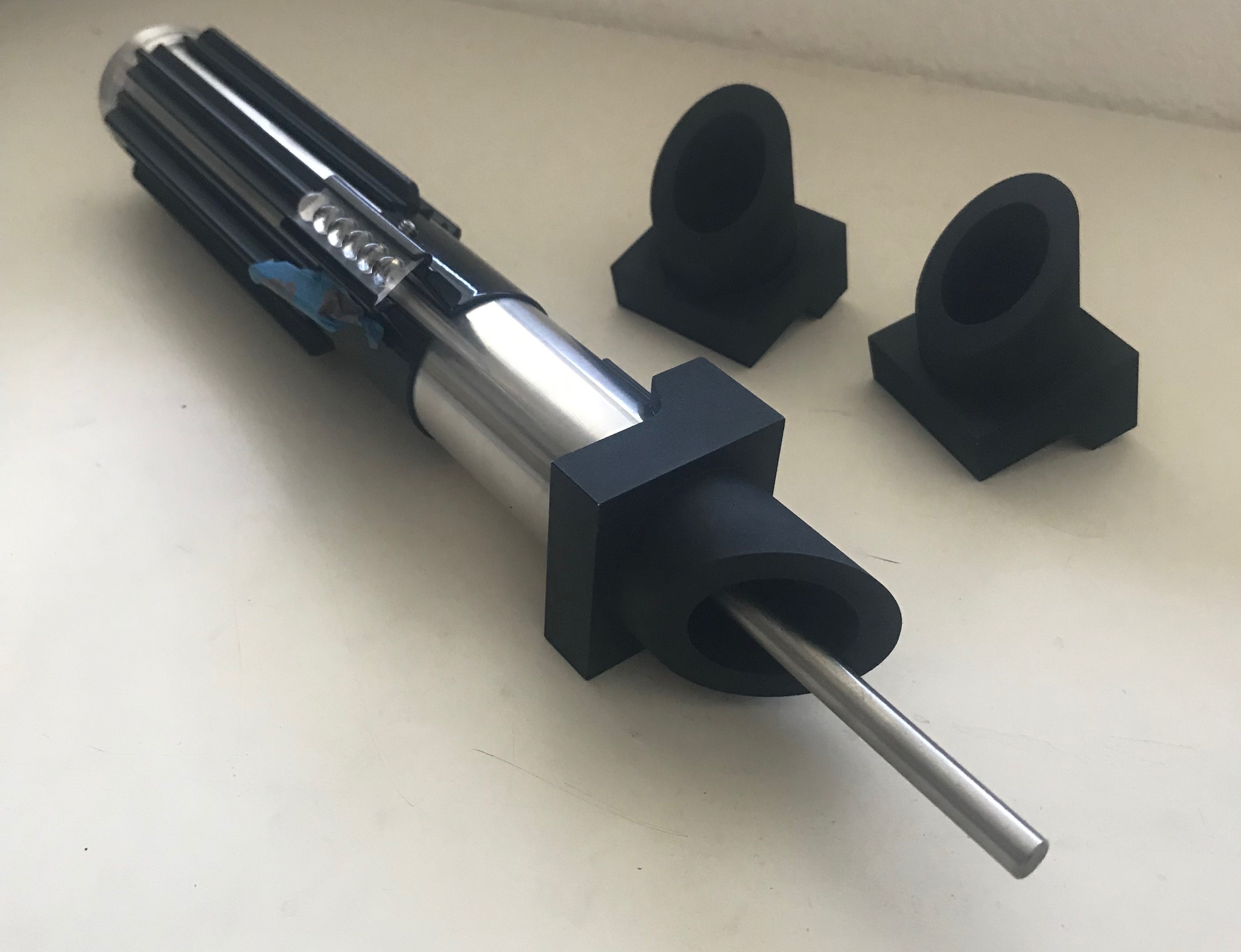 OOOOhhhh!
And it spins!
Barbican History Reference:
WIP
ANH
:
Created for the duel. Motor most likely malfunctioned, or the saber broke needing the Graflex Stunt to be used as well.
Created to be Vader's motorized hilt, I do not believe there was enough depth and the motor was unable to balance or keep itself in the socket while rotating because it was seated high up. Wires were attached at some point, due to the hole on it and some picture reference. (though, I think there could be 2 Barbicans.) In addition, I don't believe it broke, rather it was a pain to replace the blades because it required popping the emitter off to access set screws, to pop out the core, to access more set screws to lock in a blade. This is all conjecture based on images. The Graflex stunt was only utilized in 2, maybe 3 shots in the movie during the duel is my current understanding of it. ***Note, the real barbican likely had a toggle switch similar to the V2 rather than a push button switch.
ESB
: Appears to be used in rehearsal for stunts, and on the catwalk duel with Luke in the movie. Also apparently in the carbon chamber rehearsal.
RotJ
: Unsure if it appears in the movie, but a resin cast was utilized as the saber Vader looses when his hand is cut. (I believe it makes a short appearance in one scene)
2005:
Was exhibited at Star Wars Celebration III
Appears in "Dressing a Galaxy: The Costumes of Star Wars" exhibit at the FIDM museum in San Francisco
2008:
Resin saber and severed hand were in Bob Burn's collection at least till then
Recent Whereabouts:
Contained in the Lucasfilm archives
Part of Star Wars Identities Exhibit?
AotC Count Dooku Hero - WIP May 25, 2021

-
Dooku Reference
Count Dooku's hero saber from AotC - created using a few key measurements and some great photos that were made available to me! The Dooku sabers are weiiirdd when you start to get to know them. It is a really funky hilt - the geometry is all over the place. Fortunately you can kind of slice it into quite a few distinct sections to work on. This is mostly blocked out at the moment, it needs a lot of refinement and rechecking of measurements which I'll be doing soonish. More write-up on the Dooku hilts can be found under the next hilt!
Out of Date: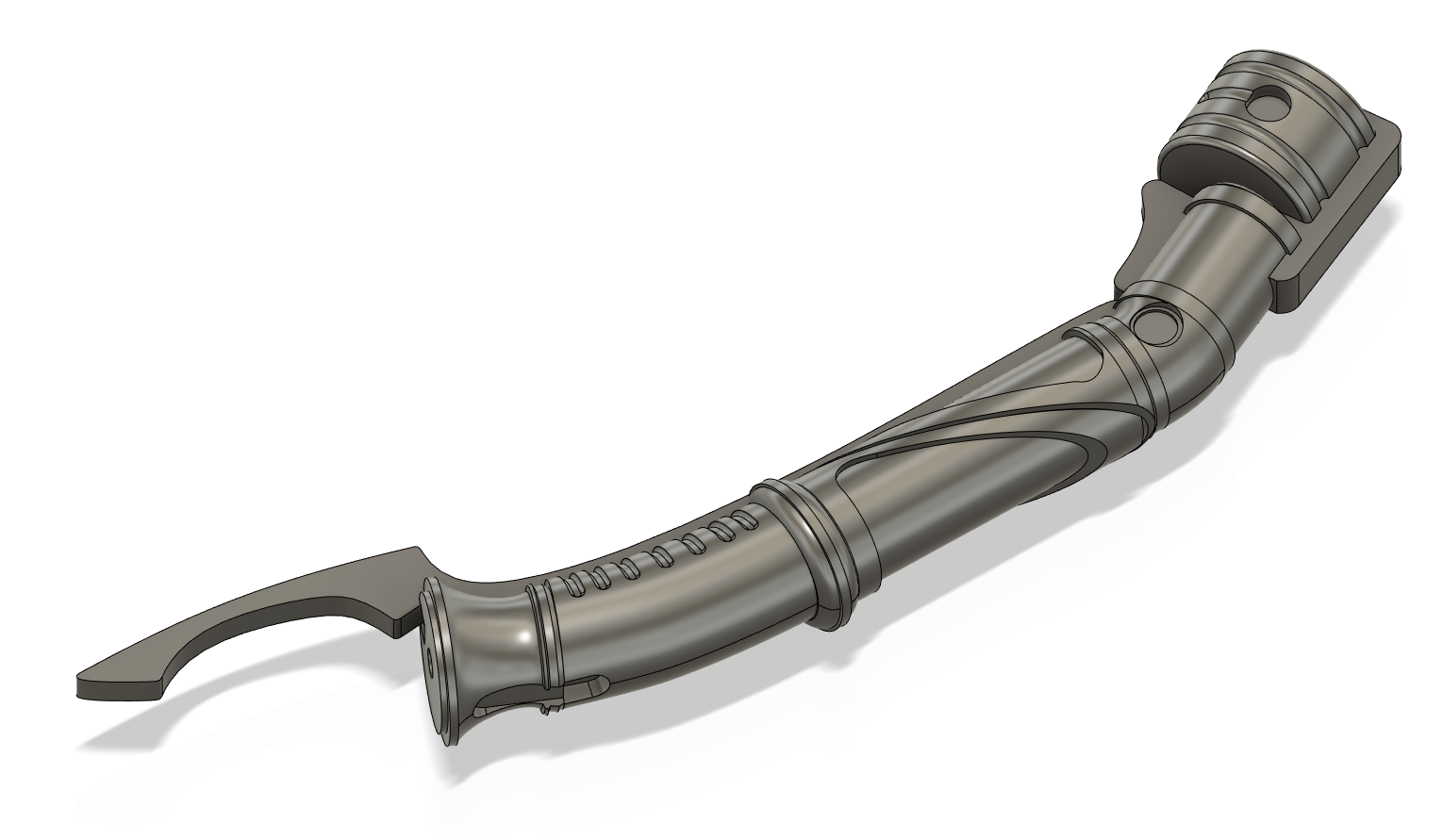 RotS Count Dooku Belt Hagar Stunt - WIP Jan. 31 2021
Dooku - using measurements from a [likely rejected] unused stunt casting.
I'm actually really happy with how this came out! Just need to tweak a few curves here and there, and the "elbow" where it branches off. (That elbow is the least accurate part... it's looks the right but its HORRIBLE!) No overlays or specialness because it
is
idealized at the moment. I may try and go back and unidealized it, but it is a lot of work lol. Oddly, the castings of the AotC hero saber have a vertical "j" curve to them, whereas the RotS stunt castings - which this model is of - do not.
Here's where things get tricky. The AotC/VD sculpt is
different
than the RotS stunt sculpt. The RotS mold notably the emitter is in-line with the grenade section, whereas on the AotC sabers, the emitter is shifted up ever so slightly, and the main grip portion has a cutout on the AotC hilt which is not present on the RotS hilt. Interestingly, the one of the RotS belt hangar stunt was vacuum metalized, but has tarnished into a brassy color in the years since filming. That 'stunt belt hangar' is pretty much what I re-created using the measurements I was provided from the dueling stunt.
I have no idea why it would be re-sculpted for RotS, unless it was to redo the blade attachment method. If I had to guess, I think it is a heavily reworked casting of an AotC hilt because the shrinkage is quite severe from the original AotC hero, but there are details that align between the two such as the grenade and the elbow. It's primarily the emitter and main grip that are different, and those could have been re-sculpted or reattached from separate resin castings. Honestly, if you think the V3 is wonky and difficult to model accurately - Dooku's saber is a
nightmare.
Also - they made a straight-grenade stunt for AotC dueling too, which appears to share details with this type of stunt casting. I have no idea what the lineage tree of the Dooku saber must look like anymore.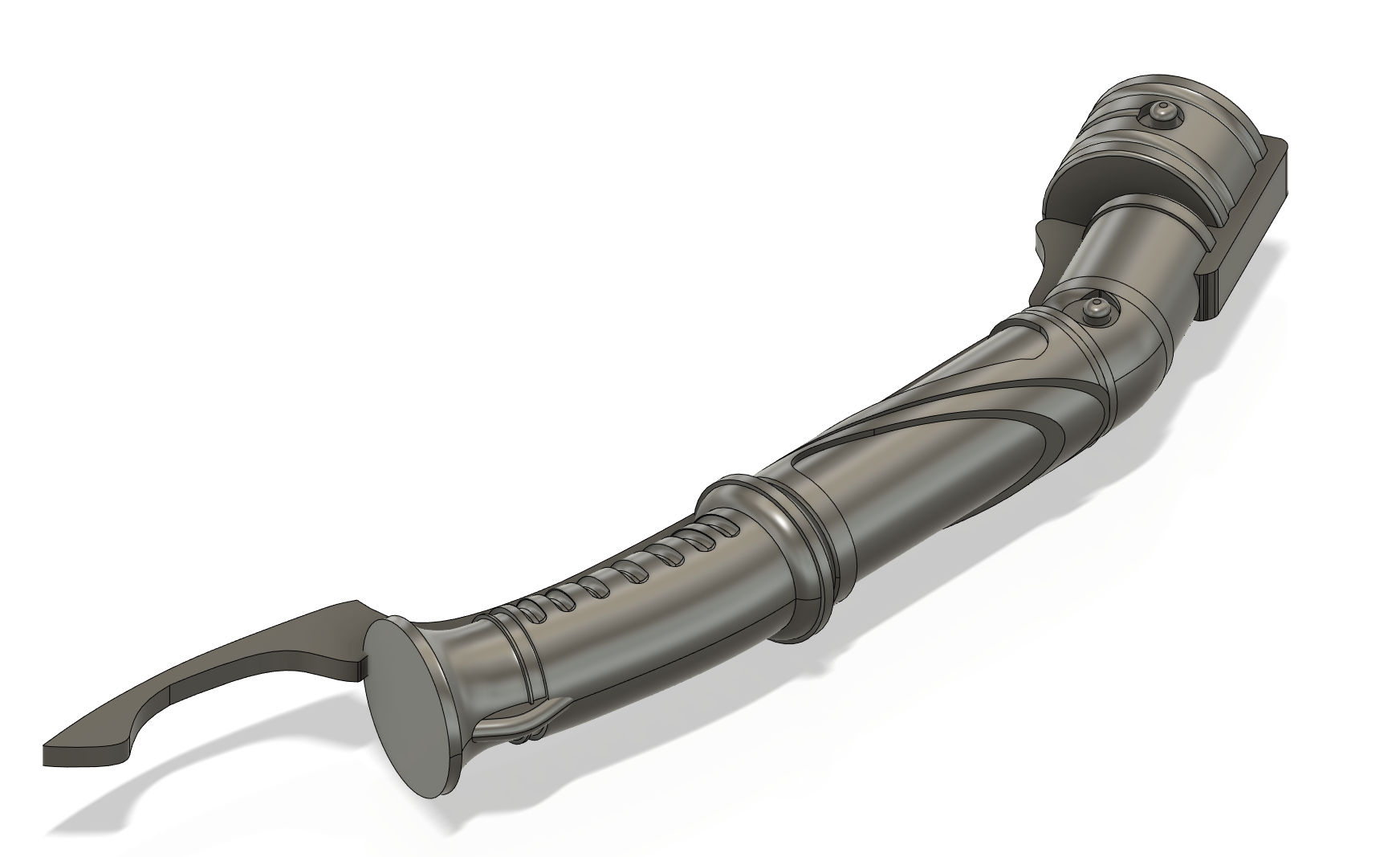 On the bright side, with my recent foray into the AotC hero hilt, I now have some great insights on what to update on this hilt to make it more accurate. Yay!
The Count Dooku Saber History Reference:
For Reference, this is a "timeline" of when the Dooku shows up in places:
Disregard this for now, I need to update this now that I've learned much more about the Dooku hilts.
AotC:
-Assumed to be sculpted and machined by the lightsaber prop team.
I also think the other "hero" Dooku saber was made around this time, as it appeared in the Visual Dictionary. However, all AotC stunts auctioned by PropStore share the same details as the brass hero, so I am going to call that the AotC hero, even if the other was chosen to represent it in canon. (Just like the RotJ hero being chosen to represent the canon hilt too?!)

RotS:

dfsakfd Can be found on Your Props.
-Stunt castings are made with the threaded rod cast within the hilt

-Assumed the re-sculpted model from the VD is promoted to hero status
-New stunts made based on the new hero.
Known Castings:
RotS 'Brass' Belt Hangar Stunt
-Vacuum metalized (worn and tarnished today)
-grips seem to be a smaller checkering compared to other versions
-No hole in emitter for blade
So I got something I just couldn't keep it to myself. I got my hands on a Hero Count Dooku lightsaber from Star Wars Episode II. This lightsaber is very well built. It has some resin some parts ...
www.yourprops.com
AotC Hero(?) Stunt(?) Prototype(?)
, PropStore Lot 687 from the Entertainment Memorabilia Live Auction - London 2020
-Grips seem to be tape?
-Hole in emitter for blade, but no damage
RotS(?) Stunt
, PropStore Lot 664 from the Entertainment Memorabilia Live Auction - LA 2020
x1 Hero Saber, x1 Stunt (with threaded rod)
from RPF user that had the production mold(?), user MIA no confirmation.
=============================
Visual Dictionary
-Matte metal elbow
-RotS mold(?)
AotC Tour (Hero?),
Previously on Tour as part of the Magic of Myth, and Star Wars: Where Science Meets Imagination
-Hole in emitter, but no damage
AotC Stunt (Belt Hangar?),
PropStore Lot 691 from the Entertainment Memorabilia Live Auction - 2019
AotC Tour (Hero?)
South America Touring saber, notably in Brazil exhibit.
-Hole in emitter, but no damage
Star Wars: Celebration Hero
===
Roger Christian, "Designing The Lightsaber" Bonus Clip
- 1 Hero with undamaged hole is present
Lucas Narrative Arts Museum Picture
- x2 Hero sabers on shelf.
Most likely there are two hero sabers present in the archives. The Brazil Tour, and the SW:WCMI Tour saber. Visual Dictionary is MIA, and I can't find any stunt Dooku sabers elsewhere either.
As of writing this I know of ~4 more castings. Too lazy to write them down as they are all in varying conditions in private collections. I now know why it is almost impossible to track these things.
=============================================================================================​
Conclusion
I hope you've found my work to be kind of neat and informative.
I've done my best at accuracy but all of these models are a work in progress, since something always comes up whether it be a new measurement from original, or a new photo which shows something in a new angle. I'm sure you can spots some kind of geometric inaccuracy if you look though, but as usual all of these models are an interpretation of various pictures and measurements. Sometimes some sets of data will yield better results, as a lot of it is really derivative of source materials. Perhaps ya learned something too from my timeline/musings which has stemmed from my incessant need for acquiring information and learning about these hilts. Seriously, it's a problem. I've got a pdf that's about 40 pages long now full of stuff just on ANH hilts based on many discussions here and other research (some of which you can read
here
now!). While working on these model I've had wonderful conversations and made some great friends as a bonus! It's also led me down a crazy rabbit hole of these props where I've learned there is
always
more to learn. If you have a question regarding one of these hilts, feel free to reach out. I have some very extensive research and theories on these specific hilts and if you get me started I probably wont shut up. It also does make me quite happy to know people want these models and I'm currently working on getting them into the hands of people that want them.
Coming eventually....
Luke ANH spfx? Kylo Ren? Ahsoka? Mara Jade? So much to do so little time...
Time for a new family photo! (Updated again. Because I used an old version of the V3 on the last images here)
From left to right: Buck, Blank, V3, V2. As you can see, there are a few scaling issues. The Buck and the V3 I am quite confident about. The V2 and the Blank I am much much less confident on, despite seemingly matching on the overlays.
​
I wanted to put some special shout-outs here to Vadermania as without him my V3 would have never been possible, BRRogers for constantly encouraging me to refine my models, Halliwax for letting me bounce my stupid ideas and theories off him regarding these sabers, James for sharing measurements from his Dooku casting and letting me pester him about random details on it, and quite a few others who took time to chat with me and share lovely details about these sabers including some critical background information, research, and even measurements from some of these hilts. Also - everyone who checked this thread out!
=============================================================================================

Thanks for looking!

​
Original Post, abridged to clean up some of the nonsense I spouted then:
​
Hi all!
This is my first major project – a V3. [snip] I plan on trying to recreate how it looks today in its 'restored' state (kind of how people capture the look of the Worldcon Blaster rather than the on-screen look) since for some reason, I find it quite interesting.
In the world of amazingly accurate Hero and V2 sabers, the poor V3 gets left out quite a bit, probably due to the fact that its really ugly and hard to capture all the details. I would like to capture the V3 as accurately as possible, [snip]
Big thanks to all the V3 threads, a lot of the research done has been really helpful and a wonderful read. Also thanks to Vadermania for helping me out with a few measurements, and many members for their inspiring builds and research!
A few questions that I would like to pose to all of you before I get on with it:
Any idea where I can get an accurate D-Ring for this? It almost looks like a Kobold clip D-ring to me but I honestly have no idea.
The V2 has that weird pommel grove, and it seems the V3 has it as well? It doesn't show up in too many of the pictures I have but I'm curious if this has been discussed.
The pommel has been giving me some trouble for awhile now, since there isn't really a straight on view, modeling that has been hard for me. I also plan to try and make the 'fatter' part of the rings a bit bigger to eliminate that step where the seam is, but that's why I need that printed prototype. I think I figured out how the rings should be modeled as well, but I again, don't have the skills to do it correctly. (I also need to work on the screw hole placement, and the weird booster may have too much of an angle)
Anyways, here's some pics! [Yes, it's night and day compared with the current model]

If you've got any comments or critiques I'd love to hear them. Hoping to get that 3D print soon and a few more details ironed out.
[snip]
LOL Fusion is wonderful to work with.
Image Link Credits:
Last edited: