hey everyone
I'm new here, but I'm an old Star Wars fan.
I'm so looking forward to ep7! Because I can now watch it with my daughter and it's going to be so special, to have watched Star Wars as a kid and now to watch the next generation of Star Wars movies with my own kid! =) woooohooo!
Besides collecting Star Wars stuff , I also dabble in a bit of scale modelling, and lately, Lego MOCs.
One of my favourites from the original trilogy is the Probe Droid from Empire Strikes Back. It's menacing, it's mysterious but it doesn't seem to get enough attention =( . So I decided I had to try making a detailed and scaled Lego Probot.
It's challenging and I pretty much threw in the towel many times, but well, do or do not, there is no try.
With Lego, there are challenges and limitations to getting the perfect proportions spot on. But do let me share the final result.
https://ideas.lego.com/projects/92233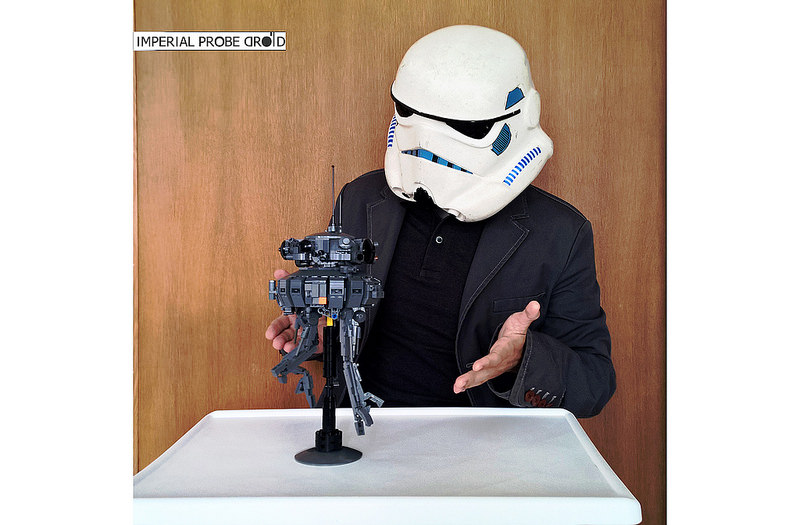 https://ideas.lego.com/projects/92233
I hope fellow fans will approve of the build! =)
Design is never ending, and with the Lego pieces, I'm still refining it as and when inspirations of different and better build techniques hit me. I will post up more images here and in the meanwjile, I look forward to feedback and comments on the project! =)
You can also find images this flickr album
https://www.flickr.com/photos/105135...7650561075318/
FYI, I also submitted the project to the Lego Ideas Crowdsourcing site. In Lego Ideas, if a project gets enough "Support", Lego actually considers turning this into a proper Lego product.
I'm hoping some of fellow builders will like what you see, and that you would like the idea of this potentially becoming a toy, so it can be bought off the shelf for fans to assemble.
So I humbly look forward to getting much needed support from builders in here.
If you do wish to do so, you will need to head over to the link, create a Lego account and click support.
https://ideas.lego.com/projects/92233
YEs, I know... it can be a hassle to create that account.. So to all the kind strangers who help out, I am very very grateful.
may the force be with you all!
regards
clement
aka Dark Grey Matters
aka Icemann
ps. I moved it from the star wars section, i think that one is specially for studio scale models?
Last edited by a moderator: