Update:
The cyclops eye was a big hit at DragonCon! I kept a hand on a friend's shoulder when moving around the crowds, but I had no major incidents navigating a very crowded convention. I opted for the eye slits and left the lower lashes long enough to cover them. If I angled my head down just a tad when taking photos, they were fairly well concealed. I cut much larger eyeholes later in the night after costume judging.
Also, our Futurama cosplay group won BEST OVERALL at the Bunny Hutch Party! Definitely the fanciest costume award I've ever received!
Thanks for everyone's help at the RPF! <3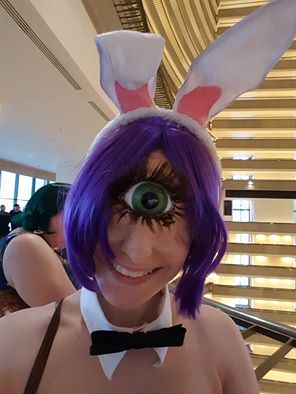 https://www.facebook.com/UMOPhoto/photos/?tab=album&album_id=977729835671787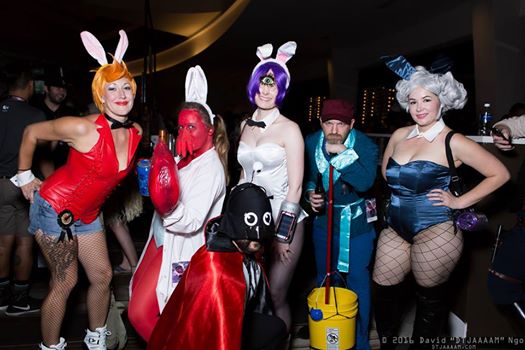 http://www.dtjaaaam.com/Dragon-Con-2016
***
Update:
I've settled on this version for DragonCon; I did a few that had more gel-filling to try and make my eyebrow bones not stand out so much, but the blending edge always turned out too thick! The eye slits ended up hiding pretty well under the lower eyelashes. I'm happy enough with it for now; I may revisit the entire project in the future with a redesign where I can see a bit better!
***
I'm working on this prosthetic for Leela from Futurama. I saw a really great Leela about a year ago circulating on the internet; they hid the eyeholes in wrinkles and creases around the eye, but I really wanted to lean towards a much younger-looking Leela, if I could. This is made of DragonSkin silicone cast in a Rebound40 mold.
​
Are there any suggestions on how to make the eye slits less noticeable? I am thinking about putting some sheer pantyhose over the eyeholes to try and help. Unfortunately, I do want pretty decent visibility, and I am willing to trade looks for safety, since this is for DragonCon.
Any hair fiber recommendations for eyelashes? Pictured is just some jumbo braid kankelon, which turned out pretty fine, but I am likely making another attempt to fix the eye slit placement (this one is butchered!), so I'll be punching the hairs again.
​
Any recommendations on blending the lines on a silicone prosthetic? Will cabo-patch (aka bondo, aka thickened prosaide) stick to the appliance for blending lines, or should I just use the adhesive (Skin Tite by SmoothOn)? How does one do any color matching? I'm dying the silicone in the appliance and using flocking to try and match my skin tone as best as I can (some attempts more successful than others!), but since just about nothing sticks to silicone, I'm unsure of how to approach blending it on a final application. I might give in and just do a latex casting.
​
Any other suggestions on this project welcome-- it's my first foray into silicone facial prosthetics and I'm winging it as I go. It's been fun and I'm already pretty proud of it, even if I end up being a Leela with big ol' eyeholes!
PS-- watch out for Eyehole Man.
Last edited: