I won't lay claim to this method as I've basically followed the footsteps of a friend - Tvayumat - who made some awesome holsters using this approach :- but for the record here's my attempt at forming my own holster out of kydex.
The first step was to rough out a paper template for the holster using the various reference photos that are out there and comparing those against the Lawgiver I want to build the holster for - a Steve Rogers/Tangoed Fett LG kit.
Taking extra care to mark where the raised portions are in the spine to protect the fore sight and range finder.
I bought an A3 sized sheet of 2mm Kydex but the template in the end is just a little bit over A4..still good to have more than you need than to have less.
The next step was to build the wooden former/buck with some old 2x4 I had laying around.
Taking particular care also to sand/round off the top horizontal edges to give it a more oval top as per the movie holster otherwise the holster will be too 'boxy' and you'll end up with your Lawgiver rattling around instead of fitting nice and snug as it should do.
finally the last step was to handsculpt the aforementioned bumps for the sights. I've used bog standard air drying clay for that.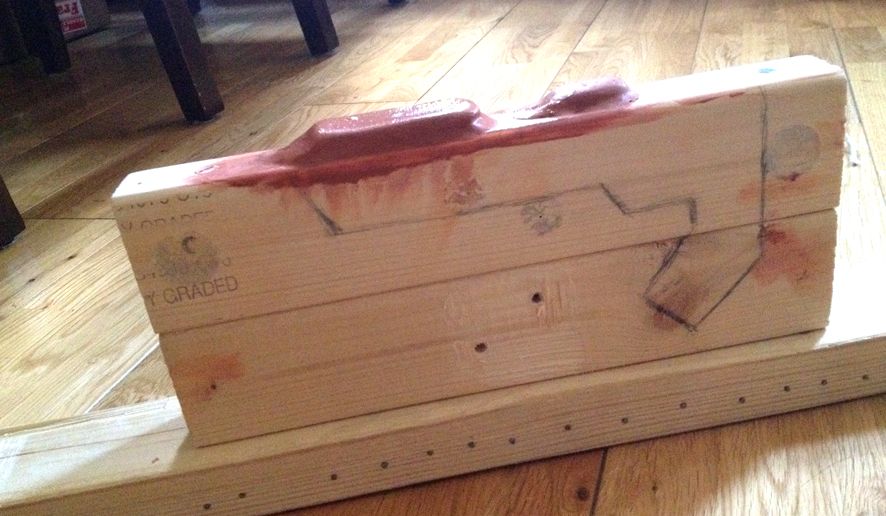 Then after slowly and methodically heat forming the kydex around the buck with a heat gun and trimming off the excess with a dremel as per my template I ended up with this lovely shell.
I then cut an end cap and basically hot glued it in (no photos of this stage sorry I got carried away)
And finally today I took some scrap leather I had laying around (approx 1mm thick) and some Evo Stick sontact cement and covered the exterior leather side out and the interior leather side in/suede side out.
The lawgiver fits reaaaaaaally snug and smooth now
- Only the strapping left to do....only...hmmmm
:cool
Last edited: