Master Member
RPF PREMIUM MEMBER
The Mjolnir replica from "Lager Toys" is easily found online, especially Ebay and has proven to be a good option for a relatively inexpensive Thor hammer replica if you missed out on the eFX replica or are unsatisfied with the Halloween Costume accessory version from Disguise.
While the overall design is pretty good - with the exception of some complaints about the thickness and length of the handle, the hammer head and pommel design as well as the real leather strap and the pretty box it comes shipped in seams to help make this a more viable option for collectors and cosplayers.
That being said, the actual paint finish on the Lager Toys hammer is less than impressive; as shown in the two images below, the prop features a very bland dull silver paint with a sub-standard black wash brushed on.
UNALTERED "LAGER TOYS" MJOLNIR REPLICA
What I'm offering here is a truly studio-quality overhaul of the finish on the hammer head and pommel. Instead of a matte-finish silver, you'll be getting an authentic looking AND feeling polished nickel finish with nice reflectivity and surface detailing exactly how the original props were finished for "Thor: The Dark World".
Making these alterations greatly enhances the overall appearance of the prop, changing from "toy-ish" to a very real looking piece for display or cosplay.
Shown below are examples of a refinished Lager Toys Mjolnir:
CUSTOM REFINISHED "LAGER TOYS" MJONIR REPLICA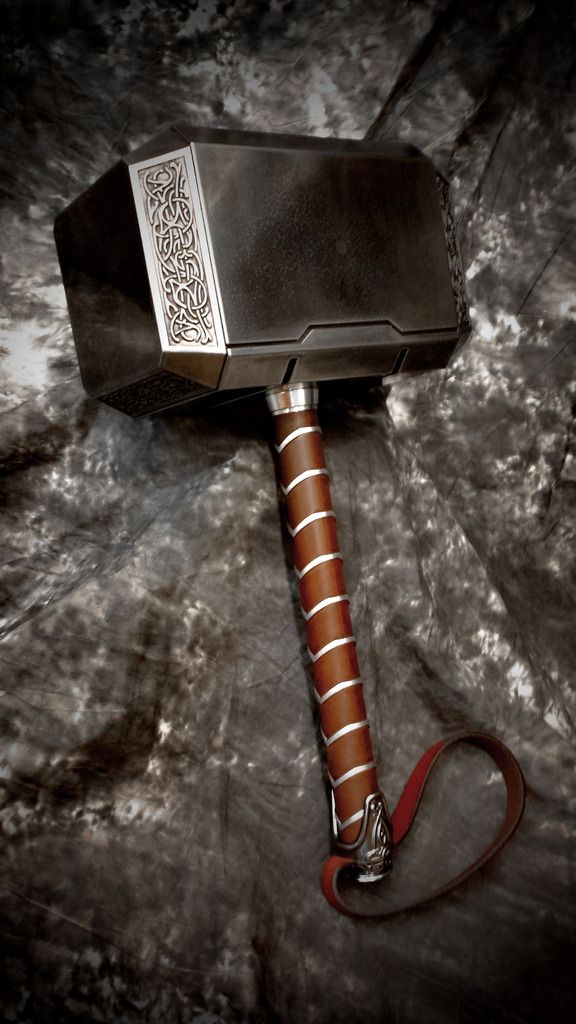 PLEASE NOTE
: The finishing techniques applied is an organic process. As such, the actual finish details will be unique to each Mjolnir but will overall look like what is pictured here.

Price to refinish your hammer is $125.00 + return shipping (billed at time of completion) THIS IS A SPECIAL RATE EXCLUSIVE TO RPF MEMBERS!

Customer must provide a Lager Toys Mjolnir hammer replica for this service - price listed above is for the refinishing service only.
Refinishing service includes a total makeover of the hammer head and pommel. No alterations will be made to the handle itself.
Seeing is believing for this service - it's a night and day difference! I exclusively use the same methods and materials used to create the finish on the actual screen-used props.
Please do not email me asking for a DIY tutorial, I will not respond.
How to hire me for this service

Contact me through PM and let me know you're interested and ready to proceed. Once we've made contact, please visit my website
www.afxprops.com
and fill out and submit the Project Submission Form after reading through the terms and conditions. Information on how and where to send your item to me is found on the project submission page.
Approximate turnaround time is one to two weeks depending on my current work load. If you have any questions, please contact me - I typically respond within hours (or sooner) to messages.
Thank you for browsing my listing and I hope to do work for you!
-Frosty
Last edited: