In a two week period, two total strangers told me I looked so much like Kyle, from the TV series Last Man Standing, that they, at first, thought I was him. I actually had to look it up, having never heard of the show. The show is hilarious to the point of pain, so I do recommend it. I knew I wanted to do this cosplay build. I first dug out some pants I already had and began to plan my facial hair and scheduled to have my brown hair bleached.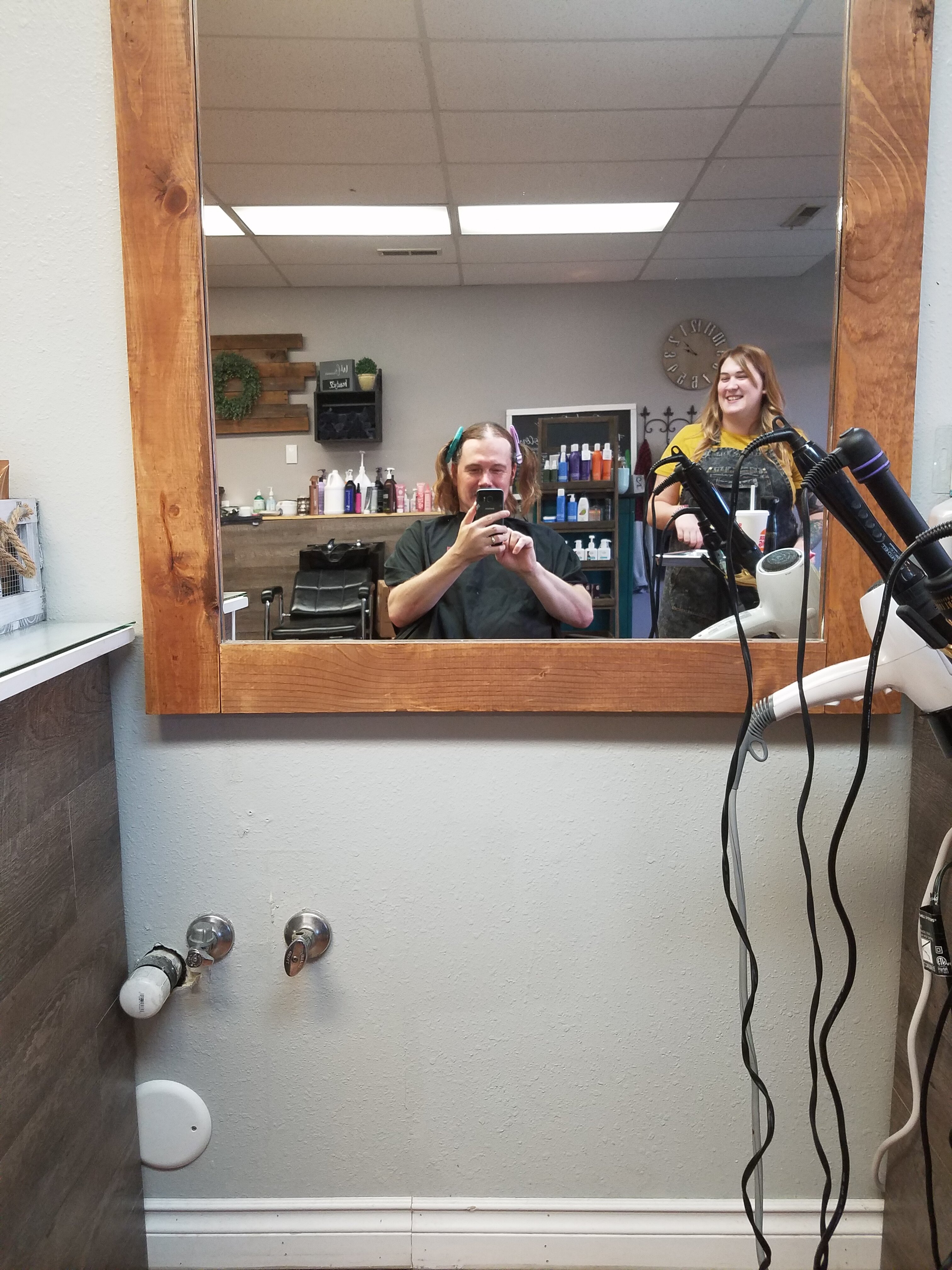 I do want to say, it took a pro to get my, at that time, tri colored hair back to a base blond from which I could slowly add color where appropriate as well as color my facial hair. Kyle has multiple stages of color in his long hair as well as multi tones.
During this time I was scouring the world for the costume elements: belt, shirt, shoes and hat. The hat was specific to this one episode only.
I custom ordered my hat and hat band to match from France's Bon Clic Bon, hat shop and they matched the picture I sent. They do have a US presence online as well:
French Millinery - Creation, Couture, Bon Clic Bon Genre
My order: Plumes Pour Chapeau - 8 - - Size: unique - Quantity: 1 - Price: 5.5
Classic Porkpie - marine - Label Buster Green - Size: 59 cm - Quantity: 1 - Price: 38
I then found the two prong belt at an English online shop, belt-designs.com.
My order:
Leather Jeans Belt - Double Prong Roller Buckle
COLOR:
Brown
BELT SIZE:
M (34-38)
I found the shoes on ebay, nicely worn to screen match.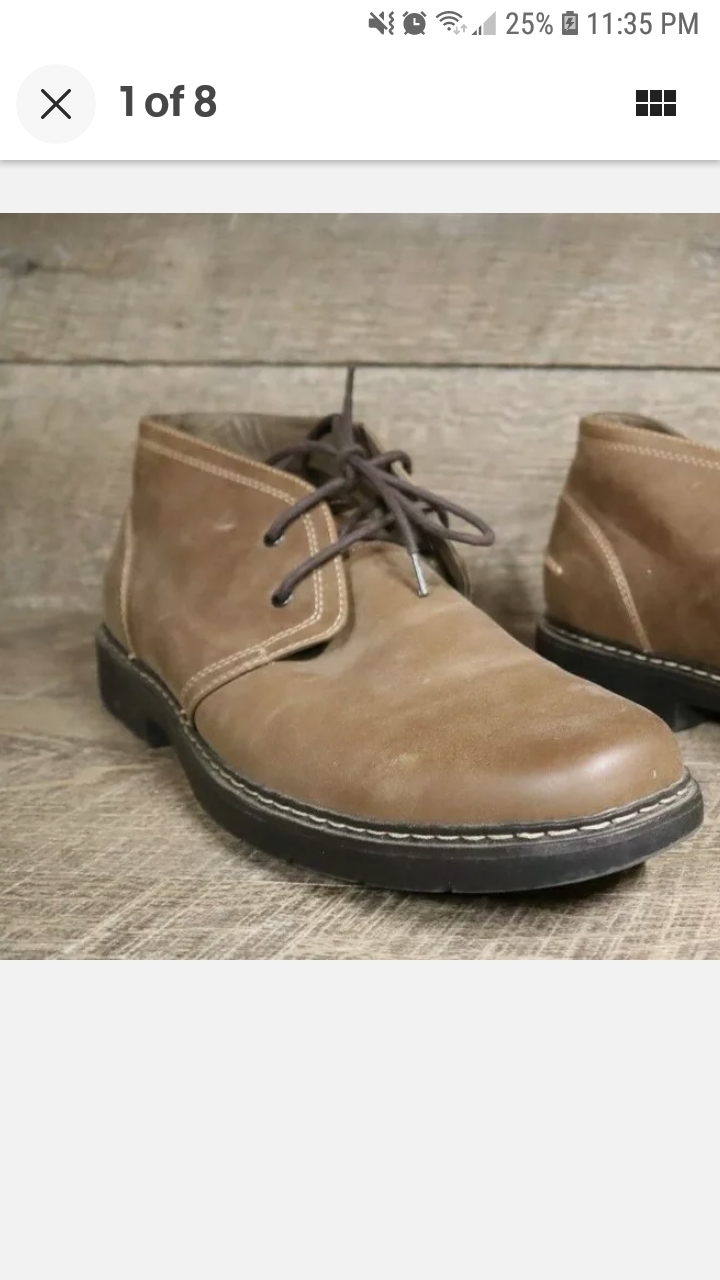 There are several brands that make a similar shoe, so find what works for your foot in this style and color. Brown laces.
The first step for the shirt was finding a match online. I bought three different shirts as the color on the first two did not match what they showed in the ads. Then I needed to create the art logo for the stores custom work shirts. The online screen captures of Kyle's shirt were all of low quality and never a flat usable image.
I captured a nearly clean image of the company icon, a jumping fish, as displayed in a scene showing the front of the Outdoor Man store, and a usable template photo of the shirt logo. The shirt design is different than the logo used as the large sign on the outside of the store. I used the fish image, built the frame for the lettering and built the custom logo font by modifying the letter shapes from another close font found in Photoshop.
The shirt logo was first ordered online as a print which was too shiny. Second order was online embroidery which was too highly detailed, unlike the washed out true screen version. The third was from a local shirt shop where I could talk with them about what I needed.
The shop, Paramount Printing in Roseburg Oregon, (
https://www.paramountscreenprinting.com
), purposely dropped my provided Photoshop image to 7 color stitching and modified the stitch file on screen, before stitching, to match the show's shirt logo stitch file colors (finished shirt is top of the three stacked in the image below). And yes, they still have the file available now for anyone to order these shirts ( not to buy the file ). I am not affiliated nor will recieve any income from same. I wanted them to get some benefit from this awesome custom service, as they charged me the normal price for a single run embroidery.
After a change of buttons, I was able to complete the shirt.
I then made some fake teeth using an online tutorial that was pretty down and dirty. Wire, hot glue and nail extensions.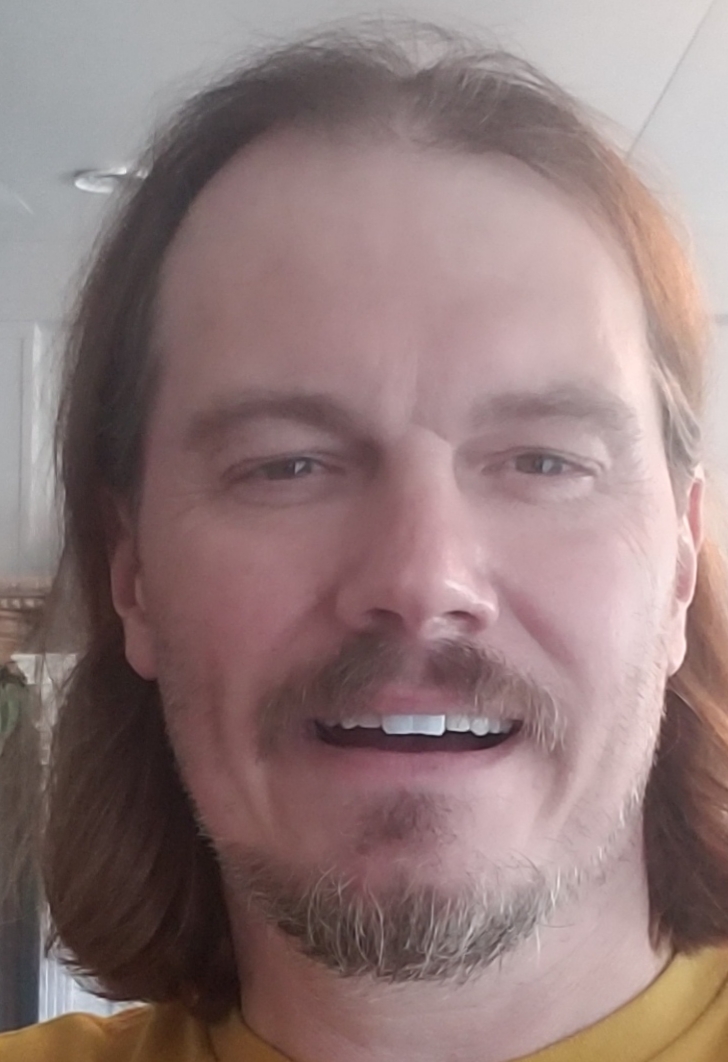 This definitely captured Kyle's smile.
Then came the pain. Actual pain. Kyle, real name Christoph Sanders, has a really patchy set of facial hair. I had to pluck my way down to a screen match.
This is the closeup pic of the actor. Much pain ensued and I was finally ready for my posing. Note the above pic is backward, as I needed to match by plucking my own hair in a mirror. Then out came the green screen and I pasted me over Kyle in the following scenes.
And finally, for comparison, Kyle Anderson as played by Christoph Sanders:
Last edited: