Well-Known Member
RPF PREMIUM MEMBER
hey all!
so this is my very first post regarding my own personal projects!
Mjolnir is one of those props I have been obsessed with for quite a while now. and like many others here, haven't really found a replica that does the screen used ones justice.
i think it is widely agreed upon that the EFX mjolnir is a fantastic replica of the hammer however based upon an outdated design.
and i also think it is widely agreed upon that the King Arts Mjolnir is the best example of the latest design for several key reasons.
1. its the right size and shape
2. possesses the most current design
3. is made of metal
4. has the closest match to the metal chevron design/shape on the handle
5. has the correct inner stitching pattern on the inner leather strap
however there are a few short comings that doesnt quite get this fella over the finish line:
1. hollow as a tin can (will post video clips of this)
2. horrible paint job
3. and less offensive, the leather on the handle is actually cast rubber
the biggest challenge with this hammer was actually finding one for sale at a price i could sleep at night with. these are surprisingly scarce and when they do pop up, they are insanely expensive.
well after ages of searching i FINALLY located one.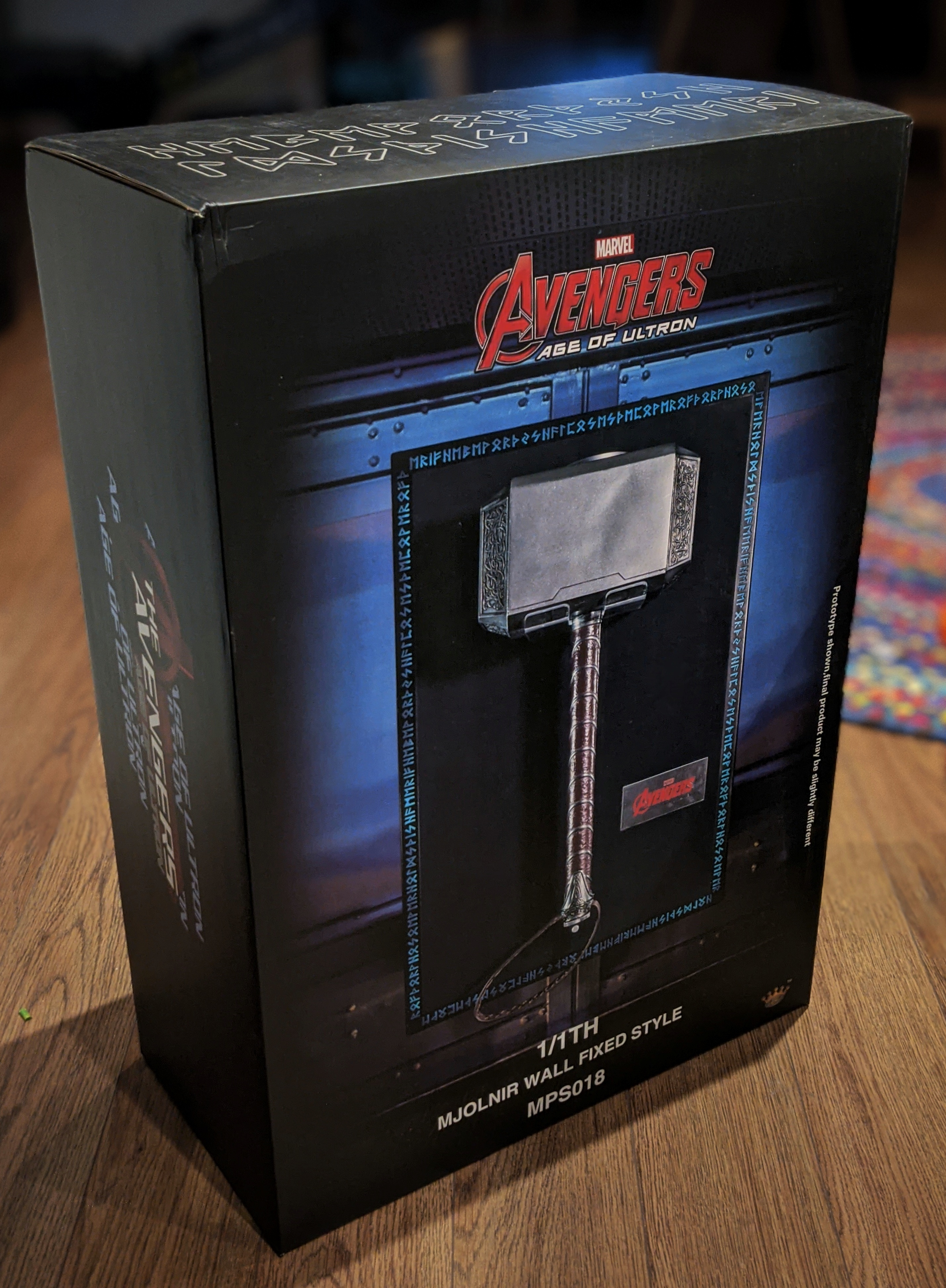 now that i have one, the first step was to pull it all apart.
i want to give a MASSIVE shout out to
Heyjude7
for all of his support and advice when tackling this project. he went absolutely above and beyond and i am eternally grateful. he tackled this same project years ago and was happy to share his knowledge.
so pulling this sucker apart was incredibly difficult. in particular, unscrewing the handle to the hammer head.
for the wall mounted version the hammer comes in tact. however for the pedestal style i believe it comes separate which would have been nice lol.
loosening the epoxy grip inside the head was a herculean effort, and several times i thought i was going to break it (thanks Jason for reassuring me that i wouldnt lol)
but i guess eventually i was deemed worthy and it loosened!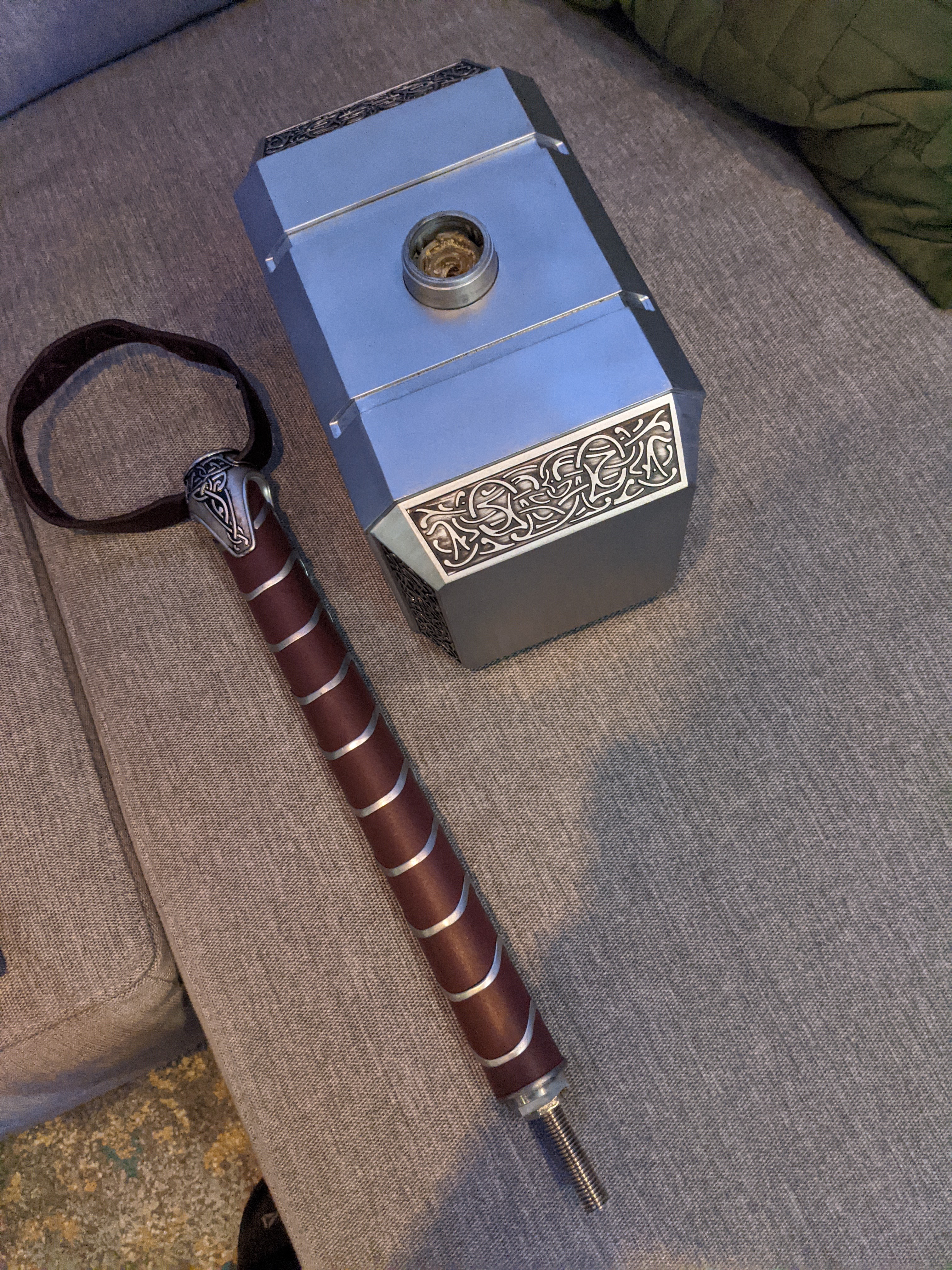 now that it was separated, i decided to begin the paint stripping process.
after chatting with Jason, we deemed that the best method would be the good ole fashion manual process, fine grit sanding and wet sanding.
i tried several other chemical options and they werent successful... i also have a 4 yr old son and was hesitate on trying anything too toxic in the basement as im not familiar with ANY of this process.
so manual sanding began!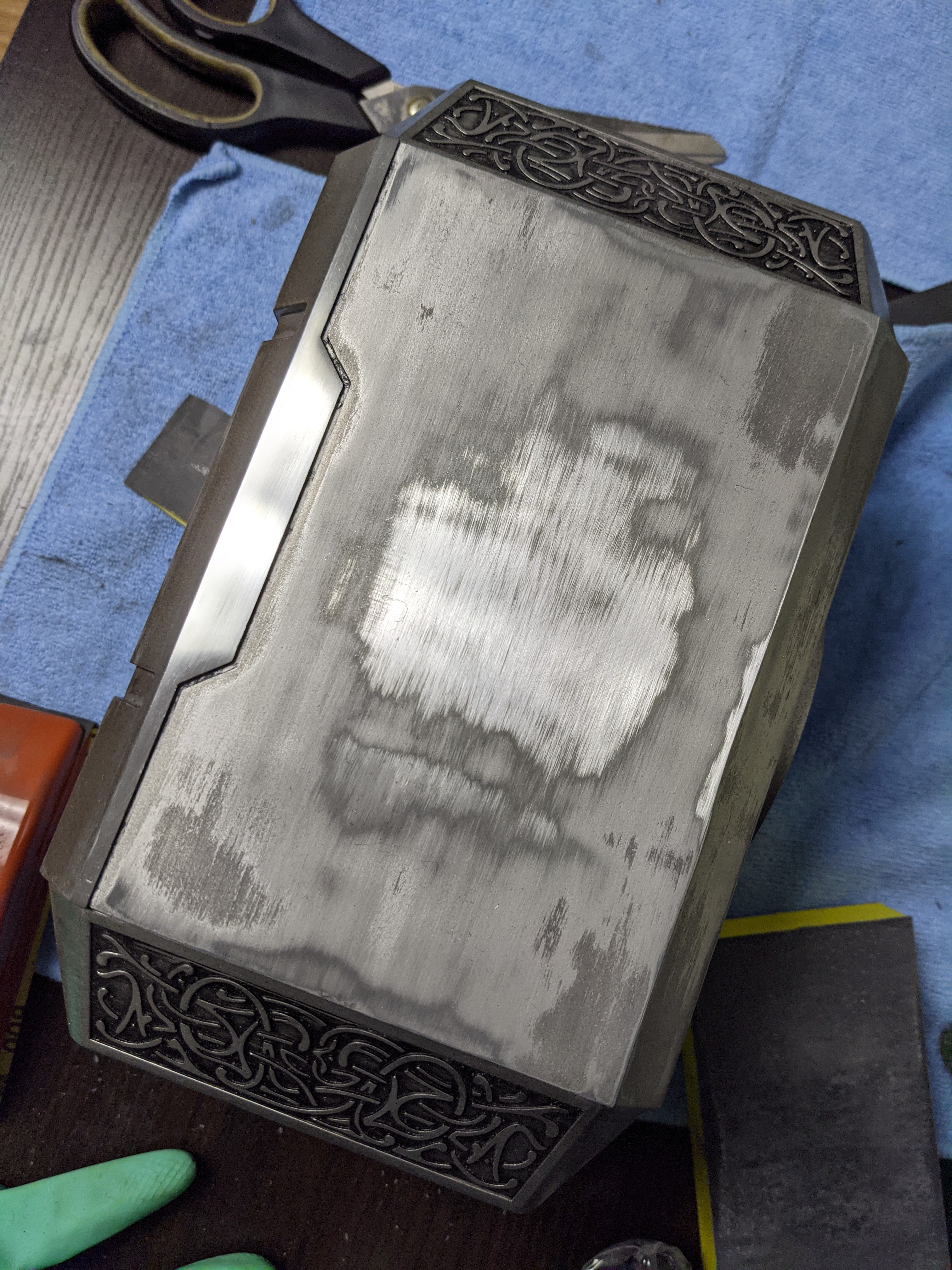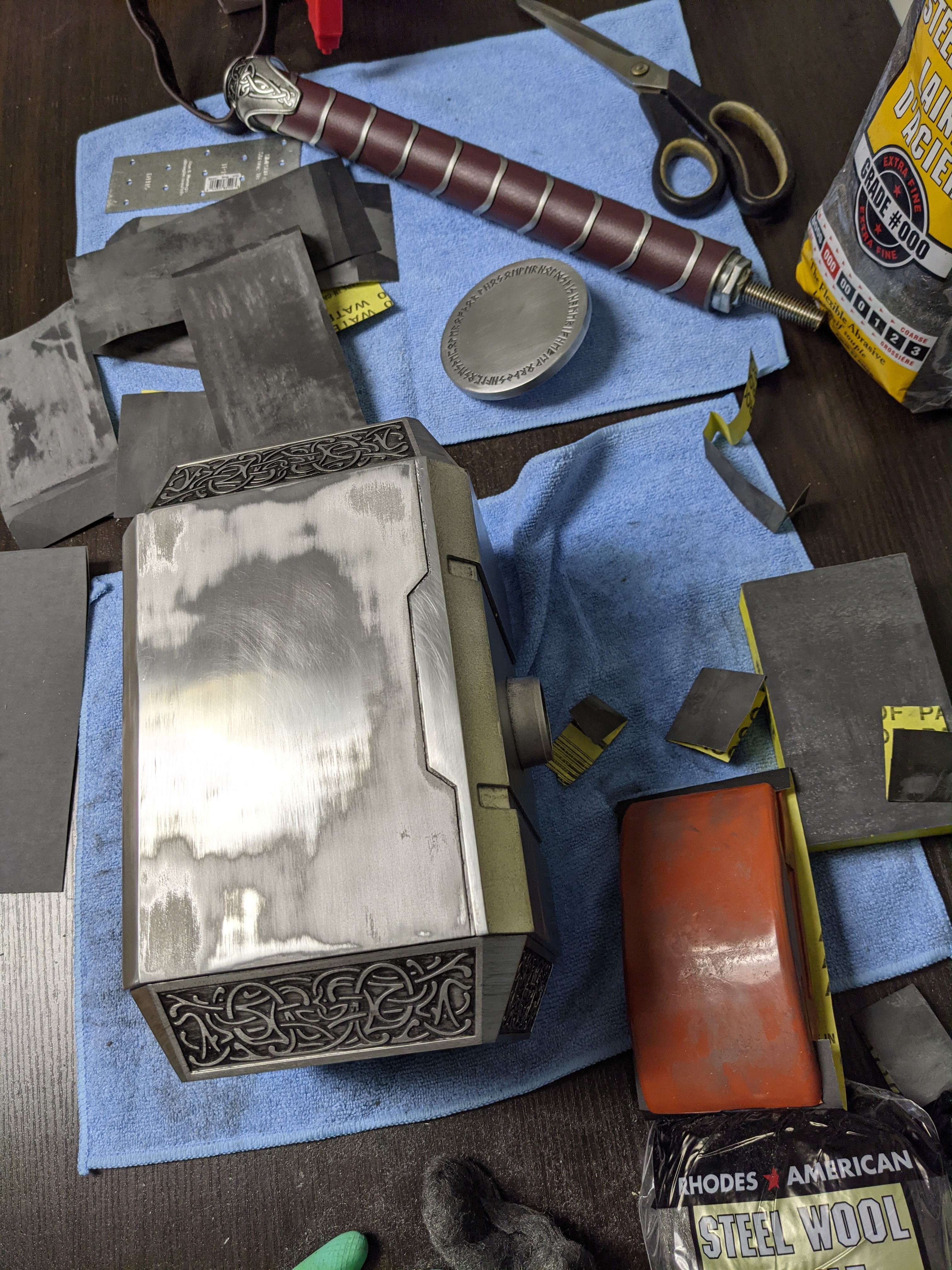 after 2 days in my off hours i finished 3 sides! LOL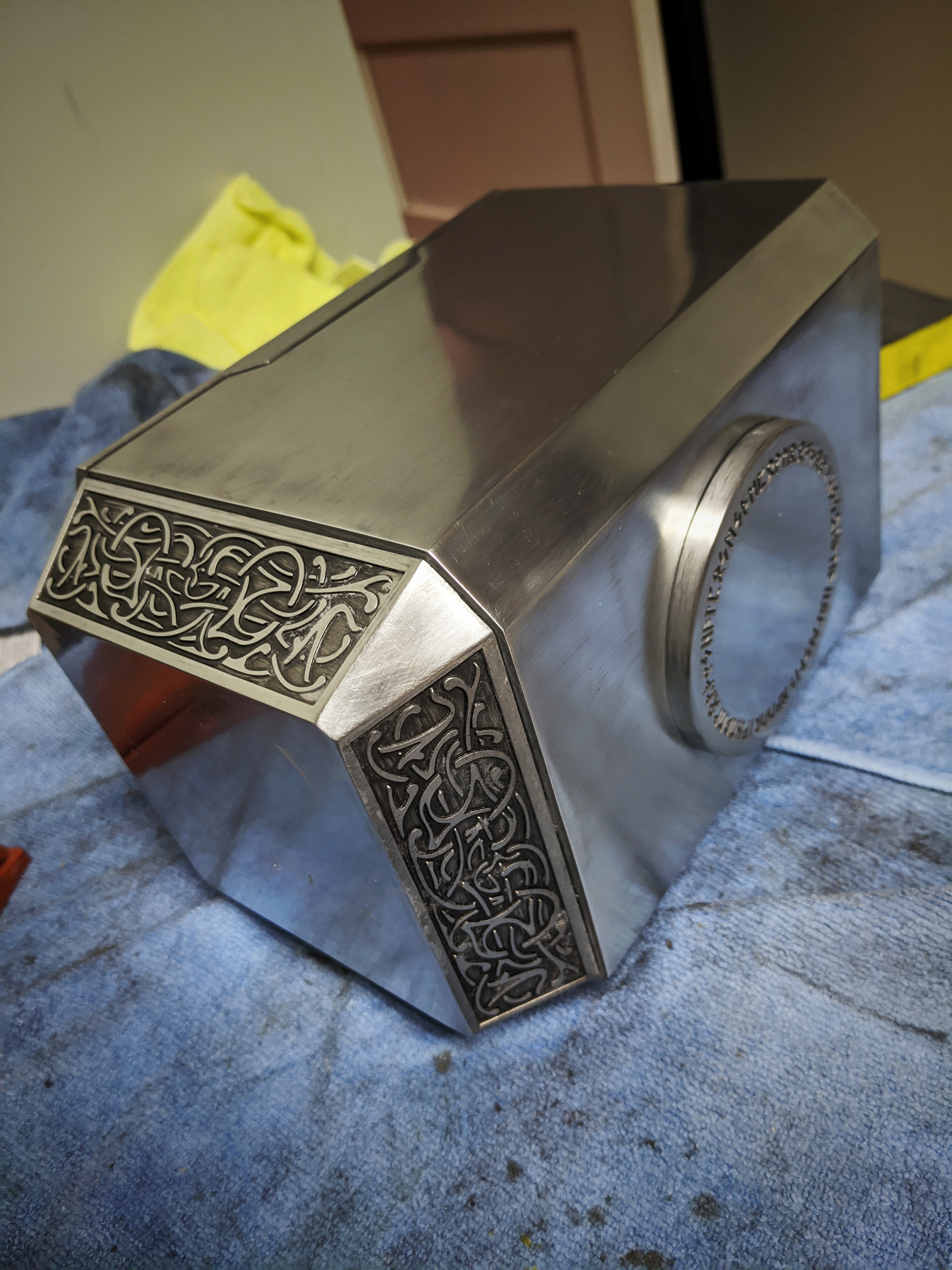 during this stripping process i couldnt for the life of me understand WHY King Arts covered up this beautiful metal... i do know the reflectivity of the metal from the avengers moving forward definitely did get more matte... and i can only assume it was for filming purposes and not having to deal with reflections of the camera and crew... so it makes sense but i digress.
this metal is absolutely stunning and was incredibly excited to see this hammer literally come to life as i stripped and polished.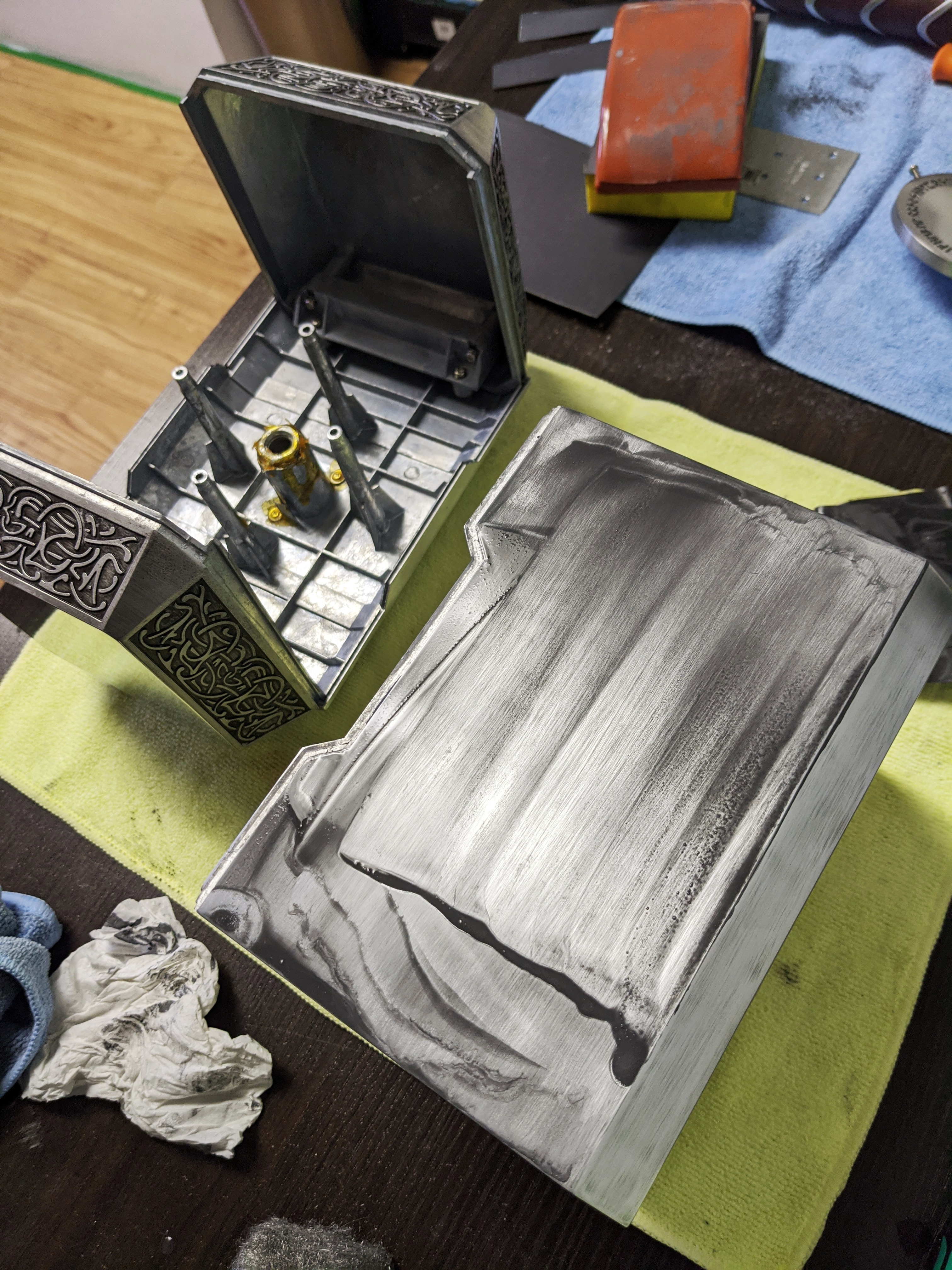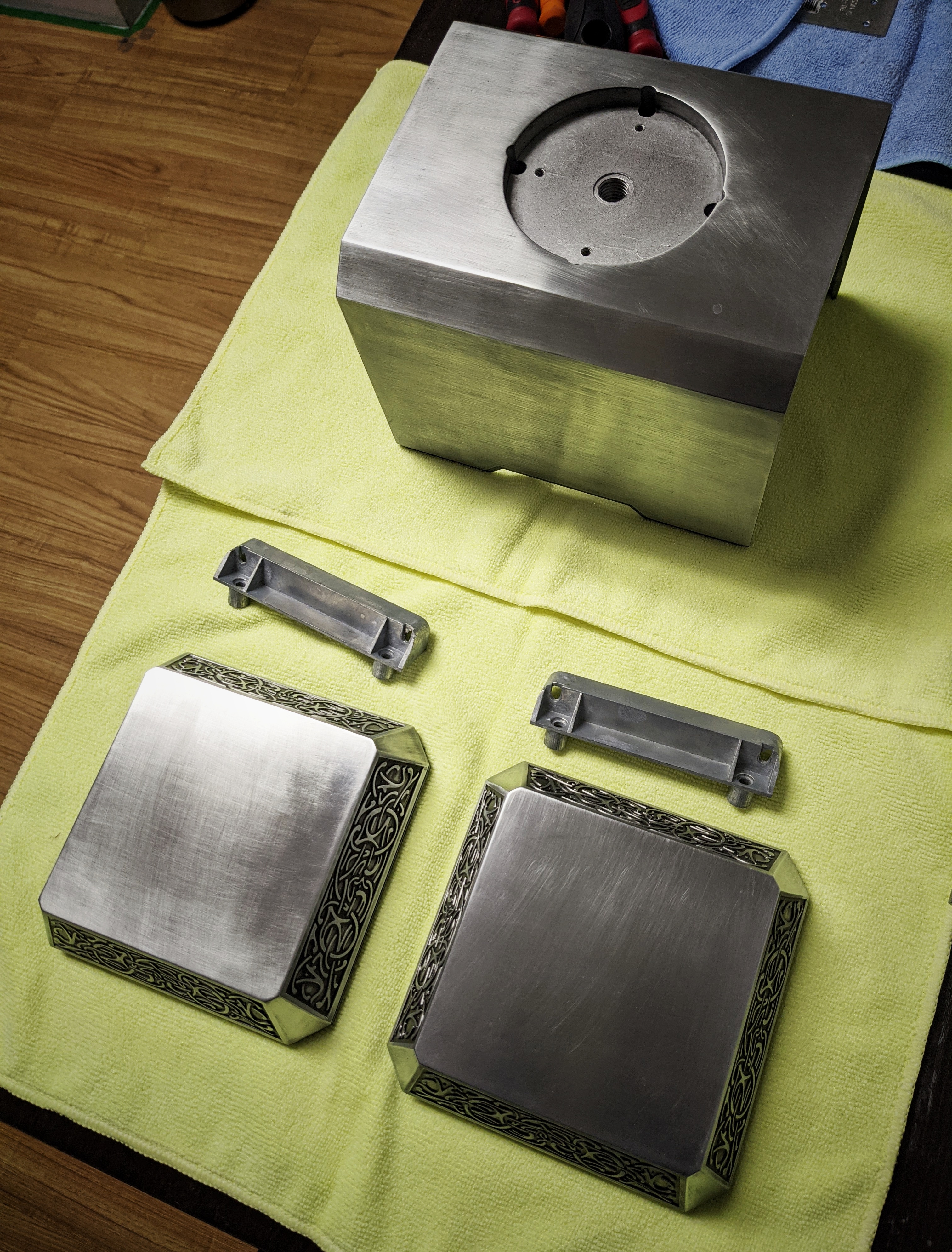 as for the materials, i used
600 fine grit wet sandpaper
to strip the paint and then
0000 steel wool
to polish and buff to a mirror shine.
next step was to polish all the metal chevrons on the handle and pommel.
the right 4 chevrons are done and the left half isnt for comparison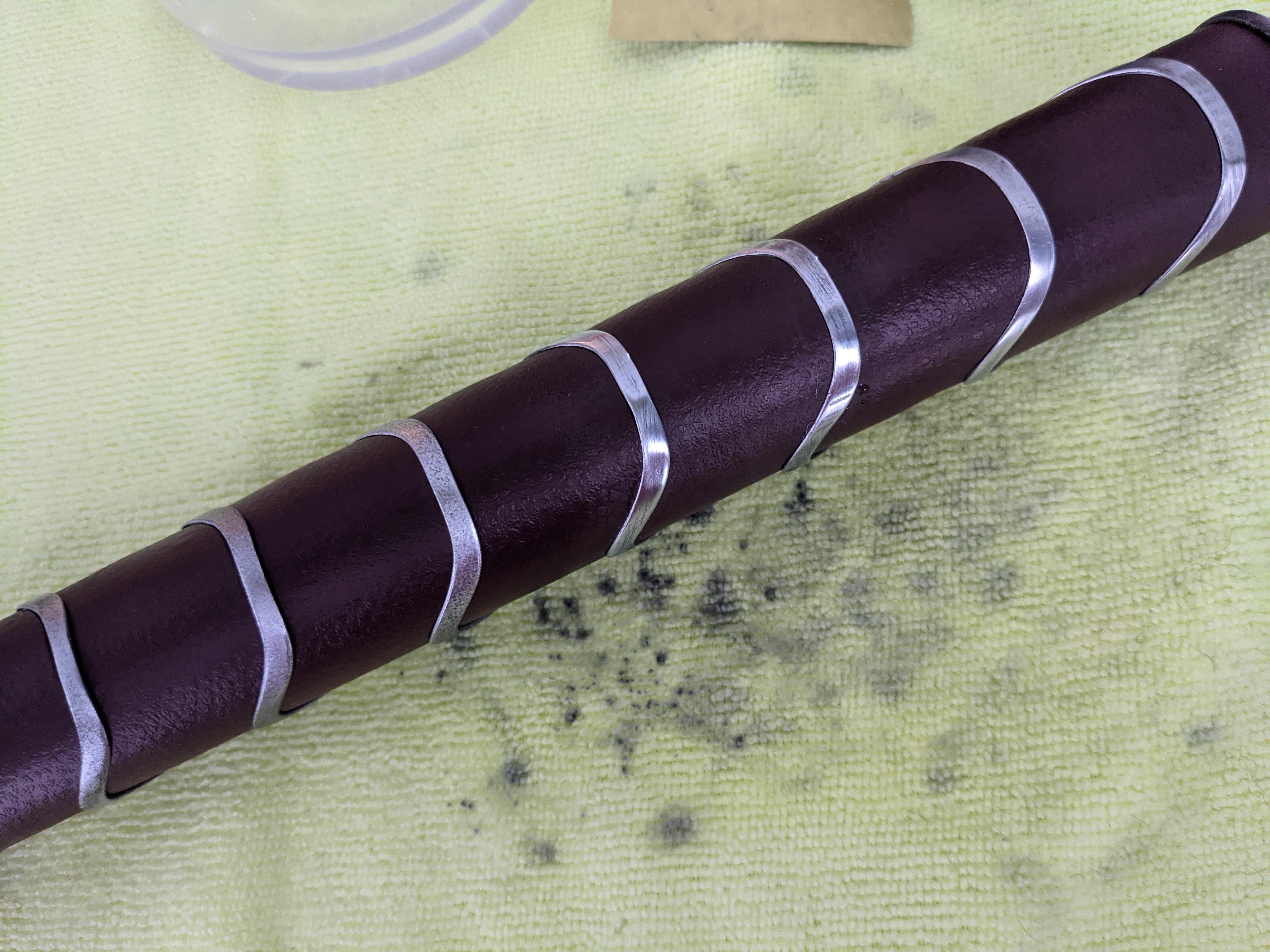 and after 3-4 days i finally had a BEAUTIFUL clean Mjolnir!!!
i will stop this post now and continue in another with the next step:
FILLING THE HAMMER!
thanks for looking!
Last edited: