Hi All, how are you?
I just finished my Hattori Hanzo Blade from the KILL BILL films. It started at the end of June and finished beginning of September. One hour or so during lunch breaks and a couple of weekends. Would you like to know more? Read on.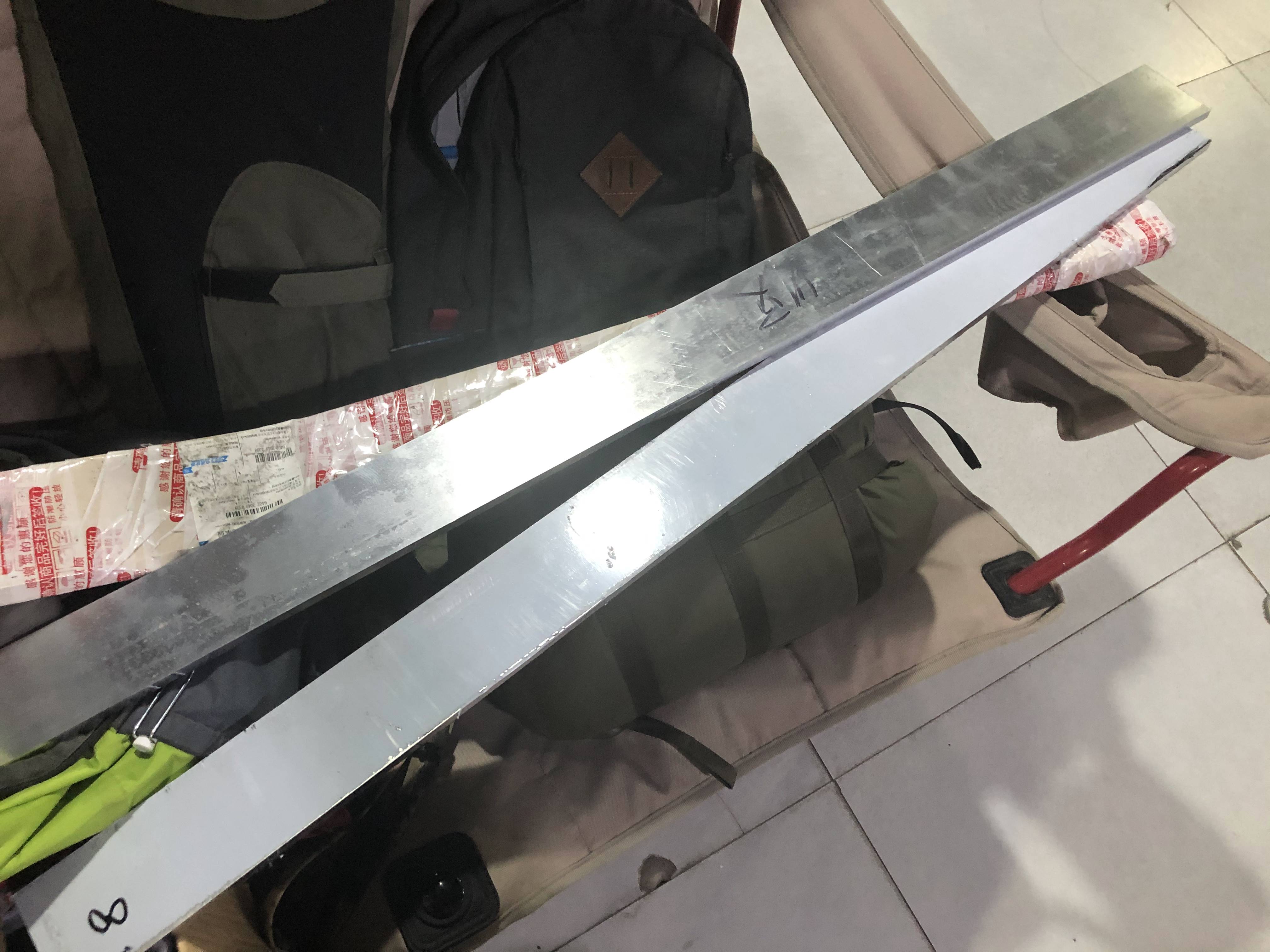 These are two pieces of aluminium, 5051 and 7076(I think, can't remember). I used the 5051 for this one because I have other planes for the harder metal.
Template was created from 3D model I did in SolidWorks, with calculated curvature, length, thickness and sizes. At this point, I hadn't decided what sword to make, so the length of the bride's sword is wrong.
Trivia, did you know, the sword geometry is 70%? the top of the edge before the point is 70% of the bottom of the edge, and the thickness of the tip before point is 70% of the base of the edge?
So I basically mapped out everything and printed references, taped them to the metal before cutting and shaping. And because it is aluminium. But boy I was wrong. it is so much harder than I thought and expected.
Bought new tools, this is just part of it. Angle grinder, table top belt sender platform and others. I have some files and other tools for my previous projects, wood hair pins for my wife. If you want to see them, let me know. They are quite beautiful, if I do say so myself.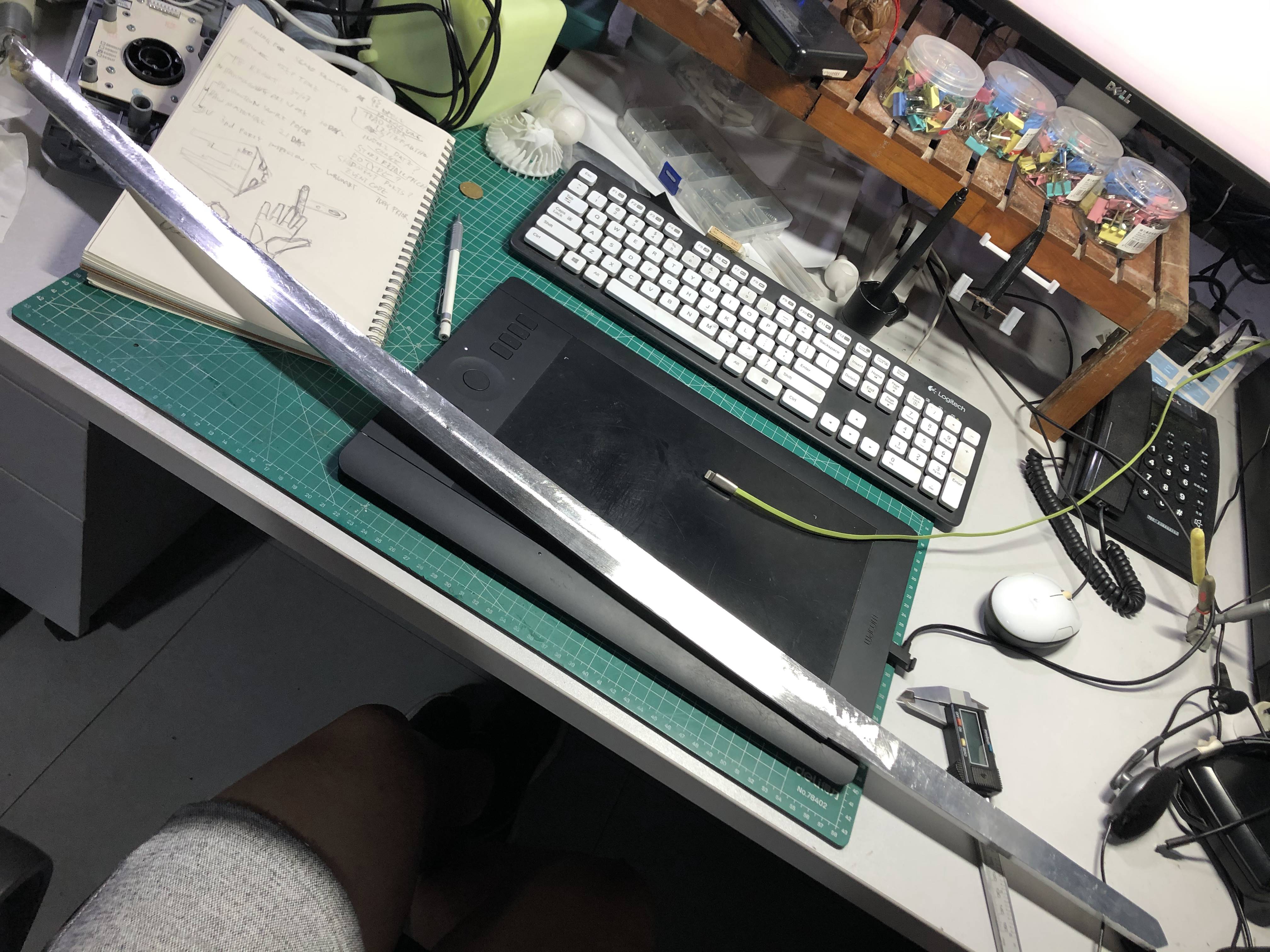 First few passes after cutting the basic shape out of bend saw. The aluminium is 8mm, 1.5+mm thicker than the design, so it took many hours so grinding, sanding, filing and sanding and ...... you know the story.
So the shape comes out quite alright, I guess. and it is really hard. It was middle of July here where I live and it was hot to work on this by hand. But after all, I found it is actually better to use file than the belt sander. But that probably only because the sander is too small and inadequate.
The tip was shaped and I over worked it a little, this would come back to haunt me later on.
Not much to say here, just to showing off the incredible work that I am doing!! hahahah

I used markers to map out where the lines are and where to chip off. Remember I said the metal is much thicker than the design?? At this stage, I didn't touch the handle, because I need it to be flat and "square" so I can clamp it down firmly, without worrying if the whole thing is crooked in anyway.
The shape and thickness of the blade portion is more or less done, so this was the first pass on polishing. Again, this is aluminium, not steel, and it is a prop, not real sword, so I'm not going to make it sharp in anyway. Just saying. The polish looks alright, I used cotton wheel on grinder with polishing was. No, I think I just used high grit sand paper(2000) on grinder here.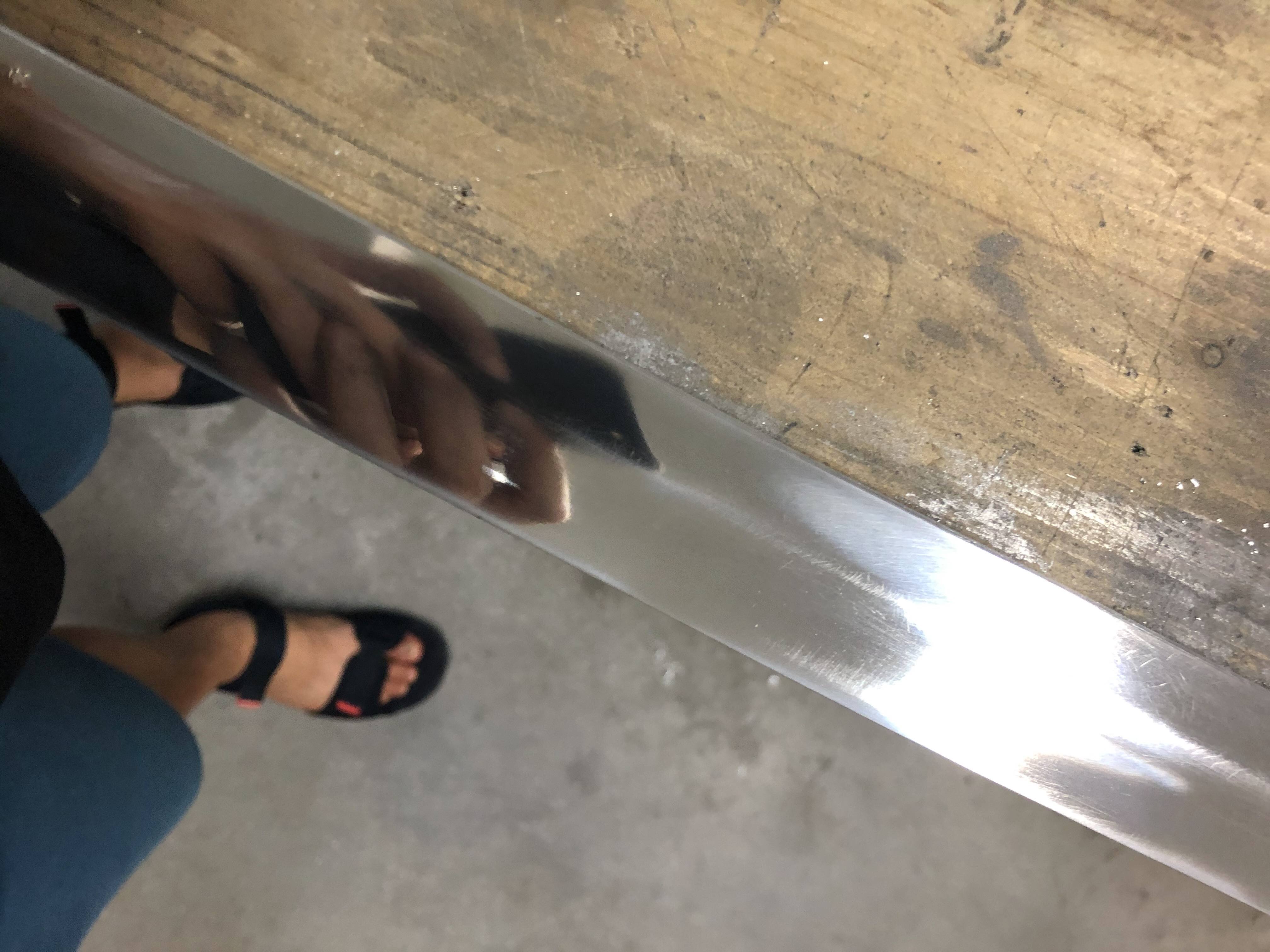 Now, here I used was polisher, you know, the green and purple and white chucks of polishing compond.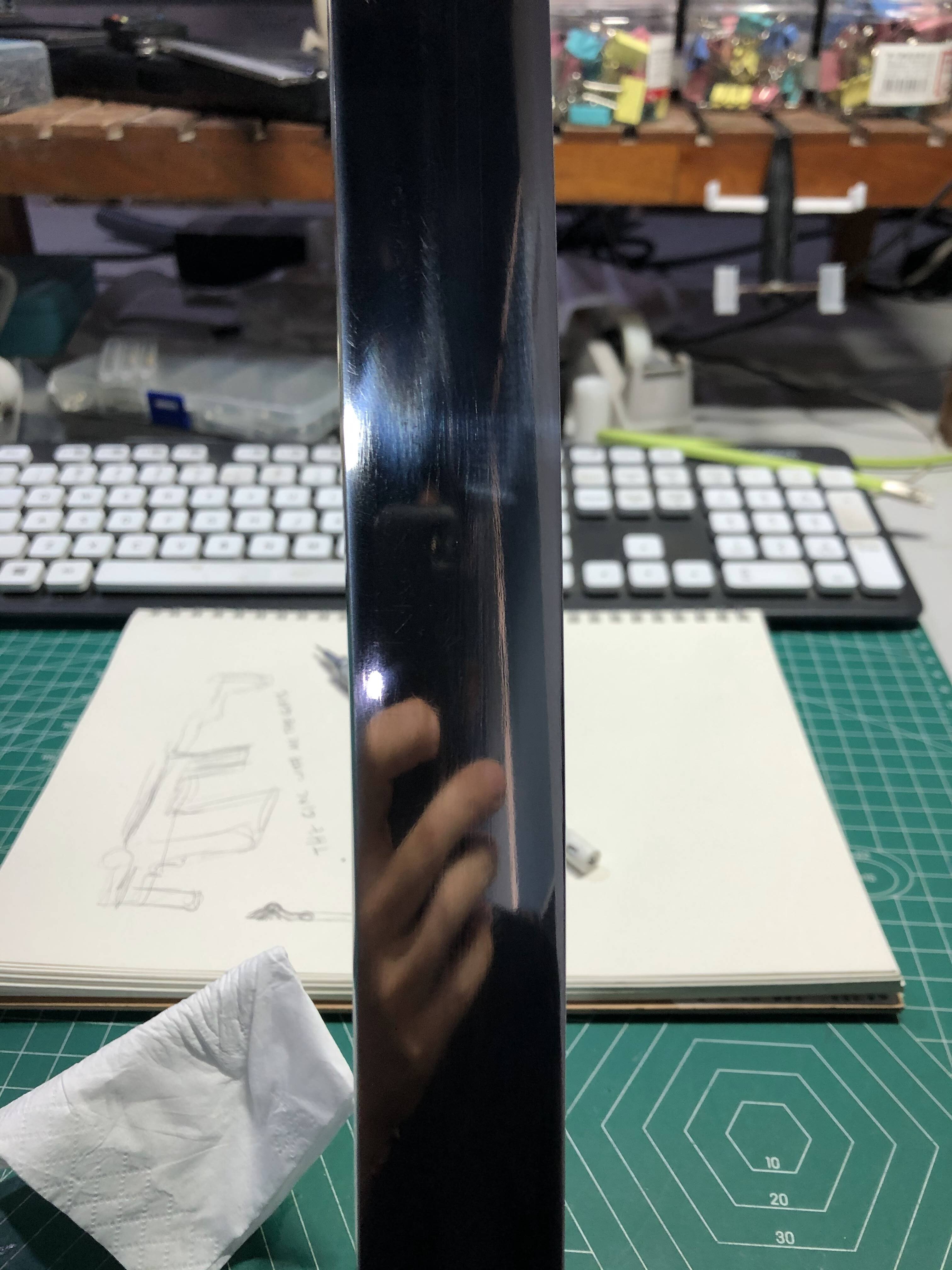 Not bad, ey! Almost like a mirror.
Obviously, there were a lot of thing went on between these two images, but I bought tools, again, to make the scabbard. I remembered Adam Savages' words, buy the cheapest, crappiest tool for the first time, before I know them. So here the yare. Plans and chisels. All for just a buck and fifty. Just kidding, but they were cheap. I ended up buying two the small plans because I MODed one to be inward curvature cutter(concave). And didn't use the other one at all. -_-!!!
10mm chisel. I realised later on, that this is just too small, so I bought another 30mm one. Boy oh boy, sharpening these tools is a nightmare of its own level. I printed some honing guides and posted them on Thingiverse, if you are interested, go check them out, search my user name should be able to lead you there.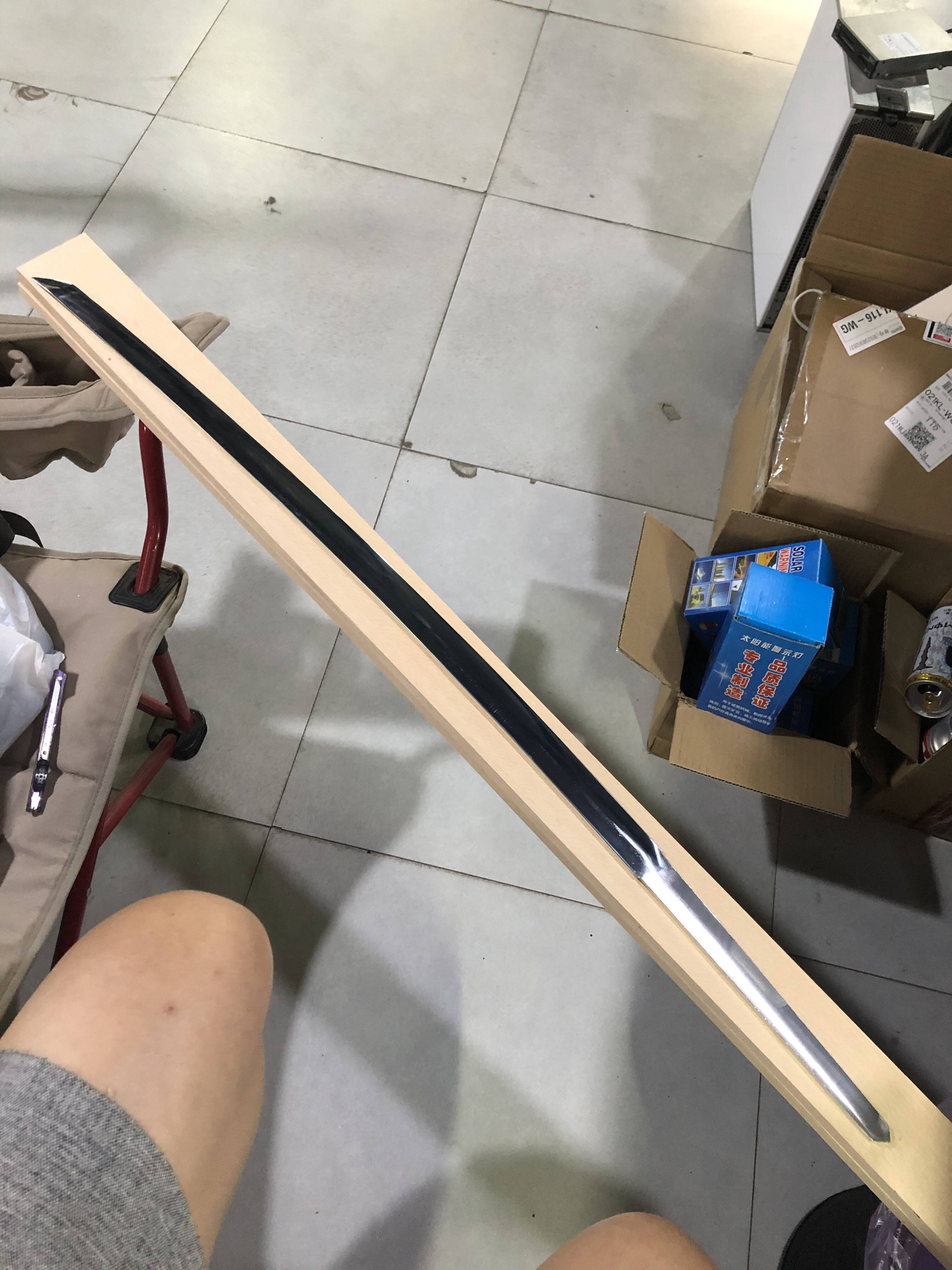 Wood work!!! First time and not the first time. My wife's hairpin were much smaller in comparison. And this is.... I don't really know the name of the wood in English. Sufficed to say, it isn't the best for the job, but it's what I was able to find that makes the size. So, I had to deal with it. It is kinda soft and if you set the plans right, it chips well. Doesn't sand too well and engravers' bed dream. Or maybe it is because I don't know how to do those things and had to learn them from scratch. Anyway, you will see the end result at the bottom, so I guess it turned out OK.
Yea, this is one of the honing guide I did. Works OK, but if you can find a bolt with section without thread, it may work better.
Right, accessories and furniture. Cast parts, really brass, real ray fish skin and real buffalo horn. The Tsuba is steal and it is terrible, so I ended up commissioned one.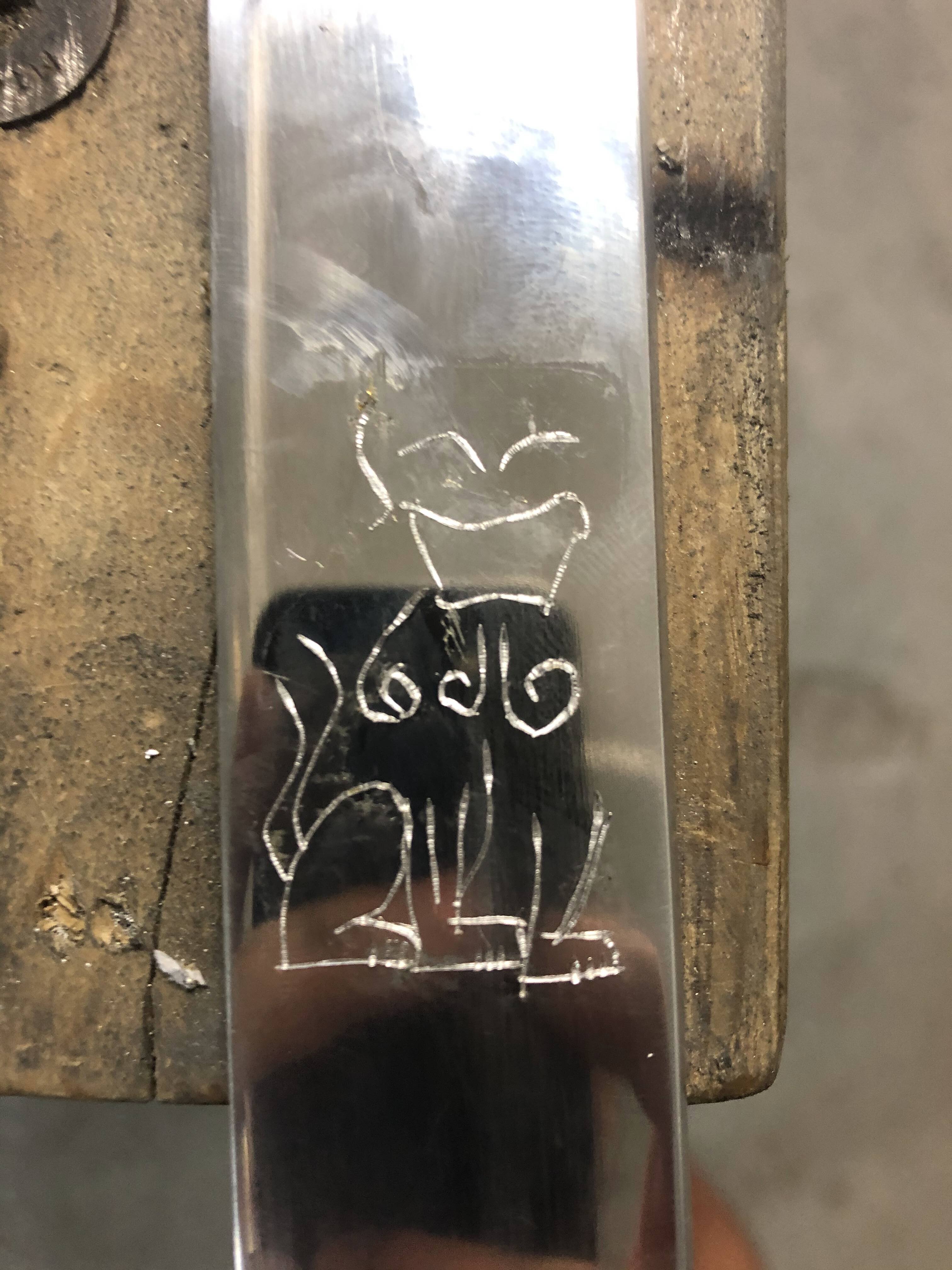 I bought one 4mm square HHS rod to make the engraver chisel. Something that's most defiantly needs some practice before actually tackling the real deal.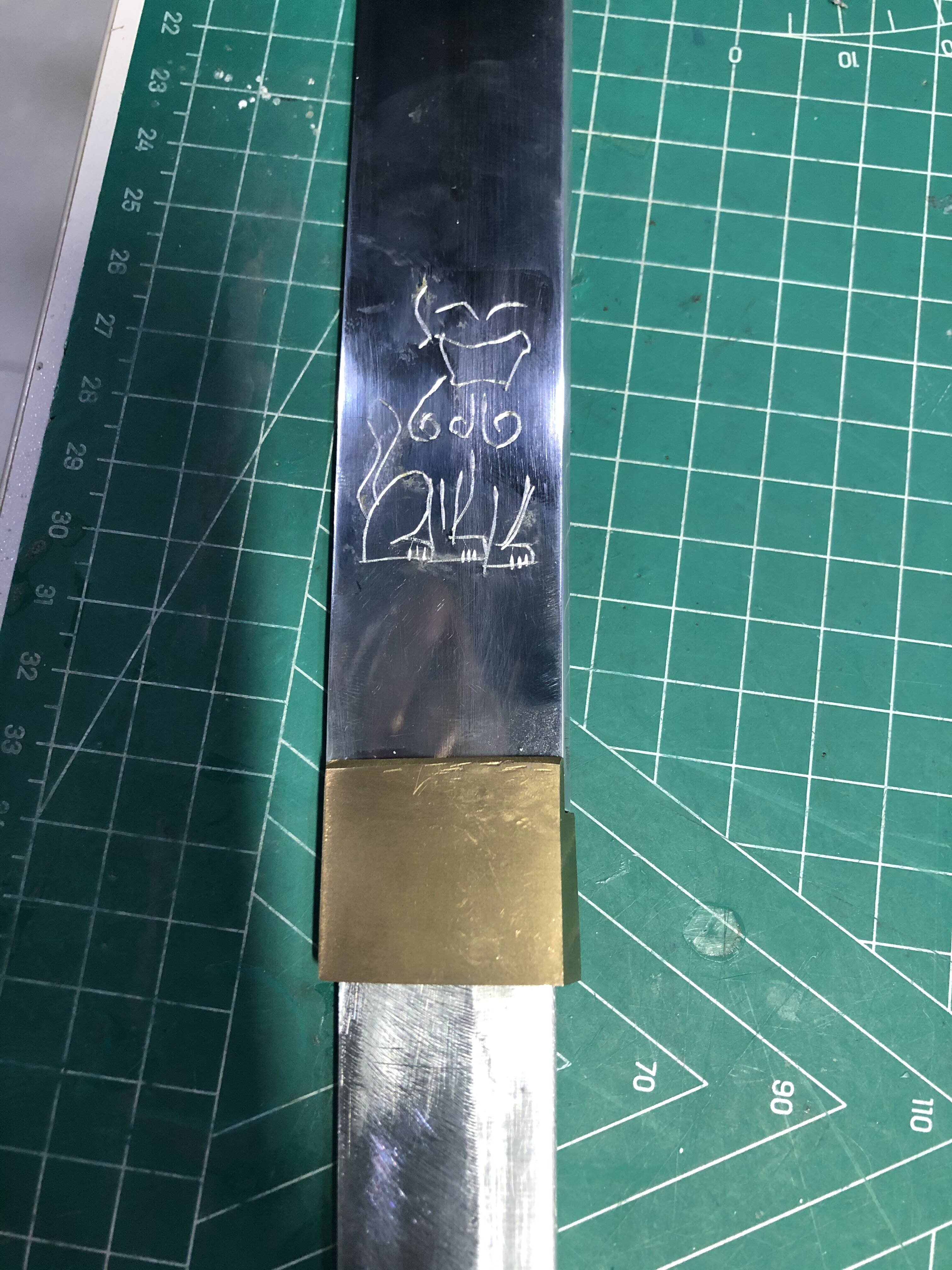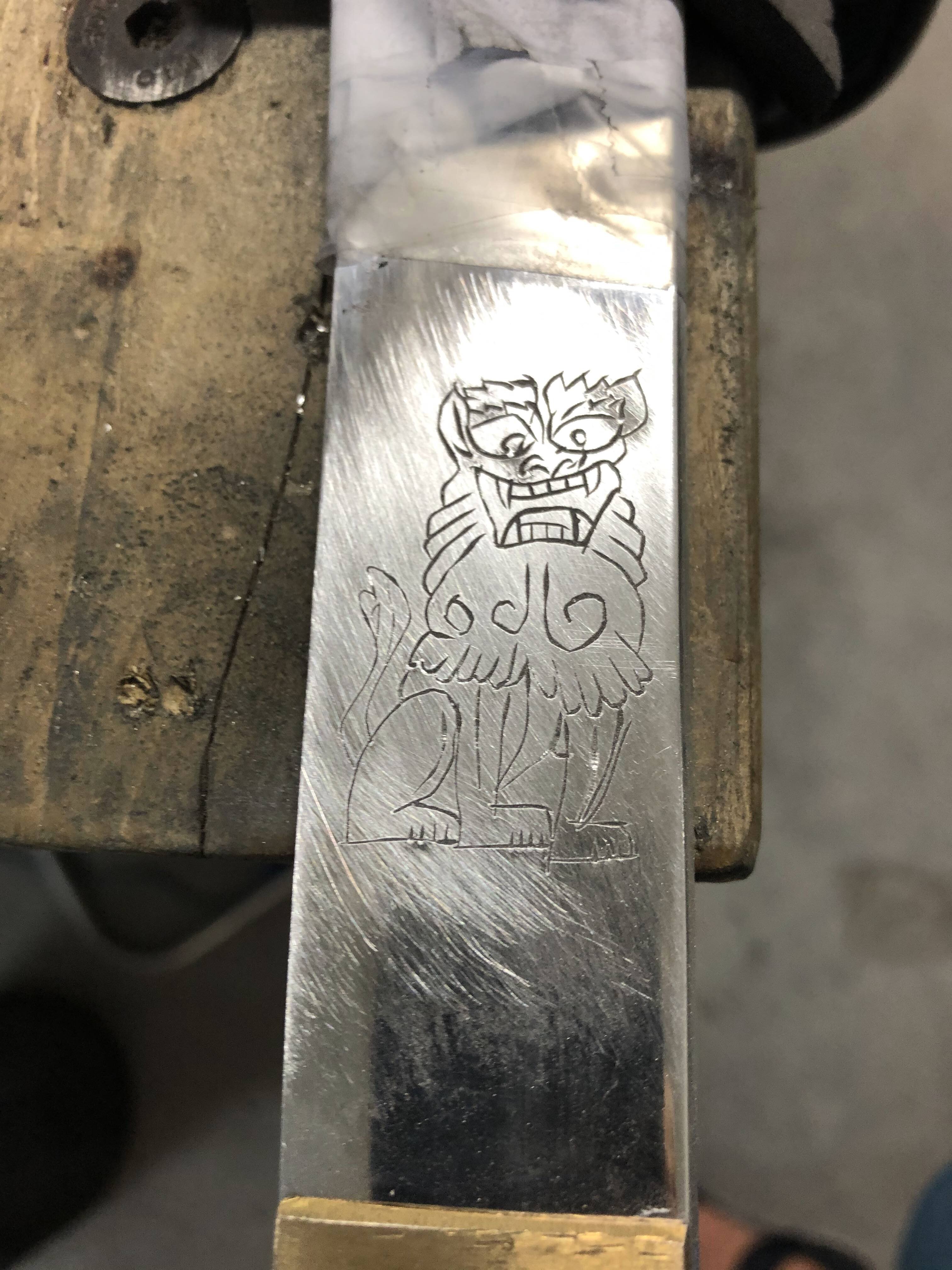 Finished on the foo-dog, is it called? No idea, its all just from the website I found.
Hattori Hanzo Sword Build
. In retrospect, I found the website before Adam did his show and tell one this sword, but his video on the rack and Excalibur had likely tickled me to make this one and may be the next one. Secret, don't tell anyone, my real goal is to make the Bbabydoll sword from SuckerPunch. But mapping the engraving on that sword is..... I don't need to say, do it?
Here you see, the saya is half way carved out, with a straight chisel and hand. You don't need pro tools make anything, I think I want to shout this to some people around where I live. But I doubt they will see. One thing I never really searched for and found out is the empty space at the tip of the sword, what is it for?
Many section of cutting bit, fitting and so on.
Slightly loose at the tip, but is ok, because the "mouth" needs to be shaped as well, and the Saya will get shorter. I'm just going to change and call it Saya, because it easier to say/type than Scabbard. and it is handful of terms that I know... hahahaha.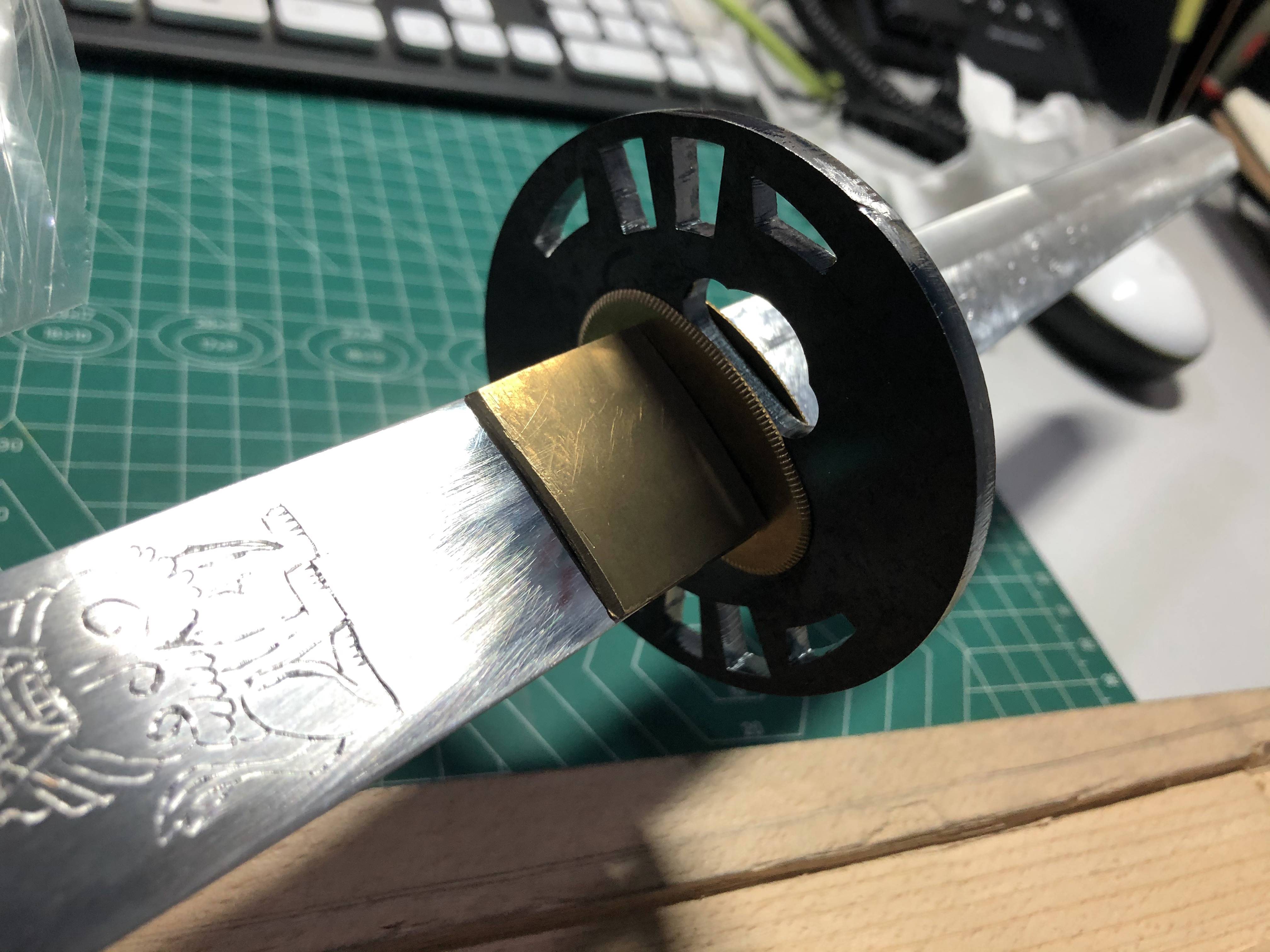 Right, this is the Tsuba I was talking about, commissioned a slab of steel. Mostly left as it is, only filed the edges a little.
You'd say this looks nice and even at this point, but it ain't. Still much to do.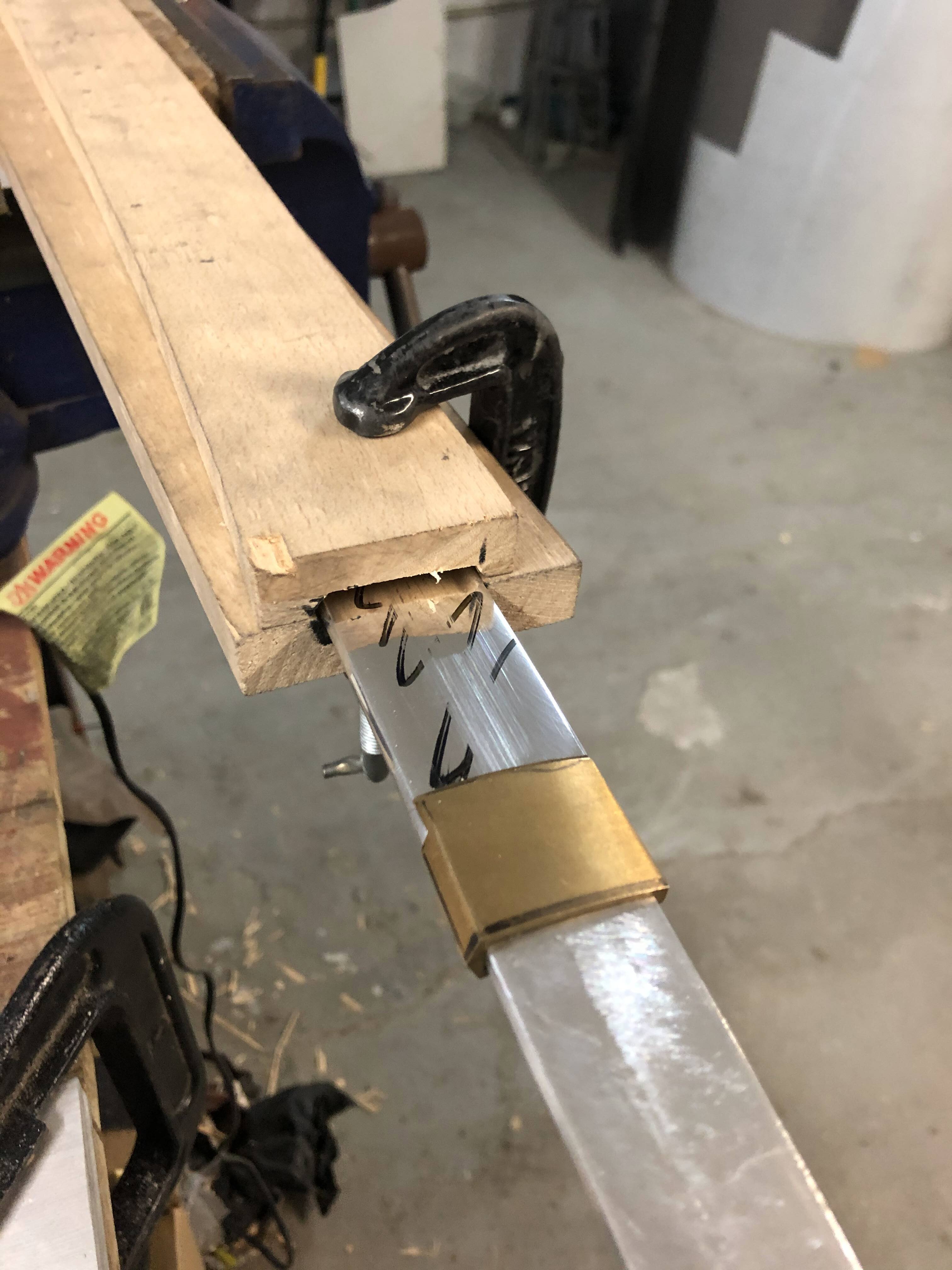 I was being clever and thought if I mark the blade and slide it in and out of the Saya, then I'd see where needs more TLC, but only worked a little.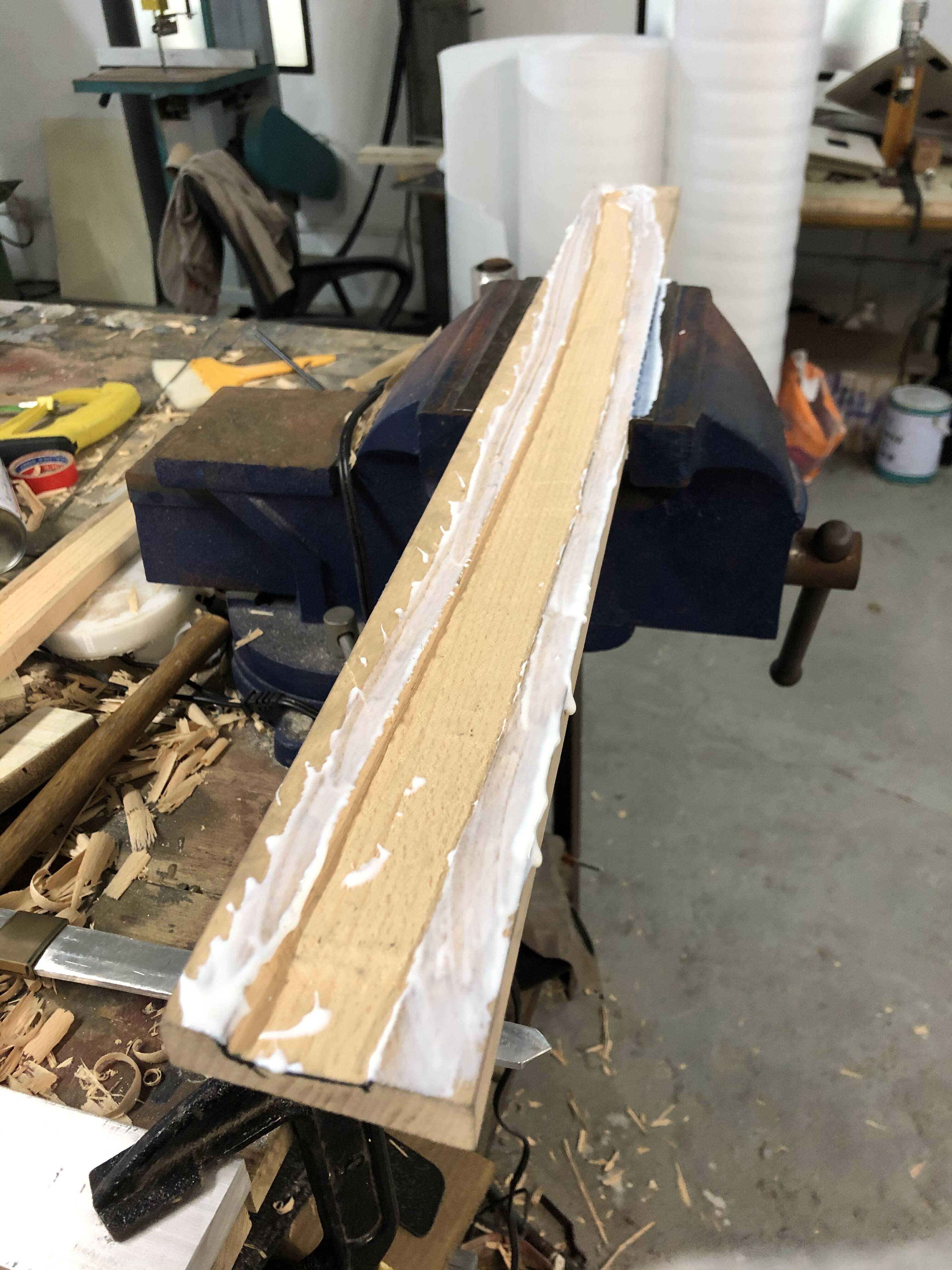 GLUE TIME!!! Just regular white glue and took a day and night to dry completely. Did I mention I am not a patient person? No, not at all. I'm as impatient as Adam and Bill Doran put together and maybe more. Ah, well. I'm still young, still have time to learn the virtue of patience.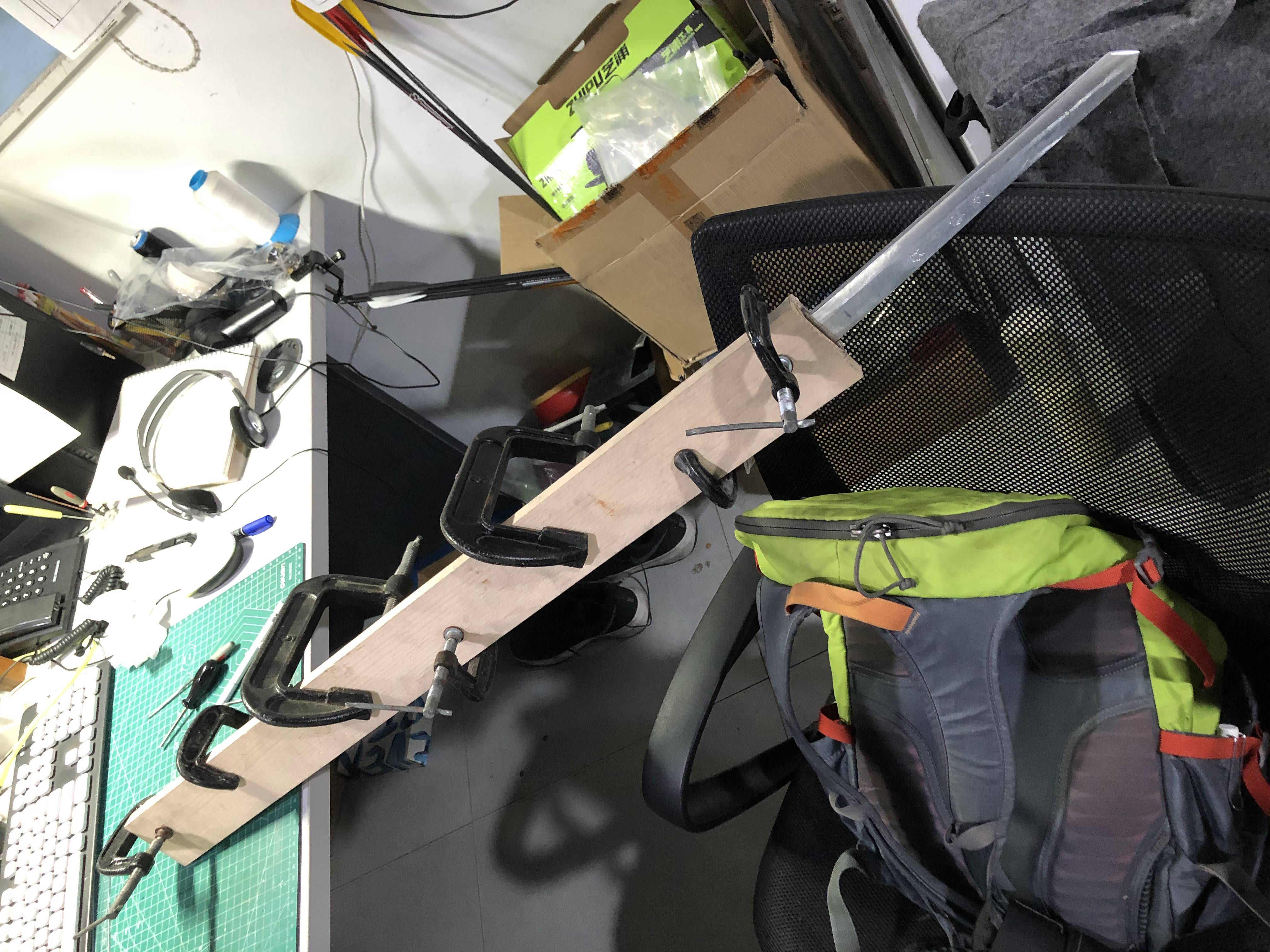 Oh, yea, during the engraving, I put my wife's name and birthday down, so this became her present for her 35 birthday. Once you get an idea, it isn't that hard, actually.
Everybody would have said, the Tsuka is same as the Saya, only it is a tight fit. Here is messed up a little, the handle is a little looser than I would have liked, but the pin and spacer paper will hold it in place. So, not too worry. Oh, BTW, both this was done to the Saya and Tsuka, I cut out the shape on one side before gluing the two halves, so I don't have to worry about the shape and where to cut or cut too much anywhere. (it helped, but still messed it up a little, you'll see.)
Testing out the casted parts, it looks alright.
Cutting the grove for the RaySkin on Tsuka, these should have been deeper, but instead, my was the same depth as the skin. Next time, will do them deeper.
Glued and wrapped, waiting to dry. It's barge type glue.

See, you can tell here, the Saya is a bit too thin at the bottom end, left in the picture. Because I wasn't paying enough attention when I was cutting it with bend saw. Ah, well, live and learn.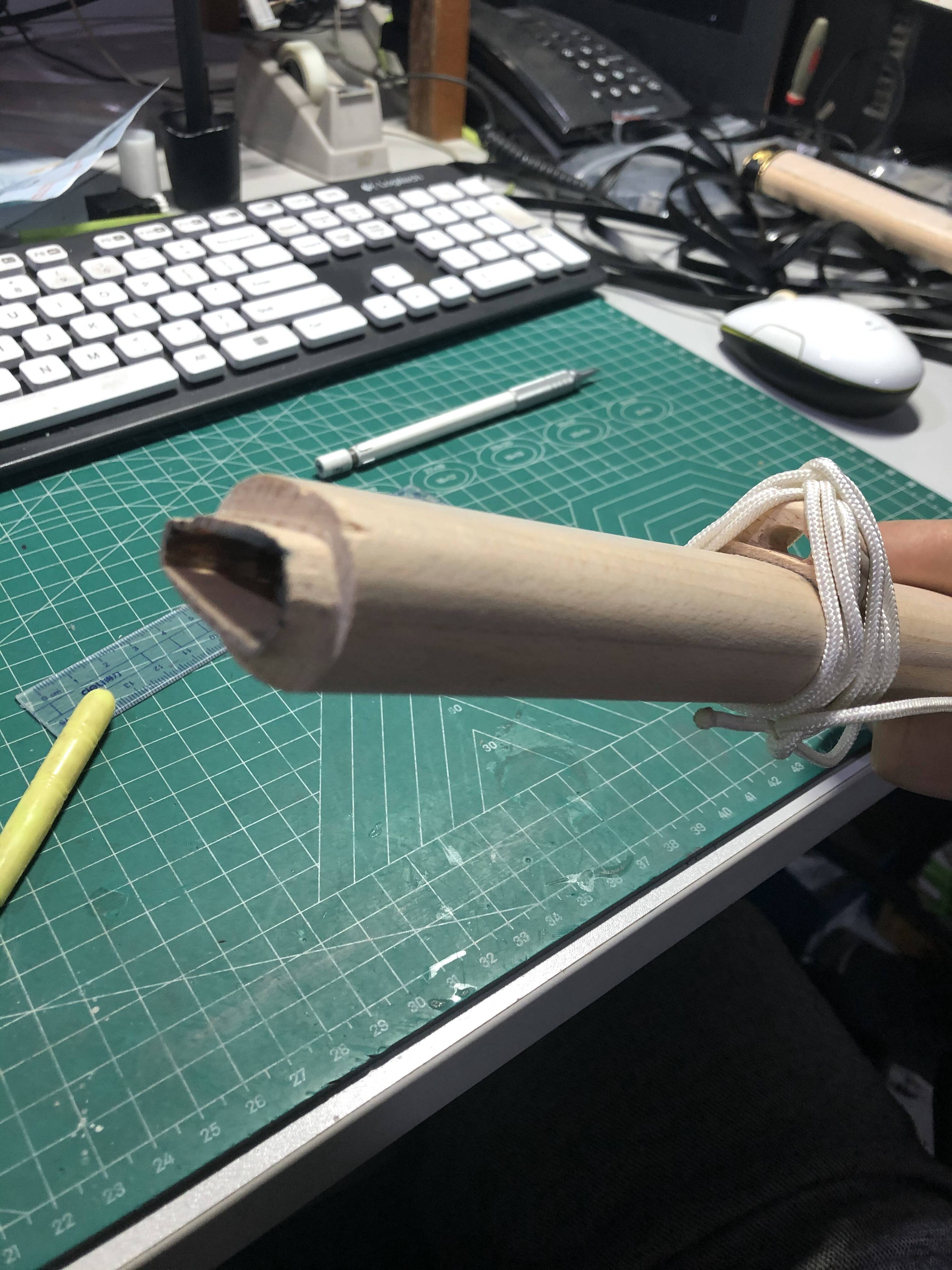 I don't know what this part is called, but it is where one fit the buffalo horn piece, to protect the "mouth" of Saya. Very easy to over does it, particularly if the inside wasn't done well. My was a little bit perforated at on corner. But once the horn piece is in place, it is OK. Barge again.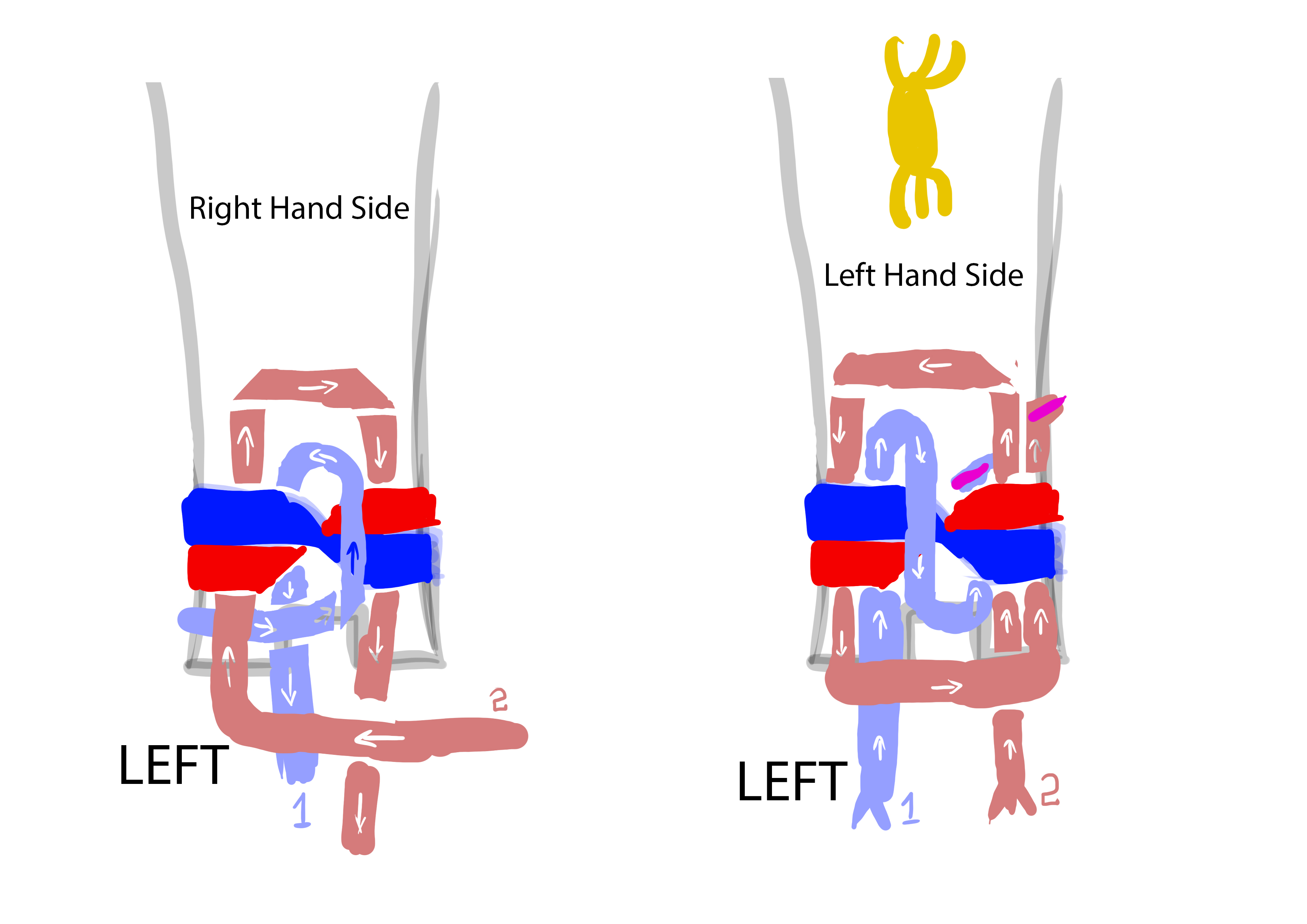 Took me two days to find out and learn how to wrap the Tsuka, most of the tutorials doesn't really say what orientation of everything should be. So I power of deducted the "Sxxt" of it. (Martian Quote, ha!)
Took about 5 hours combined to wrap the handle, and I forgot to put the metal piece in the first time. Luckily, the white glue I used wasn't very tight/hard, so I was able to pill it off and did it again. BTW, the metal piece wrapped underneath the faux leather, they are two the same, because I didn't find the other one. So its OK, I guess, only you guys can tell.

I carved out emblems, with small wood chisel and a piece of sharpened 2mm steal rod, so not the greatest, but I can live with it. Put don't some colour to see where things were. Boy, the wood grin was blinding.
This was where my impatient came back to bite me in the hand. The filler(car) couldn't dry because the solidifier was exposed to air and probably out of date. It was bought when I made the Saber Excalibur sword. And it got every where.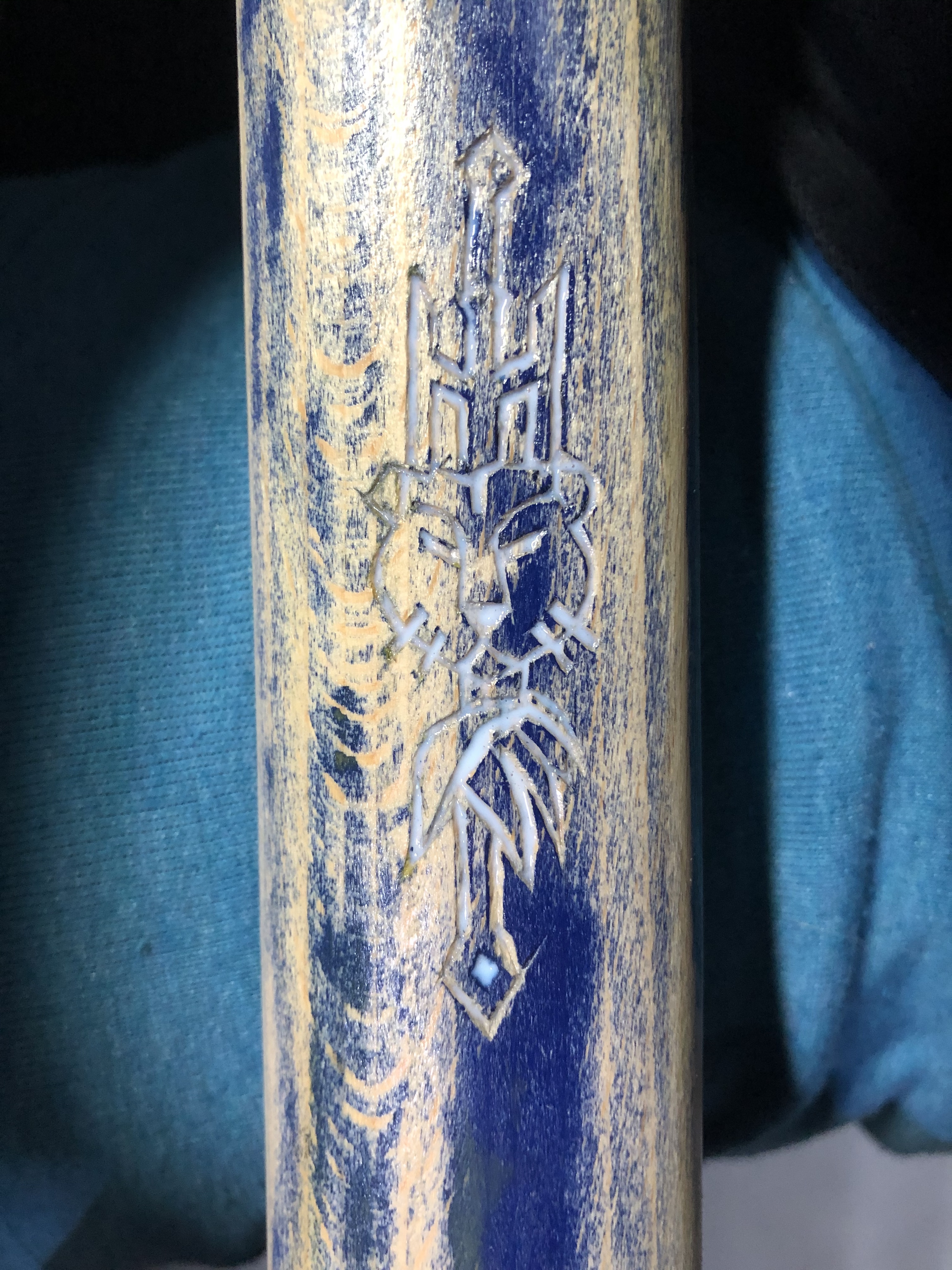 The engraving was very flat the bottom, so I thought maybe I will use white glue to flatten it out a bit. Didn't work.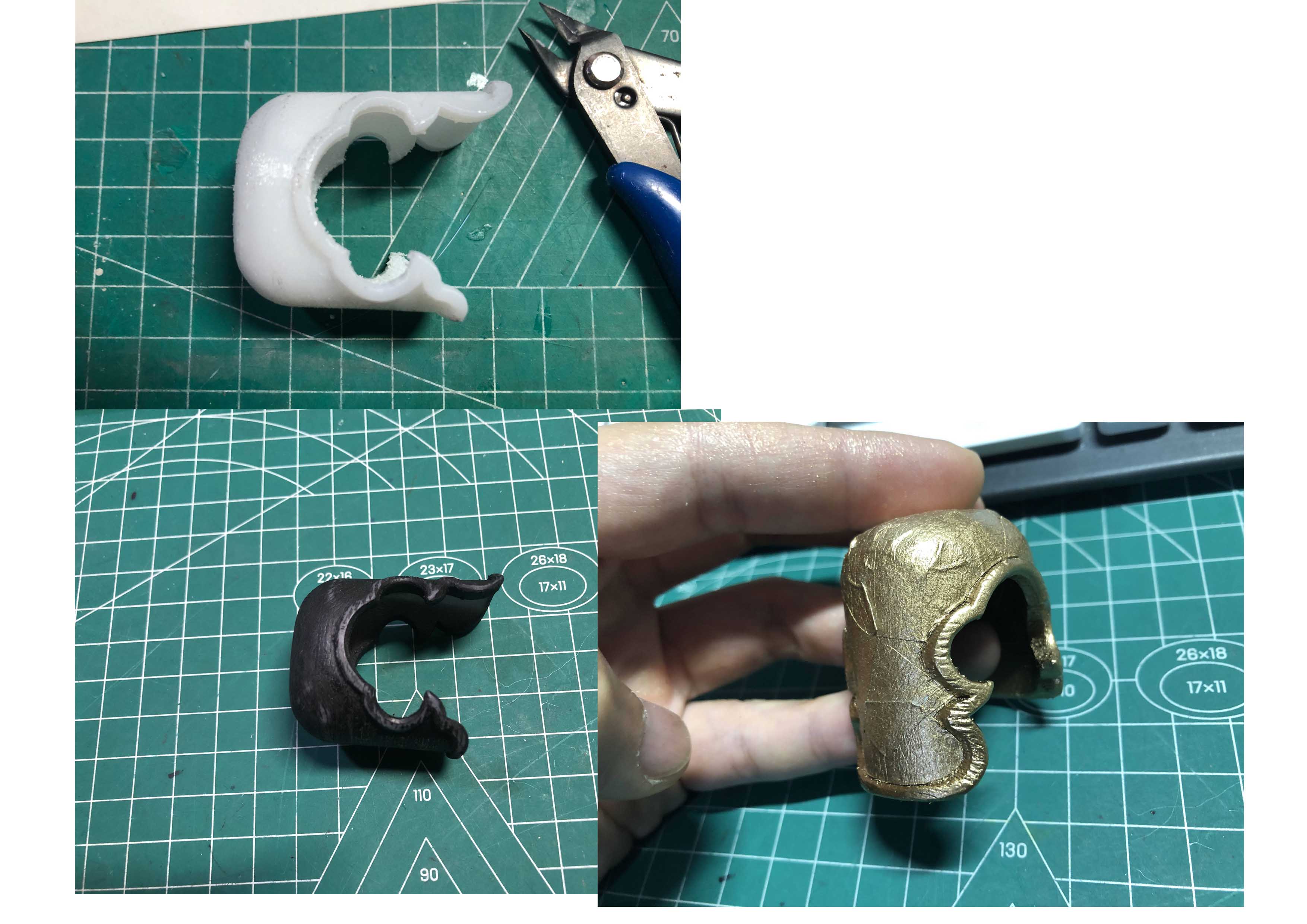 For the life of me, I couldn't find anywhere who say this piece here. So I printed it. And because it would be abused the most, I didn't really make it "Silky and smooth". I don't know, how many people like that film. I do, but probably because I'm not that sensitive to the stuff. Or it is a film, a story, and it is for fun. You lose if you take it to seriously.
R
Here we are, the final stretch. Faking the hamon. It isn't easy and I think I failed most here. It still doesn't look anything like the real thing. I had seen a video of a Chinese factory mess produce prop swords, they just placed a piece of template on the sword and shewwww, ran it across some kind of bench grinder with soft-ish wheel, there it was. Well, if you have any good suggestions, I'm listening. Oh, I didn't say what I did, didn't I. I just sanded it with high grit sand paper. Grinder didn't work, probably because I didn't use the right stuff.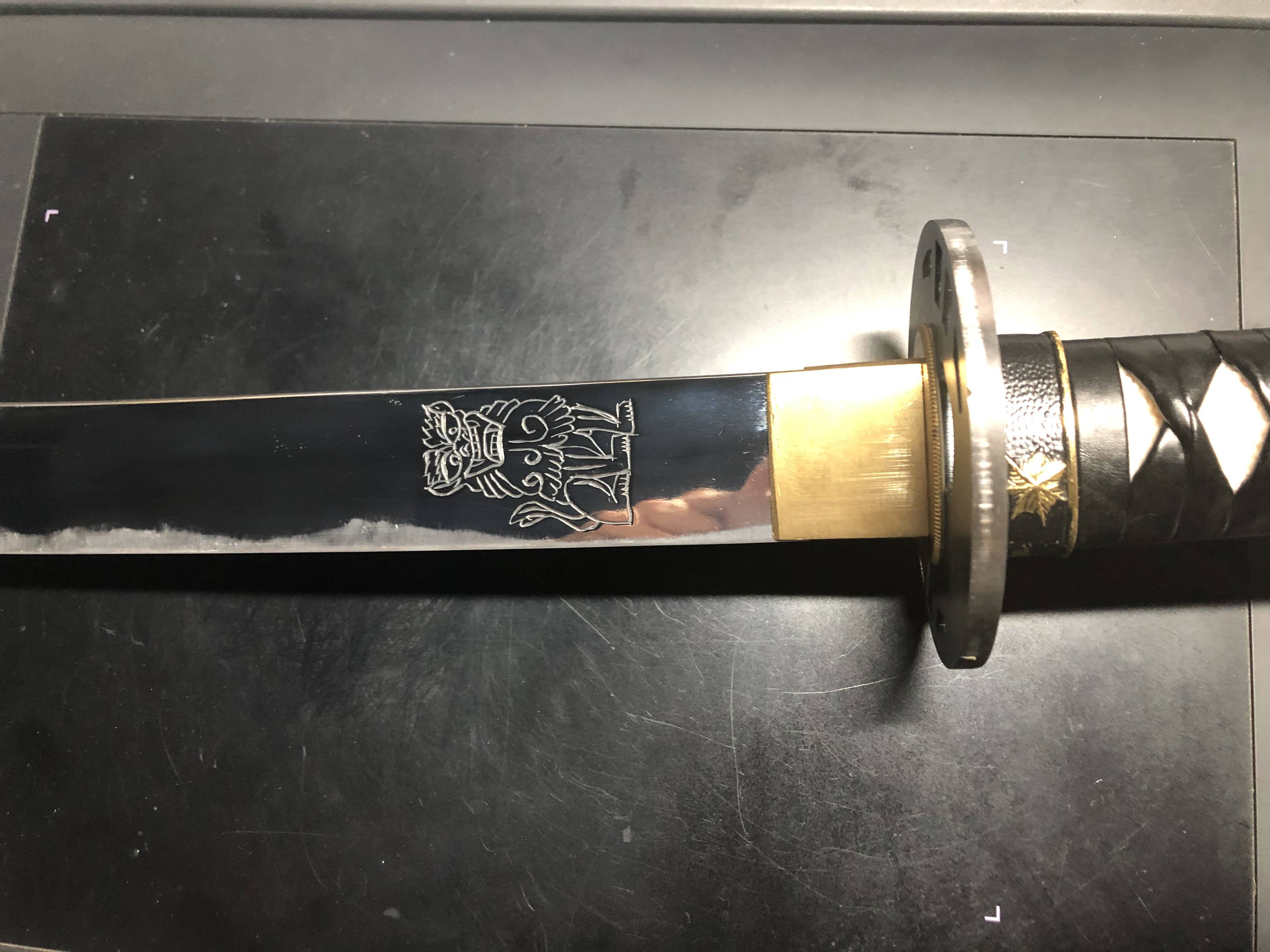 There you go, all nice and shiny, as it should be. Oh, I went back to redid the hamon. It's much deeper now.
Filled the carving with gold paint by hand, and then many layers of lacquer. More lacquer will be needed later on.
First completely... oh no. I ruined it by using the wrong golden edge strip piece and double sided tape. I ruin the paint job and had to sand the whole thing again because applying more black and lacquer.
And here we are, finally, you made it to the end. Here is the finally finished Sword. The ring near the end of the bottom was also printed, sand down and painted. So....What do you think? This is as actuate as I can get it to be. Heavily referenced to Jason Blakey's work on Adam's sword. Love to see comments from you.
Lessons learnt is that one doesn't need pro tools to make anything, (I always knew
, because I not wealthy, and I have my hands). However, it doesn't mean good tools are over rated, instead, they are there to help, improve and enhance whatever one can do before. And now I don't know how to end this thread...