So...... An era has unfortunately come to pass. Baby Predator, after almost two years of awesome adventures and hunts, has finally retired. She has learned and grown, and practically BURST out of her skin like many a young Xeno.
Sad?......yes.......
Devastating?....... Perhaps not.
With every turn we make in our journey of life, new opportunities emerge. New paths take shape and reveal themselves.
I had a long discussion with the little huntress, and it turns out she has no intention of leaving the world of Predator. Kayla has a taste for the hunt.......... And this time, she has a desire for something bigger, something better, and something most definitely REDDER.
So we say farewell to the sweet cheeked blue treat....
And hello and welcome to her future as...... BIG RED from "Dead End".
(insert happy clicks here)
YES.... that is correct, my hunt brothers and sisters. Kayla is going Big, Bad, and RED. I asked her what costume she wanted me to construct, and she immediately stated she wanted to be the red predator. What's a mother to do?
I mean..... look at that face..... How could you say no to that?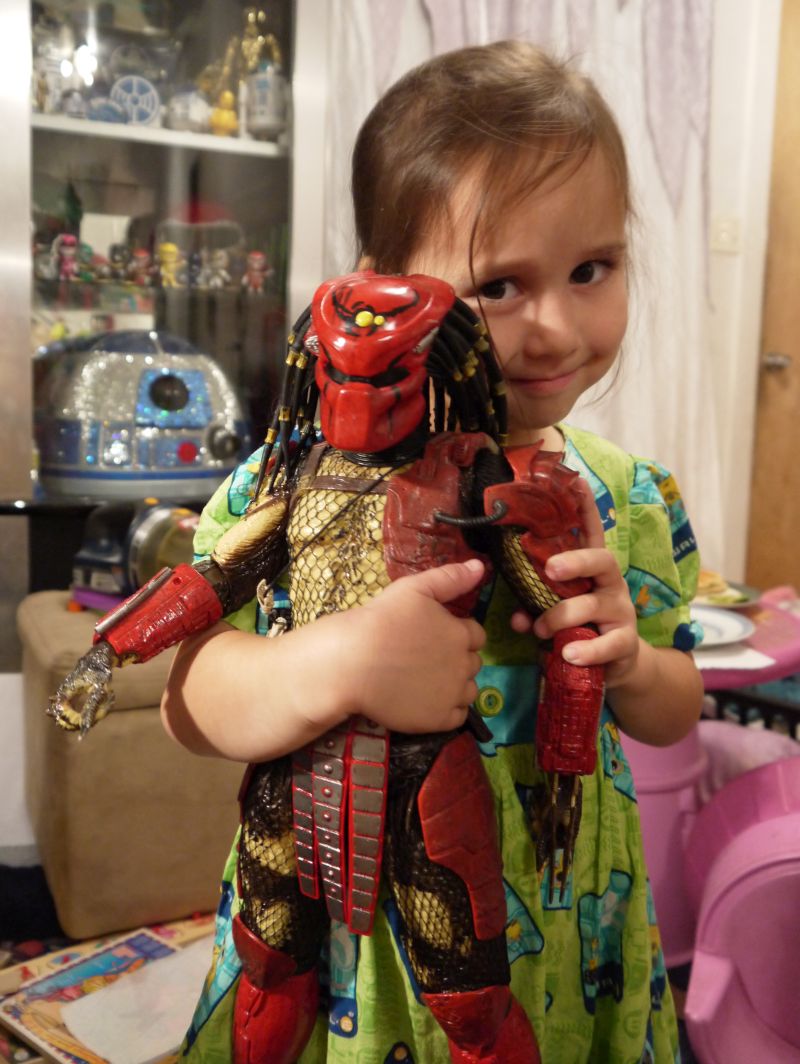 So I surrender without hesitation. The girl wants what she wants.
Baby predator was a fun build. It was carefree and spontaneous. No true blueprints, or expectations...... just made it up as I went along and let it develop naturally. BIG RED, on the other hand, will be a much different build. And Kayla, has developed "expectations". What can I say.... I've created a monster. lol
She also has certain requirements that she feels are necessary. The most important of these is............... NO CHEEKS! Kayla has always been a bit sensitive with her cuteness while in her predator costume. Near the end, she even made a demand that I warn people not to call her cute or adorable when she took her bio off........ Made the little tike want to rip out their spine and use it as a jump rope. Not her words, but a decent representation of her displeasure.
I will be making this as accurate as possible. We have recently acquired a 3D printer that I am positively itching to use, so it will be a great learning experience on both levels.
Let the journey begin!