Kandy Apple Red Ironman Mark XLV (45) 3D printed build thread.
Ironman Mark XLV (45) - Avengers: Age of Ultron
Hello all and welcome to my build thread. I have wanted to do my own Ironman armor since I saw the first movie. I've attempted a couple times a long time ago to create the mark 3 helmet from Pepakura but always gave up due to time conflicts. I had ruled out foam due to quality issues so that put the kibosh on my plans until I recently purchased a 3D printer (two actually)!

I've just started the build and I don't go very fast so expect this to be a slow thread. I'm hoping to have the suit done in time for Emerald City in Seattle (March), or at the latest for Wizard World in my hometown Portland (April).

So far I have "completed" the helmet. I put quotes around that because I intend to do some more finish work and re-paint or even re-print the helmet when I paint the rest of the suit. I don't plan to do that until after I have completed everything however due to the method of applying Kandy Apple Red. This will also allow me to complete the harness rigging, motors and electronics prior to paint which is great in case I need to do any drilling or modifications to the suit.

Kandy Apple Red turns out to be a very difficult color to capture in photographs. There is just so much depth that happens with the lights and darks and the way the light plays with the metallic flakes. These are the best photos I could capture, but trust me they don't do the color justice. If you're not familiar Kandy Apple Red is a color typically found in high end custom automotive applications that has a similar appearance as the coating on an actual candy apple but with added metallic flakes.
The chest was cut into 26 individual pieces in order to print which I had to reassemble and finish. The sanding.... oh so much sanding...
All together now!
I originally painted the mask with the intent for it to have a gold painted look so it was finished smooth with a gloss finish.
However after watching a video on the production of the movie suits I learned they went with a brushed metal look and that it's supposed to be a Gold Titanium Alloy so I did an experiment with a brushed matte finish and I like it much better. I'll be doing all of the gold and silver with this finish going forward. Although I might have gone a tiny bit too subtle, maybe not.
Coming Soon!
Back (only about half of this will actually be visible in the completed suit until version 2)
Collar pieces, mostly assembled but I needed to re-print one piece.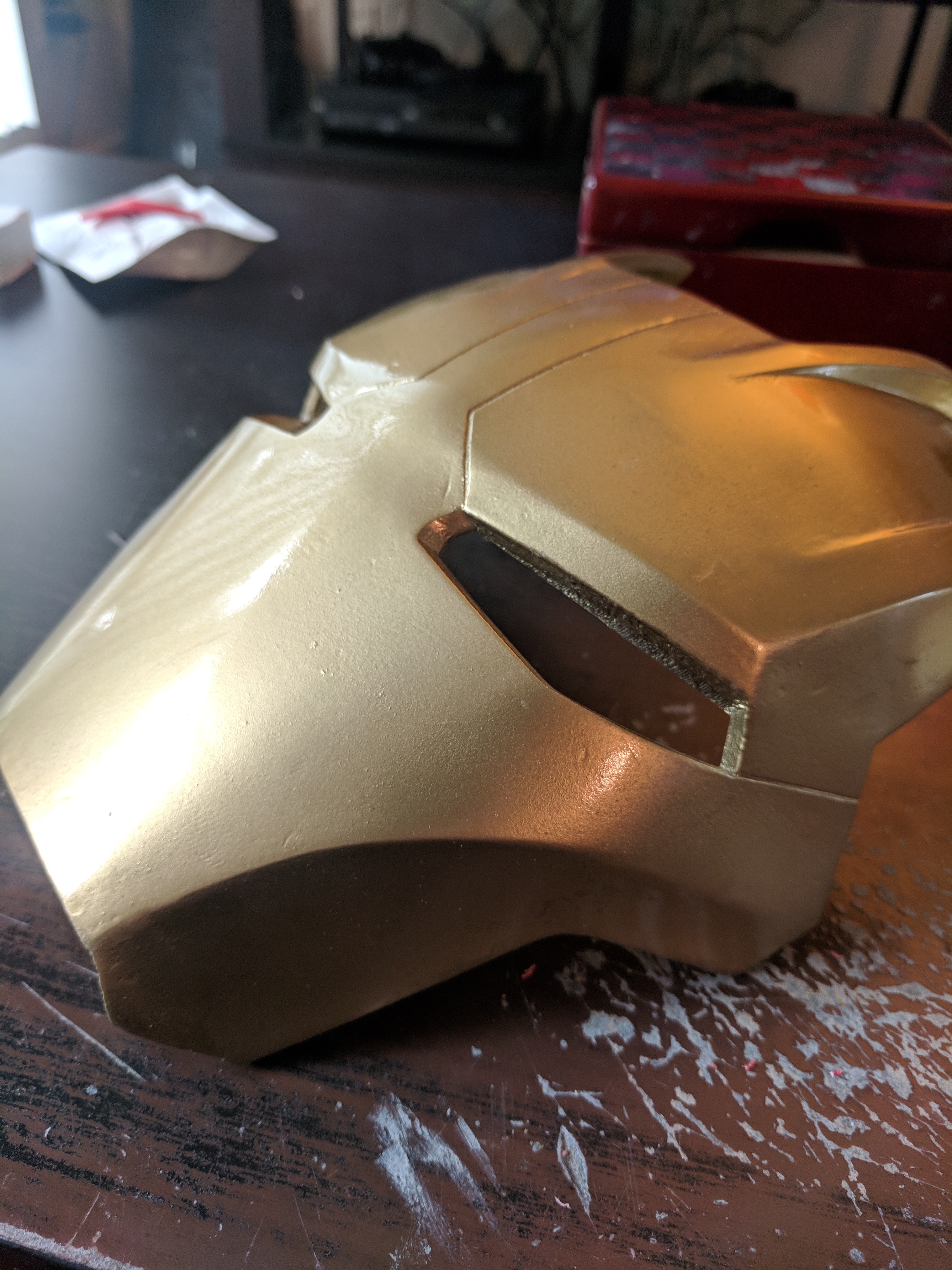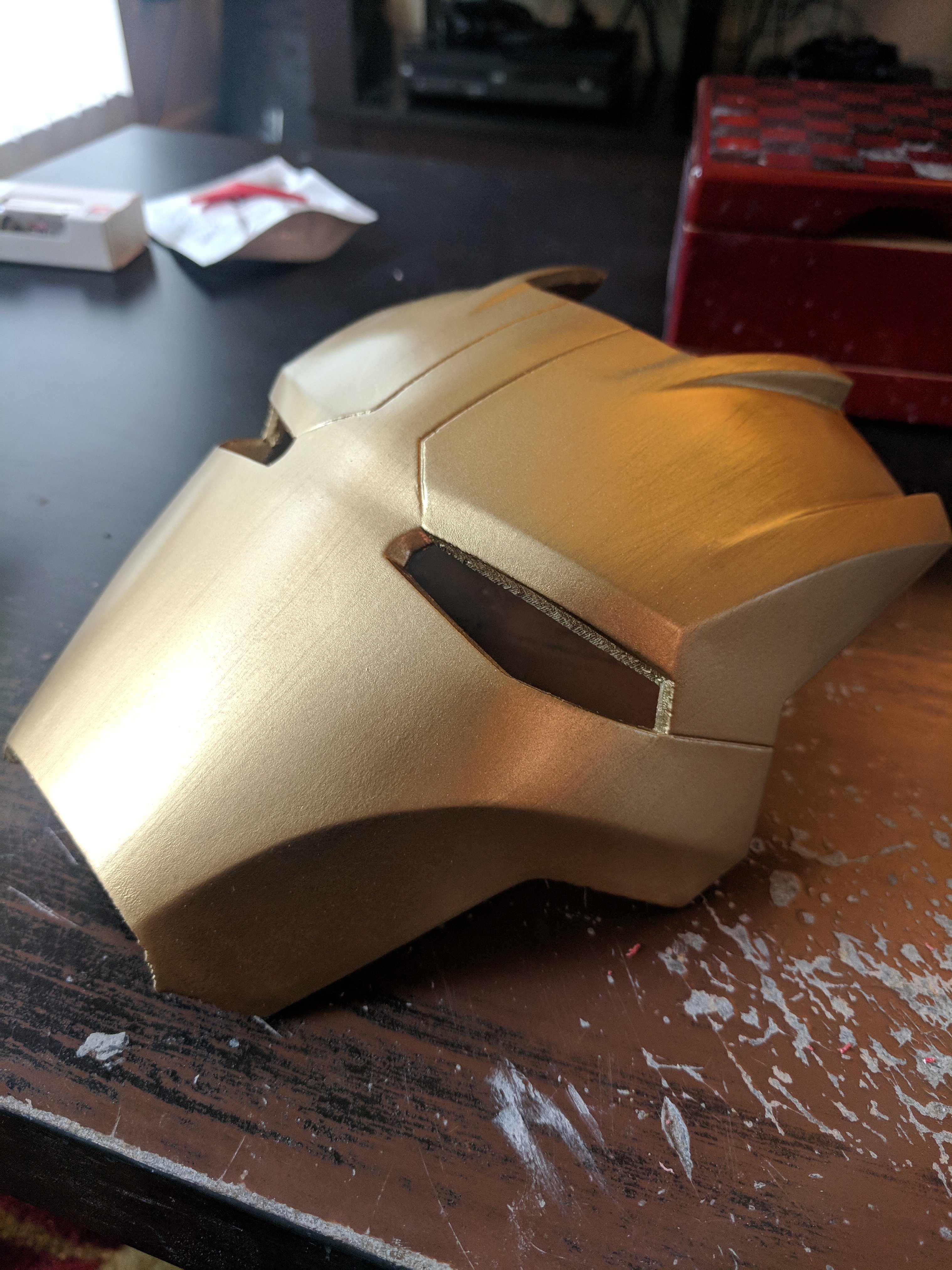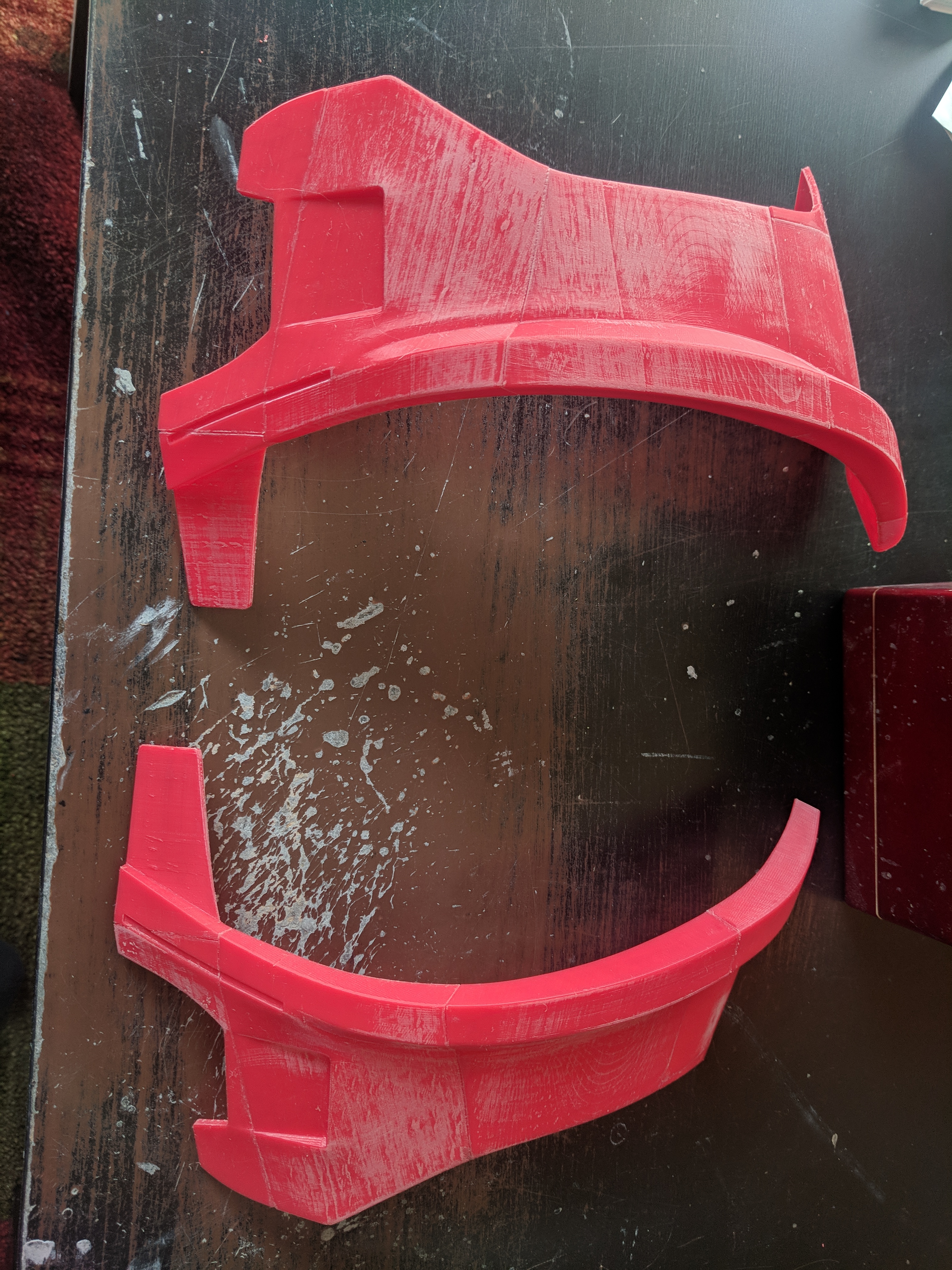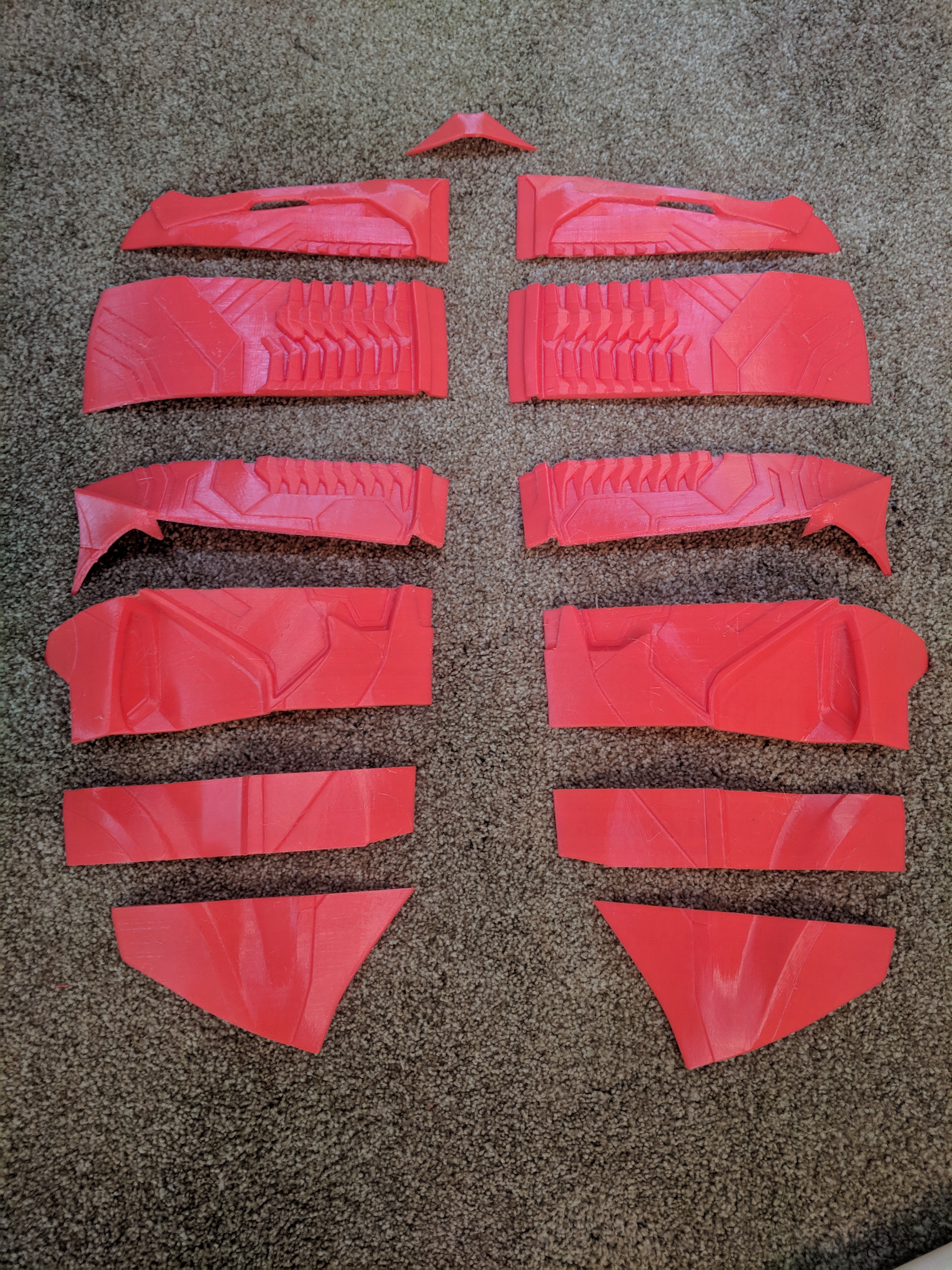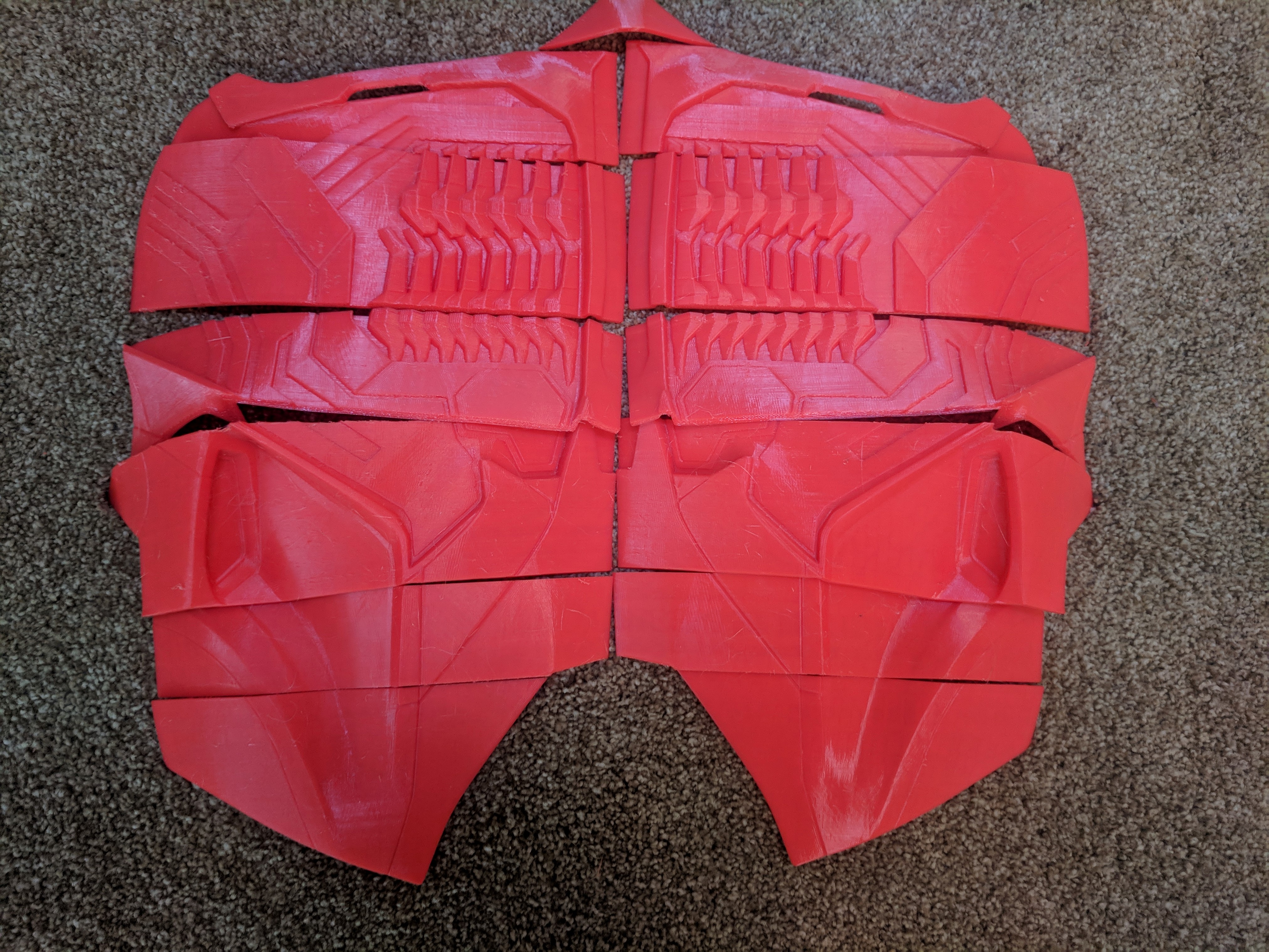 Last edited by a moderator: