Active Member
RPF PREMIUM MEMBER
Greetings from the Jurassic Park Motorpool!
So, I've explored the Explorer, jumped into a Jeep, now it's time to re-manufacturer a Mercedes.
Let's Get Lost
As you may or may not know, Hammond's JP:TLW vehicles were built using production model ML320s. Nice sturdy cars. Toss on some paint and props, and away you go.
While the movie wasn't perfect, the soundtrack is (IMO) the best in the series—and the whole movie really puts down the big-hunt feel for the first 1/2. My only stickler for it not being higher rated in my book is that kid. But, all that aside, I love cars, I love JP, and I already have an Explorer (SpeedyCop's ex racer) and an (in progress) '94 Jeep Wrangler Sahara (Sand Beige!) that is in the middle of a frame-off resto. So the ML320 was obviously the next choice.
I'm also extremely picky...so the point of this project is to replicate as-close-to-scree-used as possible.
Can't promise it'll be fast (Winter Is Coming), and I've got a lot of data to ponder, but I'm off to a good start:
Violence and Technology...
Picked this up today. ML320, 1998, 170K miles, virtually wear-free. Well maintained and as close to new as I'm going to get for $3K. There were lower-mile cars out there (dipping into the 95K range), but with them came a hefty price tag (5-7K). While I was willing to spare no expense, finding a well-loved car was actually pretty easy. Owners were great, LOVED the idea I'd be doing this, and even drove the car 2-hours to bring it to me! The thing on the roof? The same model MSat phone that gets abused throughout the movie.
So, What About the Data?
This is where the build took on a life of its own. I've been shooting and doing auto tech for car mags for a very long time. With it comes some media cred. As a result, very soon, I'll be over in Germany at the Stuttgart Mercedes Museum as a guest, taking an up-close-and-personal look at their ML320. I'm an open-source kinda guy, so all this info will be available—as soon as I fulfill publishing the story with a couple mags I've worked with/on. Sorry...while I'll have the build here, the published story has to get some of the goods first. This is also, of course, barring any non-disclosure agreements, etcetc. Basically, if I can give it to you, you'll get it.
Timeline
I'm in New England, and I've got maybe 2 solid months left before our first Late-Oct snow. If it runs like clockwork, I'll get some time after (usually good weather Nov-Dec), but I don't foresee the built itself (repaint, props, and eventually roof) beginning until the Spring. Meanwhile, I'll be mocking up the props and all that fun stuff. Anything that's newsworthy I'll put here, along with some pics from the Museum in the meantime.
---------- 9/26 --------
While I work through the details, translate my notes, and buy items I need to start, I've been doing a frame-by-frame on the Blu-ray to see what else I can tackle meanwhile...
Eddie's front bag was kinda easy. I'm familiar with the brand:
Lowepro Topload Zoom AW.

I picked this because, chances are, given its size, it can possibly store his GPS. Which brings me to....
Eddie's GPS:
Heavily altered
Tektronix WFM 90.
This one required the Blu-ray. Once the XLR connector on the back was ID'd, it took no time to place the use and then the item.
Antenna is a common BNC 'rubber duck', etcetc. Still working on the front screen and the hood's real-world counterpart.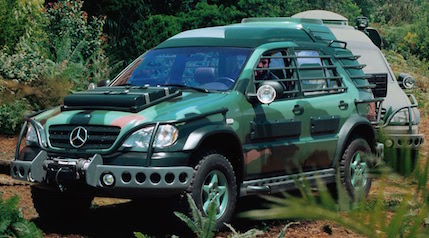 Last edited by a moderator: