Master Member
RPF PREMIUM MEMBER
Sometimes you have too many different versions of one prop. In my case the JP Hammond Cane is one of these props ;-). I owned quite a few of them, sold some, and kept 4 of them. But recently I bouhg another one on eBay (more info later in this post) and thought it would be nice to have an overview about the 5 canes I have now, and give some more info. Might be useful for people looking for a good replica!
What's not included in this review is the Chronicle Collectibkes cane, because... Well, I don't like the look of it at all...
So, the first canes I bought were made by Rylo. Back in the days, Rylo was the only one making a decent cane. The cane itself was made out of turned wood, with a nice amber topper with a crane fly trapped inside. Great looking canes. I especially like the fact that the canes themselves are wood. Much more durable than resin!
Later, Prop-Builder also offered canes. His canes were resin around a metal rod. I little bit shorter than Rylo's canes, with smaller amber toppers. Instead of crane flies, there were real mosquito's in there. Although the movies mentions mosquito's, in the close-up of Hammond's topper, the bug looks more like a crane fly than a mosquite.
After that, Rylo finished some left-over canes he still had in his ship, using (if I'm not mistaken) toppers that were created by Prop-Builder. So also wooden canes, with mosquito toppers this time. If I remember correctly, after that Rylo also offered some resin canes or cane kits.
I always liked bot Rylo's canes and Prop-Builder's canes, althoug the finishing on Prop-Builder's cane seemed a bit too yellow-ish to my tast. A few weeks ago, I saw a cane pop up on eBay that turned out to be a Prop-Builder cane, but the seller sanded the finish down, added some details to the sculpt and repainted it. Turned out the seller was RPF member davidJurassic. I really liked that finish (didn't know it was a Prop-Builder cane in the beginning) and placed a bid. Well, a sniper bid in the last 5 seconds. Yeah, I'm one of these guys.
Now for the interesting part: comparison pictures. Here we have, from top to bottom:
1. Rylo cane
2. Another Rylo cane, but with a slightly different finishing.
3. Rylo cane with Prop-Builder topper
4. Prop-Builder cane
5. Prop-Builder cane with custom davidJurassic finishing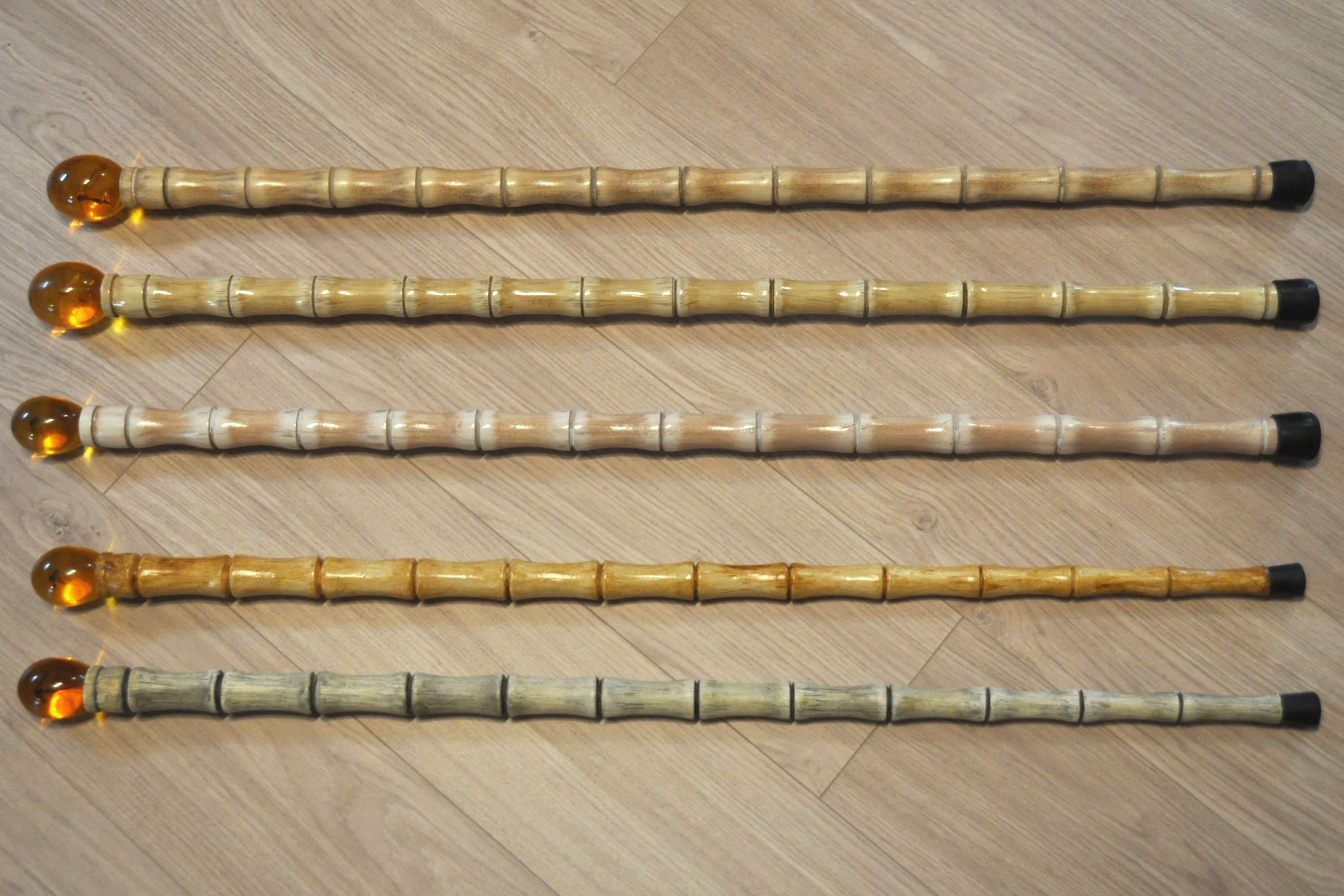 Some more pictures of all canes: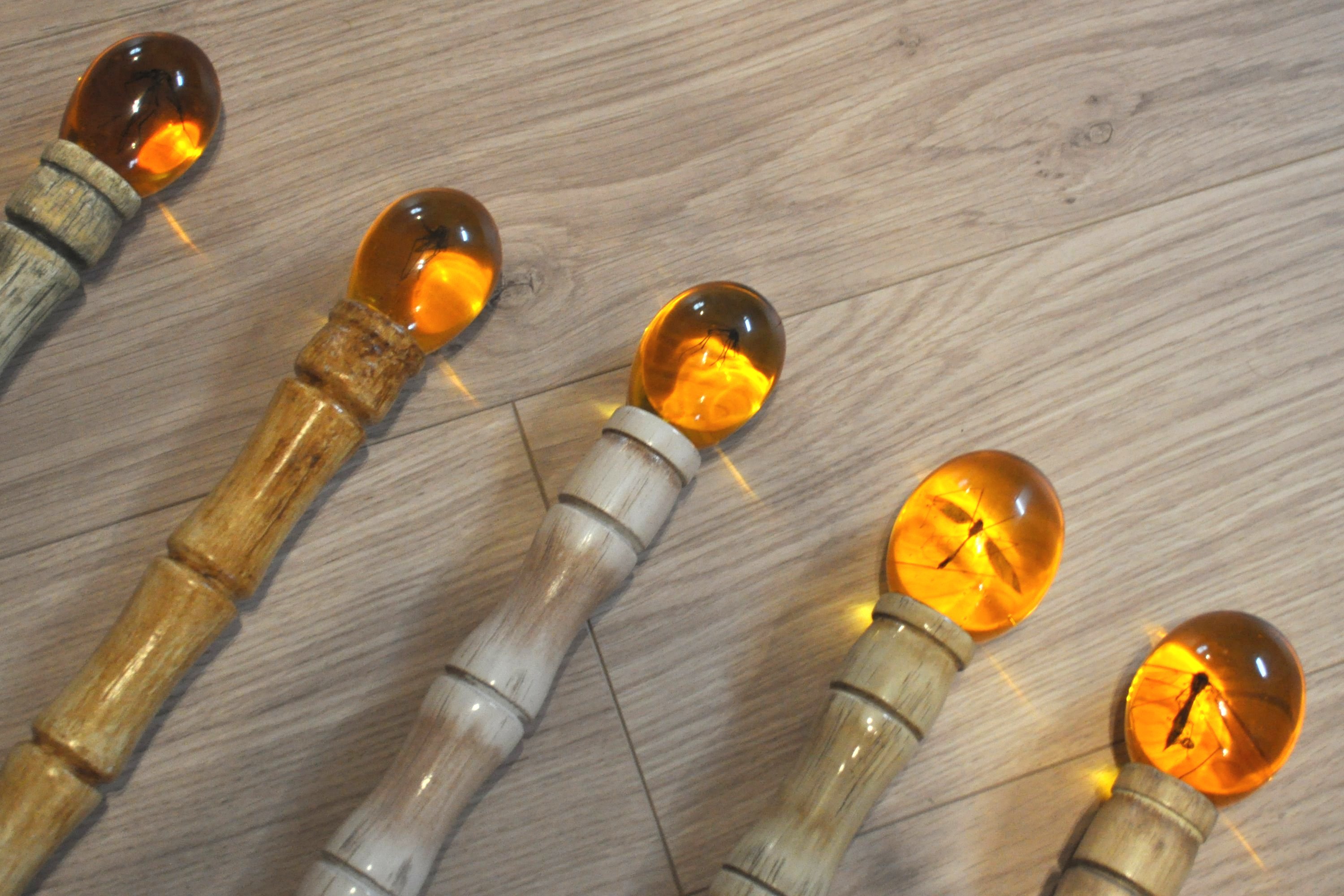 Difference in "bug": crane fly (top) & mosquito (bottom):
And some comparison pics between Prop-Builder's original cane (bottom one) and the refinished one by davidJurassic (top one):
Last topic: pricing! I've seen Rylo canes (the "first generation" in wood with crane fly) being sold the last few years for prices around €400. I bought mine for half of that price, but that was 8 years ago. These are rather rare, I guess. They don't pop up for sale very often. I don't think Rylo is still offering them. He once mentioned that these were a pain in the *ss to finish and he would just finish the canes he still had and then would stop producing these. So getting one from Rylo himself will not be a possibility, I think.
As for Prop-Builders cane: I payed around €250 for it, but prices went down after that. There was a period that Prop-Builder was not delivering to RPF-members who paid for some Jurassic Park replica's. As far as I know things were resolved back then.
For te refinished cane: I bought it on eBay and took a bit of a risk by not using the buy it now option, but just placing a bid in the last seconds. I saved some euro's, this way, because the final selling price was lower than the buy it now price. Ended up paying about €195 for that cane (shipping from the UK to Belgium included).
Feel free to post pictures of other canes in this thread! Preferably canes that are out there for sale! I've noticed that there are fan-made canes on eBay that don't look too bad.
Last edited: