This is the 12 inch diameter Jupiter 2 model by Polar Lights from the original 1965 Irwin Allen produced "Lost in Space" TV show.
I built this model over 20 years ago straight from the box but was never really happy with it.
The exterior hull finish had some problems and the Alclad titanium metalizer paint I used for the hull color was too dark.
The kit did come with the two interior decks but the detail was woefully lacking or incorrect.
So, two decades later I decided it was time to revisit this build and see if my much improved modeling skills would allow me to make it better the second time around. Missing interior details were added or corrected and I added a simple homemade LED lighting system to the upper deck and the field projector on the underside.
The hull was sanded off and re-sprayed with Krylon Colormax Metallic Aluminum. The color looks much closer to what we saw on screen now.
Here's a short video showing the Jupiter 2 sitting inside my display cabinet with the lights on.
I plan on taking more pictures and a better video shortly once I finish the season three Space Pod by Moebius Models as It would be nice to take some photos of the two displayed together.
Ahyway, here's the video…
Jupiter 2 - Rework- Teaser with Lights
by
Steve J
, on Flickr
Some interior shots…
Lower deck: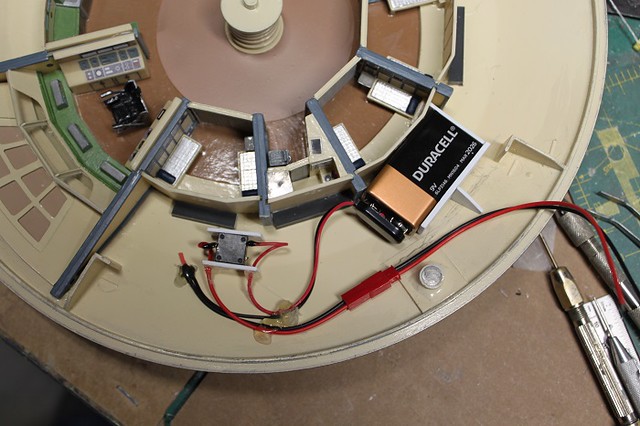 Jupiter 2 - Rework- Battery for Upper Deck Lights
by
Steve J
, on Flickr
Upper flight deck: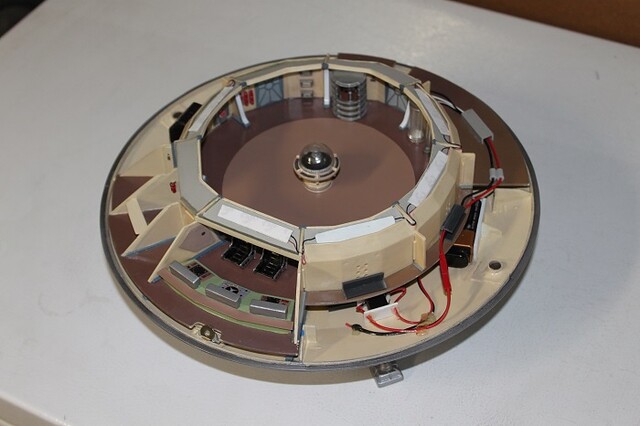 Jupiter 2 - Rework- Upper Deck Port Side
by
Steve J
, on Flickr
Reworked computer wall:
Jupiter 2 - Rework- Computer Wall Done
by
Steve J
, on Flickr
More photos here on Flickr! if anyone is interested:
This is my rework of the old Polar Lights Jupiter 2 kit from the 1965 TV series "Lost in Space". I bought and built this kit over 20 years ago. It was a straight out of the box build at the time which I have since decided needs a facelift. I'll be doing some additional detailing using a set of...

www.flickr.com
Thanks for reading.