Yeah, yeah, I know...bandwagon but come on...he's just so adorable it's hard to sit around and patiently wait until May or June when the official licensed products come out, so I'm taking a stab at making my own.
Started with a 3-D printed head I picked up on Thingiverse from Jamesjenuwine (link to the file here:
https://www.thingiverse.com/search?q=baby+yoda&dwh=225e2f68e613bbe
)
I made a silicone mold and cast a copy in resin (just in case I managed to screw it up so much I have to start over...)
While the initial 3-D print is good, it wasn't quite perfect and I wanted to make sure to add my own stamp to this project so time to break out the Apoxie sculpt. Started building up the cheeks and brow as well as adjusting the mouth to look more photorealistic. While I was happy with the progress at this point, I realized the mouth was too 'human' and not 'froggy' enough.
I broadened the mouth out a bit but still not happy with it. It's been years since I sculpted anything so this was a process that took me a bit of time to warm up to again as well as get my eyes back into the habit of not just 'seeing' but really analyzing what I'm looking at and making sure it matches the reference photos I'd pulled.
Still not happy.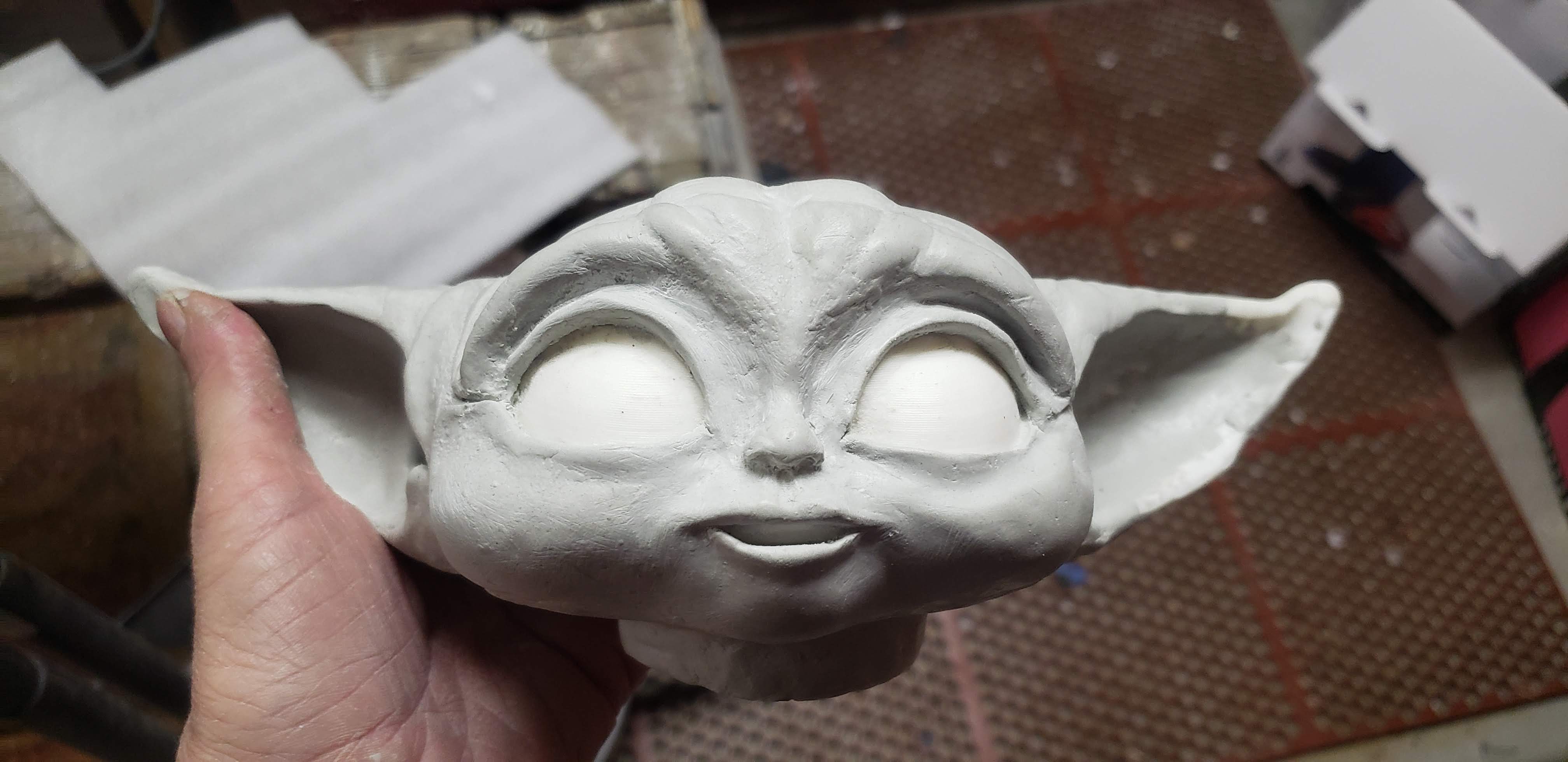 Not much better.
Time to take drastic measures. I broke out my Dremel and ground down the whole mouth area.
Throwing on more clay and starting over. It looks like he ate a bee.
Hmm. Come on, sculpting muscles...why is this so hard???
Still not happy.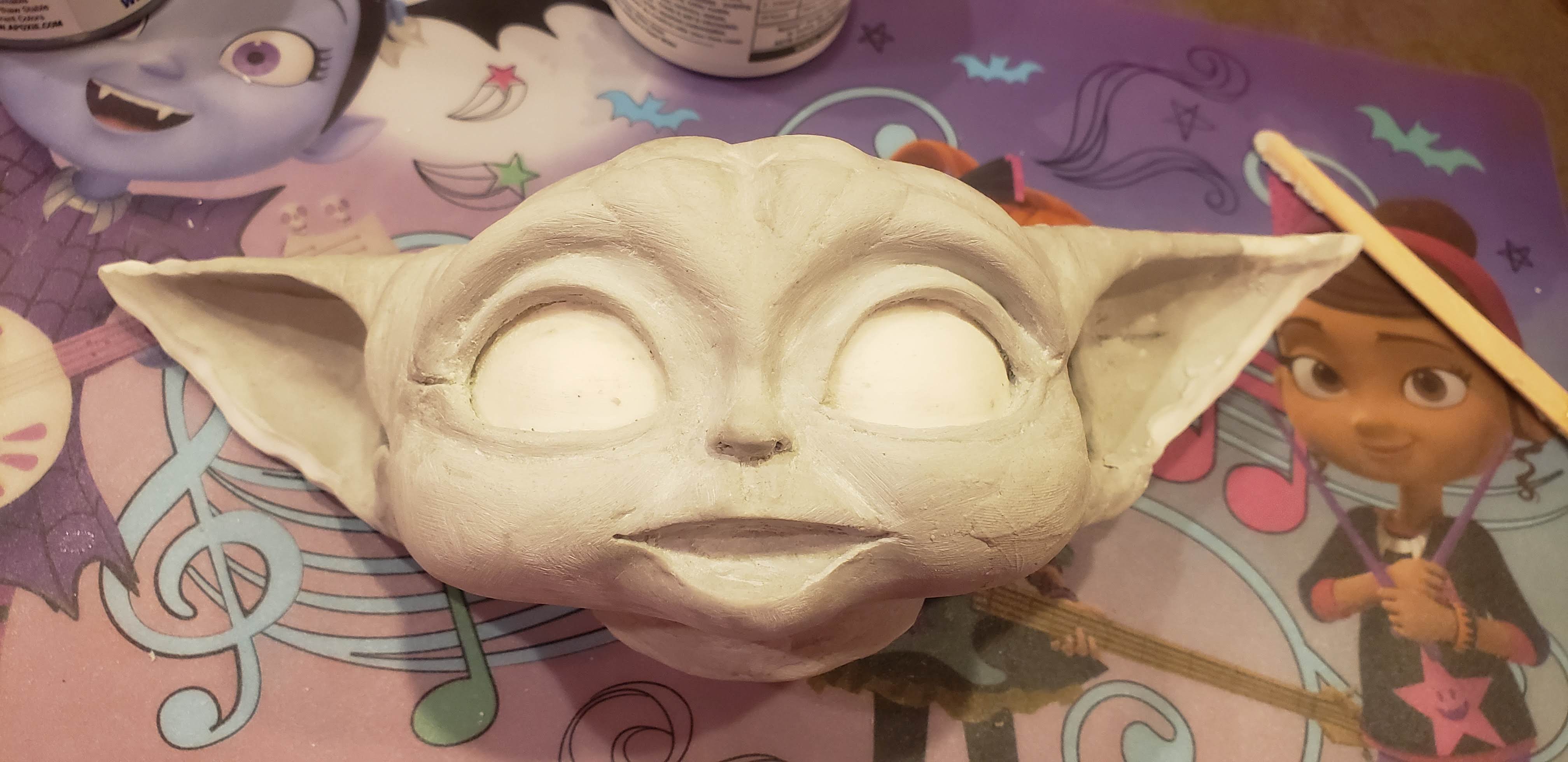 Ground down...again.
WTF?!? Definitely not what I want. He looks more like Sid from Ice Age here than the Child. Grr.
Try three. Third time's the charm, right? At this point realized somewhere along the way that I'd also put the nose on crooked. Grinding down his mouth and nasal area and starting over...again.
Laying in some pencil lines to make sure I'm not totally crooked.
Nose looks better shape-wise, but it's too high and that mouth...damnit.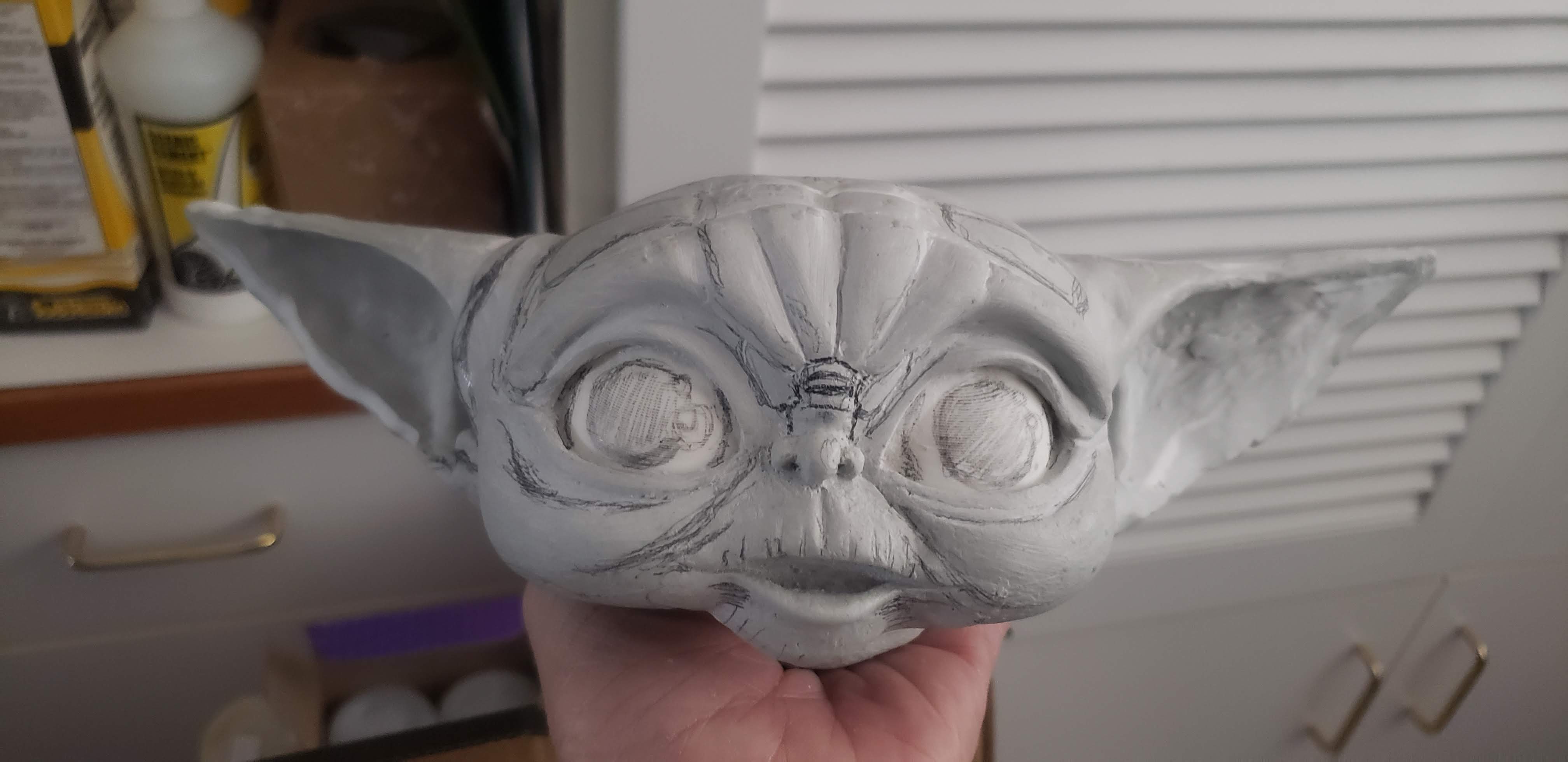 More pencil lines...this time adding in some eyes for fun. Definitely creepier than I meant for it to be.
More nose work and mouth work. Open? Closed? Open? Closed?
Ugh, this looks horrible! It's also at this point that I realized his ears are waaaaayy too small and pointy. Definitely more elf than the big floppy ears the actual baby Yoda has. Time for more surgery! Plus those mouth wrinkles look more like a pre-teen attempt at a mustache than lip wrinkles and those ridges and bumps on his head are more Ferengi than Yoda.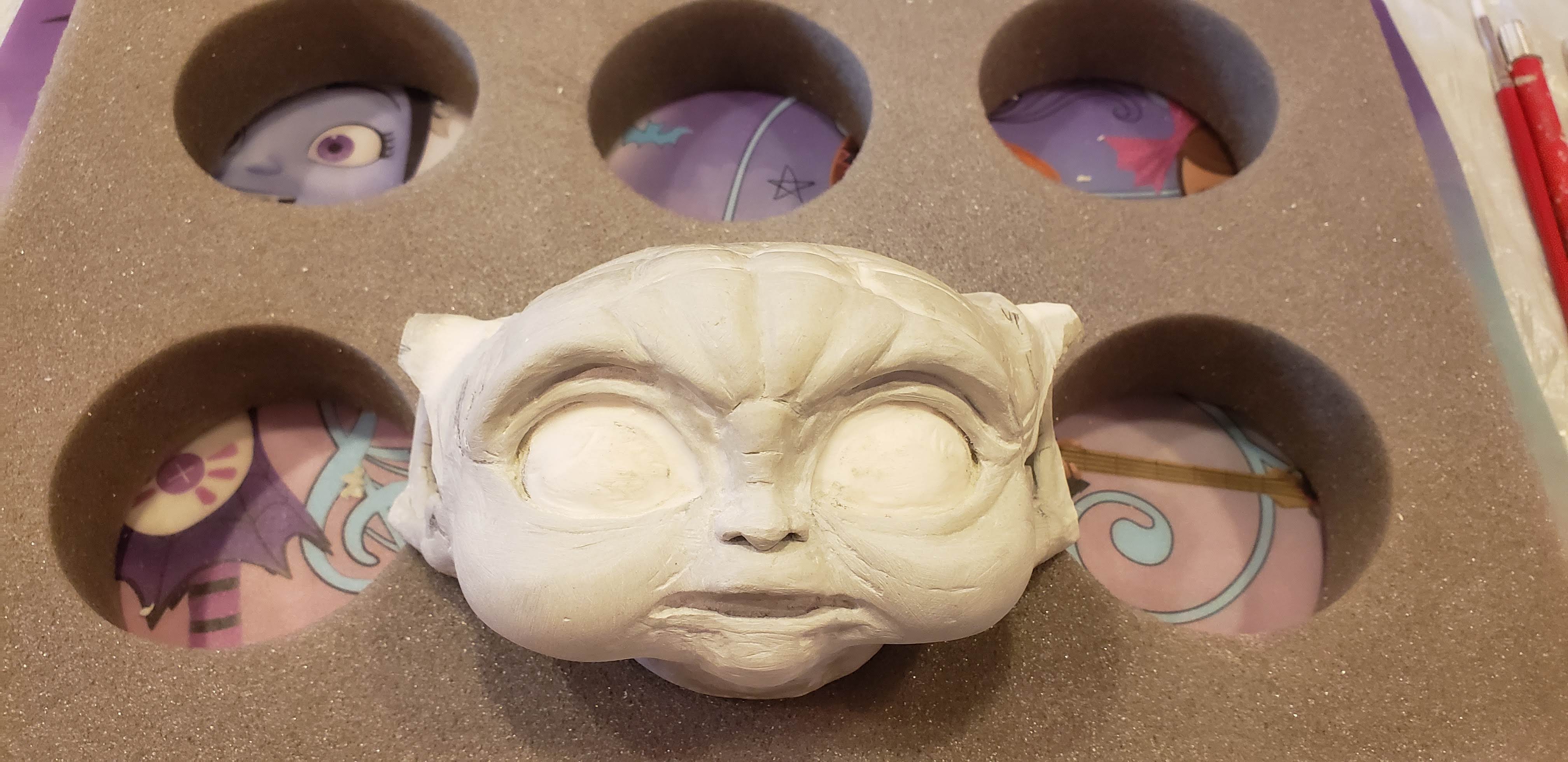 Try four on the mouth (I'm so tired of it at this point!) and total removal of the ears. I had tried adjusting the existing ones but it just wasn't working how I wanted. I'm now about 3 weeks into this sculpt as I'm only getting an hour or so a night after work to refine things. Very start-stop-start. I feel like that caterpillar in the well in that math problem we all had where he'd climb up three bricks during the day and slide down two at night. I know I'm making progress, but it feels like it's taking forever.
Hang on...it's suddenly starting to look...right?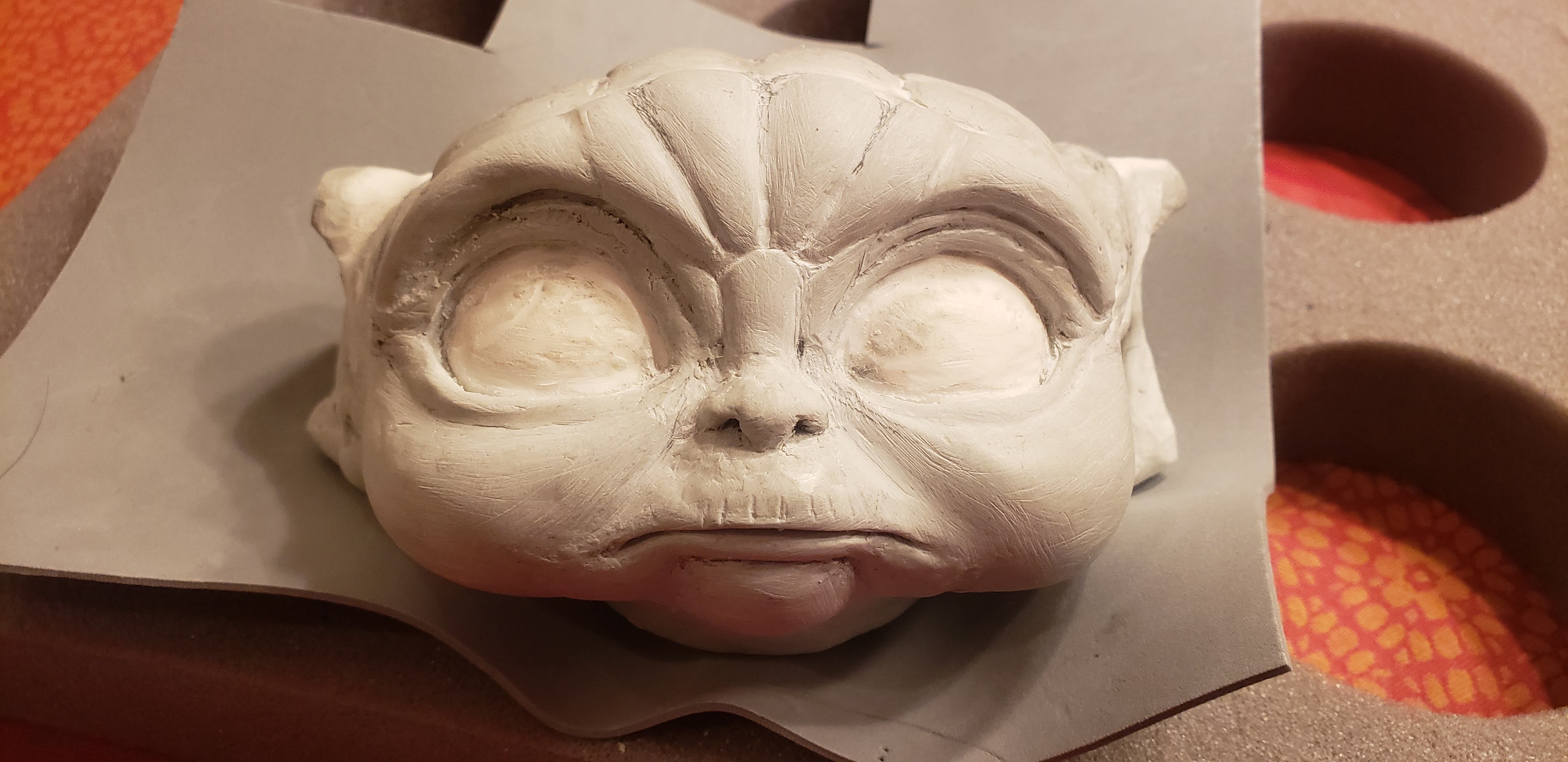 Oh my gosh, it's finally coming together! Now it actually looks more like Baby Yoda and less like a drunken one night stand between Gizmo and Kermit.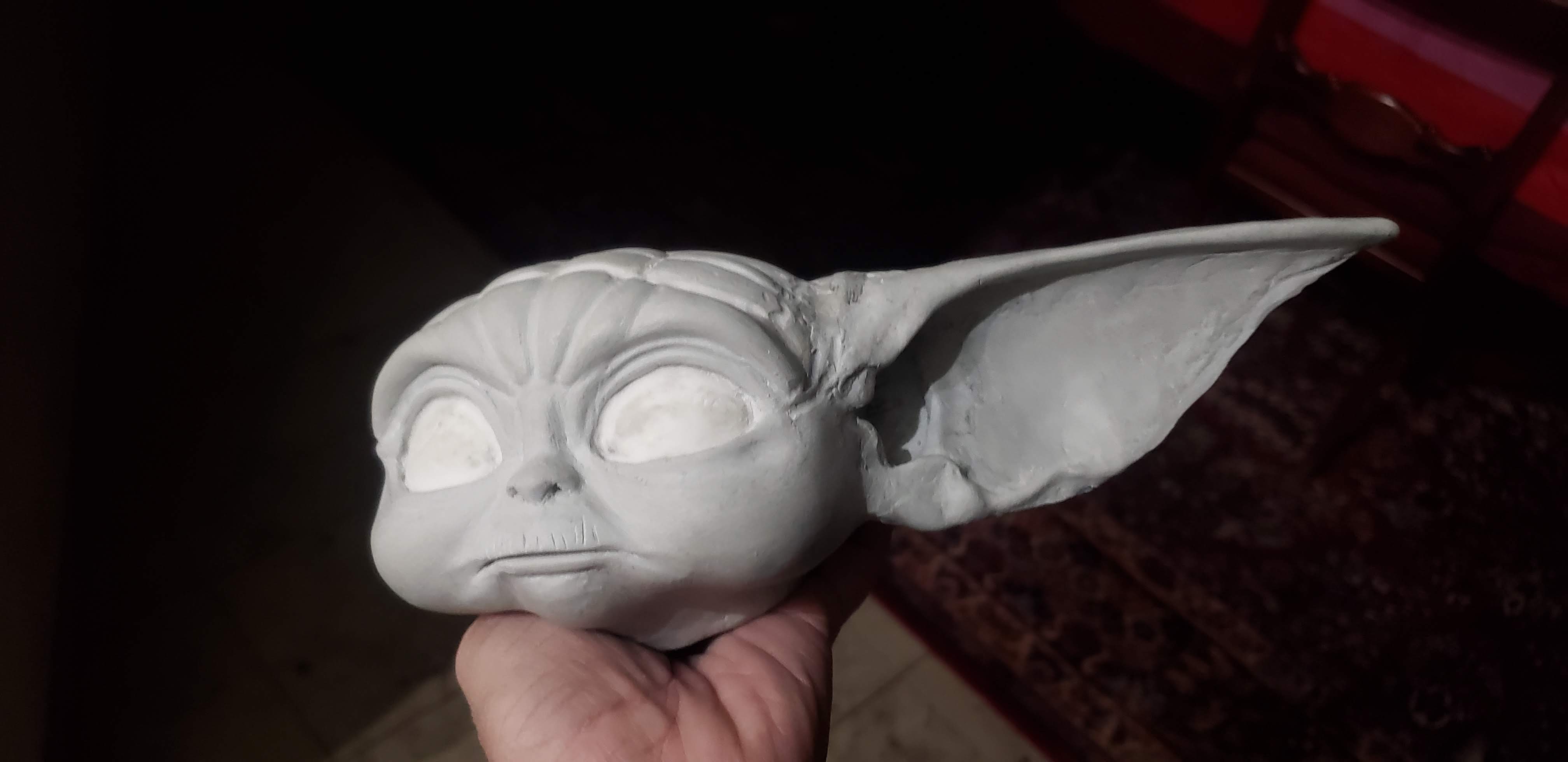 One ear done! The size is right, the folds are right and I'm so glad with how it sits on his little noggin! Now that I'm happy with his features, I'm also really sanding down his ridges and nubbles to help soften them and give him a more youthful appearance.
Onto ear two! This is halfway through the process (I have to work in stages with the Apoxie sculpt so they don't droop as they dry and cure crooked. I build them up inch by inch (there's a layer of craft foam in the center to give them structure) and then refine as they harden.
And that's where I am so far. Little guy should be pretty close to life-size when done...just around 15-16 inches. I have quite a way to go...I'm holding off on sculpting his hands, feet, and body until I'm happy with his head (so they stay on scale) and still need to do some solid clean up work on his noggin including more softening to help bring his age down. I've discovered I'm a great 'reduction' sculptor rather than an 'additive' sculptor in that I can lump on Apoxie sculpt in the rough shape I need and then refine it once it's hardened using my Dremel and a variety of tips and bits to get the shapes, curves, and wrinkles I want. Whew! Much easier! Once I figured that out, things got much faster.
Once this is all done and the sculpt is finished, I am thinking of casting him in either Dragon Skin or Ecoflex 30 (would love to hear thoughts on both products from anyone who has worked with them) and giving his internal body some structure using a Lockline Flexible skeleton. And of course, will be hand-tinting the silicone and then painting for as realistic a look as possible.
As this is my first sculpt in almost a decade that is this detailed and because I'm trying to stay as photo-realistic as possible, I would love any suggestion and/or hints or ideas or gentle critiques. I've been using photoshop as I go to overlay his face onto the photo I'm trying to reproduce and I'm really happy so far, but sometimes, after working so hard on something, it's easy to miss things that someone else might see as glaring.
Here's a creepy example of my overlay process so you can see what I mean.
And here are the eyes I've mocked up so far. Going to be casting under glass and then sealing using resin for a smooth, realistic look. Will also be sewing his little coat and adding in a Mythosaur pendant (and maybe a frog...in case he gets hungry!)
Thanks, guys, will keep you all posted if anyone is interested.