I've been on a time crunch with just about everything lately. I leave on a 3-month business trip next week. If you've seen any of my other builds, you'll notice that I make and use laser cut parts. Unfortunately, this weekend will probably be the last time I get to use the cutter. It's been a good three years! :cry
Soooo....I decided to hurry up and get the basic shapes of the Falcon cut before my trip. Mission accomplished! Man this thing is huge!!!!
I used Joshua Maruska's drawings, imported them to the program I use and made vector templates from them. As with most Falcon builds, I'm taking a different approach. Due to the table size, I had to break the body up into three parts. It's ok, though. If it doesn't work out, I'll just have to cut a new hull by hand. I also incorporated a few guide notches for some parts. Oh, and there are 38 ribs in all! To tell you the truth, if I could have only done the ribs, it would have still been worth it! Call me lazy, it's ok! :lol
All in all, I used one 72" x 24" sheet of .060" styrene (cut up into 24" x 20" pieces) for all the parts.
PM me if you would like a copy of the cutting file. I have to warn that although I have spent a lot of time on these parts, there may still be some errors. I think it's a good start though. BTW, I can provide drawings with and without the 3-part body.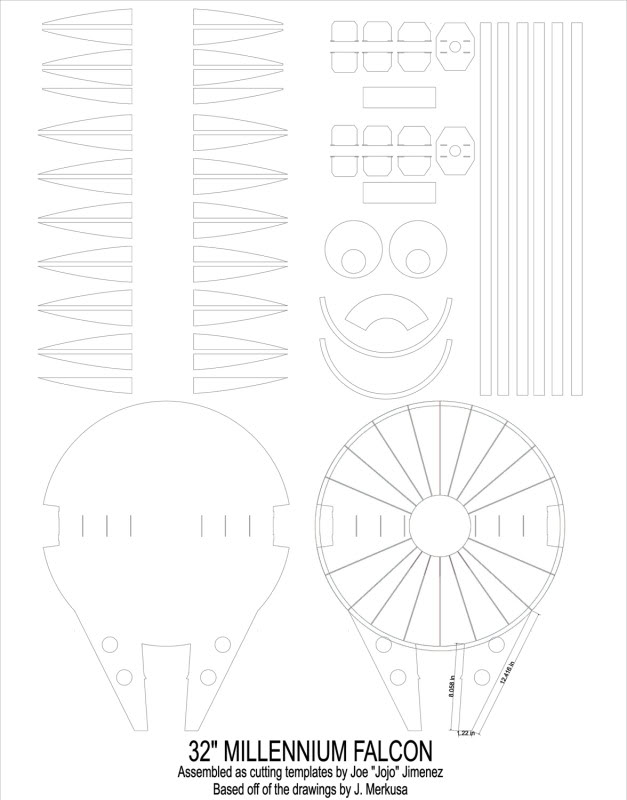 Oh, and I misspelled Joshua Maruska's name in the preview above. I'll correct it later.
Joe
Last edited: